We know how much you adore your fur baby, which is why we love all the trending cat backpack options on the market today. As long as you find a safe, comfortable way to transport your furry best friends, cat backpacks are a terrific way to take your cat hiking, visit a vet, and even go skiing.
Cat backpacks allow for cats to be included in family activities when outdoors. Do not put your cat in any backpack. These are not made for cats. You will need to shop for a cat backpack and one that suits your cat's specific needs. Top tip here – optimal ventilation and airflow!
If your feline friend feels depressed, there's no better way than by taking him outdoors with you in his cat backpack. Just remember to bring along a cat harness and leash so that he can stretch out and go for a walk.
In this best cat backpack review in 2023, we'll show you the different types of cat backpacks that are currently on the market for your cat, as well as the characteristics that make these our top 6 picks.
---
| PRODUCT | | RATING | PRICE | SUGGESTED WEIGHT | DIMENSIONS | WEIGHT | COLORS |
| --- | --- | --- | --- | --- | --- | --- | --- |
| Fat Cat Backpack | Best Overall | 9.5 | High price | 25 lbs | 15x11.4x17.7 IN | 2 lbs | Grey |
| PETKIT Pet Backpack | Our Choice | 9.4 | Average price | 17lbs | 12.99x11.81x17.72 IN | 3 lbs | Green, White |
| Lollimeow Pet Carrier | | 9.0 | Average price | 13lbs | 12.5x11x16.5 IN | 2.6lbs | Black, Green, Red, Yellow, Pink |
| halinfer Cat Backpack | | 8.8 | Average price | 20 lbs | 17x13.5x4.5 IN | 2.7 lbs | Black, Blue, Green, Brown, Pink |
| PetAmi Deluxe Pet Backpack | | 8.5 | Average price | 18 lbs | 12.5x10.2x16.3 IN | 3.64 lbs | 12 different colors |
| morpilot Dog Backpack | | 8.3 | Average price | 15 lbs | 17.13x13.27x3.74 IN | 3.02 lbs | Blue |
---
We've reviewed dozens of cat backpacks to find you the best cat packback. Start creating beautiful memories while traveling and exploring the sights.
Life is always better with your cat at your side! If you're like us, you'll opt for a few cat backpacks for every fun occasion. There's nothing quite like shopping for your feline friend.
How to Choose a Cat Backpack for your Cat?
Backpacks are great for everyday needs, outdoor adventures and hikes so that your cat gets to see the outside world with you. You will need to find a backpack that works well for your cat's size and shape.
Your kitty should have plenty of room to snuggle down comfortably and lay down. Whichever cat backpack you choose; it should be able to hold your cat's weight. If you have kittens combine their weight and make sure there's enough room for both kittens to fit comfortably inside.
Thankfully, there are backpacks designed for every use with different sizes and different weight capacities. As usual, start off with mini cat backpack trips and reward with treats so that your cat understands that this is a fun experience. Try to use a different cat crate for veterinary trips and a cat backpack for fun excursions with your feline buddy.
Weight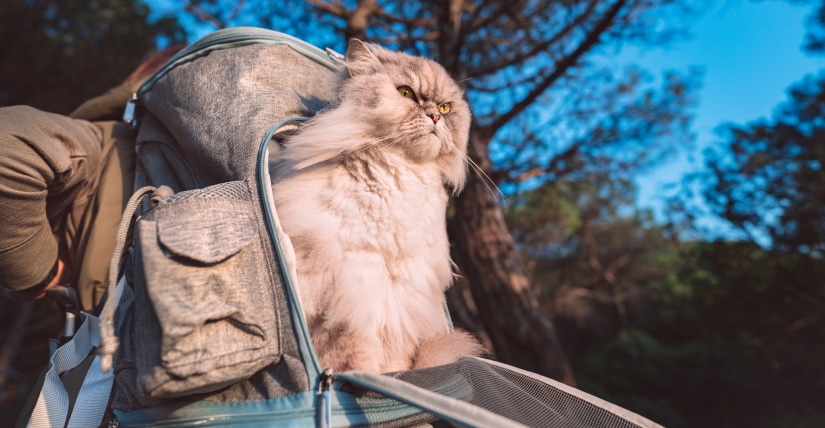 Make sure that the size of the backpack is large enough for your cat and not claustrophobic. The backpack should have a sufficient number of windows, usually crafted from mesh or plastic. Mesh allows for air to flow through the backpack, so the more use of mesh, the better.
Cat backpacks come in an array of weight limits to suit every cat's needs. You need to first weigh your cat before choosing a cat backpack. Some backpacks are specially made for large cats that weigh up to 25 lbs.
Materials
If you plan to go outdoors with your cat, make sure you choose a cat backpack made from comfortable, safe, and durable materials. Many of these cat-backpacks are crafted from cotton or fleece. You can also find some featuring polyester fabric, as well as a few with leather accessories.
You should also ensure that the material is well ventilated and that your cat can breathe properly while in the cat backpack. If you often go out for long walks with your dog and want to bring your furry feline friend along in his cat carrier backpack, prioritize breathability, or your cat may overheat and have other health issues.
Always opt for the safest and highest quality materials to keep your feline friend happy and safe. They should hold their shape well and feature ultra-durable mesh material for breathability, optimal ventilation, and view ability.
Adequate Ventilation
This is an important feature to take into consideration. Proper ventilation allows for your cat to breathe correctly and to be comfortable in his backpack.
All of our cat backpack choices feature a well-ventilated design in the form of mesh panels and air holes. When purchasing a cat backpack, the most important thing to do is check for adequate airflow and comfort. We can't emphasize this enough as you can see!
The materials used in a cat backpack should not be dangerous for a cat's health or result in your cat overheating. Look for plenty of air holes for optimal airflow at all times.
Cat Backpack Structure & Durability
Your cat backpack needs to be durable and should be crafted from high-quality fabric that's super strong. You should check to ensure that your cat cannot scratch through it and get out. Backpacks need to allow for your cat to feel secure, get enough ventilation, and also be super comfortable, most especially if you're going on a long outdoor trip or flight.
A backpack for your furbaby has numerous advantages when it comes to taking your cat along with you and spending more time together bonding. While there are many cat backpacks, it's good to understand the difference between an average cat backpack and a great cat backpack!
We also recommend considering the bag's structure and how some cat backpacks may end up folding with your cat inside.
Security & Safety
Safety comes first when it comes to cat backpacks. Ventilation and sturdiness are essential when transporting your furry best friend. Look for high-quality zippers and straps, and make sure that there's a leash clip to attach your cat harness. Do not use your cat backpack in extreme weather conditions, like when it's super-hot or cold.
Space Bubbles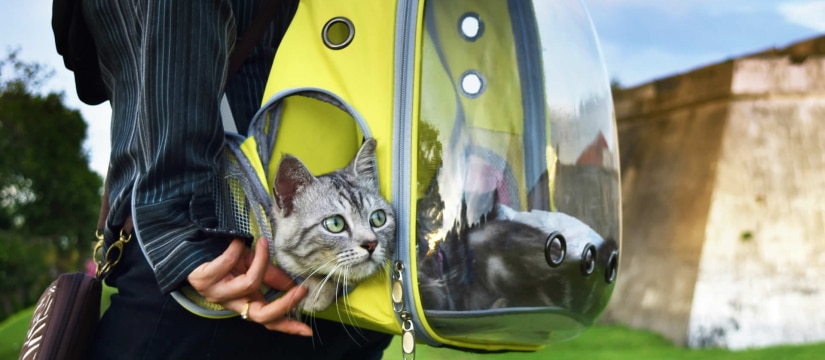 We love backpacks that feature screen and bubble attachments. Cats enjoy peering through these while you're out walking. This gives them a better view of their surroundings, no matter where they are.
Adjustable Shoulder & Back Straps
Cat parents deserve to be comfortable too! Make sure your backpack has adjustable straps to ensure the best fit & make it easier to carry your cats around with you.
Ease of Use
Cat backpacks should be easy to use. There should not be too many straps and accessories. Look for cat backpacks that are hands-free so that you can have so much more fun when outdoors hiking or traveling.
Comfort
You will need a comfortable-fitting backpack that fits well and is easy to carry most especially if you're planning a feline pet vacay outdoors. Look for adjustable straps, a comfortable structure that holds your cat securely, and features pockets for all your accessories, including your cat's favorite treats and a water bottle. If you're curious as to our top cat backpack picks for 2023, here's the take:
Best Pet Carrier Bag for Travel
---
---
Final Thoughts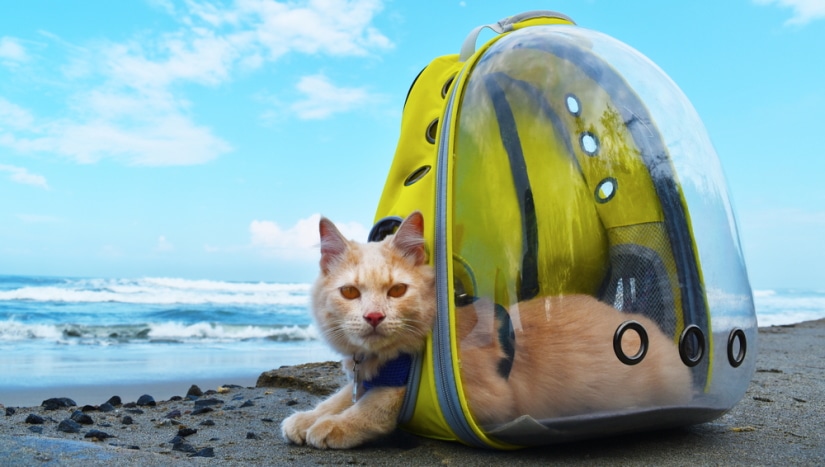 A cat backpack is a safe and comfortable way in which to take your furry best friend with you when you want to go hiking or even catch a flight on a pet vacay. When choosing a comfortable cat backpack for your cat, the best way is to first read through reviews and check to evaluate the quality of the materials, as well as the safety and comfort that a particular cat backpack can offer your furry best friend.
In short, when it comes to cat backpacks, the sky's the limit. Always start by carefully checking the ventilation features and making sure that all your cat's preferences will be met- that way, you can help ensure safe and comfortable travel with your cat.
When that is done, you can enjoy shopping for more colorways that appeal to you for every occasion. Take a few photos of your cat in his new backpack for the cutest designer pet portraits that you can gift to family and friends.