If you're hesitant about using flea and tick medications on your cats, you're one of many! We all understand that some of these products can cause serious side effects in some pets. Educating yourself about flea and tick meds, and knowing which side effects affects may be possible like transient neurotoxicity, excessive bleeding and hemolysis can help to avoid adverse side effects that appear to affect pets worldwide on a daily basis. It's also important to note that there are natural, plant-based flea and tick collars that work effectively with minimal side effects.
Overview of Top two Flea Collar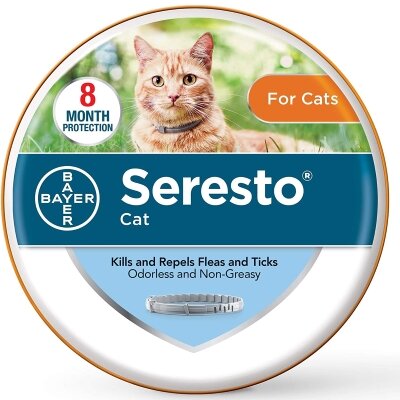 Our Choice
Bayer Seresto Flea and Tick Collar for Cat
Quality: 10
|
Usability: 8
|
Safety: 10
Bayer Seresto flea and tick collar for cats isn't just for fleas, but also combats other parasites like ticks and their larvae. The flea and tick collar is waterproof. This necklace is recommended by vets, making it the best choice for kittens 10 weeks and older, and senior cats.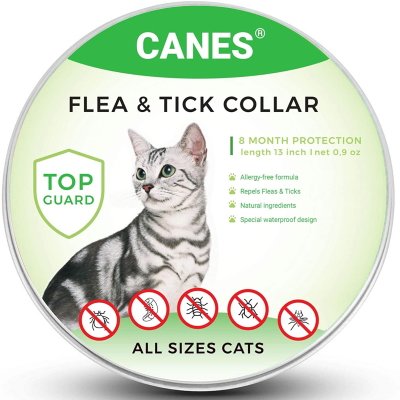 Best Overall
SOBAKEN Flea and Tick Prevention Collar
Quality: 9
|
Usability: 9
|
Safety: 8
If you're looking for a great homeopathic cat flea and tick collar, Sobaken flea and tick collar for cats features a new and more powerful natural formula. The Sobaken cat flea and tick collar is easy-to-use, and affordable, and your cat is less at risk for an allergic reaction.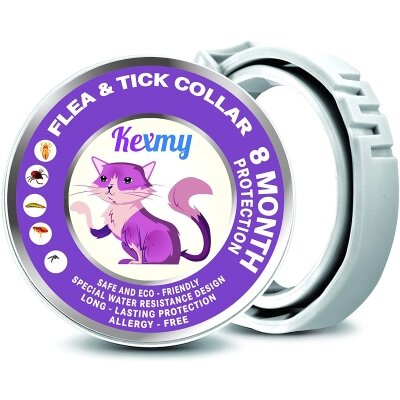 Best Value
KEXMY Cat Tick and Flea Collar
Quality: 10
|
Usability: 8
|
Safety: 7
The Kexmy flea and tick collar for cats is made from 100% natural ingredients. The oils used include clove, lavender, lemon, and eucalyptus. These natural oils are less likely to cause allergic reactions in cats.
Comparison Table Of The Best Flea Collar For Cats 2023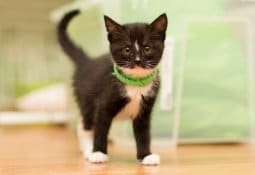 To ensure that we end up choosing the best flea and tick collars for cats, we have set some crucial criteria to help you choose the very best flea and tick collar for your cat. These features include the duration of the repelling ability of the flea collar, its resistance to change in weather, the number of parasites it can kill; if it causes allergies or not, and much more. Using these essential standards have allowed us to effectively narrow down the long list to secure the top three flea and tick cat collars to purchase for your cat.
Additionally, most flea and tick medications will use a pesticide. It's always best to research the pesticides, although they are all approved by the EPA. The National Pesticide Information Center (NPIC) discusses using pesticides on pets, and all the side effects that these pesticides may cause. The NPIC also advises that all directions need to be carefully read and followed. They also ask that if your pet gets sick from a pesticide, that it be reported to the NPIC.
Below is our ranking table:
Review of The Three Best Flea Collar for Your Cats 2023
| PRODUCT | | RATING | PRICE | DURATION OF USE | WATERPROOF | FLEA | TICKS | LICE | MOSQUITO | LARVAE | ALLERGY FREE | SIZE | AGE | QUALITY | USABILITY | SAFETY |
| --- | --- | --- | --- | --- | --- | --- | --- | --- | --- | --- | --- | --- | --- | --- | --- | --- |
| Seresto Flea Collar | Our Choice | 9.4 | High price | 8 month | ✔ | ✔ | ✔ | × | × | ✔ | ✔ | 15" | 10 weeks old | 10 | 8 | 10 |
| SOBAKEN Flea and Tick Collar | Best Overall | 9.1 | Average price | 8 months | ✔ | ✔ | ✔ | × | × | × | ✔ | 13" | 12 weeks old | 9 | 9 | 8 |
| Arava Flea & Tick Collar | | 8.9 | Average price | 6 months | ✔ | ✔ | ✔ | × | ✔ | × | × | 14'' | For cats and kittens of all ages | 9 | 8 | 8 |
| EasyDefense Tag | | 8.8 | High price | 12 month | ✔ | ✔ | ✔ | × | ✔ | × | × | - | | 8 | 10 | 8 |
| KEXMY Cat Flea Collar | Best Value | 8.7 | Average price | 8 month | ✔ | ✔ | ✔ | ✔ | ✔ | ✔ | × | any | 10 weeks old | 10 | 8 | 7 |
| Hartz UltraGuard Plus | | 8.5 | Low price | 7 month | ✔ | ✔ | ✔ | × | × | × | × | | 12 weeks old | 8 | 8 | 7 |
---
Ultimate Buying Guide and Care For Your Feline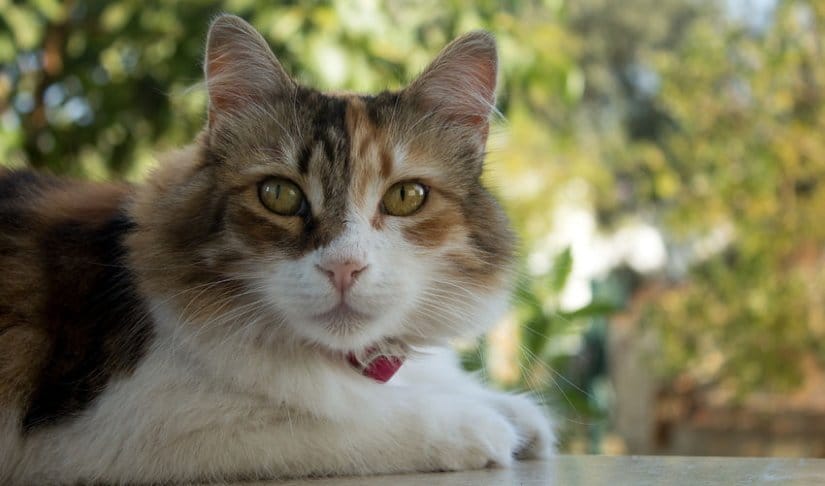 Choosing a safe cat flea collar for your furry best friend should be a non-brainer. Opting for safe and healthy pet flea preventatives that are effective means examining the ingredients used. That's why today, we're going to help you make the safest choices for your cat. We'll examine toxicity, collar oiliness, whether the flea collar smell is overpowering, as well as all the beneficial properties.
External Parasites
External parasites include flea, ticks, mange mites, and ear mites. Cats need to be on a monthly preventative to control fleas and ticks to stay healthy. Additionally, cats with flea allergy dermatitis may be prone to severe itching depending to how allergic the cat is to flea saliva.
Feline military dermatitis are small skin irritations that show up as small solid bumps and look like tiny seeds. These are not flea bites but an allergic reaction to the bites. When your cat scratches them, they can become crusty and infected resulting in a bumpy skin rash. To protect your cat from parasites, you'll need to choose the best cat flea and tick collar. This will prevent excessive itching, agitation, repeated licking, skin chewing, and skin scratching.
Ways to Identify Fleas and Ticks on Cats
There's nothing worse than seeing your cat itch continuously from fleas. As cat parents, we all want what's best for our furry best friends. Sometimes, there are flea and tick products that don't work as effectively. There may also be some that have been deemed unsafe. Today, consumers are looking for long lasting, safe, and effective flea and tick treatments. When it comes to our cats and choosing the best and safest flea and tick products, understanding ingredients and safety is key.
Fleas transmit diseases, and cause allergies, and or anemia in pets. With over 2,200 species of fleas that are recognized today, there are fortunately only a few species within U.S homes. Two common ones include the cat flea (ctenocephalides felis) and the dog flea (ctenocephalides canis).
With fleas having the ability to cause severe itching, swelling, infection, aggravation, and the ability to cause severe irritation in both cat, and humans, it's best to use the best preventative measures to stop fleas right away. Good flea treatments need to be safe, effective, and easy-to-use. That said, how does one find the right flea treatment to use? The best flea and tick treatments need to be safe to use around children, people and other pets. They should also be priced reasonably, and should last for at least 30 days. It's best to first research the ingredients before purchasing to make sure that they are safe to use on your dog.
They are insects which feed on the blood of their host. These parasites are between 1/16 to 1/8 inch, meaning they are too tiny, you might miss them when not searching. Hence, it is easy for the situation to turn into a blown out infestation before you can notice to take action.
Though fleas enjoy the solace given to them by the fur and warmth of your cat, they are not choosy on whom they attack, which means they can attack you too.
They are mostly black or near black before feeding. However, the more they feed, the lighter they become. As a pet parent, you might find it a challenge to identify them in your cat. Below are the following symptoms that can help you pick up on their activity quickly:
Your kitty is restless.
Scratches frequently
Scratches the same spot repeatedly
Licks her hair coat excessively
Bites coat excessively
If your cat does any of the above, it's time to examine your cat's body for possible flea infestations. Start by checking the tail, and underneath the fur for any unwanted visitors. Also, do the same around the head, and other parts of their body.
The dirt produced by fleas is the blood digested by them which come out as black spots. When touched they go red, and can stain the coat of your cat. This can also be a sign of their presence.
Flea infestation is a serious issue as fleas replicate rapidly. One female can lay down up to 50 eggs a day, which can hatch quickly, to also lay more eggs. These eggs don't stick to the fur of your cat. As he or she moves about, they can get into various areas of your home, making resolving the issue difficult.
When you notice that your cat or kitten shows symptoms of flea infestation, but can't seem to find them, it's wise also to get a flea comb to run through their fur just to be sure.
How do collars work for cats with fleas?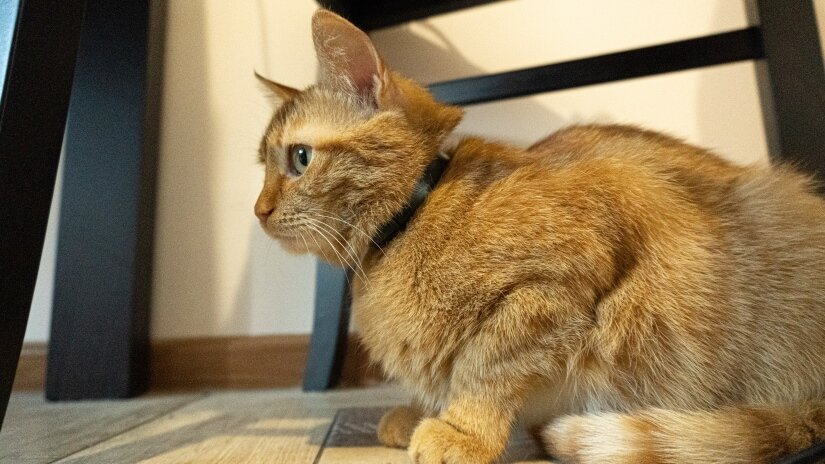 Cat flea and tick collars all work differently despite having the same function; to kill fleas and ticks. Some are point-on treatment; others are absorption based. There are those flea and tick collars that work by repelling, and those who also treat.
Fleas pose a huge risk to cats and people because they can result in cat flu, tapeworm, anemia, typhus and more. Understanding which cat flea and tick collars to use may help to prevent flea infestations. Below, these differences are explained in detail:
Cat Flea & Tick Collars are used for treating and repelling. When the insecticide is applied to the collar, and is absorbed into the cat's skin, it will protect the cat against fleas and ticks so that when fleas bite into a treated cat, they die because they have ingested the insecticide.
There is a second function that allows for cat flea collars t ward off fleas before they attack. This will happen before any contact is made. There are a few cat flea and tick collar brands that emit gases to ward off parasites. As usual, always consult with your veterinarian for advice on cat flea and tick collars.
Based on the method of eradicating parasites, there are two types of collars:
Repellant: Repellant Collars are mostly a temporary or one-time treatment variety. These set of collars will release gases or dissolved substances that repel ticks, fleas, and fellow parasites as listed in the product. They are most useful when you don't have a parasite infestation in your location but are migrating for the day to an inflicted area.
Treatment: Collars that administer treatment to your feline are those who have active ingredients that kill pest as they come. They mostly last beyond a month or two and deliver care all around your kitten's body. Often you will find a treatment collar that kills and repels pest at the same time.
Features to Consider
When you are out to shop the right flea collar for your cat, there are various things you should consider. The following are essential criteria that will streamline your option to the very best:
Is it effective?

You might think it a no brainer. If something isn't working, it won't be selling. However, the internet is filled with many dirty tricks. Hence, you can always purchase an item only to find yourself stuck with an ineffective flea eradicator. To be on the safe side, read the reviews of the product to see if it actually works.

Is it safe?

Knowing how harmful your intended collar is for your cat is essential to their survival. Always check if the chemicals or compounds used are conventional and approved. Normal parasite collar creators use conventional pesticides to eliminate ticks and flea. However, too much of it or the addition of unapproved elements can lead to adverse effects on your kitten.

Not only that, but chemical created collar usually have a suitable age target. It is wise also to check if the intended collar has your cat's age in mind. Using a collar targeted for one-year-old felines can overwhelm your kitten and lead to some allergic reaction.

While considering the safety of your kitty, you can always go for collars with natural compounds. Collars that are created with natural chemicals or oil to combat flea and ticks are usually significantly low in health risk and competent in caring for your feline.

How flexible is it?

Another thing you should check mark in the process of your purchase decision is the adjustment of the collar. Can it be adjusted? You might believe that a collar that meets the neck size of your feline will fit when received. However, that could be very wrong. Having a one-size-fits-all flea collar can save you the pain and money loss.

Safety Mechanism

If your feline is an outdoor type, surely you won't always have an eye on him or her to note when they are in trouble with their collar to administer the assistance required. Hence, it is important to pay attention to the chocker's lock system. Is it a breakaway collar? Does it have an automatic release feature? If you are not sure but really love to have the collar you have seen, then go ahead to ask some questions. Purchasers of the collar will gladly inform you.

What is its operation method?

Here you have to ask yourself, what does my kitten need? Does he or she just require a collar that can repel pest? Is it going to be a point-on thing? Or do I need one that can treat my kitty of flea attacks?

Knowing what you want will affect your choice. However, it is more beneficial to go for flea and tick collar that provides both repelling and killing functions. This way, your feline is safe on all front.

What can it protect against?

It is not only flea and ticks that can afflict your furry pet. There are also mosquitos, mites, harvest mites, and much more. The larger the amount of pests a kitten necklace protects your pet against the more valuable it is for your outdoor friend. Hence, it is wise to consider this, as well.

Often you will discover that most pet collar makers only strive as high as protecting your feline from ticks and fleas. However, you can find one offering more protection against mosquitos and other pathogenic pests.

Is it a flexible option?

Your cat will, at one point in his or her life, step outside. When that happens, the kind of collar they have on will be important. Purchasing an effective pet necklace isn't enough. You have to ensure that the product can do great indoors and outdoors.

The best product for you should have waterproof or resistive materials and should be able to withstand different weather condition with ease. Hence, making certain that even under water it will remain as effective.

How long does it remain productive?

It is one thing to have the ideal product to fight the unwanted visitors before they can lay claims to your pet's fur and health. However, it is another thing to have one that can do just that long enough to keep your kitten safe.

Always check the duration of the treatment. Some flea and tick collar administers care for one to two months. Some promise five to eight but don't deliver that much. It is good to confirm how long it last by checking out the reviews or asking questions.
Who Needs a Cat Flea Collar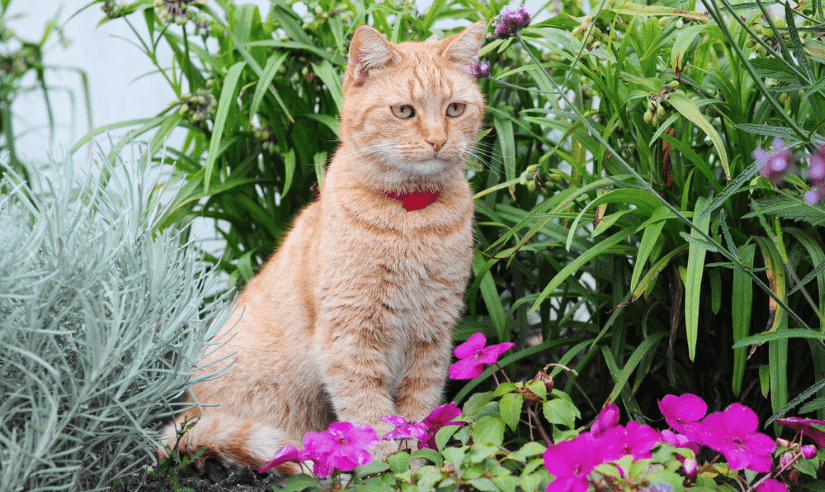 In short words, all pet owners. Flea infestation is a nasty business. Some pet reacts against even flea saliva, which is called flea allergy dermatitis. In such conditions, your kitten experience violent reactions. They will have significantly more itching, irritation, and anger. Not bringing a quick and lasting solution could lead to significant loss of hair just from one flea bite.
Your monthly topical treatments like Advantage and pills like Revolution, despite their cost, doesn't last as much as a flea and tick collar. Also, there are felines who don't do well by them. However, your pet flea collar will provide a lasting solution and would always be around when you are moving into a flea infested area. Not only that, some flea collars are so uniquely made that your pet doesn't even notice their existence around their frame.
The Pros and Cons of Cat Flea Collar
Pros
Some come with the ability to protect against flea and other parasites in all their life cycle.
They have a long active period, up to 8 months.
Easy to strap on or remove.
Some are Reflective to help find your kitten
Most are more affordable than monthly spot-on treatment
Some cater to a wide range of ectoparasites
There are flexible options for indoor and outdoor use
Cons
Some flea collars are not safe for a certain age, mostly smaller age.
Poor quality collar could lead to an allergic reaction
Some don't protect the entire body.
Not all pet collars are breakaway.
Cat Flea & Tick Collar Side-Effects
We adore our cats, and by trying to help them don't want to use a flea and tick collar that may have a serious side effect. That said, there are some brands that may be problematic, and chances are you're probably not aware of the chemicals used especially in flea and tick collars in the isoxazoline class.
New 2020 Warning from The Food & Drug Administration (FDA)
The FDA recently added that "The FDA carefully reviewed studies and other data on Bravecto, Bravecto Topical, Credelio, Nexgard, Simparica and Revolution Plus prior to approval, and these products continue to be safe and effective for the majority of animals. The agency is asking the manufacturers to make the changes to the product labeling in order to provide veterinarians and pet owners with the information they need to make treatment decisions for each pet on an individual basis. Veterinarians should use their specialized training to review their patients' medical histories and determine, in consultation with pet owners, whether a product in the isoxazoline class is appropriate for the pet."
Here's what to look out for in 2020. The FDA has recently warned pet parents and veterinarians about certain side effects linked to medications in the isoxazoline class. These include the following:
NexGard (afoxalaner)
Bravecto (fluralaner)
Simparica (sarolaner)
Credelio (lotilaner)
Revolution Plus (selamectin and sarolaner topical solution)
The isoxazoline class contains azolyl phenyl chemical compounds that were made for use 20 years ago. Today, it's common to hear about some of the side effects when using flea and tick meds that contain isoxazoline.
FDA Fact Sheet
"The FDA is alerting pet owners and veterinarians of the potential for neurologic adverse events in dogs and cats when treated with drugs that are in the isoxazoline class." Understanding which products to use on your cat to prevent fleas and ticks in order to avoid neurologic adverse events in pets is important. Making sure that the ingredients used are not harmful to cats or cause a skin allergic reaction or loss of hair is key when opting for one of these preventatives.
Always consult with your veterinarian about your options so that your cat's health conditions, age, and his or her environment be taken into consideration. Closely read all labels since all cat flea and tick preventatives are not a "one-size-fits-all."
Side Effects
Some cats that are immune-compromised may have adverse reactions. Senior cats, and those that have genetic mutations of the MDR1 gene, kittens, and cats with serious health conditions may also be adversely affected. Side effects may include the following:
Hemolysis
Excessive bleeding
Transient neurotoxicity
Generalized ataxia
Muscle twitching
Head and body tremors
Oral dysphagia
Before opting for a flea and tick cat collar, consult with your veterinarian. It's also important to consider the area you live in, and whether your pet would be more prone to flea and ticks.
Consider natural ways to repel flea and ticks by using plant based flea collars. By adding flea-repelling plants to your garden, you'll also be able deter fleas. There are also numerous herbs that have the same function which include mint, catnip, lavender and rosemary. Also natural insecticides like cedar oil are gentle, yet help to alleviate excessive scratching in kitten and adult cats. These can be found in pet shampoos and conditioners.
Below you'll find a list of cat flea collars with detailed descriptions and reviews to help you make the safest choice for your furry best friend. We looked in to consumer reviews examined the ingredients list, and checked out to see how these products fared in sales. Keeping fleas and ticks away from your cat should be easy and safe. Keep in mind that some cat breeds may be more sensitive to flea and tick preventatives.
FDA Tips for Flea and Tick Collar Safety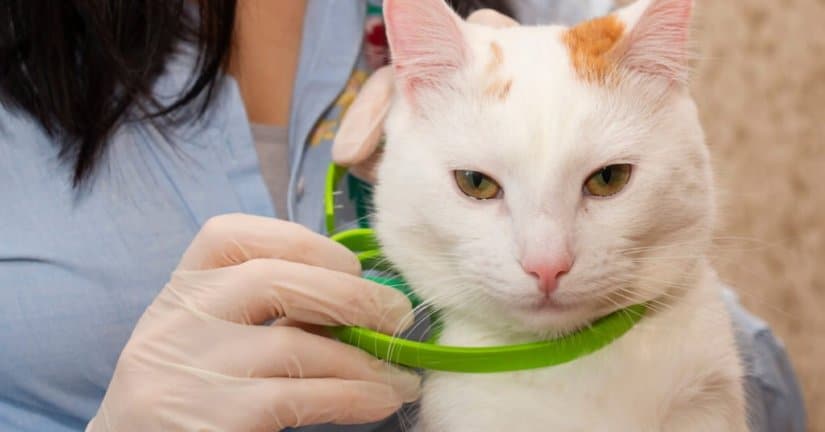 The FDA adds the following:
If your pet experiences a bad reaction from a spot-on product, immediately bathe the pet with mild soap, rinse with large amounts of water, and call your veterinarian.
Call your veterinarian if your pet shows symptoms of illness after using a product. Symptoms of poisoning include poor appetite, depression, vomiting, diarrhea, or excessive salivation.
Do not apply a product to kittens or puppies unless the label specifically allows this treatment. Use flea combs to pick up fleas, flea eggs, and ticks on puppies and kittens that are too young for flea and tick products.
Wash your hands immediately with soap and water after applying a product, or use protective gloves while applying.
Store products away from food and out of children's reach.
Read the label carefully before use. If you don't understand the wording, ask your veterinarian or call the manufacturer. "Even if you've used the product many times before," says Ann Stohlman, V.M.D., a veterinarian in the Food and Drug Administration's (FDA) Center for Veterinary Medicine.
Read the label because the directions or warnings may have changed.
Follow the directions exactly. If the product is for dogs, don't use it on cats or other pets. If the label says use weekly, don't use it daily. If the product is for the house or yard, don't put it directly on your pet.
Keep multiple pets separated after applying a product until it dries to prevent one animal from grooming another and ingesting a drug or pesticide.
Talk to your veterinarian before using a product on weak, old, medicated, sick, pregnant, or nursing pets, or on pets that have previously shown signs of sensitivity to flea or tick products.
Monitor your pet for side effects after applying the product, particularly when using the product on your pet for the first time.
The most important question that a pet parent needs to ask is to query if the product uses a natural or a chemical formula. Flea control measures have changed over the years, with the most effective of flea control products sold by veterinarians. Many flea products are given once a month and effectively control fleas and other parasites.
When you use a flea control product, you may be able to get rid of flea infestations in your home. With that said, the amount of time necessary to achieve this may be different with every household, depending on the flea life cycle and the environmental conditions in and around your home. As usual, always consult with your veterinarian before choosing a flea product for your furry best friend. Also, look out for mange mites that can cause itching along the surface of the skin.
Mange mites can be detected by scraping the skin of infected areas. Outdoor cats can also become infested with larva of a particular fly. The larvae are found in rabbit and rodent holes, and they burrow beneath a cat's skin. In this case, you'll notice a large swelling under the skin near the neck and head areas. This will require veterinary treatment.
With a vast array of different flea and tick applications for cats to choose from, it's best to work together with your veterinarian to seek out the best cat flea and tick product for your cat! And finally, never use products labeled for dogs, on cats!
What Are The Tips You Should Know?
Trusted Brands are the best – you might want to play it cheap by going for the product you have seen is way affordable. That isn't a safe strategy to deploy. It is best to go with products that are vet recommended because it means they meet the standard or expectation of professionals in the field.
Get the one with the most effective ingredients – While looking for what works, make sure to go for the one that works faster and better. However, while doing that you should also consider the side effects on your cat. Ensure that the one you opt for is both safer to use and offers better protection.
Don't overuse protection — if your feline is on pills or spot-on monthly care, it is unwise to leave the collar always on. If you must, Instead of doing that, only place the collar on your cat when he or she is on their way out. Remember to remove it when they return. This way, you reduce the risk of overdosing your pet unknowingly with much flea treatment.
Don't forget your vet! – if your cat is old, sick, pregnant, a kitten or has a history of seizure, before making a purchase, go and meet your veterinarian to get the right recommendation.
Don't play smart – if you have both a feline and a canine, it isn't wise to substitute treatment collar on both species. One, they are different species, which means the ingredients used and the percentage most likely differ. Doing this can lead to serious health challenges for your kitten.
Ensure it protects your kitty from all the cycle – parasites come in their various life cycle from the eggs to the larva to the main assailant. You don't want to have either inhabiting the fur of your cat. Check the product to determine if they have taken steps to protect your feline from all the life cycle of the parasite they protect against.
Don't forget to keep the collar in airtight space – there is a reason the collars mostly come in a sealed tin can. That's to prevent the treatment from floating into the atmosphere and reducing its medication period. Hence, when your furry pet isn't wearing the collar, it is best to store it in an airtight container.
Check the material quality – yes, it is for treatment, but a collar with inferior materials can loosen from cat pressure when scratching which could leave their legs stuck in it. Hence, check the material used and discover if these materials are known to be tough while bringing comfort. Also, ask previous users to figure out how long theirs lasted and how rough it was used.
Some are age-specific – some of these collars come with a particular age in mind. Presenting your kitten with a collar made for more matured cats can do more harm than good. Hence, it is good to check. If you can't find out from the product description, ask other pet owners on the store if it is suitable for your pet. Alternatively, you can shoot the seller an email to verify.
Always watch closely – though the product checks out in the ingredients used and other critical marks, no cat is the same. Hence, what works for most may not work for you, and what doesn't work for most may work flawlessly for you.
When you have received your desired collar and have strapped it around your feline, monitor him or her for a few days to quickly identify any adverse reaction. That way, you prevent a worst-case scenario and find other alternatives early.
Ensure the right fit – don't strangle your cat, know the right fit. Normally, you should ensure that the collar is tight enough not to get in the way of his or her movement or easily slip off. However, it shouldn't be too close to cause wetness and loss of hair. The ideal tightness is the one that allows you to slip in two of your fingers between the collar and your cat.
Conclusion
Cats are special and bossy pets to have around. However, their stay can always be ruined by flea and other parasites. Getting the right collar for your kitty will allow you, your feline, and home to enjoy a life free from health complications. Using the tips and detailed guide we have provided, we believe you have all you need to secure the best flea and tick collar for your cutty anytime you start collar hunting.