This is the most comprehensive guide on how to choose a leash for your dog. If you're looking for the best possible dog leash in 2023 to use for dog training or going for a dog walk, you've come to the right place.
This review will make it easy to choose the best dog leash for your type of dog. With so many dog leashes around to choose from, you may find it difficult trying to choose the right dog leash for your pup. We've done all the research for you to save you time.
Our top 7 best leash picks for 2023 are the best brands in the dog leash category. By using the best dog leashes, you can avoid plenty of unnecessary problems when walking or training your dog.
Overview of Top Three Dog Leashes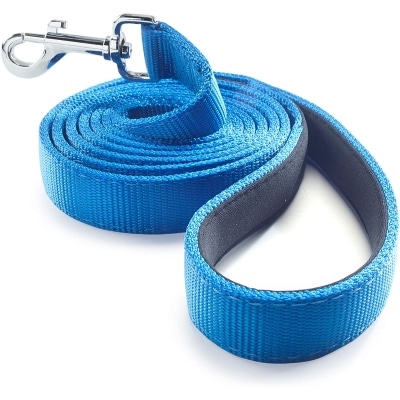 Our Choice
Dutchy Dog Leash
The Dutchy heavy duty dog leash is crafted with multiple layers of tough nylon to add longer life to every dog leash. The club padded handle features soft padding for optimal comfort. This double-layered leash can be used for small and large dog breeds and is more durable than most nylon dog leashes.
We like this dog leash because it's priced right, features three different color options that include primary colors or classic black. Dutchy is stylish and durable and is 6 –foot in length.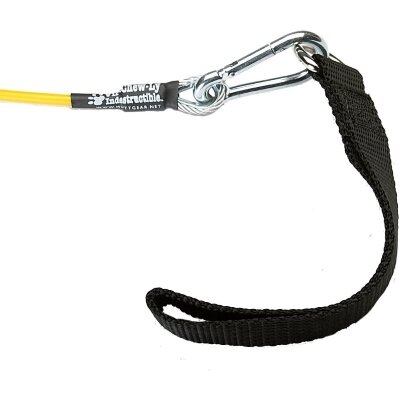 Best for Chewers
VirChewLy Dogs Leash
The VirChewly dog leash is crafted from lightweight, flexible, solid vinyl coated steel cable – over 900lb breaking limit. This is a chew-proof, durable dog leash that doubles as a tie out. It's crafted with a detachable handle that allows you to use the leash as a tether or a tie out. This is an Oregon based company with plenty of excellent reviews.
The hardware they use is rated to your dog's weight and can safely hold between 2lbs – 220lbs. Muttgear is manufactured in Oregon, USA with plenty of positive reviews.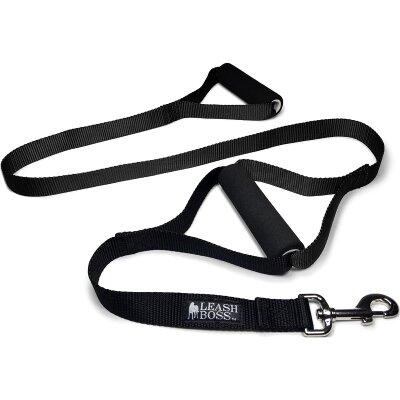 Best for Pullers
Leashboss Dog Leash
The Leashboss original heavy duty dog leash is crafted with a padded handle so that you don't get leash burns. Even when your dog pulls you excessively during your dog walk, you can still maintain a firm yet comfortable grip with the padded handle.
The patented dual handle dog leash features a non-bending traffic handle 18 inches from the clip and a padded handle at the end. The built–in handle curbs excessive tugging and pulling when out for a walk and gives you more control over your pup.
Comparison Table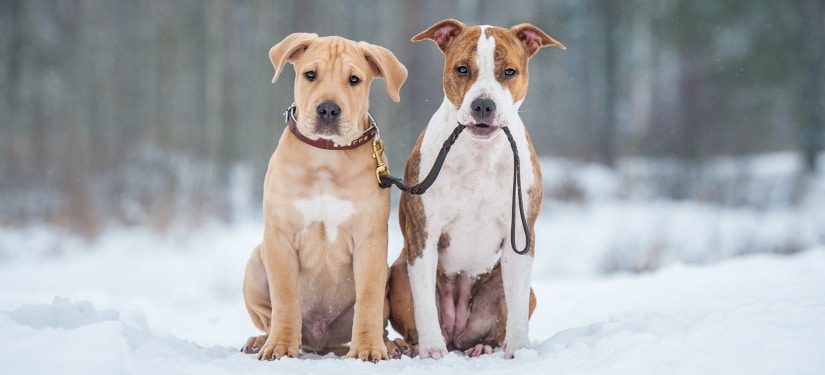 This is the comparison table list for the best dog leashes. When deciding which dog leash works best for your pup, you can think about the material, construction, comfort, safety, and more. That's because there's a whole bunch of factors that go into play when choosing the best dog leash for your pup!
There's no-one size fits! Here's what you should consider when choosing a dog leash for 2023
| PRODUCT | | RATING | PRICE | STYLE OF CLIP | SIZES | MATERIAL | REFLECTIVE |
| --- | --- | --- | --- | --- | --- | --- | --- |
| Dutchy Dog Leash | Our Choice | 9.7 | Low price | Bolt Snap | 6ft | Nylon | ✔ |
| VirChewLy Dogs Leash | Best for Chewers | 9.5 | High price | Bolt Snap | up to 5.6ft | Vinyl / Steel | × |
| Leashboss Dog Leash | Best for Pullers | 9.3 | High price | Bolt Snap | 5ft | Nylon | × |
| Blueberry Pet Dog Leash | Best Budget | 9.2 | Low price | Bolt Snap | up to 5' 5/8" | Nylon | × |
| iYoShop Hands Free Dog Leash | Best Hands-Free | 9.1 | Average price | Bolt Snap | up to 58'' | Nylon | ✔ |
| Peteast Double Dog Leash | Best for Two Dogs | 8.9 | Low price | Bolt Snap | up to 47'' | Nylon | ✔ |
| Flexi Retractable Dog Leash | Best Retractable Leash | 8.8 | High price | Bolt Snap | up to 26 Feet | Nylon | × |
Style of clip
Dog leash clips are important because they can be attached to anything with a swivel and a lock. Dog leash clips attach to a leash and need to provide a strong and secure attachment.
Material
Leashes keep your dog safe, and the materials used need to be durable and safe. The most popular materials used are nylon, leather, fabric, and chain. You'll need to think about your style and what works best for your pup.
A durable and robust quality leash allows you to keep your dog under control and safe, most especially if you're outdoors on an adventure trail or even if you're hiking close to traffic. You'll need to keep your pup safe at all times.
Reflective (LED dog leashes)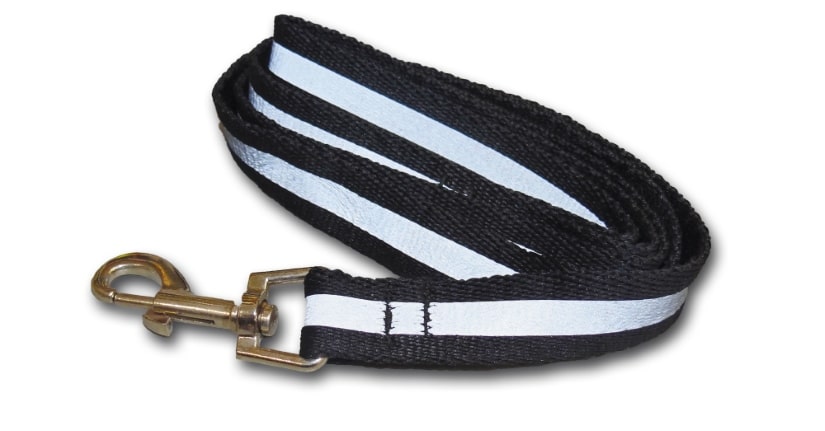 Reflective materials or reflective stitching is critical for those early morning or dusk walks. Lightweight, waterproof and reflective dog leashes are perfect for all-weather walks and hikes in all-terrain. These are perfect for camping trips and even for running with your pup. LED dog leashes feature bright colors and are easily seen. Some of these are rechargeable with a micro USB cable and feature padded handles. Luminous reflective threading or stitching offers high visibility and safety.
Size
When choosing the best dog leash for your pup, you'll want to consider a dog leash that offers you the most control. On the other hand, you may want a long enough leash for training or playing with your pup.
Thinner, lighter and smaller dog leashes work well for small dog breeds. It's essential to choose the right sized dog leash for your dog because it will affect the quality of your daily walks together.
If your pup is well trained, a longer leash will give you more freedom. Nonetheless, in specific scenarios, your pup may do better with a short or standard sized length if there's plenty of traffic, people, or other dogs around. A standard sized dog leash will help you control your pup if there's an unexpected encounter.
Our Best 7 Dog's Leashes of 2023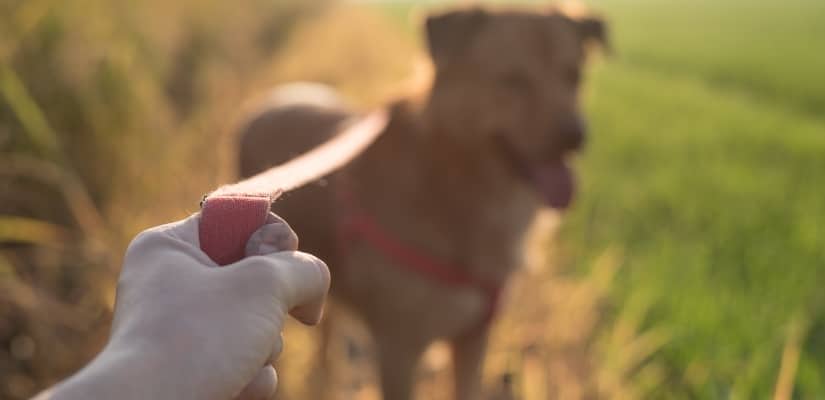 This is our review of our best leash. Leather, chain, and nylon leashes are most popular for dogs that chew. Most leashes will have clips that may be a belt clip or a trigger clip snap. The bolt snap is the most common and is a durable clip that lasts for a long time. A bar pulls down to open the clasp.
With the trigger clip snap, it opens inward and allows for the tension when your pup pulls, to power into the clip and lock it with more force. Make sure to opt for a leash with a sturdy clip that's the correct width and strength for your dog. That said, durable clips will not snap open or break when your pup pulls excessively.
Here's the take on the most important considerations to keep in mind when purchasing the best dog leashes of 2023. There are many different types of dog leashes that may work for your pup. Here are some of the types of dog leashes:
Standard
Retractable
Multi-dog
Slip leashes
Double-ended leashes
Martingale
Training
Retractable
Chain
When deciding on which dog leash is the best for your pup, you should consider materials, durability, purpose, leash length, waterproof and reflective features, as well as price point. Look for a high-quality dog leash with sturdy clips that will keep your furry best friend safe and secure.
Keep in mind that the clip has to hold your pup's weight when he pulls or lunges forward. In our review, we're going to show you how to choose the best dog leash for your pup. Understanding what to look for when selecting the best dog leash will save you time and money. By using the proper leash for positive dog training and long walks, you'll be able to train your pup a lot faster and with less aggravation.
Buying Guide
This is our buying guide for the best dog leashes. Dogs are remarkable animals that are capable of learning a variety of complex behaviors if owners commit to positive dog training techniques and the right dog training gear.
A good dog leash is needed for basic dog training and for going for walks while keeping your dog safe. In this dog leash review, we're going to help you choose the best dog leash for your pup.
Walking and training your dog should be fun, but to enjoy all outdoor activities with your pup, you're going to need a sturdy and reliable dog leash. In this section, we're going to explain dog leashes in detail.
Important Considerations to Keep in Mind When Purchasing Dog Leash
Different Types Of Dog Leashes
There are so many types of dog leashes, and since these are a must-have for every pet parent, it's important to explore all the different styles. If you're having a hard time deciding, reach out to your trainer or veterinarian for the best advice. Some dog breeds may also be prone to health issues with the incorrect leash.
You'll need to look at the size, age, behavior, breed, and environmental needs. If you live out in the countryside, you'll need a different type of leash than when walking your dog in the city with heavy traffic. Here's the take on a few dog leash styles:
Standard Dog Leashes (Fixed length leashes)

These are good for regular dog walks in the city or even in the countryside. They usually feature a 6 feet leash length and are crafted from flat woven nylon material. You can also find these in leather or roped materials.

Rertactable Dog Leashes

These give your pup more room to run and explore. That said, they clip onto the collar and have the option of locking at a certain length to give you more control. Today, there are hundreds of brands that offer retractable dog leashes, so look for extra safety options like reflective stitching or cord or even a single handed break button for optimal control and safety.

Adjustable Dog Leashes

These can be of varying lengths, and you'll need to decide whether a short or long leash works best for your pup. The adjustable dog leash has plenty of benefits for added control when near cars, washing your pooch, or even during mini-training sessions.

Hands-free Dog Leashes

There's nothing like having a hands-free jog around the blog with your furry best friend, and that's where the hands-free dog leash works best. The hands-free dog leash is attached to your belt or waist, and this offers less resistance than your arm. This makes it easier to exercise, remove dog poop, and even talk on your phone without fear of dropping it.

Chain Leashes

Short 4 feet chain leashes work well in the city when you need to maneuver around traffic. This type of leash works for dog training as well. These are not as popular as the regular standard dog leash today, but they're terrific for dogs that chew excessively or when in certain situations that may be dangerous for your pup.

Martingale Leash

This type of leash works in a similar way to a martingale dog collar, where there are two small loops around a large loop. The martingale dog leash is used at dog shows, during dog training sessions, and also at dog rescues.

When your pup pulls on the leash, it can only tighten to a certain extent. When this leash is used, the pressure is applied directly to your pup's neck, so it needs to be used correctly and carefully at all times.

Multiple Dog (Double) Leash

These divide into two leashes at the bottom of the dog leash and allows you to walk two dogs at the same time. You can find high-quality multiple dog leashes that feature shock absorption and anti-tangle parts to ensure that all outdoor adventures are fun and safe.

Seat Belt Safety Leash (Sbsl)

These are short leashes that feature a clip on one end that attaches to your pup's collar and a seat-belt clip on the other end to attach to the back seat of the car for added safety. This prevents dogs, most especially adolescent dogs, from climbing and jumping around in the car. It also keeps your dog's safety in case you need to apply brakes suddenly.

Dog Harness

This is far superior to the standard collar and prevents a choking hazard. A dog harness also works best on dogs that pull or lunge excessively or that are fearful of a dog collar. A dog harness fits around a dog's neck, chest and shoulders and redistributes equal pressure from the leash, all the while keeping your pup safe.

Bike Leash

This leash keeps your dog at the correct distance from the bike and is easy to install. The bike leash prevents your pup from bumping into your bike while riding. These don't work well for small dog breeds because they don't drop down far enough for small dogs. Dogs need to be well trained prior to using the bike leash.
Dog Leash Materials
Nylon

This is a popular material used in leashes and is durable and affordable. This is not a chew proof material, and dogs that are excessive chewers can chew through nylon easily. Nylon also doesn't shrink when wet and dries fast. Nylon leashes can cause friction burns on your hands, but all in all, they're great material for dog leashes because they're so durable, light, and long-lasting.

Leather

Leather leashes always look stylish and are also extremely durable. A high-quality leather dog leash will become softer with time. Leather leashes may be more expensive but are well worth it. Leather soap cleaners and conditioners will keep your leash supple and long-lasting.

Chain

Because the chain is metal, it's harder for dogs to chew through this type of leash. They may work for larger dog breeds at shows or for short training sessions. The chain leash has drawbacks in that it's heavier than other leash types, so it's best to choose the lightest one possible, most especially if your breed is a Toy breed. Try to avoid using these with pups unless you find a super lightweight one that is thin and light and that can be used on pups.

Reflective

These leashes are mostly made from nylon and are high-quality, durable dog leashes. Reflective dog leashes offer optimal safety when out for a walk during dusk, dawn, and evening hours. They reflect oncoming traffic lights to give you optimal visibility during evening hours.

Plastic–coated Steel Wire

These can be found in numerous fun colors and designs and also are easy to customize. These leashes are strong and durable, yet incredibly lightweight. Most feature non-toxic materials with an anti-biting layer making this a perfect choice for powerful chewers.

Rope

Rope leashes are good for outdoor adventures and soft on the hands. Not only are these lightweight and durable and made with USA marine rope, but these leashes can also withstand hundreds of pounds of pull. These are good for hiking, going on trails and can be found in various colors, lengths, and styles.
Important Leash Features and Components
It's important to purchase the right walking gear for your pup. You may encounter common problems on your outdoor adventures that can make your walk far less enjoyable. If your pup lunges or pulls excessively, you'll need to work with a positive dog trainer to stop him from lunging on the leash.
As usual, you'll need to get the right walking gear for your dog and provide him with healthy treats as rewards for good behavior. Here's the take with what to look for when purchasing the best dog leash for your pup.
A Secure Clasp or Carabiner

Heavy-duty, secure clasp with a swivel allows for your dogs to be safe when walking and exploring the neighborhood with you. The clasping mechanism on a dog leash is of uttermost importance.

You should always consider the weight and size of your dog before choosing a dog leash. That said, the hardware used in a dog leash plays a huge role in safety outdoors. The two most common clips used in dog leashes are the bolt snap and the trigger snap.

Look for quick-release clasps and leashes with padded handles and shock absorbing leash materials. Keep in mind that unless your clip is secure and reliable, the best leash won't help if the clip breaks. Stainless steel or brass clips work well because they are rust-resistant and, if wet, don't weaken over time. Clips should never break!

Reflective Stitching

Reflective dog leashes need to work well during camping trips, outdoor hikes, and daily walking trips. LED dog leashes are generally made with nylon webbing and reflective threading. These types of leashes ensure that you and your furry best friend stay safe when outdoors while giving you both extra visibility. Reflective dog leashes are usually made from nylon with a reflective thread built into the leash.

A Comfortable and Padded Handle

There's nothing like a comfortable padded handle for optimal comfort, most especially if your pooch pulls a lot during walks. They also act as shock absorbers and help ease the strain when your pup pulls. Opt for padded handles and strong metal clasps to avoid mishaps. The padded handle needs to fit comfortably in your hand, all the while allowing you to control your dog easily while on a walk.

Accessory D-Rings

D-rings come in a variety of sizes and are made from stainless steel. D-rings should be heavy-duty, well-crafted, and convenient for attaching items on like accessories. Plastic D-rings and carabiners will have a higher chance of snapping if your dog pulls.

A Pattern and Style You Like

One of the many things that pet parents purchase often is an assortment of dog leashes and collars. With the assortment of high-quality dog leashes on the market, it's no wonder that we all have several different dog leashes at home.

That said, no matter the size, age, or breed of your pup, you'll want a dog leash that's safe, waterproof, stylish, and durable. All dogs have individual needs, and you'll have to see which style works best for your pup.

Basic leashes tend to be perfect for those everyday walks, but if you have a teething pup or a dog that pulls excessively, you may have to look for a specific leash that will work for your pup.

Elasticity

Dog leashes that have elasticity will allow for some give when pulled. This is determined by how much elastic in is your leash. Bungee or elastic dog leashes decrease the force of a dog pulling and also prevents the leash from tangling. Opt for leashes with not too much elasticity if you're switching from a regular dog leash. You'll need to have time to get used to it.
Choosing The Right Width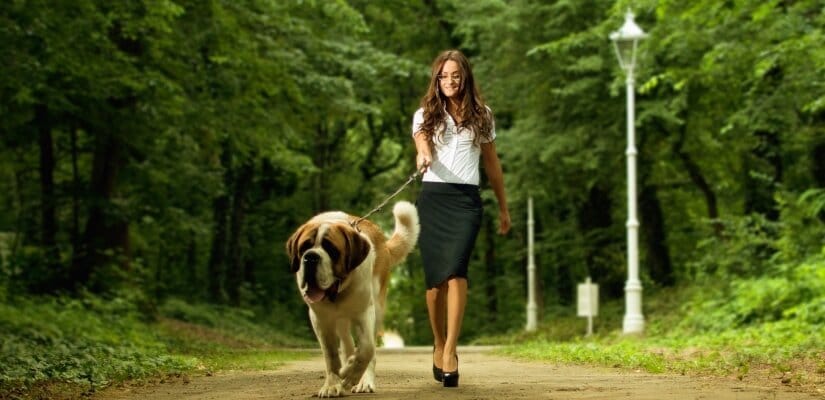 Standard dog leashes usually will vary in width from around 3/8ths of an inch to 1-inch wide. Smaller dog breeds and young pups should have thinner and lighter dog leashes. Thinner and lighter dog leashes should be used with smaller dog breeds and pups so that they don't snap with the force of a larger dog breed.
4 feet

Short dog leashes work for dogs that pull and for smaller dog breeds. They're good for urban environments where you may face an unexpected situation or heavy traffic. These also work for training aggressive dogs in tight spaces or where sidewalks are crowded. Short dog leashes are not used for walking but are good for mini training sessions.

6 feet

This is the standard size for a regular dog walking leash. These can be found in leather, rope, and flat nylon. These give your dog room to roam and allows for a more relaxed walk because it still offers adequate control for well-trained dogs. This is also the best length for training a puppy.

8 to 10 feet

Longer leashes work great for well-trained dogs and if you're out hiking or in the countryside with minimal traffic. These give your pup freedom of movement, and you can also train him easily with a longer leash. To keep your pup safe, you'll need to adjust the lead length to prevent it from catching onto trees, rocks, or around his and your legs while walking.
How Long Should a Leash Be?
Leash length should be based on what you're going to be using the leash for. Before you purchase a dog leash for your furry best friend, consider the leash length and width for your dog breed. If your pooch pulls, then a longer leash will not work for you. Opt for a 6-foot leash.
All in all, you should not rely on just one leash for all your needs. It's best to have a few different leash styles for all your needs.
Deciding On The Style Of Clip
All dog leashes use a variety of connectors to clip to your dog's collar or harness. When deciding which clip is the best style of clip, you'll need to look for sturdy, high-quality clips for optimal safety.
The Bolt Snap Clip

There are numerous types of leash snap clip attachments, with the most popular ones being the trigger snap and the bolt snap. These are the most durable and the easiest to use. We really like the bolt snap because it's the simplest way to clip and unclip a leash.

Bolt snaps feature a tiny spring inside the shaft, which allows for the "spring action" when you pull the bolt down to open or close the clip. The take with this type of clip is that over time the spring may weaken, and simple shaking actions may cause the clip to open.

A Trigger Snap Clip

The trigger snap features a small pin through the center, allowing both sides of the clip to move and remain put. Trigger snaps sometimes get filled with mud or dirt and need to be cleaned often; otherwise, they become stiff. The trigger snap clip is bigger and stronger than the snap clip and is probably the one you should look for when purchasing a dog leash since they're more reliable.

Carabiner Locking Clasp

The carabiner locking clasp is a secure clasp that enables you to loop the dog leash so that you can use it as a slip leash for fast control. These work well for dogs that pull excessively or that have a high prey drive.
Which Is The Best Dog Leash To Buy?
Every dog is different, and when considering which dog leash is best for your pup, you'll need to take your dog's unique health and behavioral needs into consideration. If you have a pup that's still learning, opt for a durable, lightweight dog leash.
Most experts agree that a standard lightweight dog leash works best for everyday walks. Keep in mind that your goal when out for a walk is to have a relaxed and well-behaved pup walking next to you.
For Training

If you're looking for a leash to train your pup, lightweight ones work best. Large breeds do well with ultra-tough and versatile dog training leashes. The recall is one of the most important commands that your dog should learn right away. That said, using a dog training leash to teach the recall command allows you to keep your dog safe and allows you to practice in open areas.

For Everyday Use

Dog leashes should not be too short or too long for everyday walks. You'll need to be able to give your dog enough space, but at the same time, you'll still need to be able to bring him in close to you if needed.

Basic, flat leashes work well and can be used for training and dog walks. If your pup pulls, opt for a dual handle or padded handle that makes your grip more secure, yet is comfortable at the same time.

Opt for leashes with strong hardware that won't break apart after a few months. Heavy-duty dog leashes that are crafted with layers of nylon make for good everyday leashes. Opt for D-ring features and additional reflective lines for added safety in the evening hours.
F

requently

A

sked

Q

uestions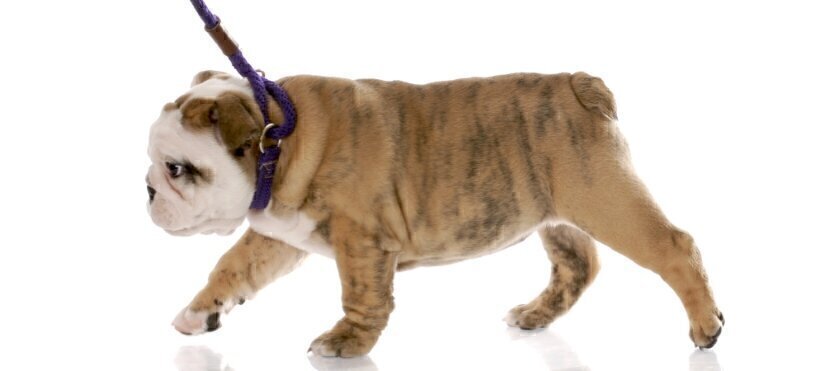 This is our FAQ about dog leashes. As you know, the simplest of dog leashes are most often the best leashes to use. Top rated dog leashes are not only durable, high-quality dog leashes that are functional, but they can make your dog walking more enjoyable. If you're trying to set up your dog walks for success, you'll need to purchase the right walking gear for your pup.
Taking your pup for a walk can be the best part of your day. It's great for exercise and getting much needed fresh air. That said, using the correct dog leash helps keep your pup under control and safe while getting outdoor exercise.
What to do with a dog that pulls on the leash?
When a dog pulls excessively, you may have problems. It's critical for your pup's success that you work with him or use a positive dog trainer to help with leash training. You'll need to purchase the correct dog leash and walk only one dog at a time if your pup is a puller. This is key when training your pup to stop pulling, barking, or lunging on the leash.
You may have to start with shorter walks, but it's an effective way to train your pup and get the behaviors you want. You'll also do well by purchasing a front-clipping harness and a 6′ leash so that you can turn your pup toward you to redirect him and get the behavior that you want.
Can you hurt your dog by pulling on the leash?
Dogs may gag or cough while pulling on their leash. Yes, you can cause injury to your pup's neck and trachea by pulling on your leash. It is never a good idea to jerk the leash to stop them because you could hurt your pup.
By using the right dog training tools like harnesses instead of collars and exercising your dog before his walk, you may be able to prevent a pulling dog from hurting himself via excessive pulling.
Work together with a positive dog trainer to teach your pup not to pull on a leash. Never use prong collars or choke chains. These have now been banned in many countries, and they only cause pain and injury.
The best dog leash for small dogs
It's wonderful having a small Toy breed, yet sometimes it may not be easy finding the right leash and collar that work well. The best dog leashes for small dog breeds are lightweight, easily adjustable, and work for small breeds weighing up to 25 pounds.
When choosing the appropriate dog leash, you'll need to consider your pup's activity level, breed, and whether your pup has any unique issues like pulling or chewing. Leashes are found in varying widths and need to accommodate your pup's weight. They also come in different lengths, so you'll need to consider what you're going to be using the leash for. If it's for positive dog training, nylon leashes with padded handles and swivel locks work well.
Hands-free leashes also work well for small breeds, as do adjustable dog leashes. Opt for numerous leashes in different colorways that serve different functions like allowing your pup more freedom during walks or shorter ones for city walks when there's plenty of traffic or pedestrians.
Which dog leash for XXL dogs?
The best dog leash for super large dogs depends on your dog's unique needs. For example, if he's a puller or lunger, you'll need to use a harness with a leash. The most important take with large dogs is that you have total control at all times.
With so many leashes on the market and many of them for giant breeds like the Great Dane, teaching your pup to walk properly on a dog leash from puppyhood is key to having a well-behaved dog later on. Both positive dog training and socialization are important for both a happy pup and pet parent. When choosing a good leash for giant dog breeds, opt for the following:
Heavy-duty dog leash with a thick and durable snap
Chew-proof leash
A shorter leash if your pup is a puller
The best leash for puppies
Opt for lightweight leashes for pups so that pups can learn to enjoy the leash and learn to walk with it on throughout the home. This helps them get used to the leash when first beginning leash training.
A basic puppy harness is also great and does not pull on the neck and throat area. If your puppy is strong and a puller, you'll need to opt for a durable dog leash that will keep him safe and under control.
How do I attach the collar or harness to the leash?
You can use a carabiner to attach the leash to the harness. Ideally, if you're still training, you should use both a harness and a collar, and you can hook the harness clip to the leash. Leashes should always be attached to the harness for optimal safety.