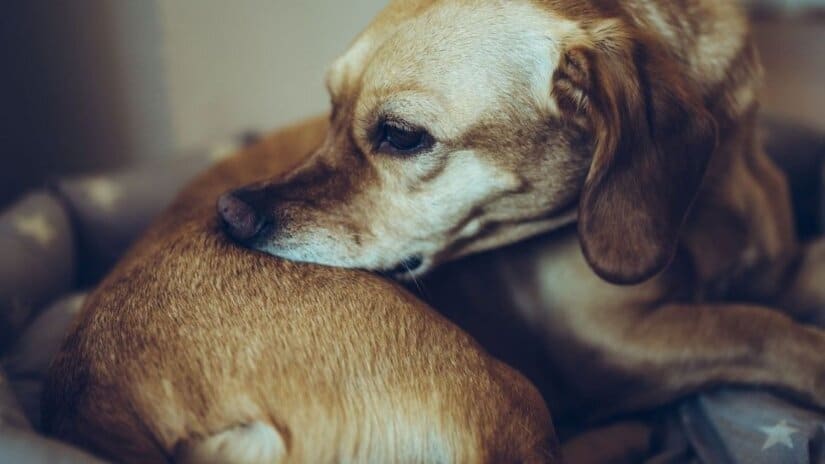 Whether you're a novice or seasoned pet parent, choosing the best flea collar for your dogs may seem daunting with so many critter preventatives around. You also may be questioning whether the preventative collar that you choose really works? And finally, whether they are safe to use?
What to Look for in a high-quality flea collar?
waterproof
durable
high-quality
safe
comfortable and secure fit
The most common ingredients found in flea collars
midacloprid
flumethrin
tetrachlorvinphos
Overview of Top two Flea Choker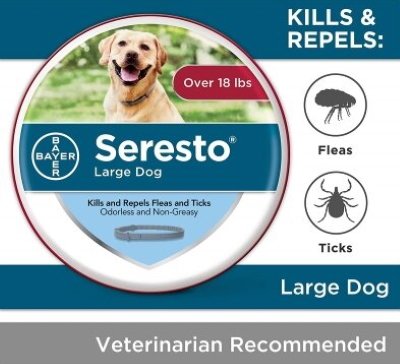 Our Choice
Bayer Seresto Flea and Tick Collar
Quality: 10
|
Usability: 9
|
Safety: 10
With so many pet parents opting for this popular dog collar, it's no wonder that it's a best-seller! The Bayer Seresto Flea and Tick Collar for Large Dogs has a revolutionary formula, that allows for its formulation of flumethrin and imidaclorid to be safely released at a constant rate into the dog's system. This collar works for 8 months, unlike all other pet collars, and works by killing fleas on contact.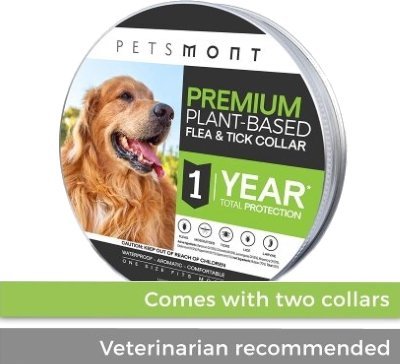 Best Overall
Petsmont Flea Collar
Quality: 9
|
Usability: 10
|
Safety: 8
This is an effective collar that can stay on 24/7. Popular as a pet brand, this preventative collar is not only comfortable, but 100% safe since it's made with plant materials. The plant-based formula has no toxic chemicals or pesticides, making this a very safe preventative collar to use on your puppy or dog, especially if you have small children around. It maintains its effectiveness for several months outdoors if your dog gets wet in the rain or enjoys swimming.
Comparison Table Of The Best Flea Collar For Dogs 2020
PRODUCT
RATING
PRICE
DURATION OF USE
WATERPROOF
FLEA
TRICKS
LICE
MOSQUITO
LARVAE
ALERGY FREE
SIZE
AGE
Bayer Seresto

Our Choice

9.7
High price
8

✔

✔

✔

✔

×

✔

✔

any
7 weeks old
Petsmont Flea Collar

Best overall

9.4
Average price
12

✔

✔

✔

✔

✔

✔

×

22.44''
10 weeks old
HerbalVet Dog Flea Collar
9.3
Low price
8

✔

✔

✔

✔

×

✔

✔

any
10+ weeks old
Rolf Club 3D Flea Collar
8.0
Low price
6

✔

✔

✔

×

✔

✔

×

any
12 weeks old
Bayer Seresto Flea and Tick Collar for Dogs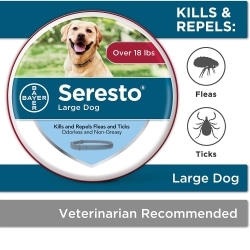 9.7 - rating
High
Our Choice
It is veterinarian recommended, without any musty or chemical odor. This collar is non-greasy to touch, and eliminates critters on contact. What's so great about this product is the low concentration of imidacloprid and flumethrin throughout the continued release! The collar replenishes itself with flumethrin when depleted from the core of the collar.
The Bayer Seresto Flea and Tick Collar for Large Dogs effectively and safely does its job! Both ingredients are safe for dogs, and are extremely effective in getting the job done. It can be used together with collars and leashes, and is a non-brainer to put on. This collar is used for dogs that are 18 pounds and up, and also treats sarcoptic mange and lice. The Seresto collar kills fleas and ticks, as well as larvae, eggs, and lice. Dogs can keep wearing the collar while swimming. It is a highly recommended product both by veterinarians and pet parents, hence the positive reviews.
New studies have recently shown that once consumers begin using new topical treatments and oral control measures, these products will eliminate these critters from the dog's home environment as well. By using the best safe preventative collar from a reputable brand like Bayer Seresto on your pooch, you know that you're providing the best in critter preventatives.
Customer Feedback
This has a solid 10,9,10 out of 10 rating. Customers had both positive and negative reviews about this product being effective after trying other collars. Some dogs had side effects from the collars which included nausea, vomiting, scratching, and lack of appetite.
Key feature
Works for dogs 18 lbs. or more
Low Concentration
Non-greasy
Unsuitable for puppies
Pros
Water-resistant
Snug and comfortable fit with collar easy to put on.
Safe ingredients that are odorless
Works safely within 48 hours
Veterinarians recommend
Can be used on puppies and dogs weighing 18 pounds and up.
Affordable
Cons
No sharing beds with dogs in treatment
Treatments should be spaced
May result in nausea, vomiting, scratching
May develop allergies such as severe itching
May develop neurological reactions with vomiting and diarrhea
Petsmont Flea Collar for Dogs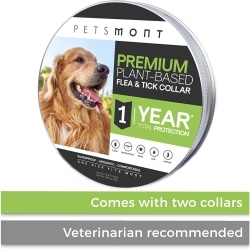 9.4 - rating
Average
Best overall
An effective collar that can stay on 24/7. Popular as a pet brand, this collar is not only comfortable, but 100% safe since it's made with plant materials. The plant-based formula has no toxic chemicals or pesticides, making this a very safe collar to use on your puppy or dog, especially if you have small children around. It maintains its effectiveness for several months outdoors if your dog gets wet in the rain or enjoys swimming.
This product contains citronella, cedarwood, and peppermint oils. There are no toxic chemical ingredients, no side-effects, and no allergies associated with the Petsmont preventative collar. This is a hypoallergenic, pet parent and veterinarian approved collar that is very popular. Puppies and dogs can start using this preventative from 3 months up.
Infestations can take as long as 1-3 months to control. Spraying flea control products in the areas that your dog spends the most time is necessary if you have a massive flea manifestation. It will also be important to visit your veterinarian to have a health check.
Safe and effective flea treatment that are both safe and effective for your pooch means discussing a critter treatment with your veterinarian first, prior to purchasing a treatment and using it. It's very important to understand the pros and cons of every treatment before using it. Examine Amazon product reviews, so that you can get to know everything about your product, including the potential side effects.
This flea collar works against critters for up to 12-months. That said, it is made without the following toxic ingredients: Permethrin, Propoxyphene, Imidacloprid, Fipronil, Pyrethrins, Nitenpyram, Deltamethrin, Diatomaceous Earth, and Tetrachlorvinphos. Being a natural and safe treatment made by a reputable brand, this 2019 natural collar is very effective.
Customer Feedback
This has a solid 9,9,8 out of 10 rating. Customers had both positive and negative reviews about this product being effective after trying other treatments. No side effects, and this product was effective as a solution to critter control.
Key feature
No Nitenpyram, Permethrin, or Diatomaceous Earth
100% Satisfaction Guarantee
Comfortable to Wear
1-Year Protection
Size 22.44"
Pros
Hypoallergenic with no toxic formula
Safe, and easy-to-put on
All-natural plant-based
Eco-friendly and hypo-allergenic making it safe for family members and pooch.
Waterproof
Fits all dog breeds from XS to XXL
Cons
May not be strong enough to kill critters.
Some dogs may develop skin allergies or side effects.
Scent may be powerful for some people.
Herbal Vet Dog Flea Collar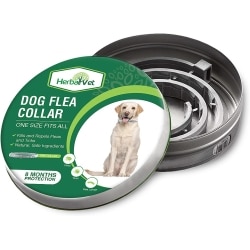 9.3 - rating
Low
This is a multi-veterinarian endorsed product that is most popular amongst pet parents, and those seeking a more natural remedy. It repels fleas and ticks, lice and mites, as well as larvae. What's great about this product is that is offers natural and safe ingredients with an 8-month protection guarantee. With a once-size fits all custom collar, it works via sustained release technology, and keeps every critter away from your pooch safely!
Customer Feedback
The Herbal Vet collar contains cedarwood oil, lemongrass oil. Rosemary oil, neem oil, and finally garlic oil to deter the little critters. It's easy-to use with less hassle, and no mess! The odor may be strong for some dogs and pet parents initially. This is a 100% natural product that contains no chemicals, and is safe if used in the right manner.
Pros
Odorless
All natural ingredients and safe for dogs and humans (we love this product)
Non-greasy
Affordable
Offered with an eBook to explain how the product works
Dewormer available as well
Works for 8 months
Should not result in allergic reactions
Cons
May have a pungent citronella odor
May not be effective on some dogs
Skin reactions may occur in some dogs
Rolf Club 3D Flea Collar for Dogs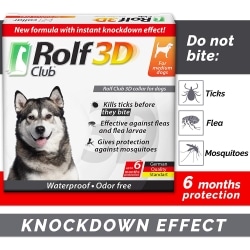 8 - rating
Low
Insecticidal collars like the Rolf Club 3D Flea and Tick collar are made from a plastic polymer resin that has an active ingredient to eliminate critters. This will depend on the chemical. The insecticide will move from collar to dog, depending on how active the dog is. The Rolf Club 3D collar offers a new formula made in Germany that gives your dog effective flea and tick prevention for as long as 6 months.
By 3D, this product refers to fleas, ticks and mosquitos. This flea collar contains a non-toxic formula, and is hypoallergenic making it perfect for dogs with skin sensitivities and allergies. It combats fleas, tick, larva and lice, and mosquitos, and is made to custom fit your pooch. Effective for active dogs that swim, so it's perfect for the hot summer months, and for hiking and beach trips with Fido!
Customer Feedback
This product rated a solid 8 out of 10. Customers had both positive and negative reviews about this product being effective after trying other preventatives. May not be as effective in repelling critters on dogs. Nausea and lethargy reported by some dogs that used this collar.
Pros
Easy-to-use
Non-greasy
Non-toxic
Effective for up to 8 months
Works against mosquitos too, which is a huge plus
Affordable
No harsh scent emanating from flea collar
Available for small, medium and large dog breeds
Formula starts working within 24-hours
Cons
May not be effective
Side effects may be present in some dogs
Let First Take a Look at How Dog Flea Collars Work?

What's in Your Flea Collar?
Insecticidal collars are made from plastic polymer resins. These contain an active ingredient that is released, and that eliminates fleas and ticks. Collars used as preventatives function by releasing the active ingredient as a vapor, a dust, or a liquid, depending on which you choose. This will depend on the chemical. The insecticide is transmitted via the collar to the dog, with how fast transmission occurs depending on how active your pooch is.
Dogs that enjoy the outdoors a lot, and swimming do well with specific collars that are waterproof and durable. Look for a good custom fit, and high-quality collar for active dog breeds! These collars work by destroying numerous flea life stages, and can prevent your pooch from getting very ill.
Find out whether your flea collar is:
Effective for a few months
Kills mosquitos
Affordable (though with this product only purchase the best, most reputable brands)
Fast acting
Durable enough for the outdoors
Can be used on puppies and at what age
Irritating fleas and ticks may result in an annoying skin irritations in pups, adult dogs, and cats. They also can cause a nasty infestation in your home! This can happen to every pet parent in any home if flea prevention is not regularly used. Start off by visiting your veterinarian before the summer months to get the best flea and tick preventative for your furry best friend. That said, you'll know that you're opting for the safest product that is recommended by your veterinarian who knows your dog's health and lifestage.
Fleas are small wingless insects that feed on blood. They also transmit diseases in dogs, pups and cats, and may cause serious allergies or anemia. They inject their saliva into a pet. That said, you'll need to visit your veterinarian to get your pooch looked at and treated for an infestation or ticks. These can be very bothersome, and take a while to treat!
With so many pets that are allergic to flea saliva, it's necessary to find the best preventative out there before the summer months, when these critters prevail. They cause endless itching and pain. If your dog is chewing and scratching his coat, and in pain, as well restless, and nibbling on his paws, you've most likely got a bad problem, which could result in a severe skin infection.
Most cases of flea dermatitis will occur during late summer. Dogs that are younger than a year do not get flea allergy dermatitis. Veterinarians will make a diagnosis by examining your puppy or dog first. That said, if you want to see if your dog or puppy is infected, you'll need to part Fido's coat halfway and run a flea comb through his coat. This will show all the bits of flea droppings, and you'll also notice moving critters. The red and black, cylindrical droppings are easy-to-see. If you don't want to do this, visit your veterinarian immediately so that your pooch can be effectively treated.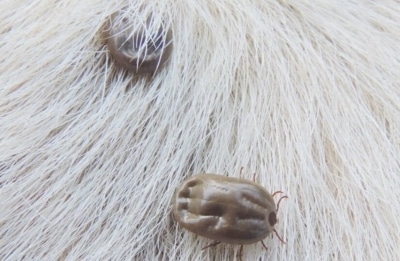 Your dog's bedding needs to be checked as well. Here you will also most likely have flea eggs, larvae, and flea excrement. Fleas are linked to disease that is responsible for the skin itch. Unhealthy coat conditions may also be caused by flea dermatitis.
Flea and tick collars differ in the time that they take to work. That said, it's always necessary to check the instructions and website for all details. With some dog collars working faster than others, check out the Amazon reviews for detailed information.
Flea control measures have changed a lot over the past few years. That said, today with all the new insecticides and insect growth regulators it's much safer and easier to control. Flea and tick collars offer pet parents peace of mind, and dogs and puppies residual monthly control. They also need fewer applications.
Veterinarians sell preventatives, as well as online stores, and pet stores. These will include oral and injected medications, applied anti-flea and tick liquids (topical), and flea sprays.
Flea control should be discussed with your veterinarian, who will help you choose the safest and most effective methods of flea control. Keep in mind that this has to be geared to your dog's lifestyle, age and weight. Safety with critter preventatives is the most important aspect to consider. Pet parents should read all the reviews, and consult with their veterinarian for the best product out!
Are Flea Collars Safe for Dogs?
Insecticidal collars are plastic polymer resins that contain an active ingredient that controls fleas and ticks. Collars for flea control work by releasing the active ingredient as a vapor, a dust, or a liquid. This will depend on the chemical. The insecticide will move from collar to dog, depending on how active the dog is.
Effective dog flea collars should be waterproof, durable, high-quality, safe and fit snugly. Lots of flea collars will treat flea infestations in your home by destroying fleas and their eggs by releasing chemicals that are released into your dog's skin.
Read the package to make sure that the word "kill" is used, so that it's not just a preventative. The most common ingredients in flea collars are:
Midacloprid
Flumethrin
Tetrachlorvinphos
Flea collars may be toxic to pets since they contain chemicals as in amitraz, organophosphates, or pyrethrins. Some flea collars may carry more risks, and may have side effects like nausea and lethargy. There are other options to the traditional flea collars, like "natural" flea collars. That said, it's advisable that pet parents read the "natural" ingredients list.
The least toxic chemicals are the pyrethins or pyrethroids. These work fast and don't stay for long in the environment. With stronger chemicals that are longer- lasting, chemicals are more toxic and may include the following:
Cholinesterase inhibitors which fall under names like carbaryl, diazinon, Dursban, malathion, fenthion, and sevin.
Chemicals that destroy adult fleas, and flea growth (IGR) are called methoprene or pyriproxyfen. These work by stopping flea eggs from hatching. They also prevent flea larvae from getting to adulthood.
Natural Flea and Tick Collars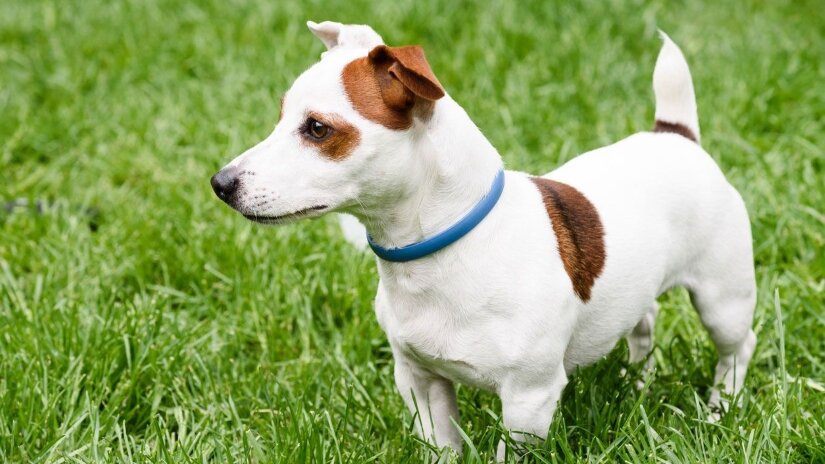 No more harsh chemicals! With natural flea collars, you're opting for safe and toxin-free. Natural is a term that is not regulated in the pet industry. So ask yourselves what makes for a natural product before purchasing a "natural" flea collar.
As a pet parent, it may be in your dog's interest to consider "natural" flea collars when counteracting chemical overload in your pooch. With pharmaceutical companies developing effective collars for pets that are easy-to-use, and keep our pets free of external parasites, it may seem easiest to just purchase any collar that is affordable. That said, there is a chemical overload that comes with high veterinary bills.
Many flea preventatives are tested on a few hundred animals only before being released on the market, and up for sale. This means that your kitty or pooch may be a "testing lab" for new preventatives that are starting to sell.
Recalls don't occur much with new products until a few thousand pets die. You will also need to check the ingredients on a tick and flea collar for cancer causing agents. Additionally, it may be best to purchase only from reputable and long-standing pet brands that are veterinarian approved!
Studies show that the development of transitional cell carcinoma (TCC) is particularly linked to exposure to insecticides, including some of the traditional flea and tick remedies. Toxic chemicals are often used in these collars. But they can also harm your dog!
According to a recent study by the Natural Resources Defense Council ((NRDC), Americans spend close to $1 billion each year on products designed to kill critters on household pets, especially dogs and cats!
Some of these products may be safe, yet others have the potential to leave harmful chemical residues on our furry best friends.
"These chemicals are highly hazardous to animals and humans, can damage the brain and nervous system, and can cause cancer." NRDC
A first- of- its-kind study by NRDC shows that high levels of pesticide residue can remain on a dog's fur for weeks after a flea collar is put on an animal.
In spite of the known adverse effects of pesticides, they are continuously being used in dog shampoos, and other dog products.
What are pyrethroids?
Pyrethroids are a class of synthetic pesticides used widely in home insect-control products, including flea bombs, roach sprays, ant bait, flea-and-tick pet shampoos, and lice shampoos.
The chemicals are also sprayed on crops. Although they are modeled after naturally occurring insecticides (pyrethrins) found in chrysanthemum flowers, pyrethroids are generally longer-lasting in the environment and are more toxic than their botanical cousins.
Examples of pyrethroid pesticides include: cypermethrin, permethrin, deltamethrin, bifenthrin, and cyfluthrin.
Why are pyrethroids in flea-and tick collars?
Pyrethroids are toxic to humans and dogs.
The best approach to controlling fleas is to begin with a natural and possibly an organic product choice. This will contain the least toxic ingredients, and will be healthier for your pooch.
Bathing your pet regularly plays an important role in your dog's life. It gets rids of:
Plant debris
Dirt build up
Dust
Sometimes toxic and unhealthful ingredients like flakes of paint, lead, debris from cars or buildings
Lint from synthetic fibers
Accumulated toxins
Germs
Parasites
Each time you shampoo your dog with unsafe control methods, you're exposing him to toxicity.
Look Out for the Following Side Effects When Using Pyrethrins and Pyreththroids
Excessive drooling
Vomiting
Diarrhea
Seizures
Difficulty breathing
Severe tremors
Disorientation
Low body temperature
High-fever if severely affected
Excitability
Depression
Death if severe toxicity
Signs of d-Limonene Toxicity
Drooling
Tremors
Lack of coordination
Low body temperature
Vomiting
Collars That Contain Organophosphates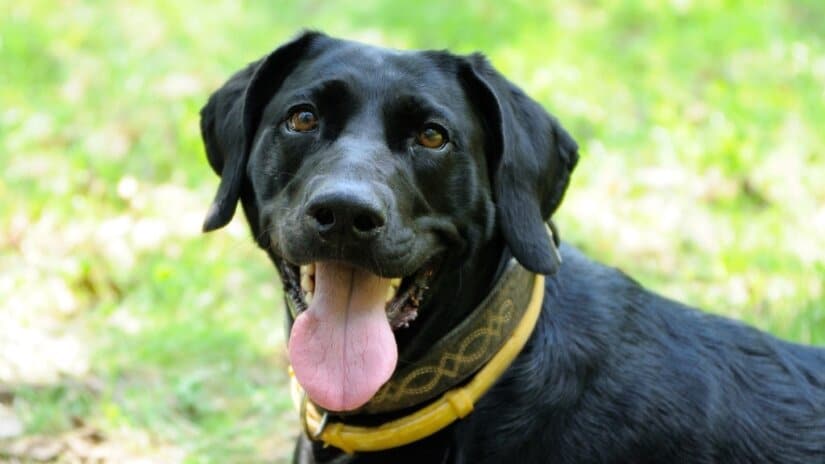 Side Effects
Collars that contain organophosphate insecticides like dichlorvos may result in skin reactions in pets. Malathion, also found in collars is a safe organophosphate. If your dog shows signs of insecticide poisoning, you will need to carefully bathe him with detergent and water. An immediate consult with your veterinarian will be necessary. Your vet may perform blood work.
Vomiting may be induced, and mineral oil given orally to decrease the absorption from the gastrointestinal tract. That said, keep in mind that the more effective a flea collar is, the stronger it is, thus the more toxic to the pet. Opt for veterinarian sold insecticides and insect growth regulators that provide residual control, and prevent reproduction.
What to do
Remove all toxic products from your household.
Clear out any products that may be harmful to your dog.
Use a gentle shampoo that will not strip all the oils from his coat.
What you'll realize is that you no longer need to expose your dog to chemically treated shampoos. These are all powerful carcinogens. Think about all the toxic insecticides, fungicides, pesticides and herbicides that your dog is exposed to every day in your home.
Newer studies demonstrate that some chemicals may have a low-cancer causing potential when tested alone, but can be very powerful carcinogens when combined with others. That said, it's best to research the ingredients in your dog's collar, and to also consult with your veterinarian prior to purchasing a flea and tick collar for your pooch.
There are numerous effective and non-toxic flea and tick control products that there's no reason not to use them! No pet should have to suffer the continuous pain and skin irritations that come from flea and tick bites.
As usual, always consult with your veterinarian for the best preventative products to use on your dog, and in your home if you have an infestation. Depending on where you live, and your how active your pooch is, all factors should be taken into consideration when determining which collar is best.
Some dogs will need ongoing flea preventatives depending on where they live. Veterinarians will maintain a preventative schedule for pet parents for regular testing of parasites and treatment that is appropriate for each dog.