If you're keen on taking your cat outdoors for short walks but want to make sure that your cat is safe, a cat harness and leash may be the best option. You probably don't allow your cat to prowl your neighbors' yards or play alone outdoors, but if you keep your cat on a harness and leash, he or she will have a great time exploring the neighborhood with you.
Today there are at least 85 million domestic cats that live in U.S households. Because cats are known to be deeply connected to their home territory, not much thought has gone into how much a cat may enjoy being walked outdoors if they don't have an enclosed backyard. We may not realize that even though we have cat-friendly homes, human homes may fail to meet the environmental needs of cats.
That said, cats need to move around freely and get enough physical exercise to have a healthy and satisfying life. To do so, your cat may benefit from a cat harness so that he can be mentally stimulated outdoors and get enough exercise.
| PRODUCT | | RATING | PRICE | SIZES |
| --- | --- | --- | --- | --- |
| rabbitgoo Cat Harness and Leash | Our choice | 9.5 | Average price | XS,S |
| PetSafe Come With Me Kitty Harness | | 9.1 | Average price | S, M, L |
| Supet Cat Harness | Best Value | 8.7 | Low price | XS, S, M, L, XL |
| Voyager Step-In Air Harness | | 8.6 | Average price | XXXS, XXS, XS, S, M, L, XL |
| FayoGoo Cat Harness | | 8.4 | Average price | S, M, L |
| PUPTECK Harness | | 8.3 | High price | S, M, L, XL |
There are several significant perks to a cat harness, especially if you want to get your kitty to walk on a leash so she can explore the great outdoors or want to give your indoor cat a little stroll in the garden for mental stimulation.
If you're opting for a long-distance trip and hotel stay during a pet vacay with your cat, cat harnesses work well and provide the safety that you'll need.
The perfect solution is a cat harness. Since there so many different types of cat harnesses out on the market today, we're here to help you make a choice.
Cat harnesses are split into a few categories – allowing you to fine-tune your cat's requirements. Here's the take:
Type of Harness for Cats
Vest Harnesses
The most popular type of cat harness for walking cats is the vest harness. This covers your kitty in a secure vest-type harness that you can easily attach a leash to and have fun outdoors.
Many cat parents find this type of harness to be the most secure because it features a good combination of safety and flexibility for your cat. Vest harnesses are comfortable, lightweight, and most often machine washable.
Step-In Cat Harness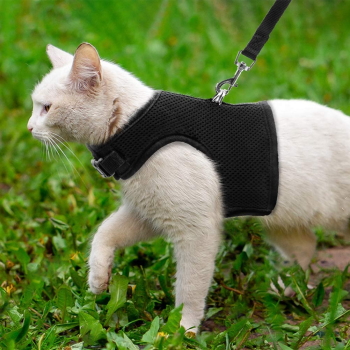 This type of harness is crafted with leg and armholes, which your kitty quickly steps into before allowing you to fasten the harness.
Step-in harnesses allow for the most amount of flexibility and mobility. They work well for all types of cats, most especially those who don't like wearing vest-style cat harnesses or having their head go through the opening of any clothing item placed over their heads.
Harnesses for cats are available in several styles; they can be crafted with straps, similar to a dog harness, or they may feature a vest that is easy to put on the cat for optimal security.
Vest Style Kitty Harnesses
A vest-style harness is a popular option among cat parents because they offer optimal safety for the escape artist cat that can back and twist out of a regular cat harness. Velcro vest harnesses are adjustable and are a bit more difficult for your kitty to wriggle out of, essentially making this type of harness an effective "escape-proof" pet velcro harness.
Harnesses can also feature varying types of closures – Velcro is easier to close on difficult cats may catch on long fur. The velcro noise may annoy some cats, while buckles can be a bit more challenging to handle with difficult cats or kittens.
H-Style Cat Harness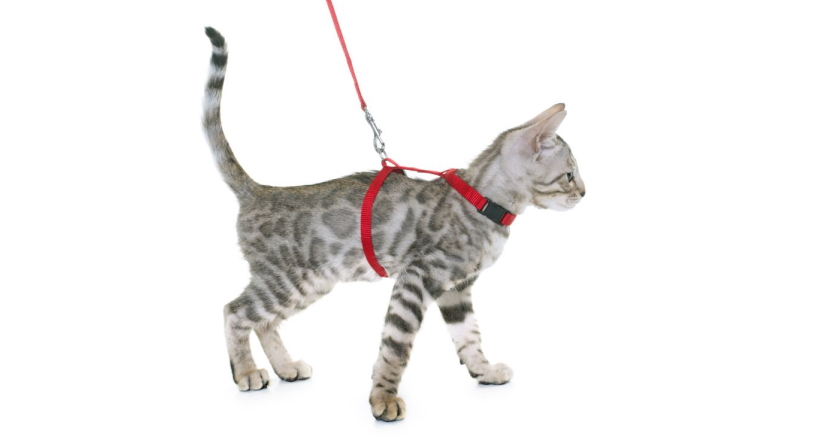 Another popular type of kitty harness is the H-style which is crafted with two separate parts.
These may be the least secure of all harnesses, yet the advantage of using these is that the cat has more mobility.
If your kitty is laidback and leash trained, the H style harness may be a good choice, but make sure that this is used in a low-risk environment with few stressors and no aggressive dog breeds around.
Figure-8 Harnesses
The figure 8 harness combines excellent features from the other cat harness styles, resulting in a hybrid kitty harness.
The design of the figure 8 harness works in a way that tightens when your cat pulls on the leash, and there is tension. The disadvantage of using these is that some cats will fight against them and try to escape.
Cat Harness Sizing
It only needs two easy to take measurements to find your cat's perfect correct harness size. To measure your cat for a harness, you should use a tape measure and take his front and back measurement. For the front measurement, you should measure your kitty's shoulder blades, around the front of his breast bone, and then go back again.
To measure his back measurements, you should start measuring from your kitty's shoulder blades, around the back of his legs, and back again. The tape measure should pass closely behind his elbows but not too tightly to allow for freedom of movement. Once you've taken your kitty's measurements, you can compare them to your brand's sizing chart.
If your cat is between two sizes, you should opt for the smaller of the two for a snug and secure fit. This makes the cat harness escape-proof. It's also more of a comfortable fit for your cat because the harness won't move around. Nonetheless, if your kitty only needs around half an inch more, you can use the adjustable straps to loosen the straps at the back or front of the harness.
Cat Leashes

You should also think about location and where you're going to walk your kitty. A four to 6-foot kitty leash is perfect for walking around your neighborhood where you need to be in control and to have your cat close to you. An extendable leash may be more difficult for controlling your cat around bushes or where there are dogs or ducks.
We considered several criteria when choosing the best cat harnesses for 2023; whether they were comfortable, how well they distributed weight of the cat's neck and shoulders, the quality and durability of stitching, reflective bands, and 'escapability.' You should also note that many of these harnesses come with their complimentary cat leashes. Here's the take:
---
---
Final Thoughts
Like dogs and people, cats need plenty of toys and interactions with family, other pets and people. If you find that your kitty has been stuck inside an apartment or home, unable to go outside and experience sunshine and external stimuli like birds and squirrels, think about getting a cat harness for walking your cat. Even cats that are very friendly and seem happy indoors will do well with sunshine and a short walk.
As usual, it's good to start early training your kitten to wear a harness and to walk on a leash. Stick to a routine, and reward with your cat's favorite treats and lots of praise when first starting. Soon you'll both be having plenty of fun exploring the outdoors!