If you are looking for the most comprehensive guide on how to choose the best ferret cage, you are on the right page.
Are you a parent of a pet ferret or thinking about getting one and want to get the best cage in 2023? Well, you are in the right place because this post is going to give you comprehensive information on some of the best cages you can buy and things to consider before you start shopping.
If you already have a pet ferret, then we bet you are loving the experience, but if you are about to get one, ferrets are excellent as pets. They are friendly, intelligent, quiet, but curious in nature; moreover, they love to bond with their owners, so your bond will strengthen with passing years.
That said, ferrets need supervision as they can get super energetic at times. Therefore, in order to keep them from harm's way, you can put them in a cage. For that, you must invest in the best cage in 2023; therefore continue to read as we discuss the why and what when it comes to buying your ferret a nice cage.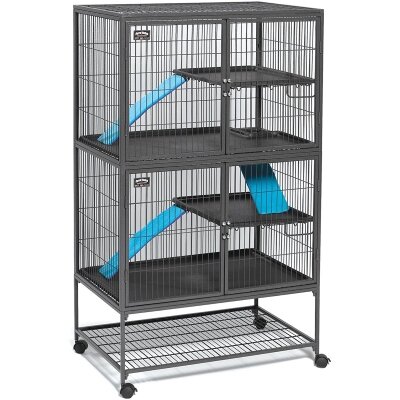 Our Choice
Midwest Homes For Pets Deluxe
The Deluxe Ferret Nation Cage by MidWest Homes for Pets offers adequate space for your ferrets for an enjoyable and playful experience. You can move anywhere with ease as it comes with built-in wheels. Additionally, you can extend this cage as per your needs.
Comparison Table
This comparison table is from a list of some of the best cages that every ferret owner must consider. When buying a ferret cage, the things that you consider are its dimensions, the spaces between bars, and accessibility points on top or sides. It would help if you also looked for a ferret cage with no-tool assembly, a removal button, and wheels. Moreover, it should be extendable in case you wish to accommodate more ferrets into your existing cage. These cages are amazing and we have handpicked for you have all of the above features. Moreover, the comparison table will give you insight into each and every above-mentioned aspect of each product.
| PRODUCT | | RATING | PRICE | SIZE | SPACE BETWEEN BARS | ACCESSIBILITY POINTS ON TOP | ACCESSIBILITY POINTS ON SIDE | NO TOOL ASSEMBLY | REMOVAL BOTTOM | WHEELS | EXTENDABLE |
| --- | --- | --- | --- | --- | --- | --- | --- | --- | --- | --- | --- |
| MidWest Homes Deluxe | Our Choice | 9.7 | High price | 25" W x 63" H x 36" L | 1 Inch | 0 | 1 door for each section | ✔ | ✔ | ✔ | ✔ |
| Prevue Hendryx | Best for 2 Ferrets | 9.5 | Average price | 31" L x 20" W x 54" H | 7/8 Inches | 0 | 1 door for each section | ✔ | ✔ | ✔ | ✔ |
| Ferplast Single Story | | 9.0 | High price | 29.5L x 31.5W x 63.4H | 7L x 0.5 H Inches | 1 | 1 door for each section | ✔ | ✔ | ✔ | ✔ |
| Midwest Critter Nation | | 8.8 | Average price | 36" L x 24" W x 39" H | 1/2 inch | 0 | 1 door with only 1 section | ✔ | ✔ | ✔ | ✔ |
| Prevue Hendryx Cocoa | | 8.4 | Low price | 33.5"L x 20.5 W x 33" H | 15/16 inch | 0 | 1 door with only 1 section | ✔ | ✔ | ✔ | ✔ |
Short Reviews
This is our review of the top 5 picks of best cages for ferret owners. Whether you own a single ferret or an owner of multiple furry energetic ones, you can pick one from these five of the best cages available around the world. These reviews will help you decide which size and features will suit your pet's needs and comfort.
Continue to read the reviews before you buy one.
Buying Guide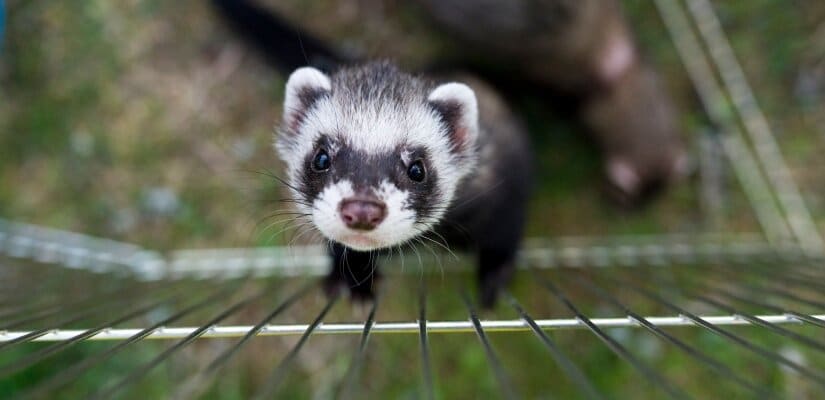 If you are a ferret owner shopping for the best cages you can possibly get, this is our comprehensive buying guide for you. This guide will help you familiarize yourself with everything you need to know about ferret cages. Moreover, you will learn about several aspects to consider when buying the right ferret cage for your energetic fur-ball.
Read this post to get extensive knowledge.
Key Considerations When Buying Ferret Cages
Ferrets are sociable by nature; however, they can be really picky when it comes to choosing roommates. Therefore, if you have more than one ferret, you have to pick a ferret cage with enough space. Moreover, some ferrets prefer their own space even when they share a cage with other ferrets.
That said, here are all the key areas that you should consider when buying a ferret cage.
Spaciousness

Ferrets are well-known for their energetic nature and even more popular for being natural escape artists. Therefore, you should house them in a cage with enough space for them to jump, run, play, and nap. Give them enough space, and they may not feel tempted to find a way out of their habitat.

The larger the cage, the better it is; however, it depends on how much cash you wish to splash. That said, typically, the minimum space you must provide your ferret in a cage is 24 L x 24 W x 18 H inches that come to 60 x 60 x 45 cm.

Moreover, you must ensure that the cage is well-ventilated. You must also ensure not to confine your ferrets for too long. Let them out for at least two or three hours in a day, or even more if you can. Remember, ferrets are intelligent, curious pets and love to socialize and interact with their owners.

When you buy a cage, make sure that it is ferret proof with enough play area for your ferrets to explore and investigate. You must also place various objects such as toys, tubes, hammocks, and other distractions for them to explore and keep busy.

Multi-levels

Whether you have a single ferret or a couple of them, it is always commendable to buy a multi-floored or multi-tiered cage for a single or more ferrets. This adds layers of excitement to your pet's living space; they will never get tired or bored playing in their new multi-layered dwelling.

Having multiple levels allows you to keep ferrets separate, and they can pick their space to nap. You can use different levels of activities on each level. Such as a hammock on one level while keeping food and bedding on other levels. This will also allow you easy accessibility and cleaning each level at a time.

In case you own a single ferret and want to add another member to the family, multi-level cages can allow you to extend the structure by adding extra layers on top.

Bar Spacing

Bar spacing is one of those details that most ferret owners miss when buying a cage. Ferrets are known for their intelligence and will not miss an opportunity to escape their cages. If there is enough spacing between the bars, your ferret will squeeze through.

You must remember that ferrets love to explore and roam around, and sometimes, a cage is just not enough, no matter how big it is in size. This is the reason why ferrets have earned the reputation of great escape artists. If your ferret sees something they want outside their cage, they will do anything to get it.

By anything, we mean that your ferret will try its best to escape the cage. For that reason, you must ensure that your ferret's cage has adequate bar spacing to prevent them from squeezing through or getting stuck while they try to do it. If your ferret gets stuck while trying to escape, they might suffocate with severe outcomes.

Ferrets are very flexible animals and usually can fit through the narrowest of holes. Therefore, when you purchase a cage, make sure that the width of the wires on the cage's walls should at least be around 1.5 cm to 2.50 cm. With this kind of bar spacing, your ferret will not even consider the possibility of escaping through them.

Another tip is to buy a cage with a solid bottom because the wired bottom will pose a threat to your ferret's safety. They can easily get stuck and/or injure themselves. In case you have a cage with the bottom made of wires, you should cover the base with linoleum. However, you must ensure that it stays in place and your ferret does not go under it.

Ease of Cleaning

Ferrets love to stay clean naturally and even shed twice a year. However, ferrets poop a lot, and for that reason, you must get a cage that is easily accessible for cleaning. It would be ideal if you can find a cage with a removable litter tray.

Always make sure to empty and wash the litter trays and cleaning up any mess outside it. You can even wash down the messy area of the cage via a spray bottle. Many cages come with dedicated accessories for food, so you can take these components and clean them out.

Soiled bedding is another aspect that can get messy when cleaning; therefore, you must find a cage that can offer spacious access for you to clean it without struggling to get in.

Ventilation

Ventilation is a must for your ferret's wellbeing; therefore, you must get them housing that offers adequate ventilation. Moreover, you should keep their cages dry and draught free. Ferrets flourish in mild temperatures of 15°C to 24°C. However, they can easily adapt to the slightly colder temperature of 7°C to 10°C.

You must remember that your ferret is susceptible to hot stress in temperatures above 30°C, especially if you live in an area with high humidity. The optimal level of humidity for your ferret is anything between 40 to 60 percent. If you are nursing un-weaned kittens, you must keep a temperature higher than 15°C.

Material

Ferrets are well-known for being great at making escape attempts. They are like a domesticated wild polecat with a highly effective set of teeth. Moreover, ferrets are quick and nimble so they can crawl through the narrowest tunnels. Therefore, you must choose a cage for your pet with metal bar or mesh material.

The most crucial part is that the metal bars must be suitably close to each other, to ensure your ferret does not even consider slipping through them.

Design

Because ferrets are energetic and adventurous by nature, they will try anything to get out of that cage. This includes them trying to slip between the bars, but your ferret may be intelligent enough to unlock that cage latch successfully. Yes, it is true.

For that, you must pick a design with adequate bar spacing to prevent your ferret from escaping. Ideally, this spacing between the metal bars must be less than one inch or 2.4 cm. Apart from that, you need a cage design with a tight-fitting door, so your pet cannot open it.

Moreover, you must try to get a cage spacious enough for your ferret to eat, play, sleep, and poop. Ferrets do not like to poop where they eat and sleep, so having a cage with multiple levels will help you create a separate section for your ferrets to do their business.

Level of Security

You have to make sure that the cage you pick offers maximum security for your pets. The cage made from the right material with adequate spacing between the bars will allow enough ventilation but prevent any chances of your ferret getting stuck and hurting themselves.

Provide adequate padding on the base of the cage, so your ferrets do not harm themselves in case of a fall.

Portability

Whether you buy a small cage or a big one, it will be heavy to move around because of the metal construction. Therefore, make sure that the cage your purchase comes with portability options such as wheels. This will come in really handy if you need to move your pet's cage to a different room or location.
What Do You Put in a Ferret Cage?
There are several aspects to the answer to this question. So let us look at each of them.
Essential Items in a Ferret Cage

Bedding

Your ferrets love to sleep in hammocks and sleep sacks. However, you can also use old clothes or towels instead of using a sack. Whatever material you use, make sure that it has a soft lining to make it a cozy and bedding material for your ferrets.

Hammocks are ferret's most favorite place to nap and offer an elevated sleeping area. This also allows you to use the rest of the cage as a play area for your ferret. Moreover, you can place the hammock in an area away from where your ferret eats and litters.

Hammocks also contribute as a play accessory for your ferret to climb on to. You can tie the hammock bedding to the cage using clips, shoelaces, or hooks. This way, the hammock will be secure for your ferret, and you can easily remove it when you want.

You can even purchase snuggle-safe beds with heating pads. You can simply heat these in a microwave and place them in the cage. However, make sure that the pads are not too warm, and you must cover them with thick material. This will ensure that your ferrets do not burn themselves.

You can even create disposable cheap ferret bedding using old–shirts, towels, and other clothing. This will help you bring down the maintenance cost of your newly bought cage.

Water Bottle

Your ferrets will require frequent access to fresh, clean water. You can use a water bottle and place a crock-type bowl under it to catch the drips. Do not be alarmed if your ferret thinks of it as a toy and tries to play with it first.

You can even manually add fresh water from time to time in a crock type bowl. Use a metal bowl as they are heavy, and it will be harder for your ferret to move or tip it over. Research suggests that your ferret would instead drink out of a bowl than from a bottle.

While using bowls is completely fine, it is important to note that you must change the water on a regular basis. Another tip is never to use ice-cold water because ferrets do not like it. Doing so will result in your ferret drinking less and suffer from dehydration issues.

Food Bowl

Ferret is an obligate carnivore animal, meaning they only eat meat. You can use anything from raw meat to whole prey. You can even use kitten food or heavy food because they contain a high quantity of protein nutrients. For that, you will need a food bowl. However, you must try to keep these food bowls clean.

Accessory Items in a Cage

Here are the accessory items that are a must-have in any type of cage.

Ramp with Ledge

You should place a ramp with a ledge in your pet's cage. Even if you have a cage with a single level, adding a ramp piques your ferret's adventurous nature by offering more space for playing or feeding.

Hammock

A hammock is a must-have accessory no matter what size your cage is. Ferrets love hammocks for various reasons; sleeping in a hammock definitely tops any other. Moreover, a hammock can also offer additional space for playtime, especially if you have a cage with limited space.

Crawling Tubes

You can even buy crawling tubes and place them in a cage. This will stimulate your ferret's natural instinct to explore a tunnel environment. Why not put a little bed inside the tunnel to replicate a burrow within a tunnel.

New Toys

This is the top basic need of any cage. It is your responsibility to provide enough entertainment for your ferret in their cage. There is a wide variety of toys you can purchase for your ferrets but choose the ones that do not break or are susceptible to chewing as these can cause harm to your furry friend.

You can choose plush toys without squeakers. The most recommended toys to buy are the "road kill" style and hard plastic balls. That said, do not buy hanging toys because ferrets are known to chew and ingest the toy strings.
Tips
This section offers you tips for buying the best, secure and adequate cage. Most owners are not sure exactly how to offer a quality lifestyle to their ferrets. On the other hand, first-time owners struggle with common issues like setting up the bed and things they should take care of. This section will offer you advice on some of the most common areas when it comes to buying ferrets.
Continue to read for some useful tips.
How to Properly Maintain a Ferret Cage

Most new ferret owners often wonder how to maintain the cage. Here are some tips to help you maintain your new cage on a daily basis.

Empty and clean litter trays
Clean up any poop outside the litter tray and wash that area.
Remove any uneaten food, or it will start to stink
Remove any soiled bedding and wash the area
Wash out drinking bowls and bottles.

For the weekly cleaning routine, do the following

Wash and disinfect the litter tray
Wash all beddings and toys
Wipe the plastic toys with a cleaning solution and rinse them properly
Wipe the entire cage, including floors and bars, using bleach or cleaning solution




You must make sure that you put any rubbish bins away from your ferret's sight. If there is one in the area, your ferret will try its best to escape the cage and get into that rubbish bin. They love to burrow around in rubbish and throw it around. Again this is not an ideal playtime activity you want the ferret to get involved in.

Not only is it going to create a mess for you, but your ferret is going to stink like the bin itself. Another point to remember is that you need to provide ample living space to your ferret. They need plenty of space to play, the correct type of litter, and a variety of toys and activities to keep their interest fresh.

You will also need to secure your ferret's surroundings. They love to explore and hide, but you leave them unsupervised, their curious nature will most likely get them in trouble.

If you do not want them hurt, always do your best to get them the best and most secure cage. It is always a good idea to have two ferrets as they love to spend time with a companion and play with them.

Having a fellow ferret will also prevent your ferret from trying something dangerous as trying to escape the cage. Plus, it will prevent your ferret from feeling lonely. In case buying a second ferret is not an option, you must make sure that you spend a lot of time with your furry friend. They will surely love all the warmth and affection.

Finally, you must keep their house fresh and clean. This will ensure the wellbeing of your ferret and prevent any illnesses and reduce the smell.

Where Should I Put My Ferret Cage

This is a very important question. There are several aspects to consider when it comes to choosing a place you want the new cage. Let us explore them one by one.

Put the Cage Away from Loud Noises

You must always pick a place that is a semi-active area in your home. Ferrets love your attention when they are awake; therefore, do not put the cage in an area secluded from family members. However, you must put the cage away from the area with loud noises because ferrets also sleep a lot.

Away From Air Vents

You must ensure that the cage is an area with sufficient fresh air ventilation. For that, you can place the cage in a room with a heating or air-conditioning system. However, do not place the cage next to an air vent.

On An Easy To Clean Floor

On average, your ferret will poop every three to four hours a day, which means a lot of poop. Chances are, some of it might fall off the cage onto the floor. Therefore, you must place your cage in an area with an easy to clean floor.

In a Loving Environment

Ferrets are sensitive to hot temperatures; therefore, choose a location with a temperature between 50°F to 75°F, i.e., 10°C to 24°C. Most areas in your house should fall within this range of temperature. However, if you live in a geographical location with hot temperatures, you may need to provide some supplemental cooling to bring the temperatures to the desired level.
F

requently

A

sked

Q

uestions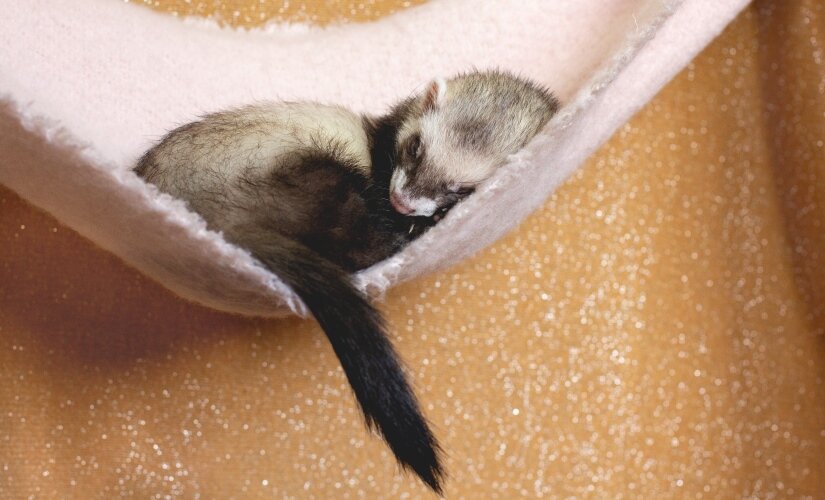 Many first-time ferret owners often Google about the do's and don'ts about the cages. In this unit, you will find answers to the most common questions that may pop in your mind regarding a ferret cage.
Continue to read and get your answers
What kind of cage does a ferret need?
Typically, a ferret cage should be 20 inches in length, 20 inches in depth, and 40 inches in width. In case, you have more than one ferret, the bigger, the better. In any case, a multi-level cage is always a preferable choice. That said, you must get a ferret proof cage, so they do not injure themselves during falling, playing or while hanging from the hammock.
Can ferrets be kept in a cage?
Yes, you can always put a ferret in a cage. A secure cage ensures that your ferret is safe during hours when you are not supervising them. Remember, ferrets are very intelligent, energetic, and inquisitive in nature and require playtime in a safe area.
Should I cover my ferret cage at night?
It is your call whether you wish to cover your ferret cage during the night time or not. Ferrets do not need a dark, dingy environment to go to sleep. They play so hard for a few hours that they will fall asleep anywhere after that.
Where do Ferrets Poop?
Ferrets always find corners to poop. In case you have left your ferret play in the room and wonder where they might have pooped – check those corners in the room. However, do not only look in the four corners of the room. The corners also include corners of the furniture, fixtures. Ferrets will use any corner area to do their business.
Therefore, you should get a litter tray as ferrets prefer to poop in a fresh litter than making a mess in a random corner. Plus, these litter trays are easier to clean compared to the floor surface.
Are ferrets smelly?
A ferret typically smells a bit musky, but you will get used to it after a while. That said, if your ferret smells too much, it is probably because of its unclean cage. This creature has a short digestive tract; therefore, it will be pooping and peeing a lot. Keep the cage as clean as possible on a daily basis, and your ferret will not smell awful.
Do ferrets need a companion?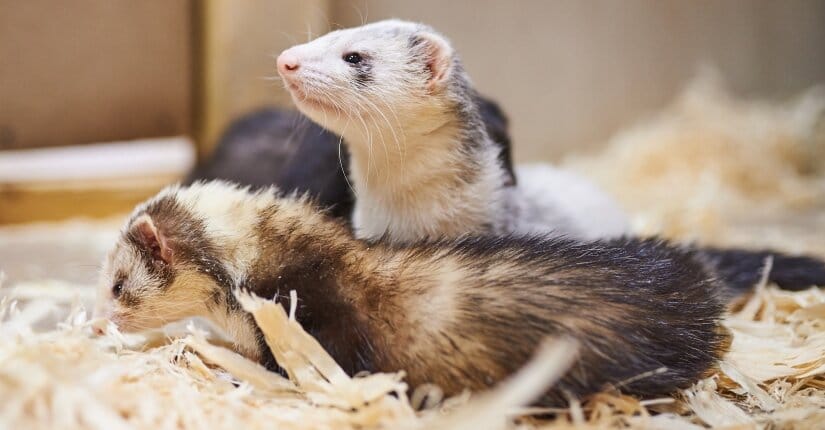 The answer to this question is a "yes." Ferrets are sociable and affectionate creatures and must always have a companion ferret living with them. If your ferret feels abandoned lonely, they can go into deep mourning and even die of loneliness.
Can I leave my ferret alone for a week?
Yes, you can leave your ferret alone for a week as long as you leave enough food and water for them. Make sure their cage is secure, so they do not get into trouble while you are away. Moreover, leave their toys and entertainment there, so they do not get depressed for being lonely. That said, it is advisable not to be away for more than three days.
What is the best thing to put in your ferret cage to keep the bad smell down?
Did you know that commercial treats can make your ferret's poop stink more than usual? And because they poop a lot, this can cause the cage to smell awful. For that reason, you must use natural treats such as homemade bits of chicken, eggs, etc. these can help your ferret's poop smell less stinky.
It is always best to use old clothes in the bottom of your ferret cage. Your ferret will not poop in them, and you can always wash them. Washing these bedding clothes once a week will keep your ferret cage from smelling bad. However, washing them twice will help you keep your cage smelling fresh.
What is the best place to put a ferret cage?
The best place to put your ferret cage is somewhere with moderate temperatures between 15°C to 30°C. Plus, ferrets do not like being on their own so put the cage in an area where they have some human interaction. Moreover, you must find a spot with proper ventilation.