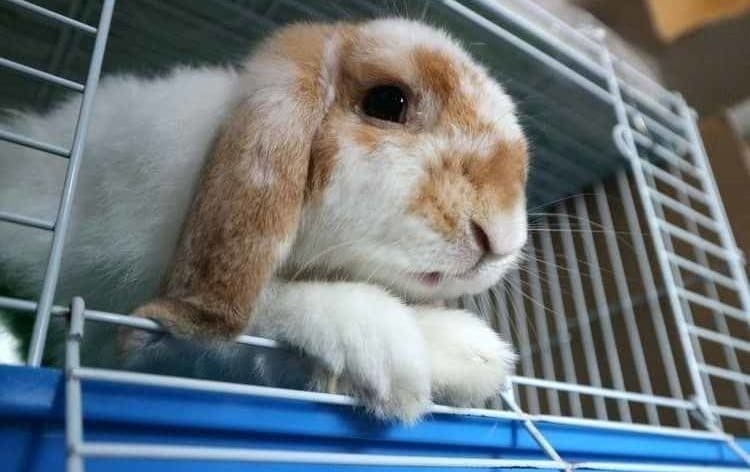 Rabbits are loving, social creatures that make for a lovely pet for either children or adults. Before getting one, though, you should get yourself familiar with the needs of an indoor rabbit. Perhaps the first thing to check is the rabbit cages.
While many bunny parents let their fur baby explore the house for hours, your pet will still need a private spot where to feel safe during his rest. An indoor rabbit cage can offer adequate accommodation, and contrary to popular belief, they aren't inhumane.
Indeed, many pet bunnies will choose it voluntarily as a safe place for all those moments when they are afraid of something or during nighttime.
But buying a hutch comes with endless dilemmas. Perhaps the main thing to check before buying is the bottom of the cage. Most manufacturers make it from wire mesh, for easier cleaning, but the structure could hurt your bunny's sensitive legs.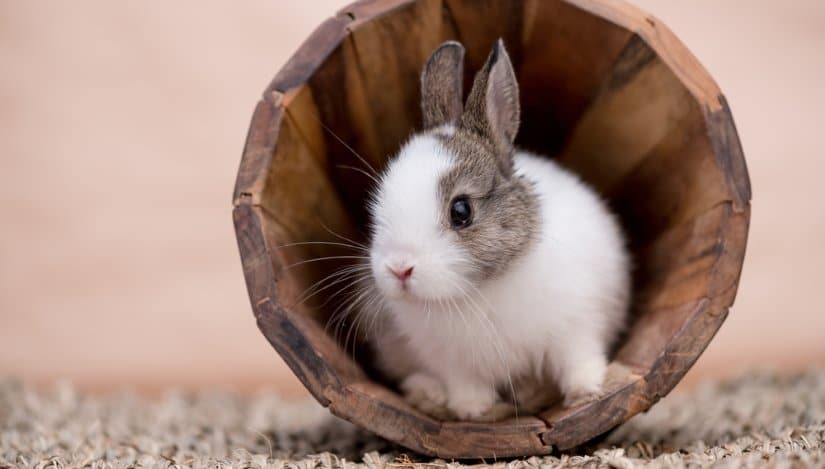 That's why you should either get a cage with a flat bottom or place a piece of plywood or cardboard over the wire to provide a flat and comfy surface to the little soul.
You must also check the opening of the cage. A lateral door is essential if you want to provide easy in and out access to your pet. However, a top door is also essential if you want to place food or water when you don't want to let the rabbit out.
Then, you should also control the overall sturdiness and material the cage is made of. If you're already overwhelmed and have no idea how to find the best cage for your cute pet, know that we did the hard work for you.
We scoured the market and found the most promising models. Check out our detailed reviews and top picks below.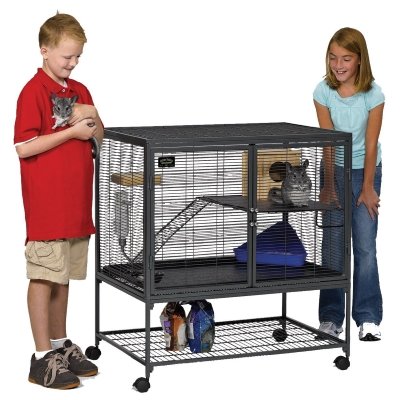 Our Choice
Midwest Deluxe Critter Nation
A generous floor area, multi-story levels, and locking casters give this cage true value for the money.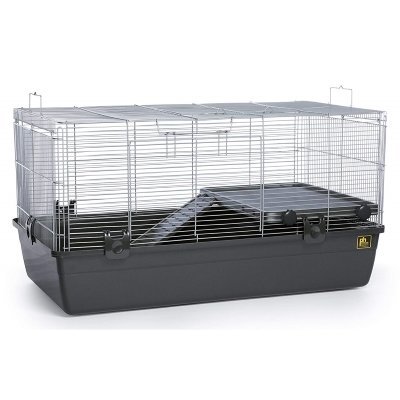 Best Overall
Prevue Pet Products 528
This indoor rabbit cage is compact enough to fit in most homes yet roomy enough for your pet. It boasts top and side doors and is very easy to assemble.
Best Indoor Rabbit Cage Reviews & Comparison Table

Best Indoor Rabbit Cage Rating in 2020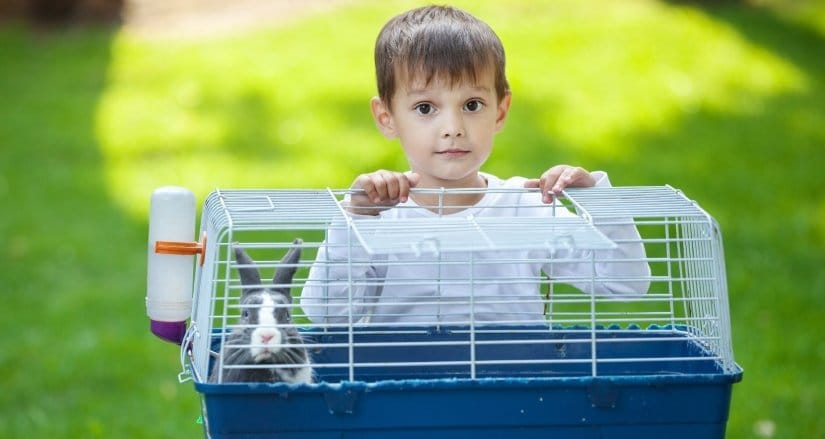 With an impressive range of indoor rabbit cages available on the market, it's hard to pick the best ones. To make sure the ones on this list are comfortable for both pet and owner, we weighted in essential criteria.
First, we considered the size of the cage and its construction. All products that have made it to our list are spacious enough for a rabbit, and some can even accommodate two bunnies or more.
We also checked access. A top door is not essential, but it's undoubtedly a nice thing to have. That's why some of our top picks come with one.
Some of the most important features that dictated which cages to select and which to ditch were safety, cleaning ease, and usability. All products below are praised for their outstanding value for money, and they are also considered safe for both owners and pets.
The table below highlights our evaluation results for each indoor rabbit cage in this guide.
PRODUCT
RATING
PRICE
DIMENSION (INCHES)
DOORS ON TOP
DOORS ON SIDE
NO-TOOL ASSEMBLY
WHEELS
SAFETY
CLEANING EASE
USABILITY
Midwest Deluxe

Our Choice

9.9
Average price
Single story: 36L x 25W x 38.5H Add on: 36L x 25W x 24.5H Two story: 36"L x 25"W x 63"H
0
2

✔

✔

10
10
10
Prevue Pet Products 528

Best Overall

9.8
Low price
32.5L x 19W x 17.5H
1
1

✔

×

10
10
10
Ferplast Krolik 140
9.3
High price
55.9L x 23.6W x 19.7H
0
1

✔

×

10
8
10
AmazonBasics Pet Habitat
8.7
Low price
Large: 42.1L x 24.2W x 19.7 H, Standard: 31.7L x 21.8W x 18.1H, Jumbo: 48.6L x 26.6W x 20.6H
1
1

✔

×

8
10
8
Kaytee My First Home
8.7
Average price
30.5L x 18W x 30H
0
1

✔

×

8
8
10
---
Midwest Deluxe Critter Nation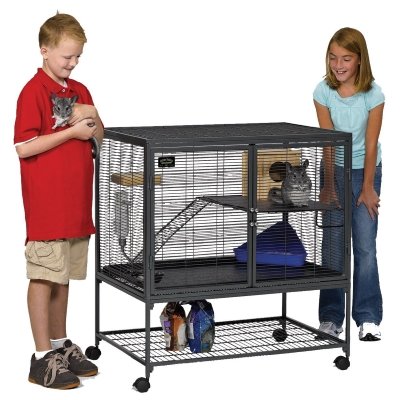 Single story: 36L x 25W x 38.5H Add on: 36L x 25W x 24.5H Two story: 36"L x 25"W x 63"H
9.9 - rating
Average
Our Choice
The Midwest Deluxe Critter Nation is perhaps the best indoor rabbit cage you can find. It wasn't designed specifically for rabbits, but don't let that small detail put you off. It's so versatile that it's hard not to love it.
This single habitat cage is divided into the main area with solid leak-proof floor placed over a wire bottom and an adjustable shelf with a ramp where your bunny can relax in all peace of mind. The bottom pan is removable and easy to clean while providing a comfortable play and sitting area for your furry pal.
Spacious enough to accommodate even a bigger rabbit, this cage measures 36 x 24 inches. Particularly convenient is the bottom shelf that provides storage space for food and toys. Regarding access, the cage has two full-size doors that ensure easy access.
Latches on both doors keep them closed securely, while the easy one-hand operation allows you to open them even when holding the rabbit in one hand.
This cage is also very easy to assemble without any tools and is easy to move from one room to other thanks to the convenient casters. It's also compatible with a wide range of accessories like hammocks, toys, and tubes, and you can even maximize space by opting for an add-on or two-story cage.
Compilation of customer opinions
Users praise this cage for its sturdiness and convenience. The most popular feature is the double door that provides easy access to the entire enclosure. Those using it for rabbits also like the solid floors, although some users claim the shallow pan is insufficient for containing any type of rabbit bedding.
Luckily though, there are deeper trays available on the market that fit perfectly in this cage.
One thing to keep in mind is that the no-tool installation might still require you a rubber mallet. Several customers complained the pieces don't slide in place quite as smoothly as they would have expected.
You should pay particular attention when assembling the upper shelf; if it's not secured in place, it may fall and injure your pet. Except for these observations, there is a generally positive consensus about this small pet enclosure, and most users consider it the best on the market.
Key feature
Robust frame construction
Full-width solid pan floor
Easily adjustable shelves
Double door
Storage shelf
Pros
Spacious enough for rabbits and other rodents
Fully customizable cage
Swing-up locking ramp for easy access to the upper shelf
Locking casters
Happy feet ramp covers
Cons
Assembly more difficult than expected
Shallow pan floor
Top shelf might be dangerous for pets
Prevue Pet Products 528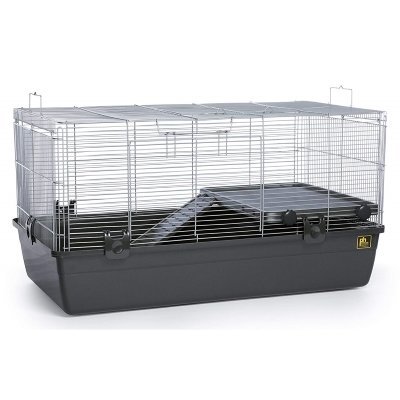 9.8 - rating
Low
Best Overall
Perfect for small rabbit breeds, the Prevue Pet Products 528 is a quality cage that brings exceptional value for money. It's small enough to hold on a table or desk, a feature that makes it just perfect for placing in the kid's room.
Designed to accommodate a variety of small pets, it measures 32.5 x 19 inches. The over 6-inch deep tubby base is a sweet treat when it comes to preventing messes. It can contain all types of rodent bedding even when your bunny jumps or runs around it.
We also like the tight wire spacing that lets you keep an eye or bond with your pet while preventing injuries.
As for the access, this spacious enclosure has two large entry doors, one on the side and one on top. Not only you'll have easy access to your pal, but the doors are large enough so you can clean the enclosure in all peace of mind.
Besides the base, the cage also contains a smaller upper shelf where your pet can rest or play. The solid access ramp won't hurt the tiny feet, and the shelf attaches securely to the wire. Just what your rabbit needs to enjoy his home within your home.
Compilation of customer opinions
This is another small animal cage judged positively by its users. It is described as spacious, and most people like its monochromatic design. The dark grey of the tray pairs perfectly with the chromed wire mesh and integrates well in all home decors.
Most customers like the front and top door design, which ensures easy access to your pet, as well as easy cleaning. It's also easier to put food or snacks in the cage through the top door rather than opening the front one when you don't want to let the rabbit out.
Thanks to the ramp and platform design, your pet can also create a safe hiding spot under the platform. This reduces anxiety and prevents the rabbit from chewing on the wire.
A thing the manufacturer could improve is the closure of the doors, which is pretty loose.
Key feature
Tight wire spacing
Snap-on wire top with six clips
Round corner, easy to clean bottom
Wire-latch door locking mechanism
Large tubby base
Pros
Removable platform and ramp
Excellent containment of bedding
Pet-safe design and components
Two access doors
ightweight and easy to handle
Cons
Door latches are quite loose
Wire mesh seems a bit flimsy
Ferplast Krolik 140 Plus Rabbit Cage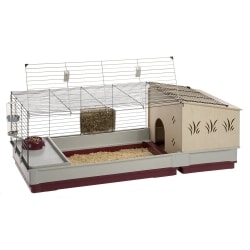 9.3 - rating
High
Designed specifically for rabbits, the Ferplast Krolik 140 Plus Rabbit Cage is an outstanding product capable of providing luxury accommodation to your fur baby.
Divided into two sections, this innovative enclosure consists of the main cage and a hiding area which can be attached or detached as needed.
The main cage is similar to traditional rodent enclosures and comprises a plastic bottom and wire upper. As you can expect, the bottom is deep enough to contain bedding, while the upper provides an ample field of view and aeration.
The hiding area consists of a plywood house placed onto a plastic base that snaps onto the main unit. Just raise the lateral door to create a larger enclosure with a cozy sleeping space for your bunny.
You can lift the roof of the house for easy access or close it securely to prevent your pet from escaping.
A raised plastic platform provides the perfect place for a food bowl, while a smaller rabbit can also hide underneath. Furthermore, you can even raise the entire front panel for super-easy access to the interior.
Compilation of customer opinions
Customers love the size of this hutch and the fact that it's built specifically for rabbits. The guards on the cage are sturdy, while the thick bottom is unanimously considered easy to clean.
Some complaints regard the assembly time, which may take longer than imagined. The full-size front panel door might also be inconvenient if you just want to add food or snacks while preventing your pet from escaping.
However, the pros outweigh the negatives in the eyes of most users. This indoor rabbit cage is spacious, well-built, and comes with a host of accessories including a water bottle and food bowl.
Key feature
Patented space-saving design
Comes fully accessorized
Wide front door
Fully knock-down system
Hay feeder included
Pros
The cage comes with a separate extension for nesting
Comfortable wooden house
Stain-resistant bottom tray
Spacious habitat
Can be used with or without house extension
Cons
Harder to assemble
Difficult to keep rabbit inside when adding food or snacks
The front door is too easy to open
AmazonBasics Pet Habitat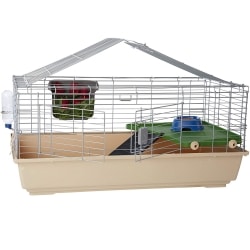 Large: 42.1L x 24.2W x 19.7 H, Standard: 31.7L x 21.8W x 18.1H, Jumbo: 48.6L x 26.6W x 20.6H
8.7 - rating
Low
Next, on our list of the best indoor rabbit cages, the Pet Habitat by AmazonBasics is another enclosure suitable for a bunny or other rodents, including guinea pigs and chinchillas. The cage is made from an iron wire upper and polypropylene plastic bottom. Just like the Prevue Pet above, this enclosure boasts taller walls that contain the bedding even when your pet moves around frenetically. Ideal for rabbits, the solid bottom won't hurt their delicate feet and legs, while the upper wire ensures optimal viewing and ventilation. Coming in three sizes, this cage can suit smaller or larger rabbit breeds and even accommodate a family of fluffy rodents. All three types of enclosures are fairly lightweight, easy to handle, and particularly easy to clean. Whether you want to let your pet out or give him food or snacks, the lateral and top door provides easy access. Both are double doors, with the top ones providing an almost full-size opening. The interior of the cage is equipped with all your pet might need for a comfortable stay. It has a balcony with access ramp, hay guard, tip-proof food dish and non-drip water bottle. Furthermore, the cage comes at a great price and is ideal for all pet owners shopping on a budget.
Compilation of customer opinions
One of the features customers like best is the size of the cage. It is ideal for bunnies and other "larger" small pets, including guinea pigs and ferrets. The two access doors and accessories are also highly appreciated by those who have bought this unit. Criticism regards the upper shelf and the ramp. It seems the shelf could be a bit too flimsy and the ramp rather slippery. However, it provides a perfect hiding spot for a bunny, so deciding whether to remove it or not could be tricky. Users have judged the base as robust, reliable, and easy to clean. However, if you like to let your rabbit roam free, he may struggle to get in and out of the cage due to the taller wall design.
Key feature
Generous interior area
Available in three sizes
Simple no-tool assembly
Accessories included
Iron wire upper
Pros
Hide-away space under the balcony
Lightweight and easy to handle
Backed by a limited 1-year warranty
Tip-proof food dish
Non-drip water bottle
Side and top access doors
Cons
The ramp is a bit slippery
The wire upper bends quite easily
Kaytee My First Home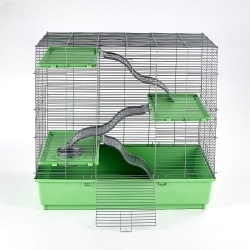 8.7 - rating
Average
Another indoor rabbit cage that truly impressed us is the Kaytee My First Home. Like the other enclosures on this list, this one is not designed specifically for rabbits, but it's truly suitable for these furry cuties.
It is a multi-level cage designed to provide both sleep and entertainment areas to its occupant, as long as you have a small breed rabbit who doesn't mind to climb and descend several levels.
If you have an active bunny, he'll surely love to roam around this enclosure made from high-quality materials. As a small pet parent, you'll surely love the stain resistant plastic bottom that's really easy to clean.
The wire upper is also resistant, while the large door comes with chew-proof latches. Thanks to the deeper tray, this cage contains rabbit bedding and litter beautifully, preventing them from spilling around your home.
Furthermore, the enclosure comes with safety, non-slip ramps, and accessories including a tip-proof food dish.
Compilation of customer opinions
Customers agree about the quality of this cage, although some judge it as a bit too small for large breed rabbits. Most of them praise the stain-resistant tray which is deep enough to contain bedding even when the fur baby is jumping around.
The enclosure also provides sufficient ventilation, another thing rabbit owners like. What many customers don't like is the one-door design, which makes it a little harder to take out the rabbit or give him food and snacks.
Nevertheless, there seems to be a unanimous consensus that this is a great indoor cage for the money, and there are high chances that you'll like it if you're shopping on a budget.
Key feature
Multi-level cage
Front door access
Deep plastic base
Sturdy wire upper
Comfort shelves
Pros
Plenty of hiding spots under the shelves
Deep base prevents bedding and litter spilling
Chew-proof door latches
Easy, no-tool assembly
Half-inch wire spacing
Cons
A bit on the smaller side
Only one access door
---
Who Should Buy an Indoor Rabbit Cage
One of the greatest dilemmas of pet rabbit parents is whether they need an indoor rabbit cage. To put it simply, your beloved fur baby might not need a cage. However, an indoor hutch is usually recommended by veterinarians for more than one reason. Here are a few of them:
It provides a safe place for your rabbit to hide or rest
It keeps the bunny away from hazards when you're not at home
Some cages can be used to transport the rabbit
Also, know that keeping your rabbit outdoors is never a good idea. Not only your bunny will be exposed to elements, but predators can also scare him. Because rabbits are very sensitive creatures, your pet could die from the stress of an attempted attack.
Therefore, anyone who owns or plans to get a rabbit should buy an indoor rabbit cage – even if you plan to let the bunny roam freely through your home, the cage is still an essential element.
Indoor Rabbit Cage Buying Guide & FAQ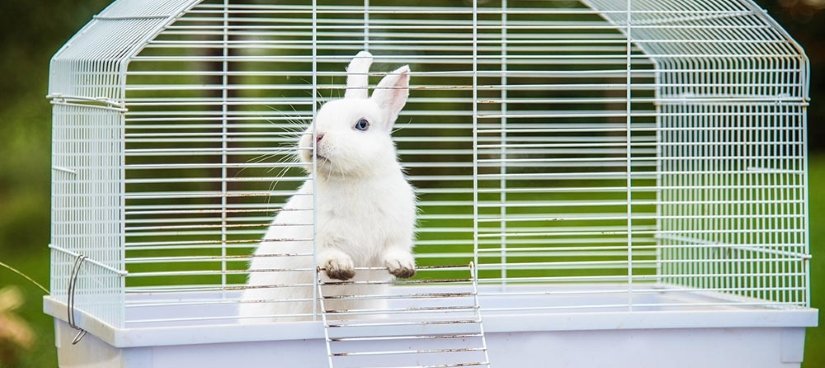 Due to a large number of models on the market, getting a hutch for your bunny could be harder than imagined. Find out how we chose our selection of enclosures and what you should consider before buying in the quick guide below.
How We Chose Our Selection of Indoor Rabbit Cages
Getting a proper enclosure for your furry friend goes beyond subjective considerations. Your pet deserves the best, that's why we used the following criteria to trim down options.
Quality – The first thing we considered was the quality of the cage. Besides the overall build quality and resistance, we also considered how comfortable the hutch is for a rabbit. All cages included on our list have flat bottoms that enhance comfort. Furthermore, they all provide some sort of hiding spot for the rodent. Access and cleaning ease were two other features we considered before deciding which cages to focus on.
Reviews – Our most valuable resource when deciding which products to select are customer reviews. Those who have already bought and used a specific cage model are the most entitled to judge it; to come up with this list, we read hundreds of reviews and ditched a lot of models that didn't live up to expectations. Only the best have made it; then we applied a further criterion to end up with a handful of cages we reviewed above.
Price – It is hard to say what's a justified price for an indoor rabbit cage. It all depends on the build quality and materials involved. However, an expensive or branded item is not always a guarantee of the quality. That's why we only included those cages that bring real value for money. Our list above comprises models for all budgets, but they are all worth your investment.
Features to Look For In an Indoor Rabbit Cage
As a rabbit owner, you undoubtedly want the best for your pet. That's why you should learn what features to look for in an indoor rabbit cage. Below, the most important things you should consider.
Size
The first thing to decide before buying a hutch is its size. The dimensions should fit the size of the rabbit and provide sufficient space for it to move around freely. In general lines, the enclosure should be about four times the size of your pet, which works out at about 24 x 36 inches for small breed rabbits.
For larger breeds weighing over 8 pounds, it is recommended to go for at least 30 x 36 inches.
Floor Type
Another important thing to decide before buying an indoor rabbit cage is what type of floor you want it to have. You can choose from the following two types:
Wire floors: Are extremely easy to clean, because waste usually falls throughout the wire into a pull-out pan placed underneath the floor. You can simply remove the pan, clean it, and place it back into its place for a quick routine. But even if these floors are great for you, they might be a nightmare for your bunny. Rabbits have sensitive feet that are not meant to sit on the wire for a long time. They are not only uncomfortable; they could actually hurt the rabbit, that's why it's still indicated to have solid floor at least in an area of the cage.
Solid floors: May not be the most convenient for you, but are the most comfortable for your pet. Although these cages may be a pain to keep clean and sanitized, they are definitely the best choice for your rabbit. If you want to prevent messes, you can simply litter-train your bunny. Contrary to popular belief, rabbits are quite easy to litter train, and they usually like to keep their environment clean.
Floor Material
Indoor rabbit cages with a solid floor can have a wood, plastic, or metal bottom topped with a metal wire upper.
Wooden bottoms: Are perhaps the most comfortable but come with a major drawback, they absorb humidity. Your pet's urine will soak up even a treated floor eventually, resulting in an unhygienic environment for both you and rabbit. Soaked wood is also subject to decay, and a restless bunny may even chew through it.
Metal bottoms: Are practically indestructible, but they are often uncomfortable. Because metal is usually cold, it may predispose your bunny to illnesses.
Plastic bottoms: Are the most popular. They are easy to clean, and most rabbit cages are made of thick and stain-resistant plastic that will look good for a long time. However, plastic may become brittle over time, especially if exposed to heat or direct sunlight.
Regarding the metal wire upper, you should make sure the wire is not treated with toxic paints. It is also essential to make sure the wire is thick enough to withstand chewing. Even if they are adorable, bunnies are still rodents, and they will make a hole through the wire if given a chance.
Hutch Style
Once you decided upon a floor type and material, you should also consider what type of hutch to buy. There are two types of cages, one-story and multi-story.
One-story cages: Are the rectangular cages we all know. These are the simplest models, although some of the best indoor rabbit cages come with various attachments and accessories that provide hidden spots to your pet. The main advantage of these cages is that they are usually easy to transport.
Multi-story cages: Have various levels accessible via ramps. These hutches are more popular for hamsters, rats, ferrets, and guinea pigs, although some rabbits also like to climb and jump around various levels.
Access
Different types of cages may come with different types of doors. The most convenient are those with both top and front or side doors, as you can use the most convenient one to add food or to let your pet out of the enclosure.
Mobility
Moving the cage around the house may not be important to you, but if it is, get a cage with wheels. Moving it will be much easier if you don't want to take the rabbit out or empty it. Some of the best hutches have locking casters that ensure both stability and quick transport.
Assembly
Most rabbit enclosures come dismantled, and you will have to put them together. If you want to avoid the hustle and bustle of taking out your tool kit to put the cage together, get a hutch with no-tool assembly.
Remember, though, that this doesn't mean it will be easy to put together. Depending on the model, it may take up more than half an hour to mount your bunny's new home.
Accessories
Last but not least, also consider the accessories provided with your hutch or those compatible with the enclosure. From all, the water bottle is perhaps the most important, as you will usually have to suspend it from the wire upper.
Some enclosures come with bottles, bowls, shelves, and toys; these are ideal for first-time rabbit owners.
How to Build An Indoor Rabbit Cage
If you don't like any of the enclosures available on the market or you're an avid DIYer and believe that your bunny deserves more attention than just buying a hutch, you can build your own following the quick steps below.
You will need:
Two 40 x 28 inches plywood sheets
Four 2 x 4 inches wood pieces for the frame
Table saw
Wire mesh
Hammer
Nails
Wire cutters
Step 1 – Draw a plan
Take a pencil and piece of paper and draw the plan of your cage, noting down the dimensions. Remember that the hutch should be at least four times the size of your bunny, but you can build it as big as you like. As for the height, aim for at least 16 inches.
Step 2 – Cut the pieces
Cut the plywood and four wooden pieces to dimension. You will use the plywood to make the bottom and top of the cage, and the 2 x 4 wooden pieces to create the frame. Once cut, sand the surface to remove any imperfections.
Step 3 – Assemble the cage
Use long enough nails to fasten the base and top to the wooden posts, then fix the wire mesh around the frame. Make sure to fix the top and bottom edges to prevent your rabbit from digging holes and escaping. With a pair of wire cutters, cut a hole where you want to mount the door.
Step 4 – Build the door
Make a cage door from a square wood frame, two hinges, and some wire mesh, then install it on the cage.
Step 5 – Enjoy the hutch
That's it! Add a thick layer of rodent bedding or hay and place your pet into his new home. Add a food bowl and water bottle, some toys, and let your fur baby enjoy your creation.
How to Clean Indoor Rabbit Cage
Unless you get a wire floor hutch with removable pan, cleaning the rabbit cage could be a pain. Nevertheless, you will have to take care of this chore in the best possible way. Here's how to do it.
Take the rabbit out and place him into a temporary enclosure, or let him roam freely around your home if you usually do so.
Dismantle the wire mesh upper. Most modern enclosures are easy to dismantle and assemble without tools, so this shouldn't be too difficult.
Dispose of the old bedding in an appropriate manner. You can either toss it in the bin or in a compost pile.
Clean the bottom with soap and water, then disinfect with a solution of bleach. Rinse thoroughly with abundant clean water to remove all bleach residues and chemical odors. Remember that both soap and bleach are harmful to pets, so it's essential to remove all residues before drying the tray.
Dry the bottom of the hutch and add a fresh layer of bedding, then put back on the wire mesh upper, making sure the enclosure is assembled correctly before putting the rabbit back in.
How Many Rabbits Fit In Cage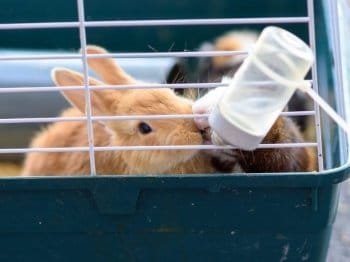 One of the most frequent, but also one of the trickiest questions. How many rabbits fit in the cage depends on the size of the enclosure and size of the rabbits. Remember the golden rule that the cage should be at least four times the size of your pet, and choose accordingly depending on how many pets you want to accommodate.
Even if the enclosure is big, we recommend not to overcrowd it. If you have more than two or three rabbits, it is recommended either to build a very big custom hutch or accommodate them in multiple indoor rabbit cages.