Next is the accessibility of the cage door that will determine how the rabbit enters and exit its home. These cages have different types of doors, such as lateral doors and top doors (for food).
Lastly, you must consider the material and sturdiness of the cage, as they contribute to the comfort of your little bunny. With so many different types of indoor rabbit cages out there, finding the best one can be tricky. All you need to do is to keep these few factors in mind when finding the perfect indoor rabbit cage for your bunny.
Let's move on to knowing it more!
Overview of Top Two Rabbit Cages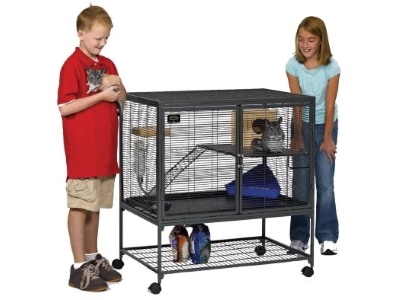 Our Choice
Midwest Deluxe Critter Nation
A generous floor area, multi-story levels, and locking casters give this luxury cage true value for the money.
---
Perhaps the main thing to check before buying is the bottom of the cage. Most manufacturers make it from wire mesh, for easier cleaning, but the structure could hurt your bunny's sensitive legs.
That's why you should either get a cage with a flat bottom or place a piece of plywood or cardboard over the wire to provide a flat and comfy surface to the little soul.
You must also check the opening of the cage. A lateral door is essential if you want to provide easy in and out access to your pet. However, a top door is also essential if you want to place food or water when you don't want to let the rabbit out.
Then, you should also control the overall sturdiness and material the cage is made of. If you're already overwhelmed and have no idea how to find the best cage for your cute pet, know that we did the hard work for you.
We scoured the market and found the most promising models. Check out our detailed reviews and top picks below.
Best Indoor Rabbit Cage Reviews & Comparison Table

Best Indoor Rabbit Cage Rating in 2023
With an impressive range of indoor rabbit cages available on the market, it's hard to pick the best ones. To make sure the ones on this list are comfortable for both pet and owner, we weighted in essential criteria.
First, we considered the size of the cage and its construction. All products that have made it to our list are spacious enough for a rabbit, and some can even accommodate two bunnies or more.
We also checked access. A top door is not essential, but it's undoubtedly a nice thing to have. That's why some of our top picks come with one.
Some of the most important features that dictated which cages to select and which to ditch were safety, cleaning ease, and usability. All products below are praised for their outstanding value for money, and they are also considered safe for both owners and pets.
The table below highlights our evaluation results for each indoor rabbit cage in this guide.
| PRODUCT | | RATING | PRICE | DIMENSION (INCHES) | DOORS ON TOP | DOORS ON SIDE | NO-TOOL ASSEMBLY | WHEELS | SAFETY | CLEANING EASE | USABILITY |
| --- | --- | --- | --- | --- | --- | --- | --- | --- | --- | --- | --- |
| Midwest Deluxe | Our Choice | 9.9 | Average price | Single story: 36L x 25W x 38.5H | 0 | 2 | ✔ | ✔ | 10 | 10 | 10 |
| Ferplast Krolik 140 | Best Overall | 9.7 | High price | 55.9L x 23.6W x 19.7H | 0 | 1 | ✔ | × | 10 | 8 | 10 |
| Prevue Pet Products 528 | Best Value | 9.2 | Low price | 32.5L x 19W x 17.5H | 1 | 1 | ✔ | × | 7 | 9 | 8 |
| SONGMICS Pet Playpen | | 9.0 | Low price | 56.3" L x 28.7" W x 28" H | 1 | 0 | ✔ | × | 7 | 8 | 9 |
| AmazonBasics Pet Habitat | | 8.7 | Low price | 3 different sizes | 1 | 1 | ✔ | × | 8 | 10 | 8 |
| Kaytee My First Home | | 8.7 | Average price | 30.5L x 18W x 30H | 0 | 1 | ✔ | × | 8 | 8 | 10 |
---
---
Who Should Buy an Indoor Rabbit Cage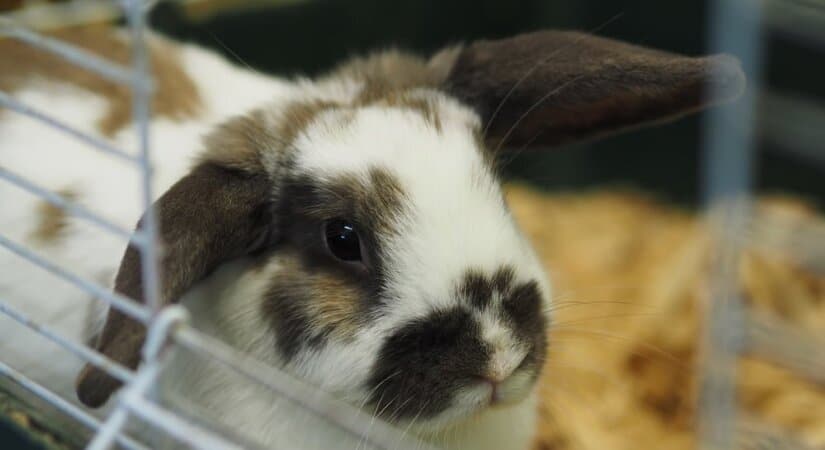 One of the greatest dilemmas of pet rabbit parents is whether they need an indoor rabbit cage. To put it simply, your beloved fur baby might not need a cage. However, an indoor hutch is usually recommended by veterinarians for more than one reason. Here are a few of them:
It provides a safe place for your rabbit to hide or rest
It keeps the bunny away from hazards when you're not at home
Some cages can be used to transport the rabbit
Also, know that keeping your rabbit outdoors is never a good idea. Not only your bunny will be exposed to elements, but predators can also scare him. Because rabbits are very sensitive creatures, your pet could die from the stress of an attempted attack.
Therefore, anyone who owns or plans to get a rabbit should buy an indoor rabbit cage – even if you plan to let the bunny roam freely through your home, the cage is still an essential element.
Safety

Animals are creatures of nature, like any other living beings. Therefore they all are subject to the trials of natural selection, and only the fittest of their kind can survive when they must fend for themselves. But when you own a pet, you want them to survive and grow regardless of their health restrictions and physical capabilities. When you buy an indoor cage for your rabbits, you shield them from harsh outdoor weather, potential predators, and dangers of the disease.

Indoor rabbit cages also allow you to police your pet's movements when you are not at home. Rabbits have a habit of chewing on anything and everything. If you leave them on their own, they can chew wires, clothes, slippers, and everything else they can get their teeth on. These cages also come in handy when you travel with your pet or move them from one place to another.

Social & Friendly

Rabbits are social animals and can be quite affectionate towards their owners once you create a bond between the two. An indoor cage and proximity between an owner and pet can help speed the bonding process. Rabbits don't like to be held, but they love to be pet. An indoor cage allows them to grow familiar with their environment and grow acquainted with their owners.

Litter Training

Bonding with your pet is one thing, but training them to behave and understand certain rules becomes a necessity when you share the same space with them. No matter how much one loves their pets, they can't bear the thought of those little creatures dirtying their living space with their waste and other shenanigans. Rabbits are famous for wreaking havoc if you leave them unattended. If you don't litter train them, things can get extremely unsanitary for their owners.

Indoor cages are essential if you want to litter train your pet rabbit. Restricting their movements and forcing them to eat and litter in a small space makes them aware of their habitant. Keeping their food, water, and hay at one side of the cage and litter tray on the other side can help them learn where to poop and where to eat. Eventually, your rabbit will not soil his living space and will be instead of using the litter tray. This training and others of a similar kind make rabbit cages instrumental in teaching your pet rabbit how to behave and do things in a certain way.
Indoor Rabbit Cage Buying Guide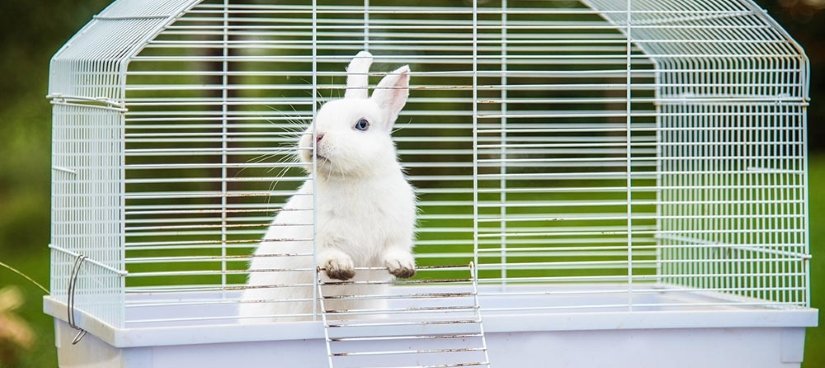 Due to a large number of models on the market, getting a hutch for your bunny could be harder than imagined. Find out how we chose our selection of enclosures and what you should consider before buying in the quick guide below.
How We Chose Our Selection of Indoor Rabbit Cages
Getting a proper enclosure for your furry friend goes beyond subjective considerations. Your pet deserves the best, that's why we used the following criteria to trim down options.
Quality – The first thing we considered was the quality of the cage. Besides the overall build quality and resistance, we also considered how comfortable the hutch is for a rabbit. All cages included on our list have flat bottoms that enhance comfort. Furthermore, they all provide some sort of hiding spot for the rodent. Access and cleaning ease were two other features we considered before deciding which cages to focus on.
Reviews – Our most valuable resource when deciding which products to select are customer reviews. Those who have already bought and used a specific cage model are the most entitled to judge it; to come up with this list, we read hundreds of reviews and ditched a lot of models that didn't live up to expectations. Only the best have made it; then we applied a further criterion to end up with a handful of cages we reviewed above.
Price – It is hard to say what's a justified price for an indoor rabbit cage. It all depends on the build quality and materials involved. However, an expensive or branded item is not always a guarantee of the quality. That's why we only included those cages that bring real value for money. Our list above comprises models for all budgets, but they are all worth your investment.
Features to Look For In an Indoor Rabbit Cage
As a rabbit owner, you undoubtedly want the best for your pet. That's why you should learn what features to look for in an indoor rabbit cage. Below, the most important things you should consider.
Space Availability
One glance at a rabbit hutch, and you'll know how they can provide your little friend more space and room to roam around compared to indoor cages. Rabbits are a curious creature by nature, and large space can appeal to their playful nature. But when you have limited living space, then indoor rabbit cages might be the only viable option for you. If you have more than one rabbit, then an outdoor hatch is more suitable for them, but only if you have extra outdoor space at your disposal.
Size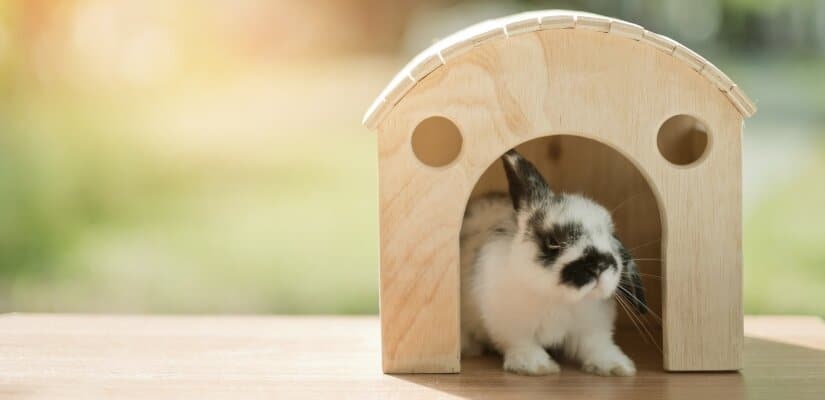 The first thing to decide before buying a hutch is its size. The dimensions should fit the size of the rabbit and provide sufficient space for it to move around freely. In general lines, the enclosure should be about four times the size of your pet, which works out at about 24 x 36 inches for small breed rabbits.
For larger breeds weighing over 8 pounds, it is recommended to go for at least 30 x 36 inches.
The size of your indoor cage is imperative for determining the comfort level of your little friends. People might have space restrictions, and some might have more than one rabbit to accommodate. Therefore, make sure you have accounted for all the variables before purchasing a home for your pets.
Extra-Large Rabbit Cage: If you live in a spacious abode or have more than one rabbit, then an extra-large rabbit cage might come in handy. Usually, pet owners prefer an outdoor hutch in this situation since they don't want to pollute their house's ambiance.
Multi-Level Rabbit Cage: Rabbits are energetic small balls of fur that enjoy moving around as much as they enjoy eating. A cage that gives them room to play without hogging unnecessary space is perfect for them.
Indoor Rabbit Cage on Wheels: A cage that you can move around facilitates house cleaning and helps you maintain your home's appearance. You can move the cage anywhere in your house if you don't want it to be at the display when guests come over to your house.
Easy to Clean
As mentioned before, outdoor hatches are easy to clean but not because of their design. But indoor cages are specifically designed to make things convenient for their users. Removable bottoms or trays in plastic cages don't create an unnecessary mess during the cleanup.
Material & Design
The market is filled with cages of all shapes and sizes. Therefore, a new pet owner is likely to find themselves at a cross when it comes to picking what works for their pets. Outdoor hutches are fashioned from wood and mesh wire, whereas indoor cages are made from plastic and wire. The climate of your hemisphere and your house's size plays an important role in determining the type of home suitable for your pet. Many rabbit owners avoid wooden cages that are flaky to touch and other types of material that shed or come loose easily since rabbits are habitual of chewing on anything.
Floor Type
Another important thing to decide before buying an indoor rabbit cage is what type of floor you want it to have. You can choose from the following two types:
Wire floors: Are extremely easy to clean, because waste usually falls throughout the wire into a pull-out pan placed underneath the floor. You can simply remove the pan, clean it, and place it back into its place for a quick routine. But even if these floors are great for you, they might be a nightmare for your bunny. Rabbits have sensitive feet that are not meant to sit on the wire for a long time. They are not only uncomfortable; they could actually hurt the rabbit, that's why it's still indicated to have solid floor at least in an area of the cage.
Solid floors: May not be the most convenient for you, but are the most comfortable for your pet. Although these cages may be a pain to keep clean and sanitized, they are definitely the best choice for your rabbit. If you want to prevent messes, you can simply litter-train your bunny. Contrary to popular belief, rabbits are quite easy to litter train, and they usually like to keep their environment clean.
Floor Material
Indoor rabbit cages with a solid floor can have a wood, plastic, or metal bottom topped with a metal wire upper.
Wooden bottoms: Are perhaps the most comfortable but come with a major drawback, they absorb humidity. Your pet's urine will soak up even a treated floor eventually, resulting in an unhygienic environment for both you and rabbit. Soaked wood is also subject to decay, and a restless bunny may even chew through it.
Metal bottoms: Are practically indestructible, but they are often uncomfortable. Because metal is usually cold, it may predispose your bunny to illnesses.
Plastic bottoms: Are the most popular. They are easy to clean, and most rabbit cages are made of thick and stain-resistant plastic that will look good for a long time. However, plastic may become brittle over time, especially if exposed to heat or direct sunlight.
Regarding the metal wire upper, you should make sure the wire is not treated with toxic paints. It is also essential to make sure the wire is thick enough to withstand chewing. Even if they are adorable, bunnies are still rodents, and they will make a hole through the wire if given a chance.
Hutch Style
Once you decided upon a floor type and material, you should also consider what type of hutch to buy. There are two types of cages, one-story and multi-story.
One-story cages: Are the rectangular cages we all know. These are the simplest models, although some of the best indoor rabbit cages come with various attachments and accessories that provide hidden spots to your pet. The main advantage of these cages is that they are usually easy to transport.
Multi-story cages: Have various levels accessible via ramps. These hutches are more popular for hamsters, rats, ferrets, and guinea pigs, although some rabbits also like to climb and jump around various levels.
Expediency & Suitability
As its name suggests, an outdoor hutch is easy to clean and maintain, and the owner doesn't have to worry about the stench of the animal's waste and spoiled food. The outdoor space also facilitates the cleaning process, but indoor cages are ideal for owners who often travel and move from one place to another. Some outdoor hutches have wheels, but even then, their size doesn't make them suitable for long travels, especially when you must travel via public transport.
Access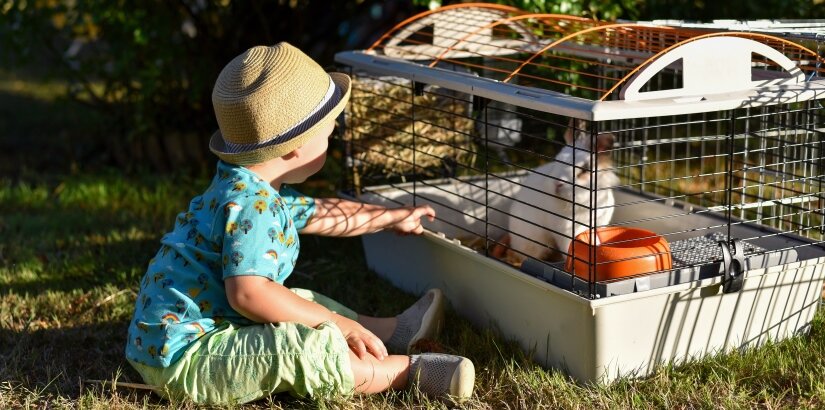 Different types of cages may come with different types of doors. The most convenient are those with both top and front or side doors, as you can use the most convenient one to add food or to let your pet out of the enclosure.
Sturdiness
The most preferred choice of material for indoor rabbit cages is strong and durable plastic. Digging and chewing are dominant behavioral patterns in rabbits. Therefore, materials that can withstand their incessant urge to dig and chew is ideal for an indoor (even for an outdoor) cage.
Door Size & Lock Design
Usually, indoor rabbit cages have a size of 5 sq. ft or more. Therefore, the door on these cages should have a strong construction or design. Large doors that can open outward is the ideal choice of door mechanism for indoor rabbit cages. Since rabbits are not exceptionally intelligent animals like monkeys and don't have the urge to get freedom, a lock that holds the door in its place works efficiently for the cage.
Mobility
Moving the cage around the house may not be important to you, but if it is, get a cage with wheels. Moving it will be much easier if you don't want to take the rabbit out or empty it. Some of the best hutches have locking casters that ensure both stability and quick transport.
Assembly
Most rabbit enclosures come dismantled, and you will have to put them together. If you want to avoid the hustle and bustle of taking out your tool kit to put the cage together, get a hutch with no-tool assembly.
Remember, though, that this doesn't mean it will be easy to put together. Depending on the model, it may take up more than half an hour to mount your bunny's new home.
Accessories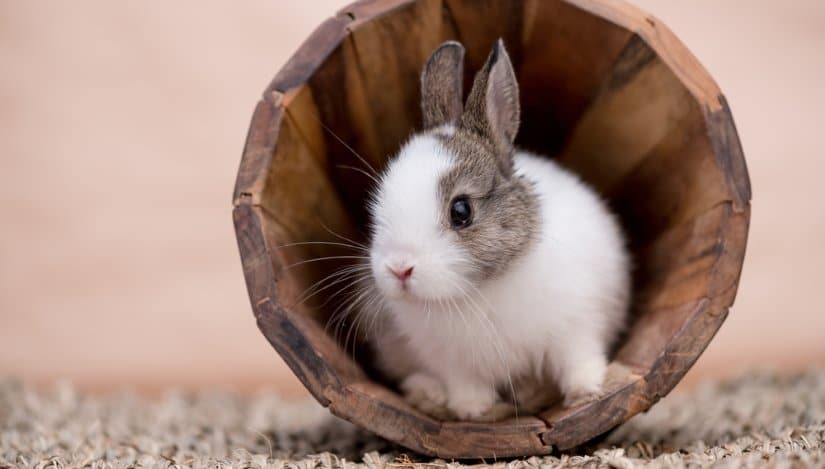 Last but not least, also consider the accessories provided with your hutch or those compatible with the enclosure. From all, the water bottle is perhaps the most important, as you will usually have to suspend it from the wire upper.
Some enclosures come with bottles, bowls, shelves, and toys; these are ideal for first-time rabbit owners.
The Fun Quotient
One of the many reasons that compel individuals to adopt pets is their need for companionship. It is human nature to seek companionship and warmth. Pets are ideal companions as they show affection and drive away boredom!
Speaking of this, playing around with your fur babies can give you an instant mood boost. It can be therapeutic for your psychological health. Buying a cage with all types of fun bits and pieces in their design keeps your rabbits happy. Standard cages for rabbits are comfortable, but multi-level cages are fun and if a cage has small hiding places. As a result, cozying up in their home becomes easy for them.
Things to Avoid in a Rabbit Cage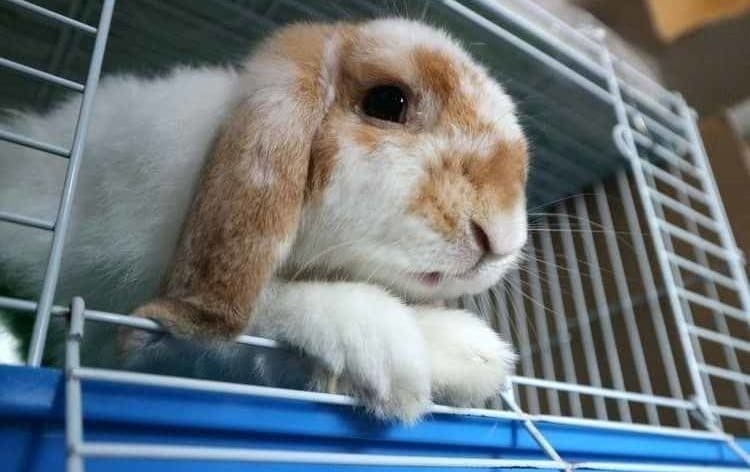 Here are a number of things that you should ensure are avoided at all times
Don't go for cheap: You might be short on money, but cheap products often lack the quality that a decent pricing range offers. Cheap plastic has more chemicals that can harm your rabbit's health in more ways than you can imagine.
Pointed/rough edges: These kinds of abnormalities in your cage's design can harm your pets physically. Rabbits have soft skin and are physically fragile. Hence, their nibbling and chewing habits put them at a higher risk of suffering from injuries because of rough and unrefined cage designs.
Wire mesh bottom: This may facilitate your cleaning ritual, but it can harm your pet's tiny and delicate feet; therefore, make sure they have a smooth surface beneath their feet. You can place a wooden surface at the top of the wire mesh bottom and take it out when it's time to clean the cage. This way, dirt and waste won't stick in the wire, and cleaning will remain a convenient task for you.
Chemical treatments: Make sure to check the cage's label or guide to know what materials the manufacturers have used to create, which helps prevent future health hazards.
Space: Many owners make the mistake of buying small cages for their baby rabbits without realizing that they will eventually grow up and require a bigger cage.
Shallow bottom: A shallow bottom poses many safety concerns and can hurt your rabbits.
What to place in an indoor rabbit cage?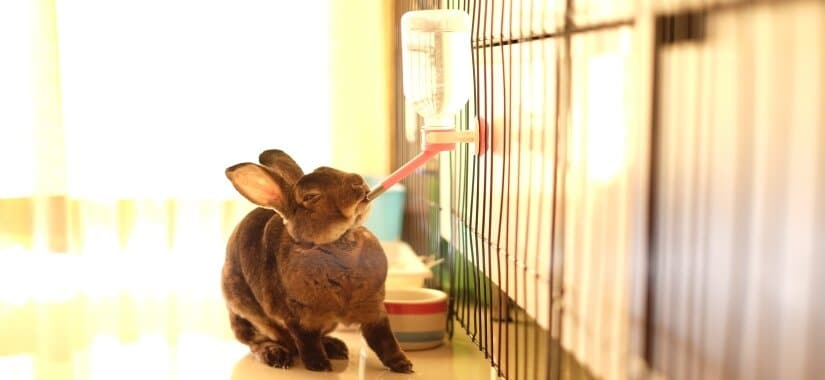 Water Bottle: Make sure your rabbit's water bottle is easily accessible. Fill it to the brim and regularly change the water.

Caution: Many people put water in a bowl for their bunnies to drink. This can lead to a lot of mess in their pet's cage since training them to drink water out of a bowl is difficult. Imagine the mess that water mixing with straw bedding can create. Not to mention the smell that will emit if you leave it for too long.

On the other hand, water bottles are easy to use and clean, so rabbits become accustomed to using them without any messy trial and errors.

Food bowl: school your pets, so they only eat at mealtimes and don't keep surplus food in their cage.

Caution: You might think that feeding your bunnies more food will make them chubby and adorable, but you are only putting their health in jeopardy. Give them food, but only as your vet advised. Most importantly, don't overdo it, especially if you provide supplements as well. Make sure that whenever guests come over, they don't feed your bunnies, something unhealthy out of excitement.

Mosquito net: These are compulsory for outdoor hutches to fend off flies and mosquitoes but can be useful in indoor cages as well.

Caution: Mosquito nets are imperative to protect your bunnies from these tiny blood-sucking creatures. Besides causing a disturbance and being a nuisance, mosquitoes affect your rabbit's daily routine and behavioral patterns. Bunnies like cozying up in their private spaces, so you must eliminate anything that can interfere with their routine. Make sure that the net that you are using for them isn't a harsh material, has no jagged or pointy edges, and can't harm your bunny's soft skin.
How to Build An Indoor Rabbit Cage?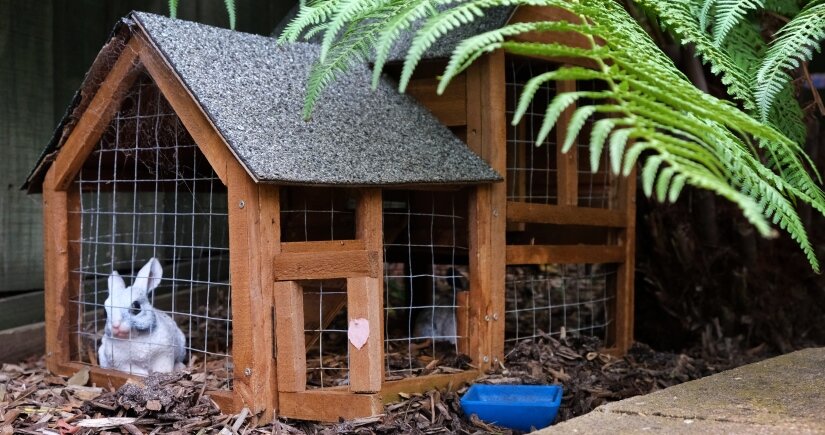 If you don't like any of the enclosures available on the market or you're an avid DIYer and believe that your bunny deserves more attention than just buying a hutch, you can build your own following the quick steps below.
You will need:
Two 40 x 28 inches plywood sheets
Four 2 x 4 inches wood pieces for the frame
Table saw
Wire mesh
Hammer
Nails
Wire cutters
Step 1 – Draw a plan

Take a pencil and piece of paper and draw the plan of your cage, noting down the dimensions. Remember that the hutch should be at least four times the size of your bunny, but you can build it as big as you like. As for the height, aim for at least 16 inches.

Step 2 – Cut the pieces

Cut the plywood and four wooden pieces to dimension. You will use the plywood to make the bottom and top of the cage, and the 2 x 4 wooden pieces to create the frame. Once cut, sand the surface to remove any imperfections.

Step 3 – Assemble the cage

Use long enough nails to fasten the base and top to the wooden posts, then fix the wire mesh around the frame. Make sure to fix the top and bottom edges to prevent your rabbit from digging holes and escaping. With a pair of wire cutters, cut a hole where you want to mount the door.

Step 4 – Build the door

Make a cage door from a square wood frame, two hinges, and some wire mesh, then install it on the cage.

Step 5 – Enjoy the hutch

That's it! Add a thick layer of rodent bedding or hay and place your pet into his new home. Add a food bowl and water bottle, some toys, and let your fur baby enjoy your creation.
How to Clean Indoor Rabbit Cage?
Unless you get a wire floor hutch with removable pan, cleaning the rabbit cage could be a pain. Nevertheless, you will have to take care of this chore in the best possible way. Here's how to do it.
Take the rabbit out and place him into a temporary enclosure, or let him roam freely around your home if you usually do so.
Dismantle the wire mesh upper. Most modern enclosures are easy to dismantle and assemble without tools, so this shouldn't be too difficult.
Dispose of the old bedding in an appropriate manner. You can either toss it in the bin or in a compost pile.
Clean the bottom with soap and water, then disinfect with a solution of bleach. Rinse thoroughly with abundant clean water to remove all bleach residues and chemical odors. Remember that both soap and bleach are harmful to pets, so it's essential to remove all residues before drying the tray.
Dry the bottom of the hutch and add a fresh layer of bedding, then put back on the wire mesh upper, making sure the enclosure is assembled correctly before putting the rabbit back in.
F

requently

A

sked

Q

uestions
How Many Rabbits Fit In Cage?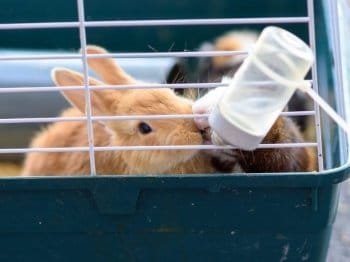 One of the most frequent, but also one of the trickiest questions. How many rabbits fit in the cage depends on the size of the enclosure and size of the rabbits. Remember the golden rule that the cage should be at least four times the size of your pet, and choose accordingly depending on how many pets you want to accommodate.
Even if the enclosure is big, we recommend not to overcrowd it. If you have more than two or three rabbits, it is recommended either to build a very big custom hutch or accommodate them in multiple indoor rabbit cages.
What kind of cage does a rabbit need?
A glass or opaque enclosure will make your bunny sick. Why? Their body moisture, as well as the ammonia fumes from their waste, will build upon the enclosure's surface, leading to skin and lung diseases. Jagged or pointy edges on a cage's surface are dangerous for your bunny's soft skin. You should always keep in mind their habit of digging and nibbling while purchasing a rabbit cage.
Many cage designs that promote convenience by adding a removable bottom for easy cleaning have a mesh wire cage surface. These types of surfaces can harm the sensitive skin under your rabbit's feet. Therefore, a breathable enclosure with smooth edges and easy to walk surface is ideal for rabbits.
What bedding should I use for indoor rabbits?
While choosing a bedding material for your rabbit, remember that they have a habit of chewing. Don't pick any material that can prove harmful to them upon ingestion as an option to bed your rabbits. Some people use blankets, wool, or soft-bristled towels for their bunnies to lay and flap around. Though they aren't harmful to rabbits to chew on, these materials are easy to chew on and won't last long. After all, they can't serve their purpose if they don't last long. The most suitable and affordable type of bedding is edible and chemical-free straw that you can replace conveniently even when your bunnies eat it.
How big should a rabbit cage be?
The size of your rabbit and the space available in your house determines the dimensions of the cage. An average rabbit of 5 to 6 pounds needs a space that's at least 30 inches wide. If you have a baby rabbit, find out the average size of its kind when they grow into an adult and buy a cage accordingly. You can purchase a standard rabbit cage as per your rabbit's size, but bunnies can easily suffer from boredom if they don't have much to do in their abode.
If you don't plan to leave your bunnies unsupervised, build a home that befits their curious and playful nature. A multi-level cage with plenty of hiding space, swings, and toys can help them stay entertained, happy and stimulates their body functions. It all comes down to how much money and space you can spare if you are not satisfied with the standard cage size.
Can you keep multiple rabbits in the same cage?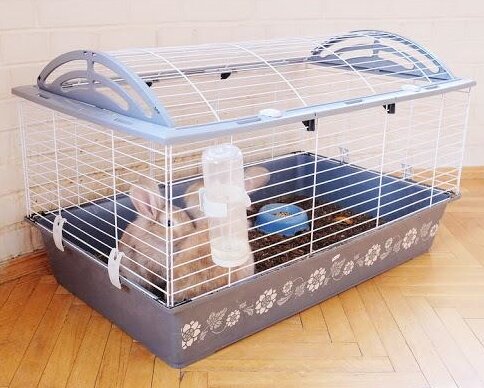 Rabbits are social and affectionate creatures; therefore, they bode well with other rabbits. Separating them from their peers can make them lonely and lethargic. It is better to own more than one rabbit and keep them in pairs, so even if you don't have time to play with them, they can keep each other company.
Keeping them together since birth can create a bond and understanding between them, which means neither of them will show any hostile behavior towards the other. Rabbits can grow acquainted with other rabbits easily until the age of 12 months. Therefore, you don't have to worry about their wellbeing if you keep more than two rabbits in one cage. But you'll have to buy a large cage if you intend to keep more than one rabbit in it.
Furthermore, rabbits' fertility rate is higher than other kinds of pets, so if you want to own a pair of male and female bunnies, make sure they both are neutered. If you don't neuter them, you'll have to deal with pregnancies and hospital visits more often than you signed up for.
Should I keep the doors locked or open?
Rabbits have a habit of nibbling and digging, so you can't leave them unsupervised indoors. Keep them unsupervised for an hour or two, and you'll have a chewed-up mess at your hands. Apart from their chewing and digging, you'll have to deal with their urine discharge if they are not litter trained. Too many things that can go wrong if your rabbits if you leave rabbits to do as they please in your house. If you are not worried about them chewing up wires and bedding, you can leave the doors open. Otherwise, locking away your rabbits at night when you can't pay attention to them will do you more good than leaving it open.
Should you cover a rabbit's cage at night?
Rabbits don't care whether you cover their cage at night or not since they are crepuscular and are asleep most of the day except dusk and dawn. Unlike humans, they don't go to bed at night and stay awake during the day or vice versa. Instead, they prefer to sleep whenever or wherever they feel comfortable. Since they are only active during the wee hours of the day and at the dark hour of twilight, covering their cage at night can make you feel better, but these little bunnies don't need to turn off the light before going to bed.
If your bunny has a jumpy personality and is often wary of its surroundings, helping him feel safe is your responsibility. This is where the role of darkness comes into play. Rabbits are mostly the prey of big predators in their natural habitat. They take cover in the darkness where their senses are most heightened and receptive to flight and fight stimuli to protect themselves. For this reason, they like dark and small places to hide. In fact, even when you domesticate them, they find solace in hiding until they are comfortable with their owner or surrounding.
Therefore, make sure your bunny has enough space at its disposal to be able to find a good hiding spot for safety and coziness.
Is it bad to keep a rabbit in a cage?
Rabbits are social animals, just like humans. They love interacting with their peers and playing around with their owners, and if you don't give them the freedom to do so, they are likely to become lethargic and sick. Prolonged captivity in small cages can cause several physical abnormalities in their body. If you don't keep their cage clean and hygienic, they can contract lung diseases that labor their breathing and ultimately lead to their demise.
Most people buy a cage for their baby bunnies and never bother to replace the cage. As the bunnies grow in an enclosed space, they develop several deformities in their body. Therefore, it is necessary to consider your baby rabbit's average size when they are fully-grown adults while buying an indoor cage for them. You can cage them at night or when you are not present to supervise them but caging them for days is unhealthy for them as it makes them lazy and bored.
Do rabbits get cold at night?
The normal body temperature of bunnies ranges from 38 to 39.5°С, equal to 101 to 103 degrees in Fahrenheit. They can withstand cold weather of up to -2oC (30 degrees in Fahrenheit). This means they can survive in near-freezing temperatures easily without their body showing any adverse effects. So you don't need to worry about them getting cold in winter.
They are highly resistant to cold weather and don't need blankets or heaters to survive in winter. The only thing related to their body temperature that should concern you is it dropping to 37.8°С or below (100 degrees in Fahrenheit) or going up to 41.11°С (106 degrees in Fahrenheit). Keep checking their temperature and if you observe it going below their stable temperature, make sure to warm them up and get that additional heat lost in the environment back in their body. In case of a heated body, place a cold cloth on your bunny's ear and move them to a cool location, preferably one with air conditioning.
The easiest way to check your bunny's body temperature is through their ears. If their ears are too hot or too cold to touch, you must take immediate countermeasures to bring their body temperature back to normal.
Do rabbits like to sleep in the dark?
Rabbits are crepuscular, which means they are the most active at dusk and dawn. They usually doze off during early brunch hours and enjoy their slumber until evening. Their sleeping and behavioral patterns show that they don't need darkness to enjoy some shut-eye.
As long as they are cozy and comfortable, they can sleep anywhere and everywhere. Because of instinct, they try to hide from predators in the darkness, where their senses enhance. This explains why they find solace in dark places and prefer to hide in nooks and crannies when they feel jumpy and skittish, but their inclination towards dark hiding places has nothing to do with their sleeping routine. Therefore, you don't need to worry about turning off the lights to help your bunnies sleep.