Every year we get the chance to do away with the old, and get more involved with the new. The same is true for our canine accessories. Dog collars are the perfect accessory that are available in many colors and materials. Dog collars hold ID tags, and are also necessary for dog training. Personalized dog collars in trendy colors and fabrics are also a great addition to every pet parent's home. Opting for comfortable, durable, trendy and affordable collars may seem slightly difficult with so many brands to choose from. But here's our top picks.
As a pet parent, you might need the best collar for beautification, for walking through the park or roadside, as something to hold onto when keeping him or her under control indoors or outdoors, and for training. Regardless of why you purchase a neckband, it is good to go for the best. That will save you the extra bucks you might have to spend going for another due to a dissatisfactory performance.
In this extensive collar review and guide, we will look at the best dog collars out there at the moment to discover which is the best for you and your canine.
Comparison Table Rating Of The Best Dog Collars Of 2023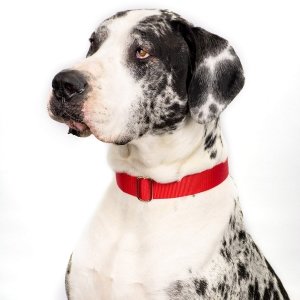 And get the right product in the market, so to help you choose the right dog collar,and after many hours of research. Below are the factors we considered when ranking each product:
Usability
Quality
Sizes
Price
Durability
These five are the main factors that allowed us to streamline the vast number of products that were available to us rested on the number of purchase and online rating. Going with product testing and customer purchase experience we were able to determine the eight best dog collars out there at the moment. Below is our table of comparison with an extensive list of determinants:
| PRODUCT | | RATING | PRICE | CLOSURE TYPE | MATERIAL TYPE | SIZES | WATERPROOF | QUALITY | USABILITY | SAFETY |
| --- | --- | --- | --- | --- | --- | --- | --- | --- | --- | --- |
| Black Rhino | Best overall | 9.8 | High price | Buckle | Neoprene | s – xl | ✔ | 10 | 9 | 10 |
| WAUDOG NASA | Our Choice | 9.7 | Average price | Metal buckle/plastic buckle with blocker | Nylon | s - xl | × | 10 | 9 | 10 |
| Country Brook Petz | | 9.6 | Average price | Snap | Nylon | s - xl | ✔ | 10 | 10 | 10 |
| Custom Catch Personalized | | 9.5 | Average price | Buckle | Leather | xs – l | ✔ | 9 | 9 | 8 |
| CollarDirect Nylon | | 9.2 | Average price | Snap | Nylon | s - xl | ✔ | 8 | 9 | 10 |
| OneTigris Military Adjustable | | 8.7 | Average price | Buckle | Nylon | m – l | ✔ | 10 | 6 | 10 |
| Kruz PET Breathable Mesh | | 8.5 | Average price | Snap | Mesh Fabric | xs-xl | × | 8 | 8 | 10 |
| Sunward Bling Rhinestones | Best value | 8.0 | Low price | Buckle | Leather | xxs - xxl | ✔ | 8 | 9 | 7 |
---
---
Dog Collar Buying Guide For A Satisfactory Purchase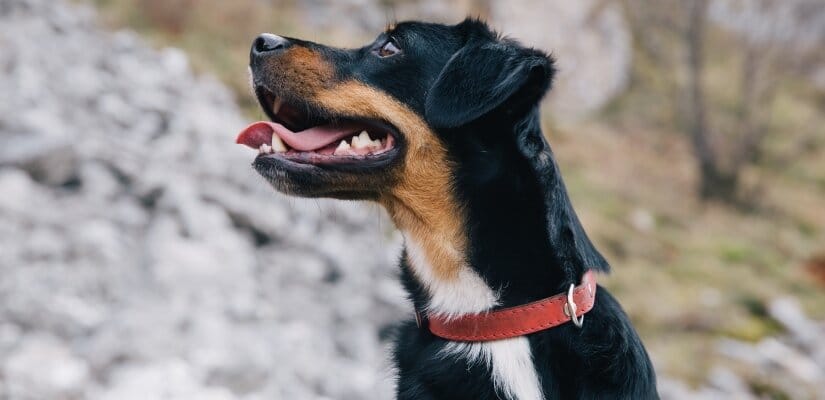 Just like going out of your way to purchase a surprise gift for your human loved one, there are things you consider. Based on how much you know the person, their likes and dislike comes to play and much more. The same thing should be done for your canine friend. You don't want to leave him, or her feeling irritated, looking bad, and incurring health issues.
Here are some things every dog lover should consider before making a purchase decision:
Keep Your Dog Comfortable
As you venture towards shopping next neckband for your paw friend, you should consider his or her comfort. How will this collar look on Jimmy or Ruddy? Will it harm them in any way? Is the material good enough not to irritate his or her skin or leave them sick?
Regardless of your purpose of wanting to buy, the right neckband should have all these answered excellently.
Also, it is essential to decide why you are purchasing the neckband. Is it for beautification? For control in public? Identification? For adding a leash to it for walking or keeping within the provided boundary of your home?
Some neck bands are best for training or identification and beautification. There are canines that a harness will be the most preferred option. For this reason, it is good to consider the following factors first:
Purpose of purchase
Dog breed
Ability to walk with a harness vs. collar
How much they pull.
Discuss all these points with trained personnel unless you already have those figured out. This action will help you narrow down your options as it relates to your intended loyal paw friend.
Reviews Are Key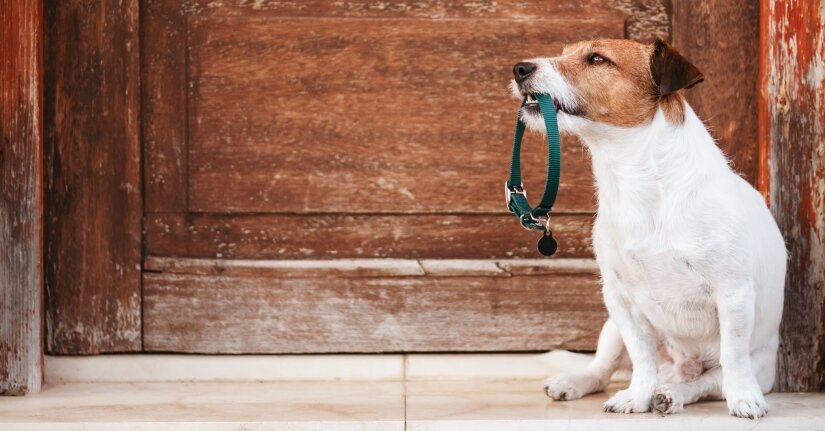 Another junction to stop at before deciding which neckband is right for your canine is reviews. Reviews are mostly contents created based on the experiences of other buyers. Some of these reviewers have had the chance to test various collars across several canines in age and family. Hence, they are in a better position to point you in the right direction. They will also let you know what to expect from the product of choice.
After discussing the type of band accessory you want for your pooch friend, it is an excellent idea to shop online. Check out available reviews for the best neckband to give him or her.
Cost
The amount of money you are willing to spend will triumph most factors. However, it is good to settle for the best within your budget range.
After going through the reviews for the best neckband for canines, it is wise to go for the that fits your budget and excels in the key areas of consideration. This way, even if it isn't the best of the best, it still can keep your dog comfortable, looking good, and staying secure.
Important Features to Consider
There are key features any pet owner should consider before making the final purchase. Below are what to consider:
Material: the material used is a crucial factor to consider in your buying decision. There are things it should excel in: durability, sturdiness, cleaning, and bite-resistant (not proof). The neckband should also be free from harsh chemicals, soft, and smooth.
Fit: the size of the neckband is equally important when considering the right one for your paw friend. It is best first to measure your canine's neck. Then check the chart for the collar you wish to buy. For the safety of your dog, the right size should have enough room for your thumb to stick through.
Type: there are various kinds of collars, and they serve best for different uses. A nylon collar can do all the trick for your puppy. A Martingale band can be the safest option for pooches. Then there are those that work best for your kind of dog during training. It is best to consult your dog trainer for better advice on the right option for your loyal companion.
Are Collars Safe for Dogs?

Dog neck bands are essential to help you keep your pooch under control while at home or in public. They allow you to walk your canine friend. And let's not forget the ability to place your name, their ID, and vaccination tags on it.
Despite how valued a collar is, it isn't without its dangers. Various events have seen dogs incur fatal injuries due to wrong neckband use. As a pet parent, you should be aware of the risks that come with owning a collar and how to avoid them.
Here are five of risks that comes with adorning your furry ball a neckband:
Strangulation: it can sound strange to you that the lovely necklace (collar) you have purchased for your pooch can lead to their demise. But the material and type of neckband, plus the environment can partner up in bringing this nightmare to reality.

The neck accessory can get caught on a window latch or similar objects for those with enough room. Other neck bands that are made to fit your canine can also harm him or her. This occurrence can even happen when left in the backyard on a line and they attempt to go beyond the limit.

Skin Issues: yes, there are lots of important reasons why it is wise to keep your dog collar fastened even at home. An example will be for emergency identification. However, that can cause serious adverse effects.

Neckbands that are moderately tight around the neck of your favorite pooch can leave marks and encourage skin irritation. When you fail to remove them, it can lead to infection.

Those that are way tighter, perhaps due to having overgrown it, can lead to tearing into the skin, hair loss, and more.

Neck Injuries: the neck of your canine friend is sensitive, and continuous pulling from a traditional neckband can leave lasting damage. Some of these damages include thyroid gland, saliva gland, and neck tissues problems.

Mouth and Limbs damages: when your lovely pooch has a very loose collar on, it can result in serious health challenges. Your dog could get his hind or forelegs stuck within the neckband. Even their teeth and mouth could get into the ugly mix. In the event of this occurrence, your favorite companion can sustain breakage and flesh injuries.

Material: the kind of material that your neck band is made of can lead to low-grade irritation for your paw friend. It is good to check reviews and the details of your preferred neck accessory to see if it will be a perfect fit for your canine. If it looks rigid and uncomfortable, it probably will be.
Vital tips to keep your dog safe while using a neckband:
Ensure your thumb can fix between the neckband and your dog.
It is good to find the right tightness when your dog reclines for an all-around fit.
It is good to take off the neck band during night hours.
Always put a watchful eye on your dog when or she is adorning a neckband
Implant a microchip with your canine details for periods when they are neckband-free
Always remove your paw friend's neckband when he or she is in their crate.
It is good to remove the collar from your canine when they are two dogs or more at home, and are likely to roughhouse.
Avoid chain or nylon neckbands when placing your dog on a leash and leaving them outside.
For training talk to the trainer for the right collar for your pooch.