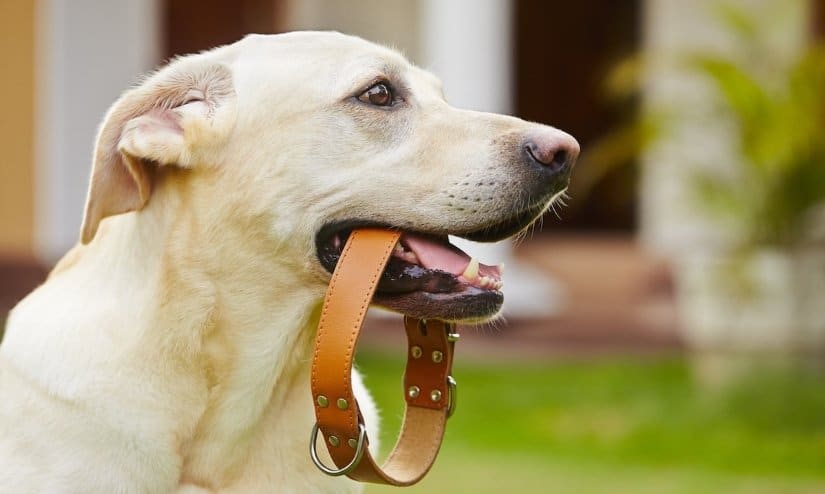 Every year we get the chance to do away with the old, and get more involved with the new. The same is true for our canine accessories. Dog collars are the perfect accessory that are available in many colors and materials. Dog collars hold ID tags, and are also necessary for dog training. Personalized dog collars in trendy colors and fabrics are also a great addition to every pet parent's home. Opting for comfortable, durable, trendy and affordable collars may seem slightly difficult with so many brands to choose from. But here's our top picks.
As a pet parent, you might need the best collar for beautification, for walking through the park or roadside, as something to hold onto when keeping him or her under control indoors or outdoors, and for training. Regardless of why you purchase a neckband, it is good to go for the best. That will save you the extra bucks you might have to spend going for another due to a dissatisfactory performance.
In this extensive collar review and guide, we will look at the best dog collars out there at the moment to discover which is the best for you and your canine.
Comparison Table Rating Of The Best Dog Collars Of 2020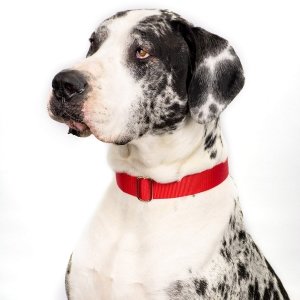 And get the right product in the market, so to help you choose the right dog collar,and after many hours of research. Below are the factors we considered when ranking each product:
Usability
Quality
Sizes
Price
Durability
These five are the main factors that allowed us to streamline the vast number of products that were available to us rested on the number of purchase and online rating. Going with product testing and customer purchase experience we were able to determine the seven best dog collars out there at the moment. Below is our table of comparison with an extensive list of determinants:
PRODUCT
RATING
PRICE
CLOSURE TYPE
MATERIAL TYPE
SIZES
WATERPROOF
QUALITY
USABILITY
SAFETY
Country Brook Petz

Our choice

9.9
Average price
Snap
Nylon
s - xl

✔

10
10
10
CollarDirect Nylon

Best overall

9.8
Average price
Snap
Nylon
s - xl

✔

10
10
10
Black Rhino
9.3
High price
Buckle
Neoprene
s – xl

✔

10
8
10
OneTigris Military Adjustable
8.7
Average price
Buckle
Nylon
m – l

✔

10
6
10
Sunward Bling Rhinestones

Best value

8.6
Low price
Buckle
Leather
xxs - xxl

✔

8
10
8
Custom Catch Personalized
8.0
Average price
Buckle
Leather
xs – l

✔

8
8
8
Kruz PET Breathable Mesh
7.3
Average price
Snap
Mesh Fabric
xs-xl

×

6
6
10
---
Country Brook Petz | Premium Nylon Dog Collar with Metal Buckle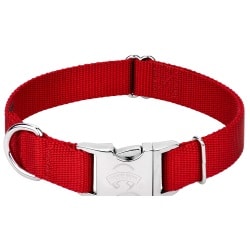 9.9 - rating
Average
Our choice
With a premium build for hefty dogs, varying options, and affordable rate, the Country Brook Petz stands out as our choice
Country Brook Petz as created by the manufacturers is intended to work best for the likes of Pitbull, Golden Retriever, and German Shephard. The product is available for small, medium, and extra-large dogs. The size small has an inch range of 11 to 13, while that of the extra-large has 18 to 26 inches.
The Country Brook has a curved-edged buckle snap lock system, wide-mouthed tri-glides, and a D-ring for your leash or tags. These three lock and track systems have an extra coat of aluminum finish. The metal finish leaves the product looking reflective. At the same time, they provide a premium mirror-like finish.
This collar comes in various exciting colors to beautify both a male and female canine. Country Brook Designs used silky nylon as their material for this dog neckband. The band has been hand sewn as a nylon webbing claimed to be very durable and able to withstand daily rough use.
The heavy-duty Country Brook Petz neckband has been carefully sewn with strong threads to ensure it doesn't loosen. The pressured areas that could take down the construct has been box-stitched to ensure it last pretty long. All these for an affordable price.
Experience with this Product
The Country Brook Petz is really built for those tough pet friends out there. The buckle doesn't unclasp easily, and it can withstand the pull of dogs that weigh up to 120 lbs and more. Hence, no worries in witnessing your paw friends engaging in roughhouse play with their neckband on.
Despite having a metal finish, you don't need to worry about the metal getting too hot and uncomfortable for your canine friend. The buckle by default is meant to stay under the chin of your pet friend. That alone shields it from the sun. However, the metal finish isn't scratch resistant, so you are bound to see some marks as they play with it.
Country Brook Designs have really put lots of effort into ensuring the durability of this neckband. The Country Petz collar can withstand pressure for over a year and more. Even the hues of some of their products have stayed the same over the months. However, some customers have witnessed theirs begin to fade after one year of use. This collar is easy-to wash. Just toss it in a pillowcase and into your washer.
This neckband has a sturdy and light feel. Dogs can use the collar comfortably. The stitches are of high quality keeping everything in their place. You can choose to use the leash only and go for a tag keeper for a better experience. Based on the effective locking system, any pet parent can carry out the right adjustment for their pooches.
Key feature
Lots of color to choose from
Premium look and metal finish
Waterproof
Highly adjustable
Pros
Affordable
Durable
High performance for hefty dogs
Washable
Cons
Could get a product with poor quality
Color fades with time
CollarDirect Nylon Dog Collar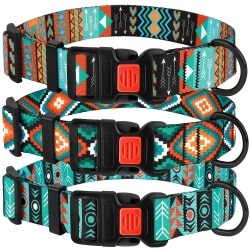 9.8 - rating
Average
Best overall
Built with all dogs in mind, very affordable, durable, and beautiful, the CollarDirect Nylon dog collar is our Best overall neckband to purchase for your canine
CollarDirect Tribal Nylon dog collar is created to give characteristics, vividness, and elegance to your dog. The item comes in a wide range of neck sizes. There is a tailored solution for extra small, small, medium, large, and extra-large dogs. The smallest measurement starts from 7 to 11 inches while the extra large is 18 to 26 inches.
The buckle of this neckband is of two types, the plastic, and the metal. Both of these buckles have a slip-on(snap) lock system that provides an added layer of security. They are also a side-release locking system. The CollarDirect Nylon dog neck band also has a D-ring to the side for users to add a leash or place their tags.
You can purchase this neckband in three unique patterns. Each pattern has its own unique design and tribal feel that makes it eye-catching on the neck of your canine. The company made use of high-quality nylon webbing for this neckband. The band is thick, soft, and comfortable for any canine to try it. The manufacturers have promised that the color doesn't fade over time.
The CollarDirect nylon neckband is handmade and works well with pooches that have sensitive skin. The sizing works great, and it weighs a little. Just enough for your dog to have it on all day without complaining.
Experience with this Product
The neckband from CollarDirect really has a beautiful design with a cultural feel. This aesthetics makes it the perfect collar to adorn your dog. There is something for the male and female pooch.
The neckband is also sturdy and well made. Hence, it sits perfectly on your canine's neck. The plastics and materials have been made eco-friendly. The neckband is soft and smooth. All these characteristics allow it to be the perfect necklace for your sensitive coat four-legged.
The side-locking system works great for attaching and detaching the neckband. Both types of buckle, plastic or metal, don't easily loosen when locked. The extra layer that comes from the slip-on lock ensures that. Nonetheless, if dog's chew the plastic buckle, it may break. Sturdy and durable, this collar is fashionable and durable.
The CollarDirect Nylon neck band is moderately thick. Hence, when you add a tag to it, it might slide a bit. You can either use the D-ring section for leash or your dog tag. The product seems to be very durable. This product has been a best seller for the past year.
Key feature
Durable hue
Superior material
Vibrant colors and design
Eco-friendly materials
Pros
Washable
Adjustable size and lock mechanism
High performance
For all dog sizes
Cons
Could get one of poor quality
Sunward Bling Rhinestones Dog Collar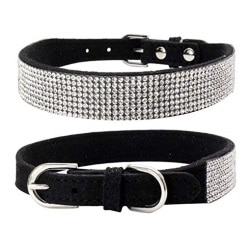 8.6 - rating
Low
Best value
Costing significantly low while offering amazing features, the Sunward Bling Rhinestones is our Best value choice
The Sunward Bling Rhinestone Neckband made by Sunward is focused on making your pet friend a star or royalty amongst others. The band comes in a wide range of neck sizes. You can choose from xx-small to xx-large. That means dogs that have a neck size of 5.9 to 8inches have something for them. Same for those whose neck size ranges 18 to 22 inches.
Sunward has made the buckle in the traditional style, so you have to lock the neckband like a belt. It has a belt hook to the side to keep the extras in place. The D-ring is also located close to the belt holder and buckle. All of these have been knitted and then pinned to ensure they don't pull off.
There is a good range of masculine and feminine colors for this neckband. The band plays on simplicity, beauty, flashiness, andmore. The material is of PU leather, which makes it soft and tough. Decorated with glittering rhinestones, this collar puts your fur-baby the spotlight. Sunward claims that the Diamonds are firmly placed, and won't go off easily thanks to the transparent alloy that they have used for the inlay.
Experience with this Product
The Sunward Bling Rhinestone neck accessory makes for a perfect outdoor collar for your pooch if you are looking for a simple yet stylish design. Playing on simplicity and elegance at the same time, the glittery Rhinestones strategically placed at the upper areas of your paw friend's neck makes him or her the object of interest.
The wide range of sizes it comes in makes it a good purchase even for felines. However, it is extra large in all measurements. For each size, you purchase there is much room to grow. While this is a good thing, it can also be a bad thing depending on if you decide to go for a higher measurement just to give room for your canine and where within the normal range your dog size falls.
The inside is layered with a smooth material that comfortably rests on on your dog. Part of the outer layer is decked with rhinestones which are inlaid by a transparent alloy. Thanks to the approach in design, the rhinestones hold their place better than other rhinestone beautified collars. That means your lovely pooch can scratch at it damaging it
The product is durable, but the leather tends to peel with time. Customers with large dogs have witnessed it begin to peel after half a year or more. you can use glue for this or opt for another
Key feature
Rhinestones
Roomy measurement
Sturdy and soft
Wide range of sizes
Pros
Real sparkling rhinestones
Low cost
Lovely colors
Durable
Cons
Refund issues
Some have a bad odor
Some have quality issues
Custom Catch Personalized Dog Collar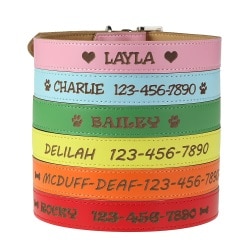 8 - rating
Average
The Personalized dog neckband that comes from Custom Catch has pet parents in mind who want to customize their dog collars to attach more tailored touch to it. The product comes in various size ranges. You can get it from extra small to large according to their size details. The X-small starts from 8.5 to 11 inches while the Large starts from 18 to 22 inches.
This neckband comes in different unique and interesting colors. There is something for both the male and female folks. The material behind this neckband is leather, making it one of the few leather bands with multiple colors to choose from. Pet parents can use them for their pet when going for wedding events and any other outdoor shows.
Pet parents can customize their fur-baby neckband to house the name, their numbers, and any other identification required. The company says their measurements come with 1-inch extra to ¾ inches, depending on the size you order. As part of giving the product striking characteristics, you can get the neckband with either heart, bone, or paw designs.
The buckle system is the traditional belt system made from metal. Pet parents get to enjoy the buckle, alongside belt holder to keep the extras. Custom Catch promises quick delivery to all purchase customers.
Experience with this Product
The Custom Catch neckband has more hues than the usual dark colors associated with leather collars. It looks good and feels sturdy. Based on the unique colors it comes in and customization, it's stylish enough for going out.
The extra inches that come with each measurement range has left many users dissatisfied. Custom Catch has now added its product measurement to their description alongside the extras to avoid this occurrence. Due to this product is custom made, there are most likely no returns if things are don't turn out right based on your requirements.
This neckband is okay for a pet friend who has sensitive skin as other customers have found out. If your pet loves roughhousing or if your dog enjoys playing around or is mouthy with other dogs. Based on how large your canine is, it might not be a good option to go on a walk with a leash attached. Some pet parents have witnessed their paw buddies break loose and run after their target.
The Personalized Dog choker is washable. Hence, when it gets dirty, you can easily clean it up to return it to its original look. Despite being thick, it is flexible. The thickness, however, might make it a bit of a burden for smaller pet friends.
Key feature
Personalized collar
Made of leather
Lots of colors to choose from
Washable
Pros
Quick delivery
Affordable
Durable
Great for sensitive skin
Cons
Not returnable
Not suitable for hefty dogs
Measurement comes with extra
Kruz PET Breathable Mesh Dog Collar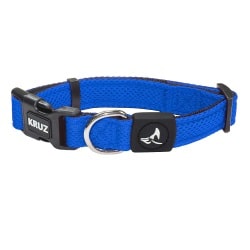 7.3 - rating
Average
The Kruz Pet breathable is made to ensure that your canine friend can enjoy all day outdoors without having wet hairs or irritation. The neckband comes in a wide range of sizes. Pet parents get to choose from x-small to x-large. The x-small starts from 8.2 to 12inches while the x-large begins from 20 to 31 inches.
There are only four colors to choose from for this breathable neckband. So, you can only choose either a red, black, orange or blue for your pet friend. Kruz Pet has made this band with a breathable mesh at the front touching your canine's skin. The mesh is of a double layer to ensure quality performance. The fabric is soft and comforting which is to ensure there isn't any irritation even for pooches with sensitive coats. There is also a nylon webbing at the back of the mesh.
The buckle is more of a fix-and-lock (snap) traditional locking system. It is of plastic just like the adjustment mechanism attached. Together, they delete the chance of having extras and improve the option of getting the right fix for your lovely pooch. There is also a D-ring next to the locking system so that you can easily place your tags and leash.
Experience with this Product
The Kruz Pet Breathable neckband is partially breathable but enough to ensure the accessory doesn't hold heat during use. It consists of a nylon webbing and mesh. The strategic position of both materials allows the soft part of the product to sit next to the skin of your furry ball. Pet parents have the chance to go all day with their loved canine friend and have no issue of wet hair.
The neckband comes in limited colors though vibrant enough to get noticed. Most pet parents won't be able to get their most desired option for their furry friend especially, female canines. Aside from this, the neckband is sturdy, and has reinforced stitching in the right places to avoid poor performance.
Based on the size range you order and the adjustable fastening system, the measurement works out nice, and you have the chance to expand as your furry ball grows. The product has a side release traditional buckle that is well built to avoid accidental dislodging.
Due to the combo in material and dual layer mesh, this neckband is thick but weighs less than several leather alternatives. The thickness might get in the way easily adjusting the size of the collar through the glides. Some pet parents have had issues with the D-ring, as it is too thick to use for tags and license. You might have to replace it if you have the same problem. However, the Kruz Pet Breathable is easy to wash and dries fast
Key feature
Rust-proof D-ring
A mesh and nylon combo
Plastic buckle and adjustment
Comes in four colors
Pros
Adjustable
Vibrant colored
Comfortable and sturdy
Washable with fast dry
Cons
The D-ring is too thick for tags
Some quality issues
Not fully breathable
Limited color range
OneTigris Military Adjustable Dog Collar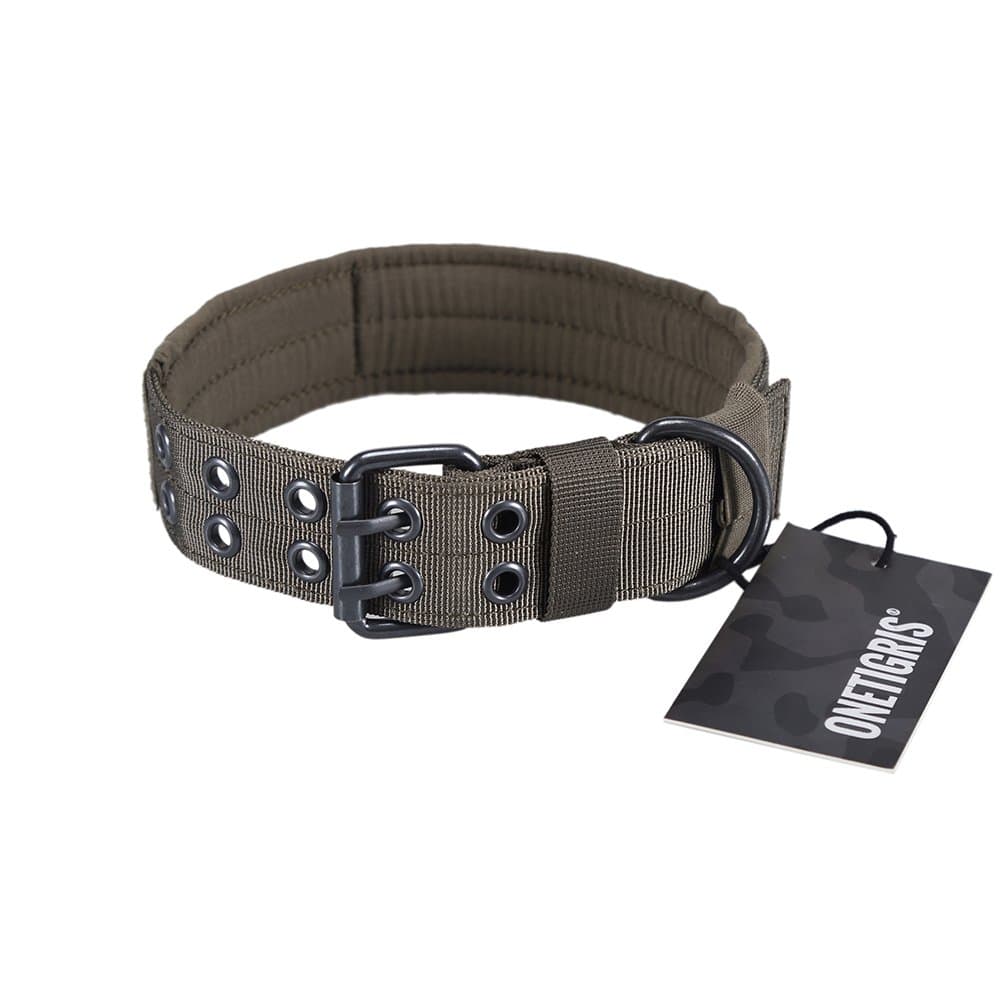 8.7 - rating
Average
The OneTigris is a military dog collar designed to provide that military swag and performance to your dogs daily living. The accessory is of only two sizes. Pet parents can either purchase the medium or large size range. For the medium range, only pooches within 14.6 to 17.7 inches can adorn it. As of the Large size, it starts from 17.7 to 20.9 inches.
This military neckband from OneTigris has a wide range of military colors to choose from. There is the Ranger Green, Black, to Coyote brown. These colors have been carefully selected by the company to give that matured, tough, and the elegant feel that is associated with the military. However, it provides colors that can work both for male and female dogs.
OneTigris has made this Military Adjustable neck band with a heavy-duty buckle that possesses two hooks. There are only five paired grommets which are carefully spaced out to ensure only pooches within the size range can benefit. Next to it sits the belt holder and the D—ring. The belt holder is there to keep the leftovers which consist of the extra 10cm for the tail. The D-ring OneTigris has used in this product is thick and large enough to house both tags and leash.
The materials behind this heavy-duty product are thick nylon webbing and cushions for padding. The result of this combo is a product that is thick enough to resist pulls but comfortable enough to sit around your canine's neck without bringing him or her any discomfort. There is also a place to strap your dog's name a the top of the neckband.
Experience with this Product
The OneTigris adjustable neck accessory has a matured design and superior build by looking at it. It will undoubtedly play its role in making those fierce dogs out there look tougher. The pressure is well distributed along the broad build.
When it comes to the collar measurement, many have realized that OneTigris started its counts from the wrong end. This is mostly true for the medium-sized neckband. Going with their sizing can leave you in a dilemma. It is good to keep a note of these measurements while doing the calculation.
The tail is 10 cm which won't be needed. The grommets are 2.5 cm apart which makes up 10 cm. Then the ends at the buckle are 3cm. After subtracting this from the total measurement of the choker, you then have an idea of the circumference and how it will fit or not fit your canine friend.
The OneTigris Adjustable neckband is durable enough. Some pet parents have witnessed it go beyond three months to a year without having any need to purchase a new one. However, some of their products have a reccurring problem at the D-ring. The stitches tend to loosen and lead to the ring losing its position in the accessory. This is bad as it could lead to a loss in tag or control of your lovely pooch. Hence, it is best to resewn this area after purchase. Also, the rollers aren't to the buckle, which might with time lead to it dropping off from the buckle.
Key feature
Comes in a wide range of colors
A patch section for a name patch
Wide D-ring
Made of nylon webbing
Pros
Wide range of colors
Superior material
Comfortable and sturdy
Durable and tough
Cons
Pour stitching around the D-ring
Ability to lose the roller bar of the buckle
Their measurement starts from the wrong end
Black Rhino – The Comfort Collar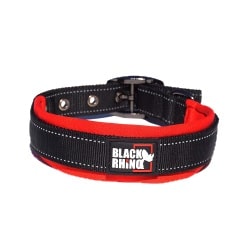 9.3 - rating
High
Black Rhino like the name suggests, is a sturdy and tuff product built for aggressive and strong canines. It comes in four size ranges: small, medium, large, and extra- large. Pet parents can purchase the small size for dogs whose neck's fall within the 11 to 15inches range. The x-large size is available for other canines who are within 22 to 26 inches.
The Rhino neckband comes in five lovely colors. Aside from the black variant, are available in numerous colors. This product from Rhino is made up of Neoprene padding to ensure your furry-ball has a smooth and comforting experience with it. Combined with the reflective stitching and the quality heavy duty material used, the Rhino Comfort Neckband is built to meet head-on with your active dog's daily activity.
The buckle is thick and built for the pressure. However, it follows the traditional grommet hooking lock system like the belt. It is also joined by the D-ring which sits close to it and could serve as a support to the tail.
Black Rhino claims that the product is lightweight enough to meet the comfort needs of any canine you try it on. Thanks to the material used, it is also weather and odor resistant, which means that your favorite four-legged friend can enjoy all day in the dirt with no worries.
Experience with this Product
The Black Rhino Comfort neck accessory looks and feels great upon seeing it. Its wide range of striking color matchup makes it a very lovable neckband to place around the neck of both female and male pooches. The comfort materials used in its creation also makes it a very comfortable option for canines with sensitive skin.
The measurements on this neckband are excellent as you can most likely trust it. Based on the strong build and heavy duty materials used, it can take on the likes of Pitbull and more through their daily routines and roughhouse.Some pet parents have tried it on various of their canines including Siberian Husky Labrador mix and have found these canines unable to break free.
Black Rhino chose the right buckle for the product. It works well due to its wide and thick frame, plus superior build. It serves in holding it all together. However, it can also lead to difficulty in getting it undone. With the D-ring sitting too close to the buckle, some users have found it challenging to use. The leftovers of this choker might have to pass through the D-ring which leaves little space for the leash or tags.
There are some bumps at the front of the accessory at the buckle area. For canines with thick coats or long furs, it won't be an issue. However, some pet parents with pooches that are lightly coated have found it to rub raw spots on their canine friends.
Key feature
Heavy-duty materials
Neoprene padding
Reflective stitching
Only medium & Large sizes
Pros
Durable
Wide range of striking colors
Weather and odor resistant
Comfortable and sturdy
Cons
The D-ring is too close to the buckle
Slight protrusion behind the buckle
Might be heavy for aged canines
Pricey
---
Dog Collar Buying Guide For A Satisfactory Purchase
Just like going out of your way to purchase a surprise gift for your human loved one, there are things you consider. Based on how much you know the person, their likes and dislike comes to play and much more. The same thing should be done for your canine friend. You don't want to leave him, or her feeling irritated, looking bad, and incurring health issues.
Here are some things every dog lover should consider before making a purchase decision:
Keep Your Dog Comfortable
As you venture towards shopping next neckband for your paw friend, you should consider his or her comfort. How will this collar look on Jimmy or Ruddy? Will it harm them in any way? Is the material good enough not to irritate his or her skin or leave them sick?
Regardless of your purpose of wanting to buy, the right neckband should have all these answered excellently.
Also, it is essential to decide why you are purchasing the neckband. Is it for beautification? For control in public? Identification? For adding a leash to it for walking or keeping within the provided boundary of your home?
Some neck bands are best for training or identification and beautification. There are canines that a harness will be the most preferred option. For this reason, it is good to consider the following factors first:
Purpose of purchase
Dog breed
Ability to walk with a harness vs. collar
How much they pull.
Discuss all these points with trained personnel unless you already have those figured out. This action will help you narrow down your options as it relates to your intended loyal paw friend.
Reviews Are Key
Another junction to stop at before deciding which neckband is right for your canine is reviews. Reviews are mostly contents created based on the experiences of other buyers. Some of these reviewers have had the chance to test various collars across several canines in age and family. Hence, they are in a better position to point you in the right direction. They will also let you know what to expect from the product of choice.
After discussing the type of band accessory you want for your pooch friend, it is an excellent idea to shop online. Check out available reviews for the best neckband to give him or her.
Cost
The amount of money you are willing to spend will triumph most factors. However, it is good to settle for the best within your budget range.
After going through the reviews for the best neckband for canines, it is wise to go for the that fits your budget and excels in the key areas of consideration. This way, even if it isn't the best of the best, it still can keep your dog comfortable, looking good, and staying secure.
Important Features to Consider
There are key features any pet owner should consider before making the final purchase. Below are what to consider:
Material: the material used is a crucial factor to consider in your buying decision. There are things it should excel in: durability, sturdiness, cleaning, and bite-resistant (not proof). The neckband should also be free from harsh chemicals, soft, and smooth.
Fit: the size of the neckband is equally important when considering the right one for your paw friend. It is best first to measure your canine's neck. Then check the chart for the collar you wish to buy. For the safety of your dog, the right size should have enough room for your thumb to stick through.
Type: there are various kinds of collars, and they serve best for different uses. A nylon collar can do all the trick for your puppy. A Martingale band can be the safest option for pooches. Then there are those that work best for your kind of dog during training. It is best to consult your dog trainer for better advice on the right option for your loyal companion.
Are Collars Safe for Dogs?
Dog neck bands are essential to help you keep your pooch under control while at home or in public. They allow you to walk your canine friend. And let's not forget the ability to place your name, their ID, and vaccination tags on it.
Despite how valued a collar is, it isn't without its dangers. Various events have seen dogs incur fatal injuries due to wrong neckband use. As a pet parent, you should be aware of the risks that come with owning a collar and how to avoid them.
Here are five of risks that comes with adorning your furry ball a neckband:
Strangulation: it can sound strange to you that the lovely necklace (collar) you have purchased for your pooch can lead to their demise. But the material and type of neckband, plus the environment can partner up in bringing this nightmare to reality.

The neck accessory can get caught on a window latch or similar objects for those with enough room. Other neck bands that are made to fit your canine can also harm him or her. This occurrence can even happen when left in the backyard on a line and they attempt to go beyond the limit.

Skin Issues: yes, there are lots of important reasons why it is wise to keep your dog collar fastened even at home. An example will be for emergency identification. However, that can cause serious adverse effects.

Neckbands that are moderately tight around the neck of your favorite pooch can leave marks and encourage skin irritation. When you fail to remove them, it can lead to infection.

Those that are way tighter, perhaps due to having overgrown it, can lead to tearing into the skin, hair loss, and more.

Neck Injuries: the neck of your canine friend is sensitive, and continuous pulling from a traditional neckband can leave lasting damage. Some of these damages include thyroid gland, saliva gland, and neck tissues problems.

Mouth and Limbs damages: when your lovely pooch has a very loose collar on, it can result in serious health challenges. Your dog could get his hind or forelegs stuck within the neckband. Even their teeth and mouth could get into the ugly mix. In the event of this occurrence, your favorite companion can sustain breakage and flesh injuries.

Material: the kind of material that your neck band is made of can lead to low-grade irritation for your paw friend. It is good to check reviews and the details of your preferred neck accessory to see if it will be a perfect fit for your canine. If it looks rigid and uncomfortable, it probably will be.
Vital tips to keep your dog safe while using a neckband:
Ensure your thumb can fix between the neckband and your dog.
It is good to find the right tightness when your dog reclines for an all-around fit.
It is good to take off the neck band during night hours.
Always put a watchful eye on your dog when or she is adorning a neckband
Implant a microchip with your canine details for periods when they are neckband-free
Always remove your paw friend's neckband when he or she is in their crate.
It is good to remove the collar from your canine when they are two dogs or more at home, and are likely to roughhouse.
Avoid chain or nylon neckbands when placing your dog on a leash and leaving them outside.
For training talk to the trainer for the right collar for your pooch.