If you're looking for an excellent flea shampoo for your dog, you may be confused as to which one to purchase. Fleas transmit numerous diseases and can also cause allergies and or anemia in dogs and cats. There are over 2,200 different types of fleas today, yet only a few types exist in the U.S.
The two most common ones include the cat flea (Ctenocephalides felis) and the dog flea (Ctenocephalides canis). Your veterinarian will always be the best source of information because they know your dog, understand their medical history and know the risks associated with your geographic area, but if you're looking for some good tips and info, read our best flea shampoo reviews.
Fleas can cause a tremendous amount of aggravation and result in severe skin irritation in pets and people. To prevent flea issues in your home that can turn into significant problems for everyone, it's best to think about using a good and effective flea shampoo to stop fleas the first time around.
Effective flea treatments have to be safe, effective, and easy to use. That said, how does one find the right flea shampoo to use? Here's the take on our top 7 picks for the best flea shampoos for dogs in 2023.
| PRODUCT | | RATING | PRICE | REPELS | FLEA | TRICKS | LICE | AGE |
| --- | --- | --- | --- | --- | --- | --- | --- | --- |
| Veterinary Formula Antiparasitic | Best Overall | 9.4 | Average price | - | ✔ | × | × | 12 weeks of age |
| Veterinary Formula Flea Shampoo | | 9.3 | Average price | - | ✔ | ✔ | × | 12 weeks and older |
| Vet's Best Flea and Tick Advanced | Our Choice | 9.1 | Average price | - | ✔ | ✔ | ✔ | 12 weeks or older |
| TropiClean Natural Shampoo | | 9.0 | Average price | up to 7 days | ✔ | ✔ | × | 12 weeks or older |
| Adams Plus Flea & Tick Shampoo | | 8.7 | Average price | up to 28 days | ✔ | ✔ | ✔ | 12-weeks and older |
| Richard's Organics Shampoo | Best Value | 8.4 | Low price | - | ✔ | ✔ | × | 12 weeks and older |
| SENTRY Oatmeal Shampoo | | 8.2 | Low price | - | ✔ | ✔ | × | 12 weeks of age and over |
---
---
Flea Infestations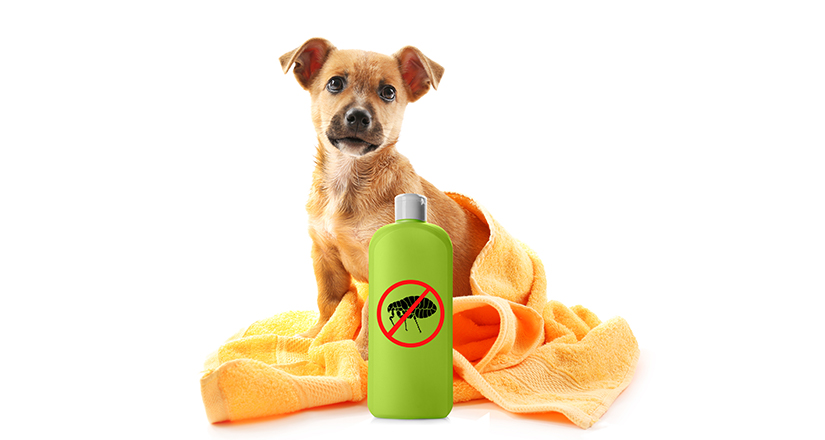 Dogs and cats are highly prone to getting fleas in warm or hot climates when air temperatures and humidity is high. Dogs can see fleas on other pets and in their homes.
Fleas use their powerful hind legs to jump on the "host," which is your dog or cat, and then bite the animal. These bites can cause itching, hair loss & hot spots from itching, inflamed lesions, and even severe skin infections requiring veterinary treatment and medication.
You may also see tiny dirt-like particles on your pet – which are flea feces and digested blood. You should always visit your veterinarian for treatment if your dog or cat has a flea infestation.
Because female fleas can live up to a few weeks on your cat or dog and have the ability to lay between 20-30 eggs a day during that time, it's essential to use a preventative during the spring and hot summer months.
Some flea eggs will hatch into larvae on your pet, while the others may fall off, onto your carpet and furniture, and even your dog's bed – where they feed off skin scales and other organic matter.
Pet parents need to treat both the dog and the inside & outside home environments when dealing with a flea issue in their homes and on their pets. This needs to be done right away. By using an effective flea & tick shampoo and working with your veterinarian to help treat your pet's skin infection, you'll be helping your pet and your family.
Final Thoughts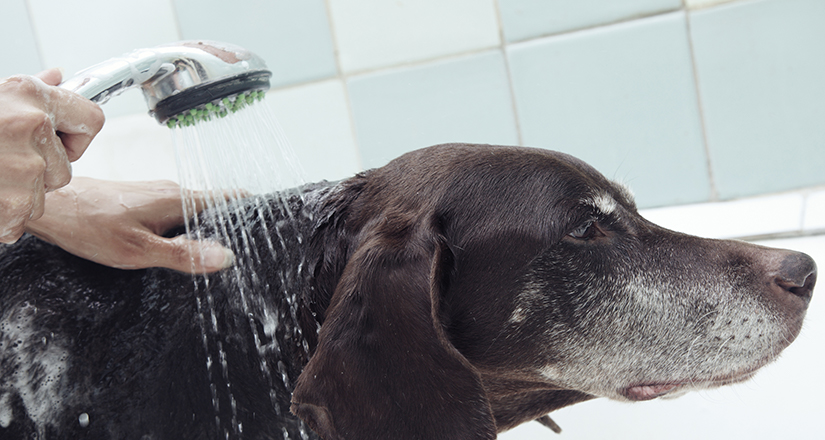 Flea and tick shampoos for dogs may feature ingredients that are toxic to cats and other household pets. Check the ingredients list before using it on your cat and read the directions carefully before using any flea and tick shampoo on your pets.
Pyrethrins and pyrethroids are fast working but don't last long in the environment. There are more powerful flea and tick products that are longer lasting and much more toxic. These include cholinesterase inhibitors and are sold under names like carbaryl, diazinon, fenthion, malathion, Dursban, and Sevin.
Consult with your veterinarian before using them, and think twice before doing so. To safely eradicate fleas from your home, you need to treat both your dog and your home, but at the same time, this needs to be done safely by using appropriate products that are veterinarian-approved.
Also, make sure that you're not combining chemicals using different flea and tick products on your pet. This could be toxic for both your pet and your family. In addition, you can always opt for natural repellant flea and tick collars that are fast and easy to use.
Flea and tick collars feature a plant-based formula that is sometimes veterinarian-approved depending on the brand. This is to ensure 100% pet safety and product efficacy. What we like most about flea and tick collars is that they are free of phthalates and PVC. Many brands are one size and are easily adjustable to fit dog breeds with neck sizes up to 20 inches. They are just as effective as flea and tick shampoos and offer complete body protection from head to tail!