Why are litter boxes important? They provide a place for your cat to safely use the restroom indoors without making a mess. A good litter box ensures your cat uses it and doesn't have accidents in the house, and also makes cleanup easier. They come in a variety of shapes and sizes, including enclosed entrances to keep other pets out, raised sides to keep messes in, and automatic boxes to help make cleaning easier. A guide for buying the best litter box can help ensure both you and your cat stay happy and healthy when using it.
---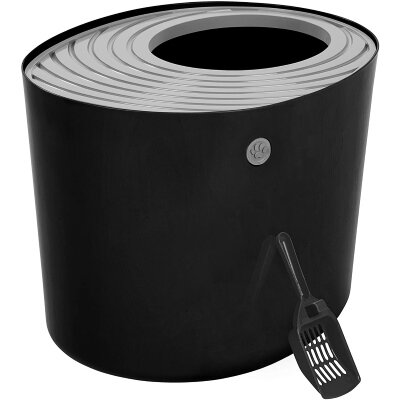 Our Choice
IRIS Top Entry Cat Litter Box
Comfort: High
|
Usability: High
|
Price: Average
This top-entrance litter box is both stylish and useful. It features a unique, rounded design that's great with modern decor. The large opening and textured top help your cat get in and out while cleaning their paws so litter doesn't track on your floor.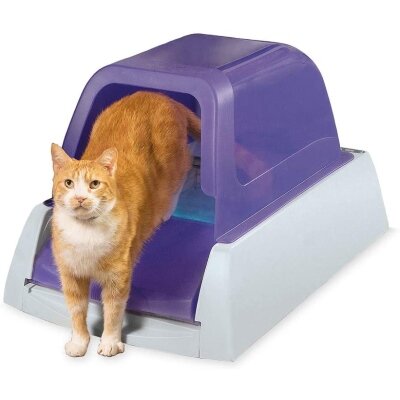 Best Overall
PetSafe ScoopFree Cat Litter Box
Comfort: Average
|
Usability: High
|
Price: High
PetSafe makes litter cleaning easy with its removable tray and self-cleaning scoop. Load the box with a tray, plug it in, and let the box do the work. While this litter box is a bit bulkier and less stylish, it makes up for it with ease of use.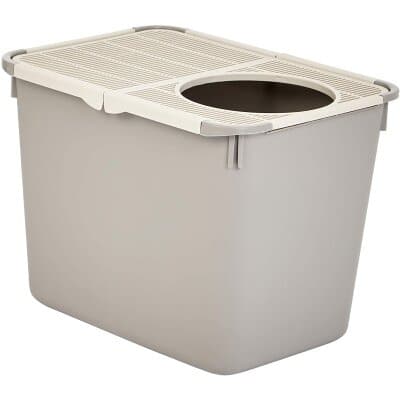 Best Value
AmazonBasics No-Mess Cat Litter Box
Comfort: Average
|
Usability: High
|
Price: Low
If you're looking for a no-frills basic litter box, this one is perfect. The top-load entrance keeps odors and waste contained while making it easy for your cat to get in and out. The lid easily folds open so you can scoop daily without hassle.
---
Litter boxes are versatile and can fit almost any style of home decor. While you have a typical open-sided box as the most basic, litter boxes also come in many styles including different colors and enclosures to match the location you place it. Openings are also important to help keep nosy pets out of the box while keeping your cat's mess enclosed inside. Openings in the top or sides of the box make it easier for your cat to get in and out of smaller spaces, and ramps and other accessories can help make a litter box more accessible to older cats.
You can also purchase a litter box that comes with carbon filters to help reduce smell, or automatic cleaning so that odors are trapped in an easy to empty compartment. Different boxes also use different litter types, such as crystal, clay, wheat and corn, or paper-based litters, which can be more comfortable on your cat's paws and help trap odor and liquids more effectively. Litter boxes that are automatic or have built-in scoops also make clean-up a breeze by simply emptying a single compartment.
In this handy guide, we'll provide a list of our top litter boxes of 2023 and their features so you can learn more about the various types of litter boxes available and pick the right one to match you and your cat's needs.
The 7 Best Cat Litter Boxes for 2023
Here are our top picks for litter boxes in 2023. These were graded on various categories such as size, box type, opening type, and the colors available. Box size, sides, and opening help determine the right box for your cat's size and age, as larger cats will need larger-sized boxes and older cats may need low sides or openings to get in and out easier. Boxes were also divided by type, such as open, enclosed, or automatic, which helps with ease of cleaning. Finally, available colors make it easy to see at a glance which box would best fit with your home decor.
| PRODUCT | | RATING | PRICE | SIZE | TYPE | SIDES | OPENING | COLORS |
| --- | --- | --- | --- | --- | --- | --- | --- | --- |
| IRIS Top Entry Cat Litter Box | Our Choice | 9.8 | Average price | 20.47"L x 16.14"W x 14.56"H (Large) | Enclosed | Covered | Top | Assorted Colors |
| PetSafe ScoopFree | Best Overall | 9.5 | High price | 27.5 x 19 x 16 inches (Side Open) | Automatic | Covered | Top Or Side | Gray, Purple, Taupe |
| AmazonBasics Cat Litter Box | Best Value | 9.1 | Low price | Varies | Varies | Varies | Top Or Side | Tan |
| Good Pet Stuff Litter Box | | 9.0 | Average price | 19 x 19 x 20 inches | Hidden | Covered | Side | Brown/Clay |
| Pet Mate 42036 Pan | | 8.7 | Low price | 19 x 15 x 8 inches | Open | High Sided | Top | Grey |
| Van Ness Enclosed Cat Pan | | 8.3 | Low price | 18"H x 17.5"W x 21.5"D inches | Enclosed | Covered | Side | Blue |
| Van Ness CP2HS Cat Litter Pan | | 8.2 | Low price | 17.5 x 15 x 9 inches | Open | High Sided | Top | Assorted Colors |
---
---
How Do I Decide What Litter Box Is Right for Me and My Cat?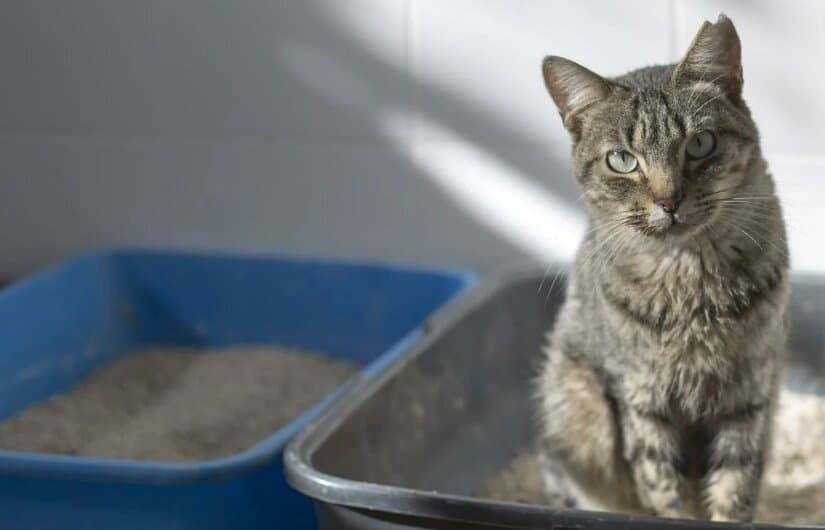 Now that you've looked at our top cat litter boxes for 2023, you may be wondering how to pick the best one for you and your cat. What do you look for in a box? Does type matter? Does litter matter? Read on to learn more about the variety of boxes and litters available for you and your cat and how to both pick the right one and introduce it successfully to your household.
The Different Types of Cat Litter Boxes
Cat litter boxes come in a variety of shapes and sizes. The most common boxes on the market include open boxes, enclosed boxes, sifting boxes, automatic boxes, disposable boxes, and hidden boxes. Each has its own pros and cons that can help you decide what works best for you.
Open Boxes
An open litter box is a basic box that has four sides, but does not include a lid or door to get in and out of. These are the most basic of boxes, but are useful when budget is an issue, or additional features aren't needed. They're a good starting box to use if you're unsure of what to get or aren't sure what your cat will like. However, these boxes don't do a very good job of containing messes or odors.
Pros
Inexpensive
Come in a variety of sizes and shapes
Most cats will use an open box without issue
Cons
May not contain messes well
Do not contain odors
May fall apart more easily
Enclosed/Top Entry Boxes

An enclosed or top-entry box is one that has both sides and a top. These lids can either snap onto a base open box, or have hinges that open and close. Often, there are openings on either the side of the box through a door, or in the case of top-entry boxes, an opening on the top of the lid. These boxes are excellent for containing messes and odors, however, they may be harder for older cats or very young kittens to get into and can be harder to clean if there are sharp curves or areas the opening blocks.
Pros
Contains messes and odors
Durable construction
Hides messes out of sight
Cons
May be hard for very young or very old cats to get in and out of
There is a learning curve for some cats if there is a door or top opening
Hinges or lids may break with improper use
Sifting Boxes
A sifting litter box is a box that comes with a grate or multiple stacked boxes in one package. Sifting boxes are designed to be pulled apart daily and allow litter to sift through while leaving behind clumped litter and waste material. You can then dump the waste into the garbage and replace the sifter back in the box. These boxes eliminate the need to use a scoop and make cleaning easier. Sifting boxes can come with additional features such as lids or hoods and odor control in addition to the sifting function. However, litter and waste may get stuck in the sifter, needing additional cleaning.
Pros
All-in-one system makes daily scooping easy
Can come with additional features such as a lid or odor control
Most cats use these box types as easily as a basic box
Cons
Debris may get stuck in sifter
Sifter can break down over time, reducing effectiveness
Sifter may not be able to remove very small particles, leading to dirty litter that needs to be replaced more often
Automatic Boxes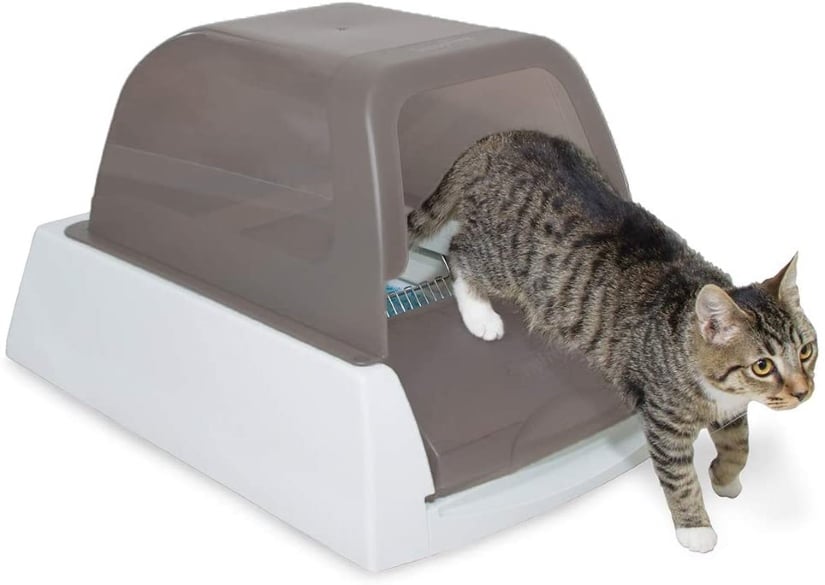 An automatic litter box is designed to automatically rake and remove waste from the litter once your cat has finished using it. These are plugged into a wall socket and have a metal or plastic rake that sweeps across the litter on a timer, depositing the waste material into a container that can then be removed and tossed. These boxes are great for owners that don't want to scoop daily, however, the loud noise and motion of the rake may scare some cats into not wanting to use the box. Automatic litter boxes can also have a high initial cost of purchase due to their more complex mechanics. They can also come with lids or hoods to contain messes.
Pros
Easy to "set and forget" so no daily cleaning required
Keeps litter fresh longer, reducing the need to replace it
Removes odors quickly
Cons
Loud noise may scare some cats away from using it, leading to accidents
Rake can become caked with debris or waste get stuck in mechanism
Sometimes requires purchase of specific litter or odor control/compartments which increases costs
Disposable Boxes
A disposable box is a box that is designed to be used short-term and then tossed or recycled. These are often made of cardboard or other biodegradable materials and may come with their own litter or need litter to be added. Disposable boxes are useful for travel when a permanent box may be too bulky or troublesome to bring. They're also great for owners who don't want to deal with a box getting smelly or damaged over time, as they can be tossed weekly or monthly and replaced with a fresh box, eliminating the hassle of cleaning. However, because they are made of less durable materials, they may not hold up to tough use, and will start to leak if used for too long.
Pros
Easy to bring on trips without hassle
Simply set up, add litter, and use
Can be tossed when done without needing to clean
Cons
May not control messes or odors very well
Can leak if used for too long
Higher cost if used for a long period of time due to constant replacement
Hidden/Camouflage Boxes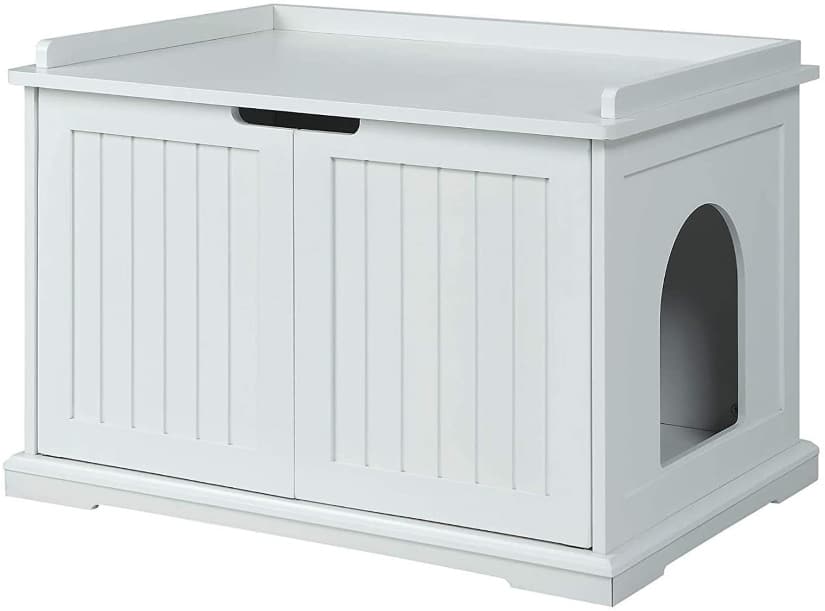 A hidden, or camouflaged litter box is one that has been designed to look like regular furniture or home decor. These can be boxes hidden inside a cabinet, ones designed to look like plant pots, or ones with decorative fabrics or other materials to cover them up. Hidden boxes come in a variety of designs and price points so they can be tailored to fit your home's needs. They can also be enclosed, or have odor-reducing properties in addition to being camouflaged, however, this will depend on the individual box.
Pros
Perfect for small spaces where the box needs to be out of sight
Can fit almost any home decor
Makes litter box less of an eyesore
Cons
May be hard to take apart and clean
May not easily trap odors or messes depending on design
Cat may not recognize it as a litter box, leading to accidents
What to Look For in a Litter Box
Even if you have a type of box in mind, there are still many factors to take into consideration when picking out the right litter box for you and your cat. Some factors to consider include the design of the box, such as its size, height, and shape. Other factors include convenience items such as how easy it is to clean the box, what litter can be used, and if it needs to be scooped daily, as well as its durability depending on the material it's made from and the number of cats using it.
Design (Size, Height, Style, Shape): These features are important, especially if you have a larger cat that needs a large box or a space in your home that is an odd shape such as a corner. You want to find a box that your cat can comfortably turn around in without hitting the sides, and that they can squat and bury their waste in without missing over the edge. Shape is also important for fitting into corners or small spaces.

If your cat is very young, or older and experiencing health issues, design is very important. Sides that are too high or litter boxes that require jumping to get into may be too painful for an arthritic cat to use, or too tall for a very small kitten to get to, leading to accidents around the house. In these circumstances, choosing a box that has a lower opening or ramp into it may make getting in and out easier.

Convenience (Cleanability, Scoops, Litter Type): While a box may look pretty, if you can't easily scoop your cat's waste from it, it can quickly become a hassle. Some boxes also only allow a proprietary litter to be used which may increase the cost of the box over time. You want to find a box that is easy to clean — such as being able to take it apart or scoop it daily — or that uses a litter type your cat will accept. Some cats may prefer clay litter only, while cats that have sensitive paws may prefer paper or pine based litters that are softer underfoot.

Durability (Materials, Number of Cats): Durability is also important, especially if you have multiple cats or one that is rough on boxes. You want a box that is durable enough to meet your needs. If you're looking for a long-term box, one made of heavy plastics or other materials that are scratch and stain resistant will reduce how often you need to replace it. If you're looking for a disposable option, strong cardboard or other moisture-wicking materials will help prevent the box from leaking until it's time to replace it. Very heavy cats that like to scratch, or a box that is used by multiple cats should also be durable enough to hold up to daily use.
What to Look For in a Litter Box
You've picked out the perfect litter box for you and your cat, but what goes inside it? Litter type is just as important as the box itself, especially if your cat has sensitive paws or the box uses a specific type of litter to function correctly. Below are the most commonly used litter types including clay litters, paper and pine based litters, crystal litters, and naturally sourced litters.
Non-Clumping Litter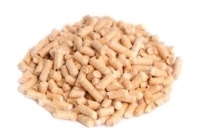 Non-clumping litter is a clay litter that doesn't clump when your cat urinates or defecates in it. These litters are designed to have a high level of absorption, and then to be completely tossed and changed when they are at capacity. Non-clumping litters are often very cheap to purchase and are beneficial in places such as clinics or shelters where the box needs to be disposed of daily. Non-clumping litter is also good for picky cats.
Pros
Inexpensive
Tolerated by most cats
Easy to just toss and replace with fresh litter
Cons
Hard to keep clean and odor-free long-term
Requires complete replacement during litter changes
May kick up a lot of dust leading to respiratory issues
Clumping Litter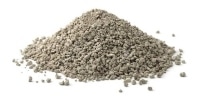 Like its non-clumping counterpart, clumping cat litter is a clay litter type. This type of clay is designed to clump into hard balls when moisture is added, making it easy to scoop out waste and debris, and also reducing odors as the waste matter is dried out. Clumping litter can often be disposed of by flushing the litter or tossing it into the garbage. Clumping litters are more expensive than non-clumping, and the granules may be uncomfortable for some cats.
Pros
Low cost
East to scoop daily
Provides excellent odor control
Cons
May be uncomfortable to some cats
Can kick up dust, leading to respiratory issues
Needs to be scooped daily
Gel/Crystal Litter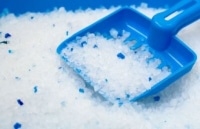 Silica gel, or crystal litters are a specially formulated litter designed to have long-term odor control and moisture absorption. These are common litters used in systems such as automatic litter boxes as they do not need to be replaced as often while still providing odor control. They are also softer underfoot and may be better tolerated by picky cats. The litter is also lighter and easier to carry when buying in bulk compared to clay litters. However, this litter type is more expensive than clay liters, which may increase costs over time.
Pros
Excellent odor control
Longer lasting so litter can be changed less often
Lightweight and soft underfoot
Cons
More expensive than traditional litters
May increase cost over time for proprietary litter boxes
Toxic if ingested
Paper/Pine Litter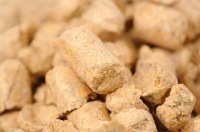 Paper and pine litters are a natural alternative to clay clumping litters. These types of litters offer excellent odor control by absorbing moisture as they break down over time. Pine and paper litters can be more expensive than traditional litter, but can also easily be purchased in bulk from farm stores. They are also more comfortable to picky cats and do not kick up as much dust as clay litter. However, they may not be usable in some boxes such as automatic litter boxes, and do not clump, leading to more difficulty in daily scooping.
Pros
Great absorption and odor control
Comfortable for picky or sensitive cats
Easy to purchase in bulk
Cons
More expensive than clay litter
Does not clump, making scooping more difficult
May not work in some types of litter boxes
Corn and Wheat Litter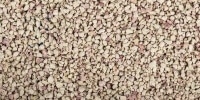 Corn and wheat litters are another natural alternative to clay litter. It can be more comfortable underfoot and reduces dust kicked up in comparison to traditional litter. Corn and wheat litter has good odor control and moisture absorption, and many will clump like traditional litter, making cleaning easier. However, these litter types are more expensive and may irritate pets or people that have allergies to corn or wheat.
Pros
Great natural alternative
Excellent odor and moisture control
Works well in any litter box that requires clumping litter
Cons
Can be more expensive than traditional litter
May cause irritation to those allergic to corn or wheat
Can be heavy to lift large bags
Picking the Right Box
When choosing the right cat litter box and litter type, there are some things you should keep in mind:
Consider your cat's needs. This is important as every cat has individual needs. An older cat with arthritis or joint issues may need a box that has a low entrance or ramp into it to make it easier to go in and out. Very large or heavy cats will need a box that is large enough for them to turn around and go in without missing over the edge. Cats that have had surgeries on their feet may need a box that allows for softer litter so that digging and burying waste isn't uncomfortable.

Choose the right litter. Litter type is just as important as box type. If your cat doesn't like the litter being used in the box, they are more likely to have accidents, leading to big messes to clean up. Litter type depends on many factors, including how soft it is underfoot for your cat, how well it contains odors, and how much dust it kicks up. Most cats like their litter to be clean, which means scooping daily and replacing weekly, so picking out a litter type that is easy for you to clean and replace without being overly expensive is also important to consider.

Make sure the box works in your household. A round box in a corner, or a box that doesn't fit in your utility room is going to quickly become a hassle. If you have trouble bending over or reaching, a box that doesn't open for easy cleaning may also be a problem. You want to pick out a box that fits well in the space you have picked out for it, and one that is easy for you to clean daily and scrub weekly. Take design into consideration as well, especially if you're in a small apartment or studio where you may have to look at the box out in the open.
Top Tips for Getting Your Cat Used to Their New Box
Once you've picked out the perfect litter box and cat litter, you will need to get your cat used to using it. Often, this includes a transition period, where you will have both your cat's old box and litter and the new box or litter present. You will want to transition over a period of a few days to weeks, to allow your cat time to get used to any new smells, sights, or sounds of the litter box.
Keep your cat's old litter box next to the new one for several days to give them the option of using both. This will help prevent accidents.
Let your cat observe the new box — run the cleaning mechanism in an automatic box several times while they watch and you give them treats so they get used to the sound.
Let your cat sniff and explore the box before adding litter. Encourage them to climb into a box with higher sides or a lid, and feed them a few treats or toss a toy inside while they explore.
If the box has a tall hood or door, try letting your cat use the box with the hood or door removed for a few days and then reattach the door once they are used to going in and out.
If you're only replacing your cat's litter, do so over a period of a week or two to let them get used to the feel of the new litter. At every scooping, add in some more of the new litter while keeping the old litter mixed within. This will both attract them to the new litter, and prevent accidents from a sudden change.
If your cat is having accidents, move the box to a different location where they have the accident. Your cat may be having trouble getting to the box, or may want a more private (to them) location to go.
Multiple cat households should have at least one litter box per cat. This will help prevent fights over a shared box and accidents if a cat can't access one box in particular.
If your cat refuses to use any litter box at all, a vet visit to rule out any health issues is a good idea.
Tricks for Keeping Litter Clean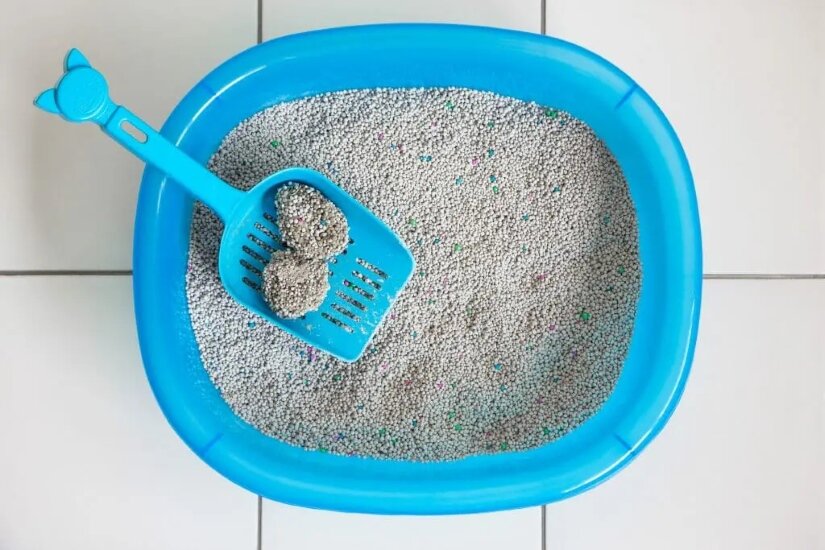 Here are a few tips to ensure the litter within your cat's litter box is kept clean. Clean litter will help keep your cat using the box instead of causing an accident elsewhere.
Scoop daily. Daily cleaning helps remove odor and debris that may keep your cat from using the box.
Find a preferred litter, and stick to it. Constantly changing litter may be confusing to your cat, and the wrong litter type can be uncomfortable to use. If you find a litter your cat enjoys, stick with it.
Replace all litter and scrub the entire box clean at least every other week. This will help prevent breakdown of the litter box, and keep the litter clean enough for daily use. You will also want to replace the box yearly if you notice damage.
Adding baking soda to litter can help reduce odors. Add in a small amount each time you do a full replacement of litter.
Use an enzymatic cleaner on any messes outside of the box. These cleaners are designed to break down urine and stool enzymes, reducing your cat's chances of having an accident there again.
Use a litter tray or mat underneath the litter box. This makes it easy to sweep up any litter or messes that may fall over the edge of the box, and reduces tracking of litter to the rest of the house.
With the above tips and tricks, and careful comparison of litter box types, you'll be ready to purchase the perfect box that fits the needs of you and your cat.