Litter boxes are usually for cats, but they're also beneficial for dogs. Both dogs and cats go about their business differently, so litter boxes designed for dogs have a different design. That said, numerous "dog litter boxes" have no use for any litter at all. Reach out to your veterinarian for the best advice when potty training your pup or if you have a senior pup with mobility issues and you're unsure as to which dog litter box to use.
In this review, we'll show you the different types of litter boxes and indoor dog litter boxes that are currently on the market for your dog, as well as the characteristics that make these our top 5 picks for the best dog litter boxes in 2022.
Below, we've compiled five of the best indoor dog litter box options for you, showing each of the varying styles that are most popular today. No matter which type you prefer, your search should start with one of the specific products listed here to save you time and money.
Quick Picks: Top 5 Dog Litter Boxes in 2022
| PRODUCT | | RATING | PRICE | SIZE |
| --- | --- | --- | --- | --- |
| PETMAKER Artificial Grass | Our Choice | 9.5 | Low price | 2 different sizes |
| Fresh Patch Disposable Dog Potty | | 9.2 | Low price | 4 different sizes |
| PetSafe Pet Loo Dog Potty | | 9.1 | High price | 3 different sizes |
| HQ4us Dog Litter Box | | 9.0 | Average price | 2 different sizes |
| Blyss Pets Indoor Dog Potty | | 8.6 | Low price | 21.5'' (L) x 16.5'' (W) x 1.25'' |
---
F

requently

A

sked

Q

uestions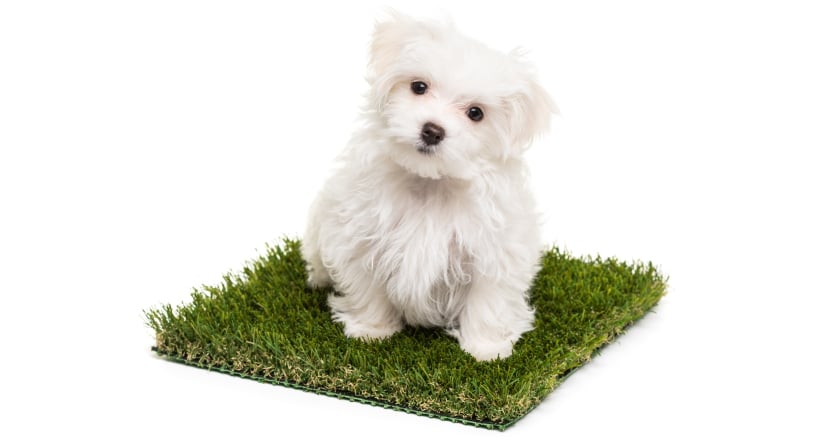 Why Choose a Dog Litter Box?
If you opt for a dog litter box brand without a collection tray, you'll need to get your disposable absorbent pads to absorb the mess. The type of surface mat you opt for will depend on your pup. There are three types of potty mats:
Grass Mats Verses Plastic or Rubber Dog Litter Boxes
Grass mats work well because they simulate natural dog outdoor potty behavior. Grass dog litter mats are crafted with synthetic or natural grass. Synthetic grass mats have many advantages because they can be easily washed and reused. They're cost-effective and sustainable in that you can reuse them often.
Some grass mats feature plastic with rubber backing. In contrast, other artificial mats may feature numerous drainage holes to allow your dog's urine to flow easily onto the collection tray or pad. Some grass mats are crafted with clips that will keep your artificial grass mat in place and stop it from slipping onto your floor, resulting in a mess.
Original grass mat litter boxes for dogs feature actual patches of grass shipped in cardboard boxes that double up as durable collection trays. Grass mat dog litter boxes are easily disposable but may be expensive over time, especially if you're a multi-pet household.
Actual grass mats are beneficial in teaching your puppy to go potty on grass and not on the floor. Essential grass dog litter boxes may need to be replaced sooner than later due to foul odors or yellowing of the grass.
Why Choose a Plastic Puppy or Dog Litter Box?
Plastic indoor dog litter boxes usually feature grids that snap securely to underlying collection trays. The plastic dog litter box brands are typically crafted to be sturdier than grass options. But you'll need to watch out when heavier dog breeds use these because they can become flimsy. If you're a busy pet parent to a large dog breed, you should choose an appropriate dog litter box for your dog's size.
Plastic grids won't help your pup associate grass with positive potty training and may require further outdoor training. Plastic dog litter boxes may be less effective with solid dog waste because of the grids.
Plastic dog litter box models are crafted to be easy to clean. Whether you opt for either synthetic or artificial grass for your furry best friend, you'll want to see how your dog uses the grass mat to ensure that it doesn't chew through or play with the mat. Both types can be messy if chewed.
Why Opt for a Fabric Pad for a Dog Litter Box?
Absorbent fabric pads are excellent options and are crafted to make super absorbent liners. Many of these dog liners or pads are easily machine-washable. This minimizes their odor retention and keeps your home smelling good. Fabric pads may also feature non-slip rubber backs, waterproof bottom layers, and durable double stitching.
Fabric pads can't absorb urine like dog litter boxes with collection trays. They also do not absorb the urine as quickly.
The Best Size Dog Litter Box
When deciding what size puppy litter box works best for your home, you'll want to think about your dog breed and size. If the dog litter box is too small or flimsy to hold your dog's weight, he may opt for another spot.
For the best results, you'll probably want to opt for a dog litter box that will suit your dog's breed and size. You may want to measure your pup and use the measurements to get the right-sized dog litter box for your puppy.
---
---
Final Thoughts
Indoor dog litter trays are incredibly convenient, especially if you have a senior dog or an injured dog with mobility issues. They also work well during puppyhood if you live in an apartment or if your puppy has not been fully vaccinated and you don't want to expose him to other dogs.
For all dogs, young and old, dog litter boxes are a great convenience in the home. There are numerous ways to spoil your furbaby, and one of these is by having a high-quality dog litter box in your home.