Today we're going to share our top 5 selections for the best hamster cages of 2023.
After an intensive and critical research period, we're going to be your guide for choosing the best hamster cage for your needs.
Why are some hamsters enjoyable, loving pets and others are red-eyed ferocious little beasts? Are hamster balls dangerous? Which materials provide the best hamster cage for your furry little friend? We have the answers to these important questions plus so much more in our comprehensive review of the top 5 cages of 2023.
When you buy yourself a hamster, there's nothing more important than choosing the right habitat for your furry little friend. You may be surprised to learn that picking the best habitat can be the difference between having a happy, satisfied new pet and having a stressed out hamster desperate to make an escape. Whether you have a massive Syrian hamster that requires a large amount of space or a tiny robo needing an adorable habitat, we have extremely well-researched recommendations to help you choose the best environment for your new critter.
We'll break down the differences between metal wire, plastic, and glass habitats as well as the recommended accessories to give your hamster the most loving and comfortable environment possible. Following Our Choices and Top 5 picks, we'll share a complete list of essential features, do's and don'ts, and an extensive Q&A with answers to every question you might have about hamster cages. Enjoy.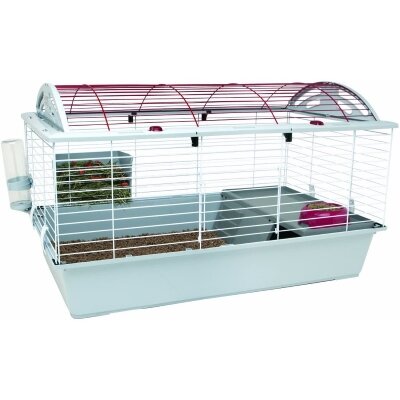 Our Choice
Living World Deluxe Habitat
Comfort: 9
|
Usability: 10
|
Safety: 9
Of the many products we researched, the Living World Deluxe Habitat provides hamsters with the best possible environment by our standards. Between the luxurious balcony setup and sleek design, this cage was our absolute favorite because of the comfortable habitat it created combined with the affordable price tag.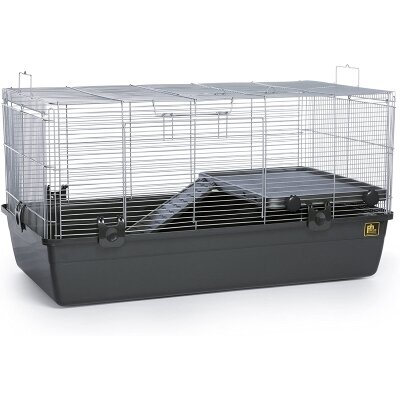 Best Overall
Prevue Pet Products 528 Universal Small Animal Home
Comfort: 9
|
Usability: 8
|
Safety: 9
With over thousands of reviews across the internet and a 4.8 / 5 rating average, there's no surprise why we chose the Prevue Pet Products 528 Universal Small Animal Home as our best overall cage. Not only does it provide hamsters with a comfortable and natural-feeling habitat, it also has multiple access points that make cleaning a breeze. This Prevue Products offering is super lightweight, making it the most portable option while still providing plenty of room to play.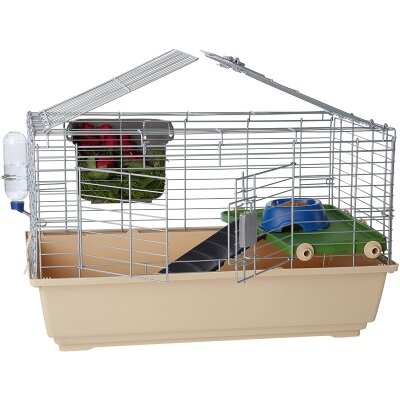 Best Value
AmazonBasics Pet Habitat
Comfort: 7
|
Usability: 8
|
Safety: 8
Delivering on it's name, the AmazonBasics Pet habitat provides the essential functions of a great hamster cage at a very good value. This offering comes with the trustworthy Amazon 1 year limited warranty, and offers a spacious interior, a Hay guard, and a balcony with an easy to climb ramp that will add variety to the habitat.
Our Top 5 Best Hamster Cages of 2023 Table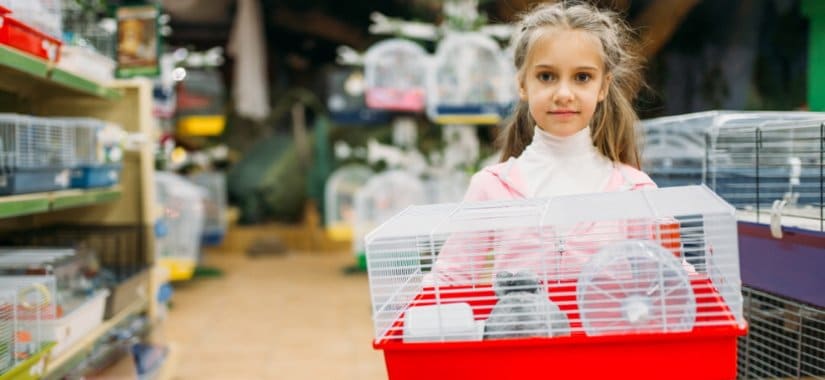 We take into account a wide variety of factors to provide you with a comprehensive rating for each hamster cage. These factors include: features, composition, accessibility, ease of cleaning, and the value they provide at their current price. Additionally, we have provided the dimensions and physical components so you know exactly what you're getting. This table will be your guide for not only choosing the cage with the best overall features, but also for choosing the perfect size and materials for your hamster's personal needs.
| PRODUCT | | RATING | PRICE | DIMENSIONS | ACCESSIBILITY POINTS ON TOP | ACCESSIBILITY POINTS ON SIDE | REMOVABLE BASE | EXTERIOR WHEELS | EXTENDABLE |
| --- | --- | --- | --- | --- | --- | --- | --- | --- | --- |
| Living World Habitat | Our choice | 9.7 | Average price | 46 8/9 L x 22 4/5 W x 24 H | Openable Roof | One Large Door | ✔ | × | × |
| Prevue Pet Products 528 | Best Overall | 9.1 | Average price | 32 ½ L x 19 W x 17 ½ H | One Large Door | One Large Door | ✔ | × | × |
| AmazonBasics Pet Habitat | Best Value | 8.8 | Low price | 31.7 L 21.8 W by 18.1 H inches | Openable Roof | One Large Door | ✔ | × | × |
| Savic Hamster Cage | | 8.2 | Low price | 31.5 L x 20 W x 20 H | No Accessible Roof | Two Large Doors | ✔ | × | × |
| Ferplast Hamster Cage | | 7.9 | Low price | 18.11 L x 11.61 W x 14.76 H | Openable Roof | One Door | ✔ | × | × |
---
Comprehensive Outline of Best Hamster Cages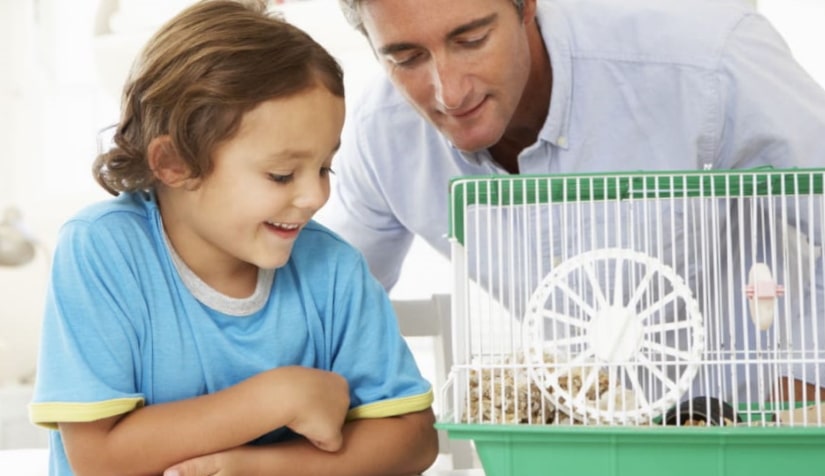 Important Features to Consider
Size Matters – Choosing a cage that is the correct size for your critter is essential in creating a healthy and happy environment. We recommend that you choose a habitat with at least 360 square inches of floor space. In fact, a research group performed an intensive study where they housed hamsters in different sized cages and analyzed their health over a 14 week period. The researchers concluded that "The results indicate that housing in small cages induce chronic stress" So when making your decision, remember that bigger is always better.
Materials & Design – There are three primary options when it comes to choosing which kind of material you should look for in a cage. These include designs made of metal bars, plastic, or glass, with each coming with their own set of benefits which will be discussed later. Overall, it's important to weigh the options individually and decide which is best for you and your hamster.
Easy to Clean? – Ease of cleaning is an often overlooked element of a hamster cage, but monumentally valuable when considering that the recommended frequency of cleaning is once a week. This is where wire cages hold the biggest advantage, as there are typically multiple access points that allow for easy cleaning access.
Doors & Entry Points – Look for cages that offer multiple points of entry that allow you to easily remove your hamsters and accessories for an easy clean. Access points vary by model, but look for one that offers removable tops and bases to give you options for figuring out the best way to access and clean. Metal cages are typically a great option and offer multiple entry points, but plastic and glass options will be easier to assemble.
Hideaways – Hiding spaces are another commonly overlooked feature to consider when buying a cage. Hamsters are very private animals and require a sense of privacy in their homes in order to feel fully at peace in their environments. Look for accessories and deep bases that allow your pet rodent to feel like they have a place they can go and get some much needed rest. Accessories such as balconies, stairs, and mini-homes can help you successfully provide this component to your critter.
Inside or Outside?– Before purchasing a cage, it's always helpful to consider where you'll be storing it for the majority of the time. For example, metal wire designs are great for indoor use, but outside they leave your hamster vulnerable to being preyed on by other animals. Plastic enclosures are a great hybrid option for both indoor and outdoor use, as they secure your hamster safely and offer ventilation holes that are well suited for either environment. While glass options can be suitable for both indoor and outdoor use, we recommend utilizing their features primarily indoors, as securing the top of the glass container can be tricky when exposed to exterior elements.
Portability – The importance of portability varies person to person. If you're someone who either travels with their hamster often or relocates on a semi-frequent basis, then portability is certainly something you should consider. Key features when it comes to portability include weight and type of accessories. Look for a minimalist cage with attachable accessories to make traveling a hassle-free experience.
Levels & Balconies – Don't underestimate the value of providing your hamster with a multi level house with a balcony. The differing levels add variety to their daily adventures, and though they can add a bit of work in the cleaning department, the look of gratitude in your little guy's eyes will make it more than worthwhile. There are a variety of options when it comes to finding a cage with levels and balconies, but be cautious in choosing a cage with over two levels and account for potentially dangerous falls if the upper levels are too far from the base.
Metal Bar Spacing – Safety should be your top priority, so the last thing you want is for the metal bars of the cage to be too wide and allow your hamster to escape. Metal bar spacing varies widely product to product, but a good rule of thumb is to never buy a cage that has more than 12.5 mm between bars. If you own a smaller breed like a dwarf or robo, consider going with an even more secure option of 10 mm or less.
Durability – Hamsters can take a serious toll on a cage, so it's important to invest in a sturdy and well made product that can withstand the energetic ruckus that is often inflicted on their habitats. We've found that a well-made wire cage is worth the investment and will stand the test of time better than it's plastic or glass counterparts.
How to Use a Hamster Cage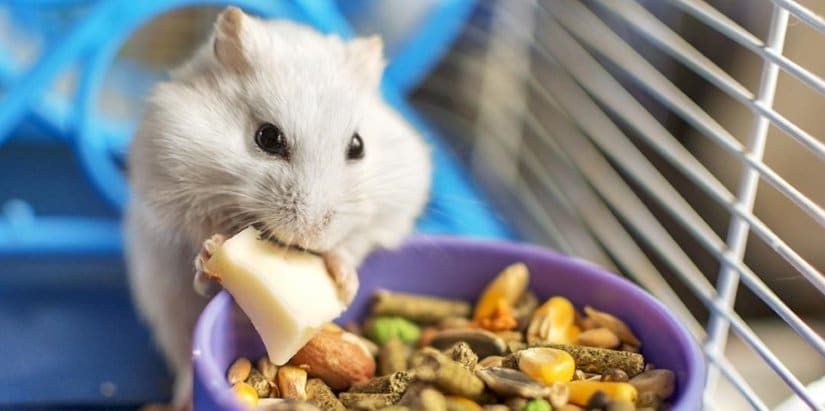 Cage Placement – Place your new cage in a quiet and warm area of your house. Hamsters aren't fans of busy activity or loud noises, so keep their homes away from TV's or living rooms. Loud noises and vibrations cause unnecessary stress for our furry friends, and they will be forced into hibernation if placed in an environment under a temperature of 10C. 18-21C is optimal for hamster health and mood.
Assemble the Cage with Everything Your Hamster Will Need – When assembling your new cage, make sure you include the following items to give your hamster the best possible environment: sleeping areas and nest boxes, toys, levels, balconies, soft pieces of wood (to allow them to gnaw on), a food tray, water bottle, and a layer of sawdust or wood chips at the base to allow them to burrow.
Substrate Placement & Tips – Hamsters are burrowing animals by nature, so it's important to provide them with a deep layer of substrate to navigate as they please. Sawdust, woodchips, coconut chippings, and organic potting soil are great options for filling the bottom of your cage base. The substrate should fill ? of the base and allow for plenty of depth for exploration.
Be Generous with the Hay – Whether your hamster decides to eat it or sleep on top of it, every species loves a healthy amount of hay in their cages at all times. Timothy and alfalfa hay are our recommendations, and we suggest placing 12 grams of hay into your cage daily to provide him with the comfort and nutrients needed to thrive.
Hamster Nutrition – Water and Food – Health and nutrition are key elements to your hamster's well-being, so the Veterinarian recommendations are making sure your hamster gets 20 ml of water and 12-24 grams of food on a daily basis. They also love store-bought food mixes, which consist of pellets, seeds and dried fruits. Chopped vegetables make for a great alternative as well.
Cleaning the Cage:
Step 1: Remove your hamster and all items from the cage. Place them in a separate container and move all accessories to the sink.
Step 2: We recommend only washing half of the accessories at a time, as hamsters are sensitive to sudden changes in odor, so by cleaning out half of the accessories at a time it allows them to smell it's familiar odors and not become stressed due to a sudden change.
Step 3: Wipe down sides and base and then replace the substrate. Place items inside and gently set the hamster back into his familiar environment.
Cage Accessories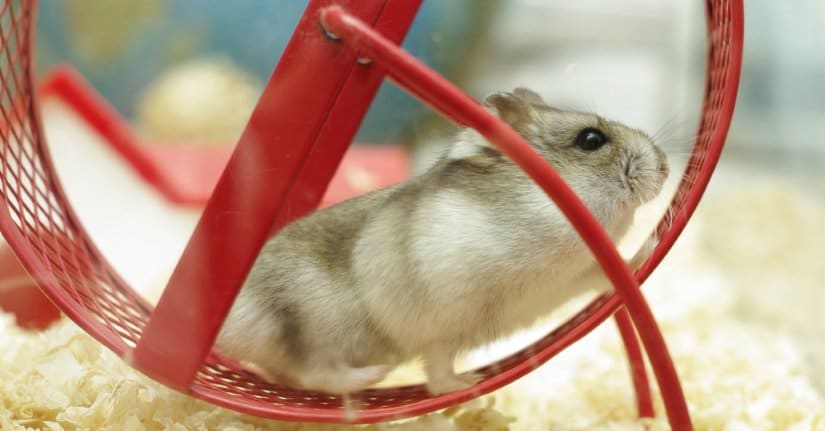 Hamster Bedding – Cardboard, Paper Towels, Toilet Paper, and egg cartons can all make great bedding solutions. Be mindful to not expose your little guy to any paper materials that have printed ink, as this can be toxic if ingested.
Hamster Nests – These nests are cozy little nooks for your hamster to sit and sleep in, and they are absolutely adorable. They come in a variety of shapes and sizes, so you can find a nest that matches their personality.

Wheels – Researchers have found that a lack of exercise can lead to Osteoporosis in hamsters, as well as cartilage degeneration and poor articular cartilage maintenance.Wheels provide hamsters with the ability to get much needed exercise and relieve stress throughout the day.

A general rule of thumb with wheels is to be a minimum of 16.5 cm for smaller species, and if you're unsure of which size to get, definitely go with the bigger wheel to ensure a healthy and pain-free exercise experience for your critter.

Dispensers for Drinking and Feeding – There are a wide variety of drinking dispensers and feeding stations available on the market, ranging from drinkers with 20 ml to 120 ml of water, and feeding bowls of all grades and sizes. Also, there are non-drip water bottle options available to prevent a mess being made, as well as automatic feeders which will doll out pellets and food at predetermined time increments.
Sand bathing – Sand baths are the best and only way we recommend to clean your hamster. Known for having oily skin, water-based bathing just doesn't get the job done when it comes to giving them that deep clean he or she needs to smell fresh and clean for the rest of the week. Sand baths also offer a super helpful 2 for 1, in that hamsters often like to use their sand baths as a litter box, which makes cleaning out the cages even easier.
Toys & other Entertainment Options – Toys are available in a variety of materials, including plastic, wood, rubber, and fleece. There is no shortage of toys available on the market for hamsters, but consider going with a wooden option for at least a few of your toy options, as this will both give them a source of entertainment and allow them to gnaw on the wood and keep their teeth nice and trimmed. Tunnels, chew toys, and wheels are also great sources of entertainment for your furry friend.
Top 3 Cage Types
Metal Cages

Pros

Easy to clean and offers optimal ventilation. Also, Metal Cages offer multiple access points.

Cons

Your hamster may push materials outside of the cage, which will require you to clean the surrounding areas.

Plastic Cages

Pros

Great for visibility and make it easy to attach wheels and other accessories into the habitat.

Cons

Can be difficult to clean and odors accumulate more quickly.

Aquariums and Glass Tanks with Mesh Coverings

Pros

Offers uninhibited viewing and sufficient ventilation, sturdy, and protects your hamster from other pets and small children.

Cons

Typically a more expensive and less portable option due to their higher weight.
Installing Your Cage (3 Steps)
Choosing the Best Location for the Hamster's Cage – Place your new cage in a warm, dry, and quiet place in your house. Find a room farther away from those with televisions and lots of activity. The quietest room in the house is typically the best option for placing a hamster into its preferred environment.
Prepare the bedding – Line the cage's base with 50 – 100 mm of bedding. Consider the DIY option of tearing up pieces of toilet paper or paper towels.
Insert Accessories – Once you've found the right location and prepared the bedding, begin placing your accessory items inside the cage. Do your best to spread items around the habitat, and do not place the hamster wheel directly below the stairs or balcony.
FAQs
Q: What is a Hamster Cage?
A: A hamster cage is a pet habitat that is best suited for hamsters and can be customized to allow owners to create the best and most personal environment for their furry pet. They come in a variety of materials including wire, plastic, and glass.
Q:What is the best size for a Hamster cage?
A: The bigger the better. Hamsters are active animals and will utilize as much room as you give them. As a general rule of thumb, we recommend a minimum size of 50 cm by 30 cm for the base of the cage.
Q: What's Needed for the Inside of the Cage?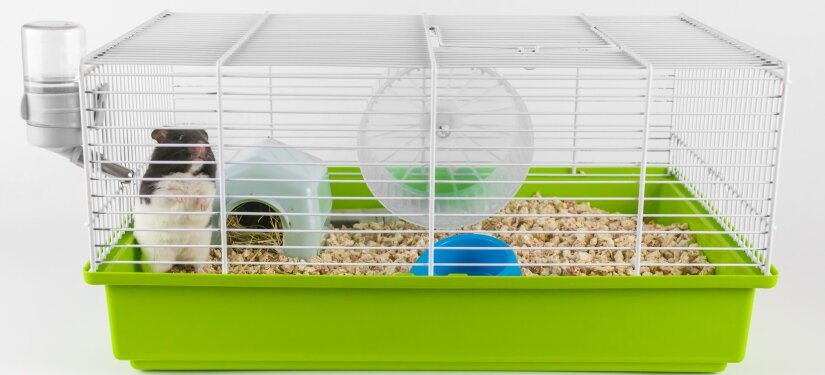 A: Substrate, food, water, a hamster wheel, hideaway space, and bedding are all necessities. Additional accessories can be added and we recommend adding a variety of entertainment options to keep your critter active. These include balconies, stairs, multiple leveled platforms, tubes, nests, and more.
Q: Are wire cages harmful to hamsters?
A: Not at all! Wire cages offer great ventilation and give your furry friend the ability to climb and explore. We do recommend buying one with a plastic base, as wire flooring can hurt a hamster's feet.
Q: How to stop my hamster from gnawing on his cage
A: Hamsters will commonly gnaw on the wiring out of boredom, stress, inadequate space, or a lack of other things to chew on. Researchers have found a variety of causes for wire-gnawing, but concluded the size is usually the determining factor, "Stereotypic wire-gnawing was observed in all cage sizes, but hamsters in small cages gnawed significantly longer and more frequently."
Q: Can I travel with my hamster cage?
A: While it is perfectly possible to travel with your full-sized cage, we strongly recommend purchasing a smaller, travel sized edition that is built for bringing a hamster along for a journey.
Q: What Cage is best for a Syrian hamster?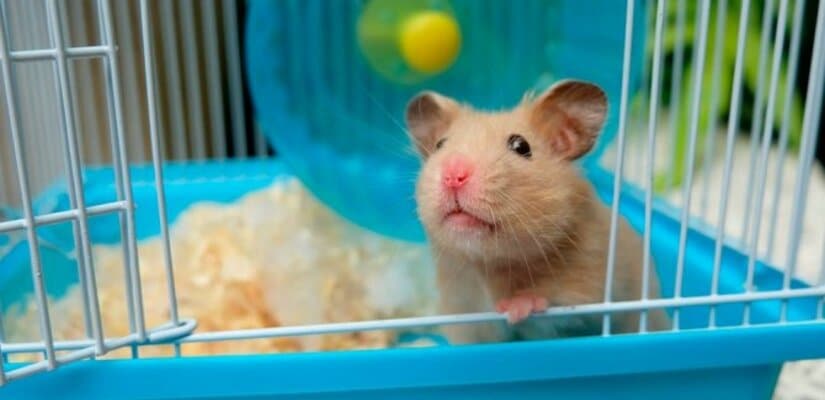 A: Go with a cage that is a minimum of 4000 sq cm and your Syrian hamster will be a happy camper.
Q: Is a 10 gallon tank big enough?
A: Unfortunately, these just aren't large enough to give your hamster adequate room to move and operate. We suggest going with a tank that has a volume of at least 20 gallons.
Q: How can you tell if your hamster is stressed?
A: Excessive salivation, loss of appetite, increased water consumption, increased amount of sleep, aggression, cage gnawing, and antisocial behavior. If you are seeing signs of stress in your hamster, relocate them to a more peaceful environment, give them 1 on 1 time, and consider adjusting their diet to try and identify the source of their stress.
Q: How often should you change a hamster's bedding?
A: We suggest removing all of the bedding and shavings from the cage every 2-3 weeks and replacing them with new materials. Keeping up with this will help alleviate any current or future stress that the hamster may be feeling.
Q: Are Hamsters Happy Living in Cages?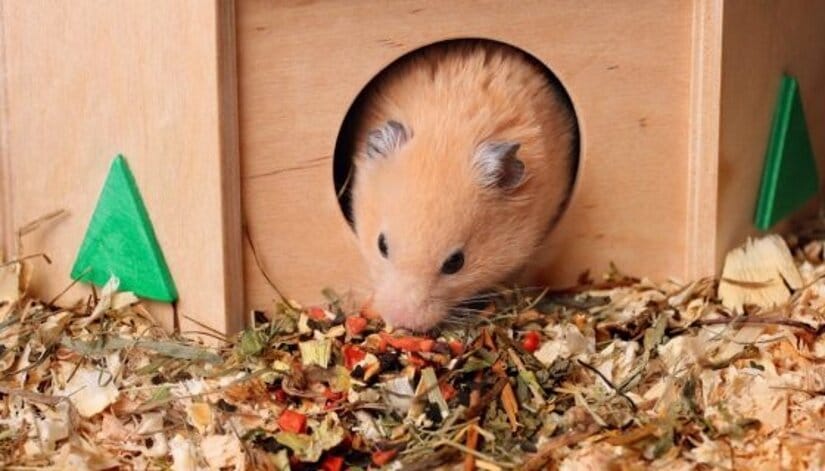 A: This 100% depends on the quality of the environment that exists inside the cage. If you provide your hamster with a thoughtful, complete habitat with accessories and supplies that mimic its natural state in the wild, your adorable furry friend will feel very much at home.
Q: How do you litter train a hamster?
A: Potty training your hamster is actually much easier than you might think. Just provide them with a litter box filled with sand, and place the litter box in whichever corner of the cage your hamster has been using to defecate.Then, place them in the litter box from time to time to help them become accustomed. Simple as that.
Q: Can you hold a hamster too much?
A: While 1 on 1 time is essential and is proven to improve your hamster's mood and well-being, holding them too much can increase their stress levels and may even cause them to bite. Avoid placing too much pressure on their backs and ease them into being held over time. At the first sign of discomfort or squirming, put your hamster back into the cage for a little while to let it settle down.
Q: Why does my hamster scream?
A: Hamsters make sounds to express their emotions, so naturally they may scream when afraid or stressed. The most important part of understanding your particular critter's screams and noises is paying attention to what is occuring when the noise is made.
Q: Should I cover my hamster cage at night?
A: It's not necessary to cover your hamster's cage at night, as they are nocturnal animals, which means they sleep during the day and are awake at night.
Q: How often should I clean my hamster cage?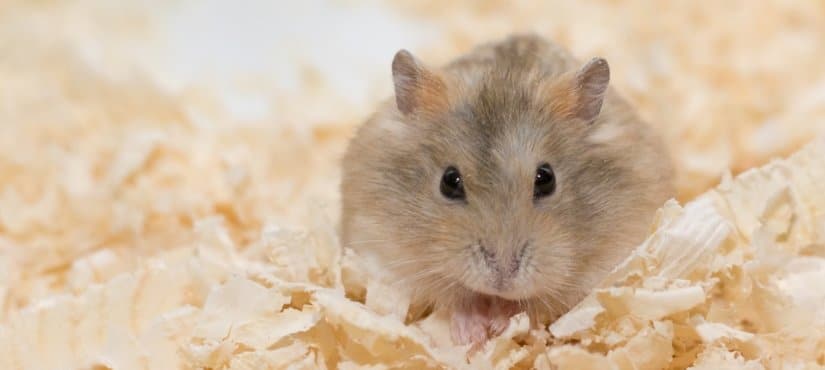 A: You should clean out your hamster cage at least once per week to prevent bacteria and odors from growing inside the enclosure. We recommend cleaning it inside and out and then cleaning half of the accessories each week to avoid making too drastic of a change to the familiar smell of the hamster's habitat.
Q: Are hamster balls bad?
A: Hamster balls can cause serious issues, as they often limit their vision and mute their sense of smell. However, if you are intent on getting a ball for your hamster, make sure you choose one that is clear and well ventilated to avoid these issues.
Q: Why does my hamster always try to escape?
A: The most common reason hamsters try to escape from their cages is simply that they don't feel comfortable in their home. Hamsters really value their privacy, so consider possible reasons for why your pet may not be satisfied with their current living conditions.
Q: Are salt licks good for hamsters?
A: As long as you are consistently providing a balanced and nutritious diet for your hamster, supplements such as salt or mineral licks are unnecessary.
Q: Is hamster poop harmful to humans?
A: Hamster poop can carry salmonella, which can cause short but explosive bouts of stomach illness and diarrhea in adults. As a precaution, wear rubber gloves when handling your pet's feces.
Q:How long can you leave a hamster by itself?
A: Never leave your hamster unattended for more than 24 hours, because even if you provide them with enough food and water, it is possible for accidents to occur where the they aren't able to access the food and water and then become subject to starvation.