If you own a chinchilla or are thinking about permanently adding one of these loving pets to your own household, you might be asking yourself the question: What are the most suitable and best chinchilla cages? The cage will be your pet's house, and it is by far, one of the most vital products you will buy. It is very important that you bear in mind that selecting a quality cage is the difference between unhealthy and stressed chinchilla, and a healthy and a happy one.
However, numerous chinchilla cages are available in the market. So how do you pick one that best aligns with your preferences and needs? The good news for you is that we have got you covered! We have gone ahead and compiled the best six recommendations to help you in choosing the most favorable abode for your pet chinchillas.
Following the list of best six chinchilla cages, we will also be sharing a thorough buyers' guide, as well as FAQ with answers to every question you may have about chinchilla cages. By the time you are done perusing this piece, you will be in a better position to select a cage that is perfect for your affectionate chinchillas!
Read on if you are ready!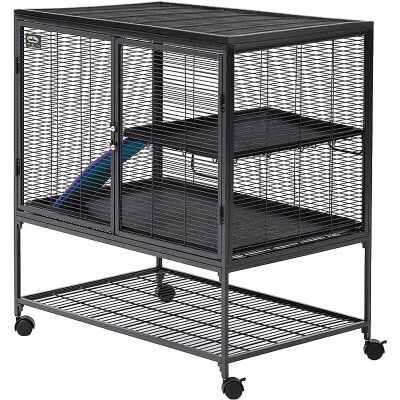 Our Choice
Midwest Deluxe Critter Nation
Of the many chinchilla cages, we researched and analyzed, the Midwest Deluxe Critter Nation provides your pet chinchillas with the best possible environment according to our set of standards. Between its roomy interior and unique design that is very easy-to-clean, this cage is our top favorite, and we recommend it highly to anyone on the lookout for a top-quality chinchilla cage.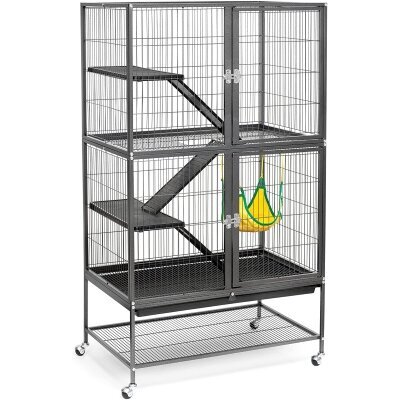 Best Overall
Prevue Hendryx Ferret Cage
With a very impressive grade of 9.5, the Prevue Hendryx Black Feisty Ferret Cage is the best overall cage for your needs if you have two chinchillas. This product boasts ample room for your chinchillas and their play items. Furthermore, it is very easy and convenient to move this cage around from one point to another, and it is effortless to maintain and keep clean.
Our Best 6 Chinchilla Cages of 2023
The following table briefly compares the best chinchilla cages that you can buy in 2023. This comparison is followed by detailed reviews of each of the cages. In this useful table, we have provided information about the physical components and dimensions so that you know precisely what you are purchasing. The table acts as a guide for you to pick the chinchilla cage with the ideal overall features to meet your pet's personal requirements.
| PRODUCT | | RATING | PRICE | SIZE | SPACE BETWEEN BARS | ACCESSIBILITY POINTS ON TOP | ACCESSIBILITY POINTS ON SIDE | REMOVAL BOTTOM |
| --- | --- | --- | --- | --- | --- | --- | --- | --- |
| Midwest Deluxe Critter Nation | Our Choice | 9.8 | High price | 36" L x 24" W x 63" H | 1/2" | 0 | 2 | ✔ |
| Prevue Hendryx | Best Overall | 9.5 | High price | 31" L x 20" W x 54" H | 7/8" | 0 | 2 | ✔ |
| YAHEETECH 6 Level Cage | | 9.3 | High price | 25" L x 12" W x 52" H | 0.9" | 0 | 3 | ✔ |
| Prevue Pet Products | | 9.2 | Average price | 31" L x 20,5" W, 40" H | 3/8" | 0 | 1 | ✔ |
| PawHut Cage | | 9.1 | High price | 31.5 '' L x 20.75 '' W x 59.5 '' H | 0.5" | 0 | 3 | ✔ |
| Living World Habitat | | 9.0 | Average price | 46.9 L x 22.8 W x 24 H | 1" | 2 | 1 | ✔ |
| Prevue Pet Products Deluxe | | 8.8 | High price | 37'' L x 23 1/8'' W x 63 3/8'' H | 7/16'' | 0 | 2 | ✔ |
Important Considerations to Keep in Mind When Purchasing Chinchillas Cages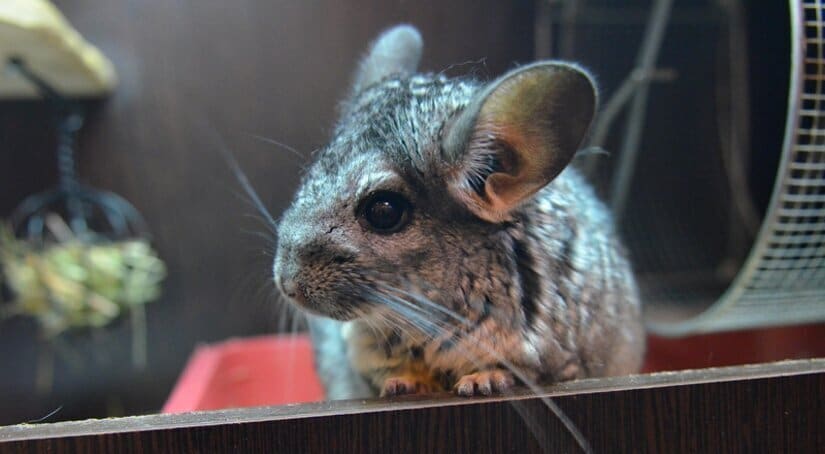 When it comes to selecting a cage for your chinchilla, there are certain important factors that you ought to keep in mind. Some of these factors include:
Spaciousness

It is best to buy a chinchilla cage that is as spacious as possible. The cage should offer sufficient space for at least 2 pets to move around freely and exercise if they want to. Keeping that in mind and given that you have 2 chinchillas, the cage ought to have at least 12 ft of cubic space. In addition, the cage needs to have enough room to accommodate all of your pet's toys and other accessories.

Furthermore, the chinchilla cage must be as tall as possible, as these animals simply adore climbing and jumping, just as much as they like to snuggle. A multi-level cage completely equipped with platforms, perches, and ramps are best for your charming pets.

Bar spacing

It is very important to ensure that you purchase a chinchilla cage with bar spacing that your pet cannot squeeze through. Cage bar spacing for adult chinchillas should have a maximum space of 1 inch. Similarly, if you have baby chinchillas, the bar spacing in the cage should strictly be less than 0.5 inches. It is vital that you keep these dimensions in mind if you do not want your pet to escape from its cage!

Ease of cleaning

A large or properly-sized chinchilla cage will considerably lower your cleaning time since your chinchilla will not roll in her or his muck too regularly.

However, if you plan to clean your pet's cage on a daily basis, you may opt for a cage that has a deep tray or pan. In such a case, ensure that the tray or cage pan fits according to the bedding type you plan to use inside the cage for your chinchilla.

For example, a shallow pan or tray works perfectly on a fleece or fabric bedding as you can easily wrap the material around the said tray or pan and then firmly clip it in place.

Ventilation

Heat affects chinchillas very easily, and these creatures need to reside in a very cool environment. Hence, it is important that you buy a cage that provides good ventilation.

The chinchilla cage ought to have enough spacings or holes all around to enable fresh air into the cage.

Material

The cage's material is a very important consideration to bear in mind when you are buying a chinchilla cage. Chinchillas tend to have rooted teeth, so they like to chew on every single thing that they can. That is why it's crucial to get a chew proof cage constructed from metal. This makes sure your pet is properly contained and that they will not swallow anything that may harm them.

Some chinchilla cages have plastic platforms or bottoms. These are typically ok as long as the wires and bars are made of metal. This is to prevent your pets from chewing through the bars and damaging them.

Design

The design of a chinchilla cage is not just a tiny factor as it defines the comfort level your pet chinchillas may enjoy in their home. It is important that your cage has firm flooring to hold paper or wood shaving bedding. This can be PVC covered metal or heavy-duty plastic.

Furthermore, take a close look at the chinchilla cage's ramps and shelves. Both of these ought to be organized in a certain manner where you can adjust them easily. The most vital thing, however, is to make certain that ramps in this cage boast a textured surface. A surface of that kind provides ample traction so your pets will not slip while climbing up the ramp.

Your Cage Should be Portable

You never really know when you might have to move your chinchilla cage from one spot/location/point to another. Hence, make sure that you buy a cage with wheels so you can push it around easily in the vicinity of your home. Additionally, get a cage that you can easily dismantle and assemble in a short time.

Accessories

Chinchillas are very smart creatures, and they require a high level of mental and physical stimulation. To that end, you should consider putting adding accessories such as toys, hideouts, chews, etc. inside the cage to make sure that your pet remains content and does not get bored.

When you look for a chinchilla cage, get one that has adequate room for vital accessories such as food dishes, water bottles, and dust bath containers.

It is fortunate that a majority of the chinchilla cages come equipped with a stand or storage shelf. This particular feature is very advantageous as you do not have to store your chinchilla's items/supplies in some extra space. Such stands or shelves are roomy enough to easily accommodate toys, hays, treats, and so forth.

Escape-proof

Chinchillas are completely covered with very dense fur. Hence, it is in your best interests if you do not let your pet's chubby body fool you!

Bear in mind that if the space between the cage bars is large enough to let your chinchilla wriggle its heads out, it can escape as well.

Hence, as stated earlier and to ensure that your cage is totally escape-proof, you should definitely consider buying a chinchilla cage that does not have more than 0.5-inch bar spacings.

Levels

The more vertical space and levels you can give your chinchilla in its cage, the better. That is because your pet will then have ample room to jump to these levels, play around and exercise. Although chinchillas enjoy jumping to each of these levels, it is a great idea to have a ramp as well that they can use to climb instead. Make sure that the ramps are made using a flat material to prevent your pets' small feet from getting caught when they are jumping or climbing.

Dust Bath

Among other things, ensure that the cage you buy has a dust bath container (or at least has the room to accommodate one!). A dust bath is very critical for the health of your chinchilla and to keep its fur clean and soft. A dust bath allows the animal to take off extra dirt and oils, leaving its fur fluffy and shiny. Sanitized chinchilla dust is ideal for this purpose.
What to Put in a Chinchilla Cage?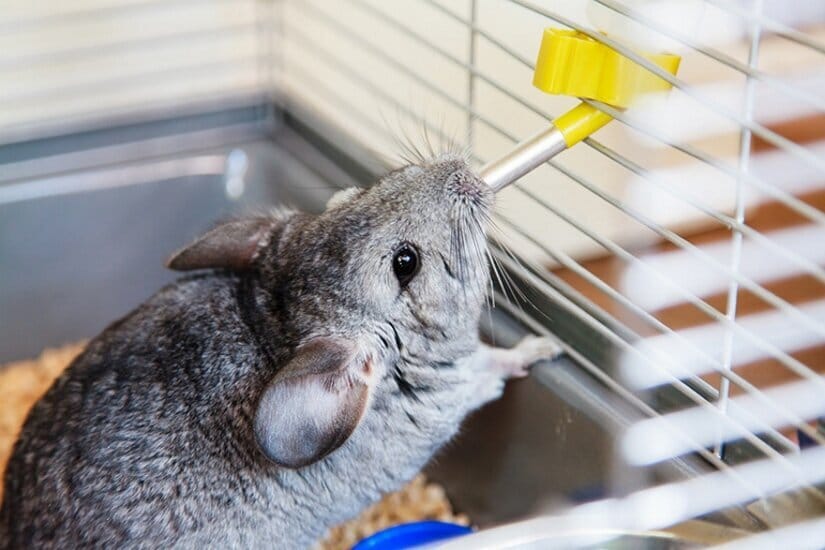 Necessary Cage Items

Bedding: Your chinchilla requires bedding to sleep in snugly. Natural aspen wood is a great material for bedding for your pet. However, be sure to change it frequently.
Food bowl: You have to feed your chinchillas, and for that purpose, you will need a small-sized ceramic food bowl, particularly for small animals. It is important that you position the bowl away from the cage's shelf edges, so it does not fall down and hit any of your chinchillas.
Water Bottle: Similar to all other animals, your chinchilla needs clean water to drink. Put a clear and plastic water bottle inside the cage so you can monitor the water level inside. You can get such a bottle at just about any pet store.

Accessory Items

Toys: Chinchillas like to chew, and that is what toys are for! To that end, put some chew sticks inside the cage to keep your pet entertained. Steer clear from toys that have tiny parts such as beads. Your pet might choke if it swallows these parts.
Ramps: Ramps allow your pet chinchilla to exercise often so that it will not have to sit at rest in one spot. You do not want your pet to get lazy, do you?
How to Maintain a Chinchilla Cage Properly?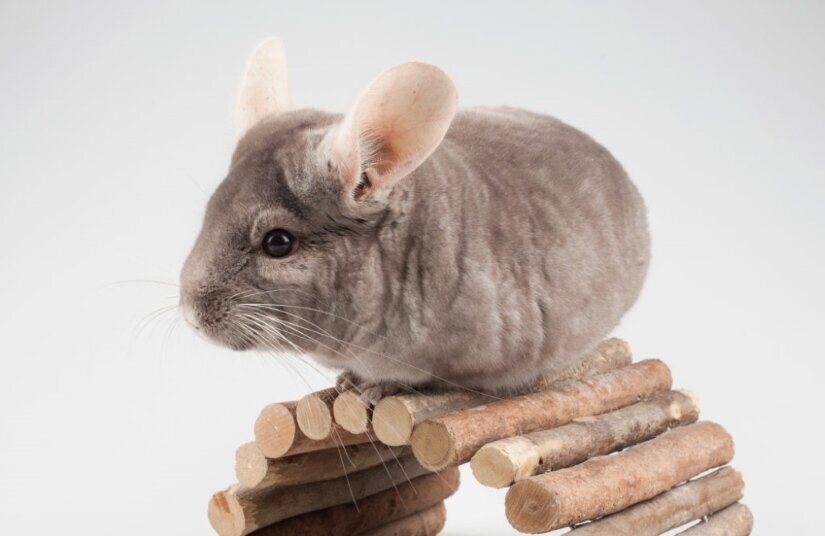 Change the bedding regularly
It is important to regularly remove bedding inside the chinchilla cage. This will allow your pet to urinate and sleep in a clean place. Your chinchillas tend to become sadder when they're made to stay in soiled bedding for long periods of time. Furthermore, when you change their bedding often, at least once or twice a week, it helps keep your house smelling nice as well.
Wash extensively
However, changing the bedding inside the chinchilla cage is not enough to keep the foul smell away. To ensure that your cage is 100 percent clean, frequently wash all sides of the cage, especially the wired top. You might not be able to see it, but your chinchilla can urinate on the wires of the cage, and that may very well be the key reason why an awful smell is emanating from the cage. It is best to wash this at once every week.
Remove feeders and food bowls
Once your chinchilla has eaten, remove his or her food bowl and clean it out regularly. This will eliminate any traces of food from remaining, which prevents bacterial growth. As a result, your chinchilla stays healthy.
F

requently

A

sked

Q

uestions
Do Chinchillas Require a Companion?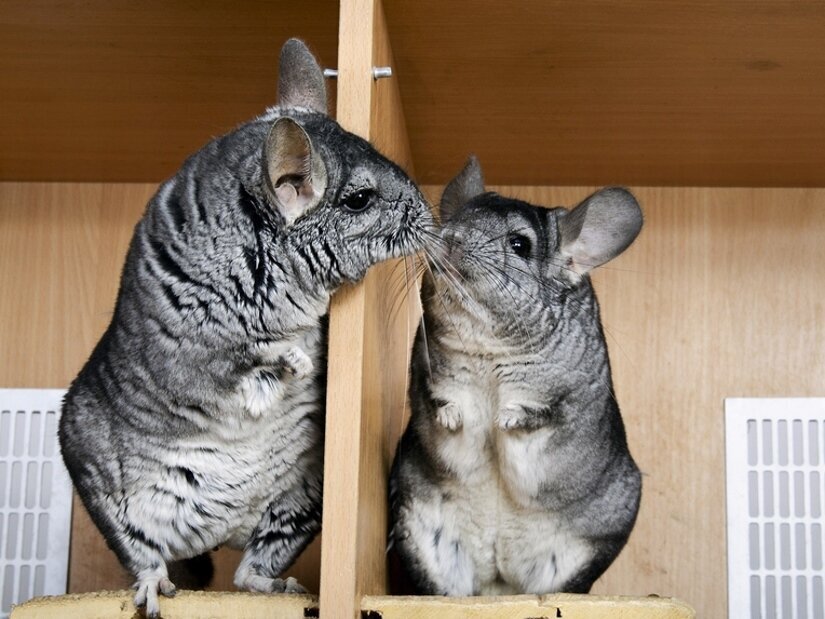 No, not necessarily! Some rodents (like guinea pigs) can get very depressed when they do not have a companion, but a chinchilla is fine most of the time on its own.
Though, to be fair, a chinchilla will usually not react in a negative manner when it is in the company of more chinchillas. However, if you are purchasing a pair of these pets, it is best to always buy either two females or two males – never keep a female with a male because that might lead to breeding. If that happens, you might soon end up with several little chinchillas!
How Large Must the Chinchilla Enclosure Be?
Keep in mind that larger is better when selecting a cage for your chinchilla! The enclosure for one chinchilla has to be a minimum of 12 cu ft or 3 ft x 2 ft x 2ft. If you are housing two chinchillas together, they will need a big chinchilla cage. Chinchilla cages need to be considerably bigger and should have several levels so your pets can jump and climb around. The majority of chinchilla cages have three levels. In order to live comfortably, it is vital to have at least four sq ft of floor space. Measure and evaluate the area in your house where you will be housing your chinchilla to assess whether you can easily accommodate a big sized chinchilla cage.
What is Chinchilla Dust?
A chinchilla often takes dust-baths to clean itself and remove moisture from its coats. To help your chinchillas keep up with their hygiene, you will have to provide them with daily dust baths. The bowl needs to be large enough for your pets to roll around in, and you should place it in the cage for around 10 minutes every day. Never leave dust bath in their cage, or your pets will get the dust filthy with fecal matter, urine and food crumbs. You can also reuse the dust as long as it is clean. You can buy chinchilla dust online or at the majority of pet stores.
How do you go about Cleaning the Chinchilla Cage?
Compared to other pets, chinchillas are usually cleaner animals, but you should remove their waste and poop every day. You should give the complete cage a thorough cleaning once every week with water and liquid dish soap or diluted white vinegar. Moreover, you ought to clean any accessories and toys every week and check them for any kind of hazards in the process. Do not make use of harsh chemicals or bleach to clean the cage. Ensure that the cage is totally dry before you reline it and put your chinchillas back inside.
What kind of Bedding is Ideal for a Chinchilla?
When it comes to selecting the bedding for your chinchilla, the general rule is to go for wood shavings. The only thing you have to look into is the wood type you will be used in particular.
For instance, shavings like that from the pine tree can be a great bedding option for your chinchilla.
On the other hand, it is best if you do not select cedar. Although it is available easily in most of the stores and is quite cheap as well, this wood type poses a health risk for your pet, as these shaving can create particular problems with their respiratory and liver system.
Where do Chinchillas Nap?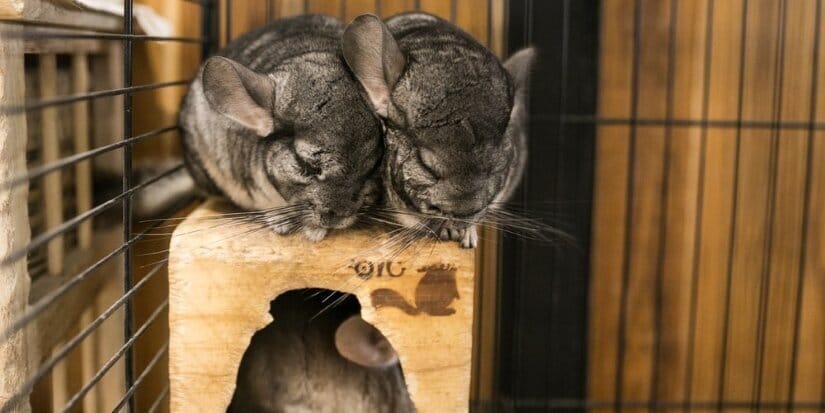 A chinchilla will usually sleep on its cage's floor. A modest hutch that either hangs off the cage's side or sits on the floor is a great addition to the cage to ensure your pets can have at least some privacy. If you have more than one chinchillas, they will want hutches to get some quality alone time. Moreover, hammocks that hang from the cage's top can be a comfortable spot for your pet to sleep.
Do Chinchillas Bond With Their Owners?
Several chinchilla owners would gladly say "yes" to this question!
As chinchillas have quite a long lifespan (up to 20 years), they and their owners have a lot of time to create a strong bond between each other. The only issue is that since chinchillas are mainly nocturnal creatures, they might not be very active during the daytime.
However, if you, as an owner, exercise patience and take proper care of your pet by regularly feeding it and holding it each day for some time, you are most likely to eventually bond with your adorable pet.
Where Should you Keep the Cage?
Chinchillas are not able to endure extreme temperatures, and since predators can get into the cage or open its door means that you should keep your chinchillas inside. The area of your house where you put the cage is vital. A chinchilla does best in a quiet, dry, and well-ventilated area that has natural light. These pets are susceptible to overheating, and you should keep them in temperatures in the range of 60-75°F. Dens, bedrooms, offices, and living rooms are great spots to keep your chinchillas. You should not keep their cages in bathrooms, small kitchens, closets, or any other area where they may get shoved around. Chinchillas are social creatures. If you keep them in a place where they regularly see you, they will not feel isolated and will become accustomed to your presence. However, you should keep them away from playrooms or other spots with excessive activity and noise.
Should You Cover the Chinchilla Cage or Have Heat Lamp?
It is important to know that you should not cover your chinchilla cage or keep it under a heat lamp when your pets are inside. Chinchillas need a well-ventilated place, and you need to keep the room you put them in at a temperature between 60-75°F. When you keep them under a heat lamp or cover the cage, you make the chinchilla prone to overheating, and it can greatly disturb their sleep cycle.
Does the Chinchilla Cage Door Require a Special Latch?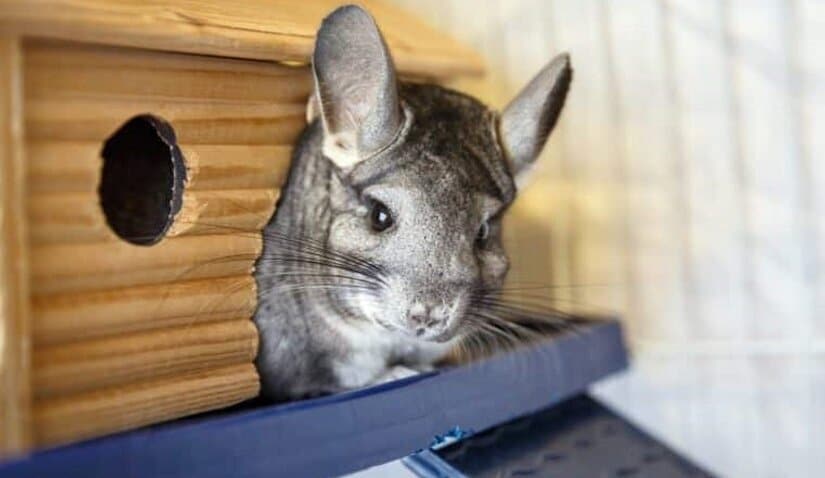 Chinchillas are not very good at escaping like some of the mischievous animals, so a standard latch that comes with your chinchilla cage ought to be adequate to contain your pets. If you are concerned about them opening the door of the cage, you can get a spring latch or wire door from a pet store. If you have small kids in your house, you need to child-proof the cage's door, so they cannot open it when you are not there.
What is the best place to position a hammock inside a chinchilla cage?
It is best to let the hammock hang from the top of the chinchilla cage. In this way, it does not take up any space on the ground surface below. Furthermore, your pet can run play and run on the cage floor without having a large sized obstacle blocking its path.
What is the best bar spacing for a chinchilla cage?
That depends on the size of your pet. Cage bar spacings for adult chinchillas should have a maximum space of 1 inch (anything less than that is perfect!). Similarly, if you have baby chinchillas, the bar spacing in the cage should strictly be less than 0.5 inches. It is vital that you keep these dimensions in mind if you do not want your pet to escape from its cage!
What is the best chinchilla litter pan for a huge cage?
An ideal option for a chinchilla cage litter pan is a ceramic baking or glass dish. These are usually heavy and quite easy to clean. Since they are heavy, your pet chinchilla will not find it possible to kick it or knock it over and make a big mess inside the cage! You can either use an old glass baking dish that you do not use for anything else or purchase a new one from any of the pet stores. Alternately, you can also get a stainless steel litter pan, as this is a very good option for your chinchilla cage as well.