Today, I'm going to show you step-by step how to find the best guinea pig cage and hutch for your fluffy best friend.
This guinea pig guide on how to choose the best guinea pig cage for your pet guinea pig, and stocking up on all pet guinea pig products, food and toy essentials at home, allows you to prepare before bringing your pet guinea pig home.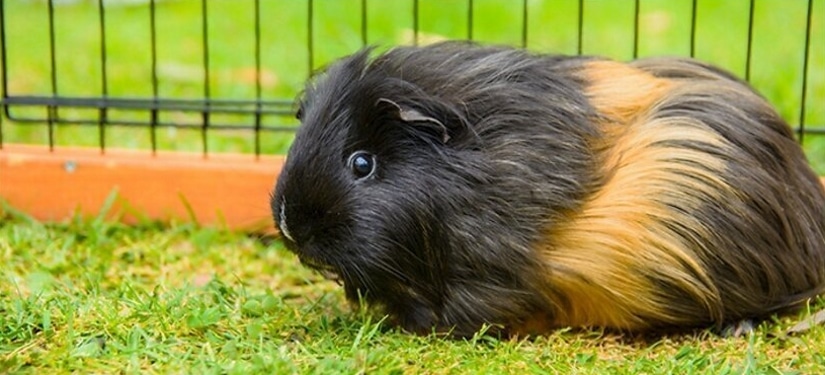 So here's a Beginner's Comprehensive Guinea Pig Hutch Guide about How to Choose and Maintain Your Guinea Pig Cage?
With these small furry critters remaining a popular pet for many families, it's important to keep them comfortable and safe at all times. Today, pet companies are selling multi-functional guinea pig cages of all sizes suit every sized guinea pig.
With some commercial sized cages tending to be undersized, it's important that pet parents know what to look out for when choosing the best guinea pig cage for their furry best friend. Keep in mind, that many of these cages are designed for one guinea pig and not two.
Naturally, you would want your guinea pig not to be alone, so choosing an extra-large cage that comfortably fits two guinea pigs is key to happy guinea pigs. Before choosing your guinea pig cage, it's necessary to examine all the different types of commercial guinea pig cages to find the best one possible for your fluffy best friend.
You also may come across first "starter homes" that may be very affordable. Most times these are too cramped for your guinea's comfort, and are not made with high-quality materials.
Overview of Top Two Guinea Pig Cages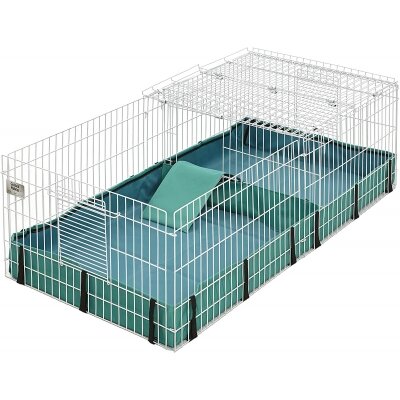 Our Choice
Guinea Pig Cage by Midwest
Accessability: 8
|
Cleanability: 9
|
Usability: 9
Midwest is a good choice for those pet parents that are concerned with space and comfort. Since regular exercise is necessary for your guineas, the Midwest allows for ample room for guinea pig toys, to encourage activity and vigorous play time.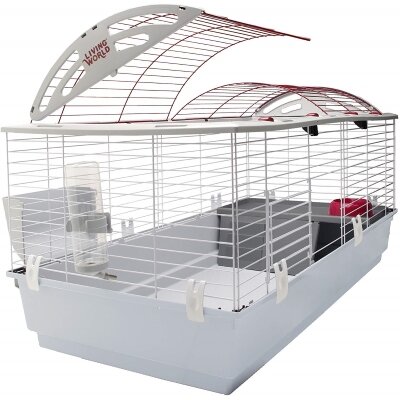 Best Overall
Living World Deluxe Habitat
Accessability: 8
|
Cleanability: 9
|
Usability: 8
This cage is offered in 3 sizes, with the extra-large being suitable for two guinea pigs. What's nice about this guinea pig cage is that you can open up the roof top and access your guinea pig easily instead of using the front gate.
---
Comparison Table Of The Best Guinea Pig's Cage 2020
PRODUCT
RATING
PRICE
DIMENSIONS
ACCESSIBILITY POINTS ON TOP
ACCESSIBILITY POINTS ON SIDE
NO TOOL ASSEMBLY
REMOVAL BOTTOM
WHEELS
EXTENDABLE
Cage by Midwest

Our choice

9.8
Low price
47 x 24 x 14 inches
openable roof
2 doors

✔

✔

×

✔

Deluxe Habitat

Best Overall

9.5
Average price
3 different sizes
openable roof
1 door

✔

✔

×

×

Krolik XXL Rabbit

Best Value

9.1
Average price
63.8L x 23.62W x 19.68H
openable roof
openable side

✔

×

×

✔

Krolik 140 Rabbit
9.0
Average price
55.9L x 23.62W x 19.7H
no accessible roof
openable side

✔

×

×

✔

Midwest Deluxe Critter Nation
8.7
Average price
36 L x 25 W x 38.5 H
no accessible roof
2 all-cage size doors

×

×

✔

✔

Prevue Cage
8.6
Average price
31-Inch L, 20-1/2-inch W, 40-inch H
no accessible roof
1 door

×

×

✔

×
Guinea Pig Cage by Midwest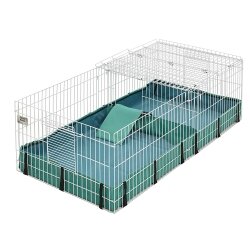 9.8 - rating
Low
Our choice
The Guinea Habitat Guinea Pig Cage by Midwest features 47 x 24 x 14 inches of living space in white coated metal. It offers a hinged opening for easy access to your fluffy friend, and also has good ventilation. A top panel can be added to the cage for added safety. This cage can comfortably hold two guinea pigs, and allows for both guineas to play and exercise around freely.
Pros
Affordable
Spacey enough for two fluffy adult guinea pigs
Easy to clean with roof opening up
Durable with leak proof pan
The sides are 14" high, and offer good security
Sets up fast
Cons
Guinea may chew a hole in the canvas
May be hard to take out and clean
No wheels
Living World Deluxe Habitat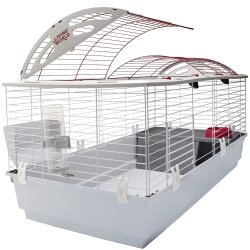 9.5 - rating
Average
Best Overall
This cage includes a balcony, topple proof feeding dish, and all accessories. It's available in an XL size, so if you're like us and want a roomy cage, the XL model offers just that. It's also stylish with a red trimmed rooftop, and can easily be put together within minutes.
The Loving World Deluxe Habitat Guinea Pig Cage weighs 19 pounds, has one door, and a safe wire upper frame, and plastic bottom base. The balcony runs onto a ramp with a topple proof feed dish that is far away from the plastic bottom base.
The hideaway space beneath the balcony offers all guineas the perfect hideaway spot for resting. It's made from plastic pan and wire walls, both of which are guinea pig friendly. The bottom flooring is flat and smooth and will not injure your guinea pig's feet.
There are three different sizes:
Standard: 30.7 L x 18.9 W x 19.7 H in
Large: 37.8 L x 22.4 W x 22 H in
X-large: 46.9 L x 22.8 W x 24 H in
Compilation of customer opinions
This is a reasonably large cage that comes with all the accessories including a hay net to keep your timothy hay free from debris. The turn dial lock ensures that little children cannot open up the door when not supervised.
Pros
Numerous sized cages available
Ample room with a two level design for exercise and space
Expanded space available
Can fit two guinea pigs comfortably
Hiding compartment for nap time
High-quality materials that are durable
Cons
Water bottle may not be that great
Front door cannot be used as a ramp
Krolik XXL Rabbit Cage
9.1 - rating
Average
Best Value
The Krolik XXL Rabbit Cage is a trendy, yet sturdy combination of wood hutch and wire that comfortably fits two fluffy friends. The durable extra-large case measures 55.9L x 23.62W x 19.7H, and offers a wooden hutch for your guinea to nest inside when he needs some alone time.
The iron wire extension and high-quality plastic is combined with the hutch. A most popular guinea and rabbit cage, this cage also comes with free accessories like a water bottle and feed dish, and best of all a one-year manufacturer's warranty.
Pros
Free accessories like feed dish and water bottle
Can house two rabbits or two guineas safely and comfortably leaving them room to exercise
Fast assembly with easy accessibility to your fluffy friends
Well-ventilated
5.5- inch detachable plastic tray that removes easily and makes for easy cleaning
Cons
Front opening may not be as sturdy
Ferplast Krolik Rabbit Cage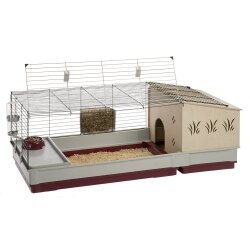 9.0 - rating
Average
The Ferplast Krolik rabbit cage holds two guinea pigs comfortably, and makes for a convenient starter kit for the first time guinea pet parent. It offers a wood hutch and extension, and comes with a large water bottle, hay holder and feed dish.
What's great about this set up is that the feeding area is elevated making the guinea feed spot clean, and keeping it far away from droppings or dirty shavings. This cage is good for both rabbits and guineas, and offers 55.9L x 23.62W x 19.7H inches of comfortable living space. This cage includes a wood hutch ideal for resting quietly.
Pros
Easy maintenance kit that works well for 2 guinea pigs
Elevated balcony feed area for hygiene maintenance with separate extension for increased space
Lightweight with good ventilation
All accessories included
Hay guard that protects hay from shavings and keeps it clean
Cons
Wood hutch may store odor from dirty shavings over time
Deluxe Critter Nation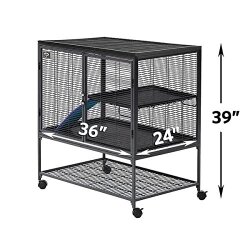 8.7 - rating
Average
With the adjustable shelf, ramp with cover and 4 locking wheel castors, this roomy guinea pig cage provides everything. This cage has full width double doors for easy access to your fluffy best friend. It also has a full-width leak proof pan with a wide expanse shelf for active critters that enjoy playtime.
The cage has features a padded cover, and needs no tools for assembly. The Midwest Deluxe Critter Nation offers 36 Length x 25 Width x 38.5 Height Inches| of living space, and also has a one-year manufacturer's warranty.
Pros
Easy-to-clean with removable trays and full width plastic pan floors
High-quality materials used for durability and safety
Swing up locking ramp for increased safety
Critter proof dual
Ramp is safe and smooth for small guinea pig feet
Cons
Assembly may be difficult
Lid may be warped
Doors may be uneven
Prevue Rat and Chinchilla Cage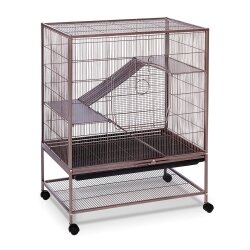 31-Inch L, 20-1/2-inch W, 40-inch H
8.6 - rating
Average
The Prevue rat and chinchilla cage offers 31-Inch long, 20-1/2-inch wide, 40-inch high of guinea living space, complete with 3/8-inch wire spacing for safety. The solid metal ramps also hold up for guinea safety when traversing over.
The use of a wind-bell lock increases safety for those mischievous guinea pigs. There is also a large front door for easy access to your fluffy best friend, and a pull-out bottom grill for easy cleaning. The tight cage wiring prevents shavings from falling out.
Pros
Non-toxic powder coating for health
Room enough to hold 2 guinea pigs
Metal chew proof ramps
Deep pan allows for your fluffy friend to burrow and be comfortable
Well-constructed with room for play and toys
Cons
Door is not child proof, and can be opened easily
---
What to Look for in a Guinea Pig Cage?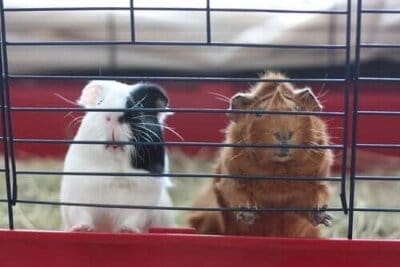 Today, I'm going to show you step-by step how to find the best guinea pig cage and hutch for your fluffy best friend.
High-quality materials, lots of space, and good ventilation are most important. Because guinea pigs need lots of exercise and mental stimulation, you'll need to add in mentally stimulating guinea pig toys.
The best guinea pig cage allows for good ventilation, safety, durability and affordability. The guinea pig cage will be his habitat and the home that you create for him will need to be secure and comfortable.
With 4 main types of cages on the market, look for ones made from storage cube grids and Coroplast. These are good for adult guinea pigs, and not adolescent or baby guineas that could pass through grid openings.
Durable wire mesh grid cages made with non-toxic materials provide security against constant gnawing. Although your guinea won't climb very high since these little pets prefer to stay on the ground, you'll still need to make sure that he's secure and safe.
Size
One guinea pig needs to have at least 7.5 square feet. Keep adding 2-4 square feet for each additional guinea pig. Here's a pretty simple, yet very important space rule to follow:
1 Guinea Pig – 7.5 square feet plus
2 Guinea Pigs – 10.5 square feet plus
3 Guinea Pigs – 13 square feet plus
The key here is the bigger the better. A cage height of 18" inches is needed for safety. Opt for cages made from wire mesh for adequate ventilation. The cage needs to be placed out of direct sunlight to prevent your fluffy friend from overheating.
It should also not be placed in an area where there are drafts or in areas with heavy moisture like the laundry rooms or basements. A guinea pig can die if he or she gets overheated. Safety and good health is priority here when taking care of your guinea, since they can be prone to health issues. Guineas are sturdy, yet if not cared for properly, may get sick easily.
When choosing a cage think big! The larger the better! More toys, room to run, and space to relax and sleep! That said, you can add colorful toys and still know that your guineas have enough room to move about in their cage.
A guinea pig needs to have sufficient exercise each and every day, so as not to get depressed and overweight. Ramps can also encourage exercise. You should also allow for your guinea pig to run free outside of his cage each day. That said, this needs to be done in a safe area away from larger animals or small children.
What is the Best Kind of Cage for a Guinea Pig?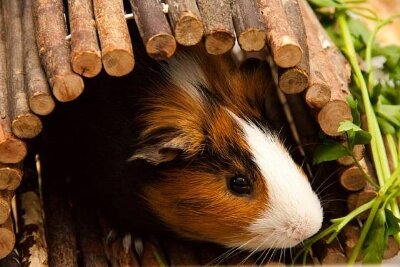 Before you bring your fluffy friend home, you'll need to have your guinea pig cage set up, and to make sure that you've purchased the appropriate food, hay and shavings. That said, it's also important to have a cage that can comfortably house your guinea pig, a guinea friend and toys.
Commercial housing for guinea pigs tend to run small, and as a guinea pet parent you'll need to opt for the largest size to make sure that there is enough space for exercise and free play. Additionally, your guinea pig will need to have free play time outside of his cage each day, so that he can interact with you and exercise properly.
Guinea pig cages need to be easy-to set up, and must be well-ventilated because guinea pigs heat up fast, and can die from heat exposure. Guinea pig feet are also very sensitive, so avoid any wire mesh running surfaces. Adding a small animal exercise pen nearby ensures safety and routine exercise. When purchasing the best guinea pig cage, opt for a design that sets up easily without tools, and that offers convenience for both indoor and outdoor use.
Cages should be durable and long lasting, and should be built to last. It's never a bad idea to spend a bit more on a guinea pig cage that offers safety, comfort and durability. Pet-safe
designs combined with nature inspired features should make guinea pig cage options a no-brainer.
You should be able to easily nurture your fluffy friend, clean his cage without struggling and wasting time, and know that your fluffy friend has enough room in his cage for all his toys. Understanding that it's not okay to have your guinea pig in a tight enclosure all day, with very little room to run and play, is key to ensuring that your guinea pig maintains a good and healthy weight.
What Size Cage Does a Guinea Pig Need?
Guinea pigs need to have at least 7 square feet of living space for one guinea pet. If you're adding a best buddy, you'll need to look for an additional 2-4 square feet per guinea pig of living space. This means floor space where your guineas will be able to run on and play. A cage height of 18 inches is required with all cages allowing for comfortable play and other activities. Guinea pigs should never be in a small cage where they cannot move.
What Do You Do About Flies Around Guinea Pig Cages?
As with all animals and pets, you'll need to ensure that the living space is clean. Shavings or bedding will need to be changed daily to keep flies and bad odor away. This also keeps your guinea pig healthy. When it comes to looking after these 'pocket pets', you'll need to consider the right bedding, grooming items to keep your guinea pig clean, treats, hay, food, and toys.
The bedding in your guinea pig's home should never be wet or soggy. Wood shavings help to absorb the moisture, but will retain bad odor, and need to be replaced as soon as they get wet. Never use sawdust or cat litter since sawdust particles can be inhaled, and can damage your guinea pig's lungs. Cat litter ends up getting eaten, and may cause digestive issues like bloat.
What is the Best Way to Clean a Guinea Pig's Cage?
Guinea pig cages need to be cleaned each and every day. Dirty bedding needs to be replaced with new shavings, and your pan will need to be washed with sudsy hot water.
What is Best for a Guinea Pig Cage Fleece or Bedding?
Bedding like paper bedding or wood shavings work well because you can throw it out and replace it with fresh bedding. Choosing the right bedding is important, and will keep your pet healthy and happy, and also free of diseases. Never use sawdust shavings due to allergies and lung damage.
---
F

requently

A

sked

Q

uestions
Do Guinea Pigs Get Lonely?
Yes, guinea pigs do get lonely, and are similar to all other animals. They need a buddy, as well as your affection and attention several times a day. They are sweet and gentle creatures that are social and gentle. The guinea pig prefers to live as a group, yet today they are sold individually. With that said, try to offer two a home together, so that loneliness and boredom don't set in.
Do I Have to Get Two Guinea Pigs?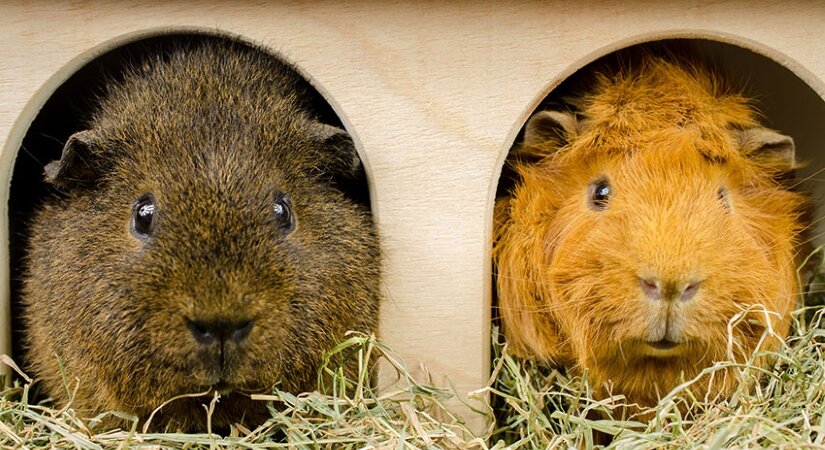 Two guineas give each other companionship, and allow for play together. You don't need to get two guinea pigs, yet it would be nicer for your fluffy best friend. Just make sure that you opt for the largest cage possible, so that there is enough room for two guineas to move around in freely.
Guinea pigs are adventurous in their surroundings, and are also intelligent and sensitive. Offering a variety of toys and mentally stimulating products that are colorful will help to keep your guinea pig occupied and happy.
Do Guinea Pigs Know Their Owner?
Yes, guinea pigs do know their owners, although it may take them a few days to get to know you. The secret to good guinea pet parenting means handling your guinea pig gently at all times, and respecting his need for a clean and cozy living space.
Guinea pigs also do not like loud noises, and should not be placed nearby any predatory pets or animals. They need to feel secure, and should have a fixed feed, care and exercise schedule. Daily maintenance with a guinea pig's safety, regular veterinary care, and exercise routine as top priority means educating yourself about your guinea pig's veterinary and maintenance needs.
Other notables include brands of nature treats that are high-quality and plenty of attention and affection. Guineas thrive on affection. When you talk to your guinea, speak gently and you'll notice how he watches you and responds.
Always handle your pet gently, and do the same when placing him back in his cage. Limit loud noises, and exposure to things that could scare your guinea. Always ensure that he's in a calm and secure environment that is nurturing.
Do Guinea Pigs Need a Wheel?
A wheel should never be used for guinea pigs, since they have fragile backs and could injure their backs using the wheel. It's important to remind guinea parents to choose other exercise options to get your guinea moving and playing.
Daily exercise is a must for your fluffy pet, and all guineas need to be handled at least twice daily. This gives your new pet time to get to know you, and also allows for you to check and see if your guinea has skin issues, dental problems, or has suddenly increased in weight.
Do Guinea Pigs Like to Cuddle?
Guinea pigs enjoy attention and gentle play. They do enjoy cuddles, but no rough play or squeezing. Although these pets look sturdy, they are extremely sensitive and need gentle interaction.
Do Guinea Pigs Need Human Interaction?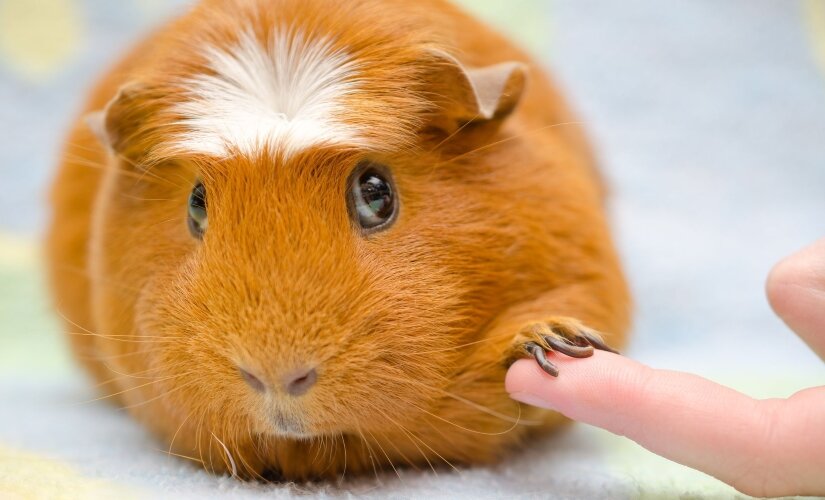 Yes, all guineas need to be held and touched every day. They're affectionate and intelligent. They also love people and interacting with other guineas. Unfortunately, guineas only live up to 6 years, so the best care possible is needed for them to ensure that they get to live up to that age.
What Does It Mean When a Guinea Pig Chirps?
Chirping is the sound that a guinea makes. It's probably one of the most interesting and wonderful sounds you can hear. Guineas makes many noises from chirping, squeaking to a "tooth chatter." This sounds like a purr. They hardly ever bite, yet need to be picked up gently so as not to get frightened. A guinea pigs back always needs to have support when being picked up, so you'll need to support it with your hand.
How Can I Keep my Guinea Pig Warm?
Guinea pigs need to be kept out of drafts, and away from cold air. The same needs to be said about your guinea pig overheating. Guineas are very sensitive to temperature and temperature change, and the correct temperature needs to be maintained very day. Never leave your guinea pig cage outdoors in direct sunlight, since your pet may overheat and die. Always place the cage in a shady area away from predators, or when inside, away from moisture, heat or cold air drafts.
Do Guinea Pigs Need Bedding?
All guinea pigs need clean bedding that is made from a high-quality wood shaving, paper products, fleece or cotton towels, and even hay or newspaper. Any bedding should never be allowed to get wet or moist. You can add a high-quality timothy hay on top of the bedding for your pet. Otherwise use a hay feeder, so that the hay stays cleaner for a longer period of time. Bedding should fill at least 2 inches of the cage floor.
What is the Best Fleece for Guinea Pig Cage?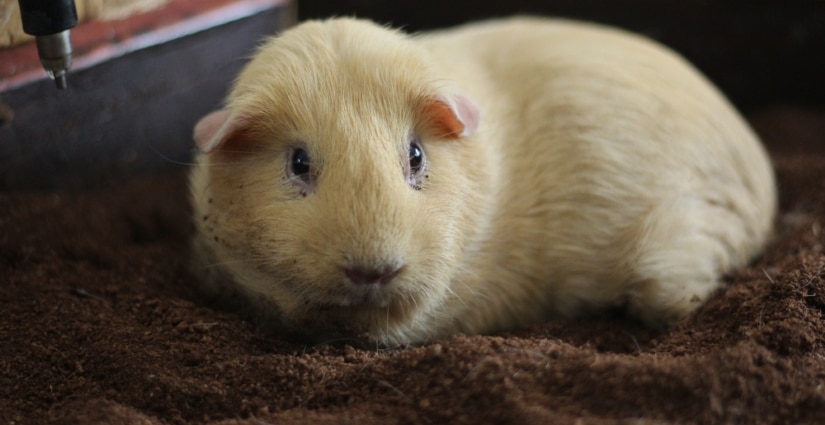 The most popular is the blizzard fleece, and the anti-pill fleece for guineas. Pet parents today may opt for this type of fleece instead of the traditional bedding. With fleece, the surface always stays dry, regardless of excess urine or feces droppings. Never use inferior fleece, since it's prone to pilling with threads coming out which may entangle your guinea pig's feet.
Best Guinea Pig Cage Liner
When out shopping for the best liner, consider fleece with attractive print patterns to simulate the outdoors. The liners should fit snugly over the pan for a tidy and trendy look. Cage liners prevent waste from soiling the tray. They work well with wire and mesh grates over waste areas in the cage. Cage liners are used to prevent debris from drying up on the cage. It's up to each pet parent to try out numerous liners to see which works best for them.
How to Proof Guinea Pig Cage from Cats?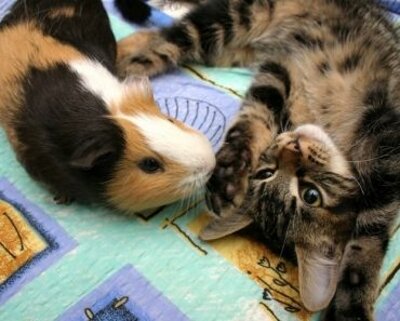 This is an important topic, and needs to be addressed before you bring your fluffy friend home. Guineas need to be kept far away from cats, preferably in another room. Both cats and guineas pass diseases between themselves like Bordetella. You'll need to keep your hands washed after handling your guinea pig.
Cats are predatory animals, and may prey on guinea pigs. That said, you'll be saving your guinea pig's life by keeping them separated. There have been instances where both cats and guineas become friends, but animals are unpredictable and your cat may just enjoy the intro period, but pounce on your guinea or swat him later on. Safety is key here! Lastly, remember that your cat may feel more inclined to jump on to the cage, and bully him from there. Never leave both animals in the same room alone.
Today, manufacturers are offering a large array of guinea pig cages with a strong focus on play, space and safety. On the whole, it's a good idea to reach out to your veterinarian for regular check-ups and advice.
Keeping a regularly replenished line of guinea pig supplements and healthy treats allows for your guineas optimal health. Additionally, guinea pig parents should consider making a pet checklist to make sure that they never run out of pet products for their fluffy best friend.