Are you looking for best guinea pig foods that meet the specific dietary requirements and offer substantial nutritional value? You can find an extensive range in the market but finding the right one could be highly challenging.
Although guinea pigs are adaptable creatures with easy-to-satisfy needs, they require nutritious diet for a happy, healthy life. This is why, we have compiled a definitive guide to help you prepare a wholesome diet for your piggies. We'll talk about a list of best foods available in the market, factors to consider when buying food for cavies and common questions you may have as guinea pig parents.
What Should You Feed Your Little Cavy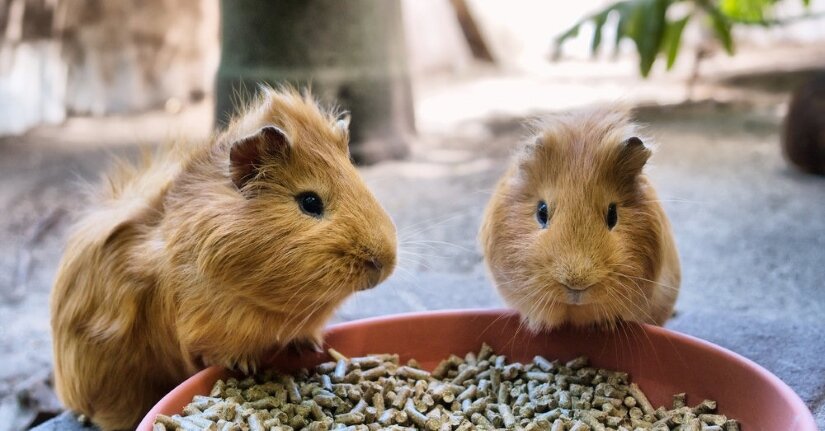 Guinea pigs make an adorable pet due to their friendly nature and malleable personality but their diet requires excessive care. You little cavies are prone to develop digestion problems that can even dull their fur coat.
While feeding fruits and vegetables seems to be a complete diet but it only covers a small portion of the food regimen. Guinea pigs require different kinds of proteins and vitamins to lead a healthy, restorative life. With the right knowledge about different food types and nutrition requirements, you'll be able to design a comprehensive diet for your little piggies and ensure them 10 years full life.
Since your piggy friends are picky eaters, they can select what to eat and leave food they don't like or enjoy. But as a responsible cavy-parent, you need to ensure that your buddy is getting all the required nutrients and minerals through their diet.
Typically, grass makes up the majority of their natural diet but they also need ample of Vitamin C that their body can't synthesize on its own. A great way to boost is by increasing the intake of fresh fruits and vegetables such as apples, broccoli, spinach, carrot and celery.
Moreover, the guinea pig teeth will grow throughout their life and therefore, they require hard food to gnaw and nibble. Pellets and hay are a perfect choice for them but they do, however chew on plastic, rubber and cloth to satiate itchy gum.
Due to continuous growth, it is essential to feed them a variety of food times providing them the right mixes of nutrition and goodness. We have reviewed dozens of different food formulations before devising this comprehensive list of items.
The objective is to guide you with the best guinea pig foods to provide high-quality diet each day ensuring your pet's optimum health.
Best Guinea Pig Food Types
As we discussed earlier, guinea pigs require a wide variety of food types to facilitate their growth. Aside from fresh grass, fruits, vegetables and hay, you can buy commercially produced items such as pellets. Regardless of what you choose to buy, keep few things in mind:
Avoid colorful food items
Vitamin C rich diet
Chemical, preservative and artificial flavoring free food items
So, here we have listed three best types of food suitable for guinea pigs of all ages.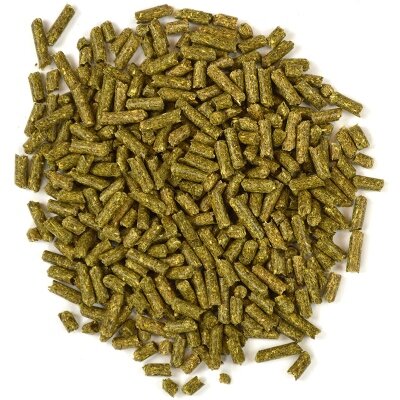 Pellets
VIEW BEST LIST
Good quality guinea pig pellets, also called nuggets, are essential for your adorable cavy. It is rich in proteins, fiber and other nutrients essential to keep the bones and teeth strong. By nourishing the skin, pellets improve the luminosity of the fur coat.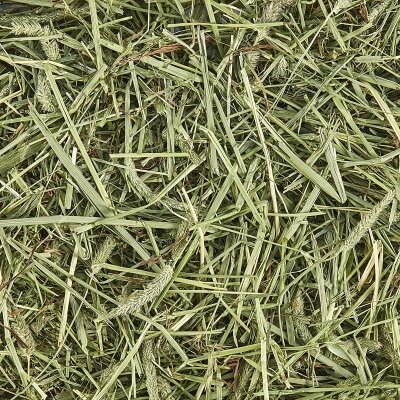 Grass Hay
VIEW BEST LIST
Around 80% of the guinea pig diet comprises of fresh hay that offers essential nutrients and helps in grinding teeth. Due to its high fiber content, hay improves digestion while keeping them active. For lactating mothers and very young guinea pigs, legume hays should be chosen for its high protein and calcium content.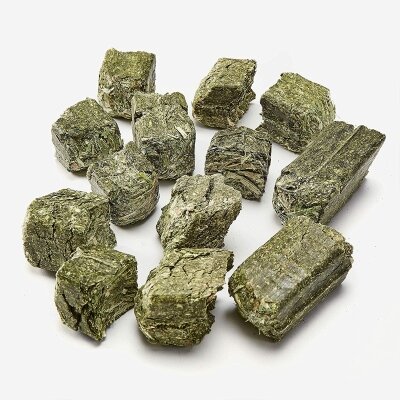 Dried Food
VIEW BEST LIST
Pre-packaged dried foods contain a cocktail of fruits, vegetables, hay and other items to provide a wholesome balanced diet. Due to its palatable taste, dried foods are ideal treats to guinea pigs offering them a punch of flavorful nutrients and minerals. Therefore, they are widely used during training sessions.
A Comparative Analysis of Best Pellet Foods in 2023
The table contains a comparative analysis of leading pellets brands manufactured to offer ample vitamin C and helps grind teeth. Here, we have compared basic features such as ratings, price and nutritional value to assist you picking the one that best suits your needs.
| PRODUCT | | RATING | PRICE | NUTRITIONAL VALUE | PACKS |
| --- | --- | --- | --- | --- | --- |
| Oxbow Guinea Pig Food | Best Pellets | 9.8 | Average price | 26% Fiber 2.5% Fats 12% Proteins | 4 lbs |
| Kaytee Fiesta Guinea Pig Food | | 9.3 | Average price | 14% Fiber 5% Fats 16.5% Protein | 2.5 - 25 lbs |
| Kaytee Supreme Guinea Pig Food | | 9.2 | Average price | 16% Fiber 3% Fat 18% Protein | 5 lbs |
| Supreme Guinea Pig Food | | 8.9 | High price | 15% Fiber 4% Fat 16% Protein | 4 - 8.8 lbs |
| Higgins Guinea Pig Food Mix | | 8.8 | Average price | 18% Fiber 2% Fat 14% Protein | 1 - 3 lbs |
A Comparative Analysis of Best Hay
Fresh grass hay is important for your piggies' digestive system. But if you are overwhelmed with the choices, then here we have a comparison table of four best hay brands available in the market. It entails prices, customer rating, nutritional value and package sizing.
| PRODUCT | | RATING | PRICE | NUTRITIONAL VALUE | PACKS |
| --- | --- | --- | --- | --- | --- |
| Kaytee Timothy Hay | Best Grass Hay | 9.4 | High price | 32% Fiber 1% Fat 6% Protein | 96 oz - 12 lbs |
| Farm to Pet Timothy hay | | 9.3 | Average price | | 8 Pounds |
| Rabbit Chew Ball Timothy Grass Grinding | | 9.0 | Low price | | 6.38 - 11.22 Ounces |
| Oxbow Animal Health Oat Hay | | 8.7 | Low price | 32% Fiber 1.5% Fat 7% Protein | 0.94 Pounds |
A Comparative Analysis of Best Dried Food
| PRODUCT | | RATING | PRICE | NUTRITIONAL VALUE | PACKS |
| --- | --- | --- | --- | --- | --- |
| Kaytee Timothy Hay Cubes | Best Dried Food | 9.7 | Average price | 30% Fiber 1% Fat 10% Protein | 9% Fiber 5% Fat 14.5% Protein |
| Kaytee Forti-Diet Pro Bits | | 9.5 | High price | 9% Fiber 5% Fat 14.5% Protein | 4.5 lbs |
Kaytee Timothy Hay Blend Cubes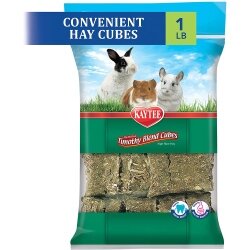 :
30% Fiber 1% Fat 10% Protein
:
9% Fiber 5% Fat 14.5% Protein
9.7 - rating
Average price
Best Dried Food
Compressed blocks of sun-cured timothy and alfalfa hay, Kaytee Blend Cubes are an ideal treat for rabbits and guinea pigs. They are high source of fiber and calcium to provide a punch of nutrients and flavors to growing and lactating cavies.
It strengthens the digestion process, improve oral health and satisfy their chewing needs. These fortified blocks complement any primary meal to provide complete nourishment. The right amount of calcium dose supports the urinary health in babies and pregnant mothers.
Made of sun-cured hay, they contain zero artificial flavorings and preservative. These high-quality cubes are a delicious treats that prevent obesity in your pets.
Customers recommend hay cubes for their high protein and fiber value as it provides the right nourishment to growing piggies. The hay cubes are super moist, compact and dense to aid the natural teething process.
They are fun for piggies as they can munch and play with it at the same time. It improves their appetite and entice them, thus the pickiest eaters even enjoy Kaytee timothy hay blend cubes. They also enjoy the taste while the hard pressed blocks give good workout to the teeth, ideal for trimming and oral health.
It is convenient, delicious, and healthy that your cavies can enjoy in their enclosure and enjoy as a night time snack. They are also suitable for cavies and pet owners having dust allergies that loose hay can aggravate. The compact cubes contain zero powdery contents as alfalfa hay thoroughly bind the particles.
Due to its moist, chewy texture, piggies end up making less mess while strengthening the teeth due to continuous munching. Also, the cubes are ideally priced making it an affordable and healthy treat compared to sweet, colorful pellets.
However, some customers have complained of its deceiving name as the product contains equal amount of alfalfa hay, which is unsuitable for adult piggies. Moreover, the cavies finish it quickly; thus increasing the amount of junk food in their daily diet. As pet owners, you have to give them in controlled amount so that the little mammals get all the right nutrients throughout the day.
Key feature
Soft and chewy texture
Suitable for growing and lactating piggies
Dense and moist hay blocks
Chemical and preservative free
A perfect blend of timothy and alfalfa hay
Pros
High-grade forage
Highly nutritious and nourishing
Aids digestive process, strengthens teeth and satisfy chewing crave
Flavorful, moist hay
Healthy treat to prevent obesity
Cons
Misleading name
Becomes hard over time
Kaytee Forti-Diet Pro Health Healthy Bits Rabbit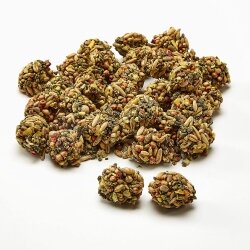 :
9% Fiber 5% Fat 14.5% Protein
9.5 - rating
High price
Let your guinea pigs indulge in a crunchy, fun-to eat delight made of nutritious fruits, seeds, nuts and a touch of honey. It's a delicious, nutritious treat for piggies and other small mammals, offering an enriching playtime experience and thus ideal to build bonding.
These crunchy, nutritious balls also satisfy the chewing needs by providing bite-size morsels of sunflower, peas, papaya, carrots, apples and many more healthy items. It also contains DHA that is good for eyes, brain and heart as it is packed with alfalfa hay to meet the growth requirements in small, baby cavies. It is also good for pregnant and lactating guinea pigs by offering high amount of proteins, fiber and good fats.
Customers love to buy it for their small pets due to its unique taste and high nutritional value. It provides them with a variety of flavors, textures and nutrients, essential for growing and pregnant piggies while spoiling them to the core.
They perfectly complement other primary meals majorly composed of bland hay, making mealtime quite joyous one. Your pet will literally beg for food, if you mix these crunchy treats with other items to give them a blend of nutrients.
Your pet will grab it away and hide somewhere to nosh this delightful treat, GUARANTEED! They are a win-win option for picky eaters as it provides them ample protein, fiber and fats that important to aid their growth, digestive system and oral health.
The crunchy texture promotes excessive chewing, necessary for strong dentals and trim teeth. The sweet flavors and aroma entices the little piggies, boost their appetite, ensuring they will savor it in no time.
Sadly, the food is not a healthy option as it contains seeds, nuts, corns and honey that are unsuitable for little piggies. It is merely JUNK FOOD that your piggy will nosh in no time without getting the right dose of fiber thus you should always pair them up with primary meals. Therefore, you should limit its use to once or twice a week.
Key feature
Made of nuts, seeds, fruits and honey
An ideal and fun treat
Bite-size, crunchy balls
Free of artificial flavors
Perfect for supplementing primary food
Pros
Delicious and flavorsome food
Boosts appetite
Aids dental health and teeth trimming
Complements well with other food items
Variety of texture
Cons
Extremely junk with little nutritional value
Expensive
Things You Should Know When You Own a Guinea Pig
Who Should Buy Guinea Pig Food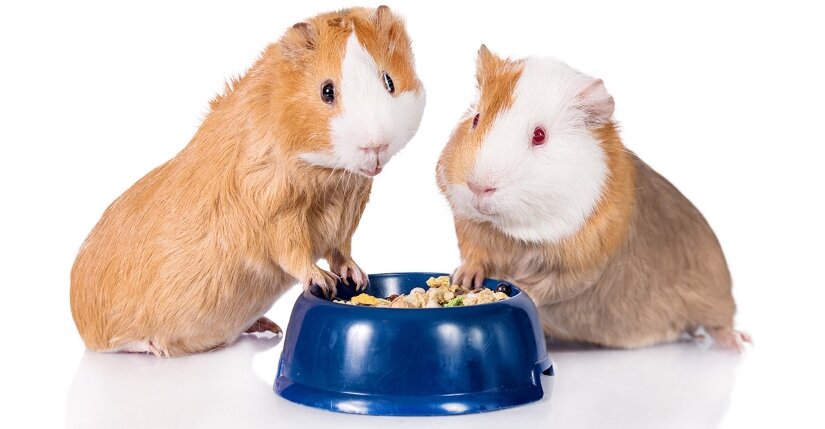 Those who own or pet guinea pigs should look for the right items to feed the little cavies. If you foster and breed guinea pigs, you would need highly nutritional and energy boosting diet that can improve growth and ensure healthy lifestyle.
Important Features to Consider
Types of Guinea Pig Food

Typically, guinea pigs are herbivores and therefore, the diet should comprise of high-quality hay, pellets, and fresh fruits and vegetables. Unbalanced diet can cause diarrhea, obesity and other chronic illnesses related to kidneys, heart and liver. If you plan to introduce new food, do it gradually, as abrupt changes can lead to digestive problems. Frequently give filtered, chlorine-free water only to prevent dehydration.

What Guinea Pigs Can Eat

As discussed earlier, guinea pigs can have vegan diet thus you can include romaine lettuce, carrots, peas, broccoli, Kale and other green vegetables. You should give limited amount of fruits due to high sugar content and add apples, oranges, strawberries, and papaya to meet the Vitamin-C supply.

To reward them, you also add treats and chewy items as it can strengthen oral care. However, it shouldn't exceed 10% of the total diet and free from sugar. Grass sticks, balls and hay block are ideal and fun chew to support their ever growing teeth.

What Guinea Pigs Can't Eat

There are numerous foods you should avoid giving guinea pigs for various reasons. They can either be poisonous, choking hazard, zero nutritional value, high in fats and sugar and bloating issues. Food items you should avoid are:

Chocolate
Onion
Garlic
Mushrooms and iceberg lettuce
Seeds and nuts

Scurvy in Guinea Pigs and Importance of Right Diet

Guinea pigs are at a high risk of developing scurvy as they deficit in developing Vitamin C. Therefore, you should include 30-50 mg of Vitamin C daily in the diet to meet the requirements. Pellets, vitamin-C rich treats are ideal' you can also supplement it with natural sources such as fruits.

Common symptoms of scurvy are sneezing, weight and hair loss along with diarrhea. You should instantly take him to the vet for timely medical intervention.
F

requently

A

sked

Q

uestions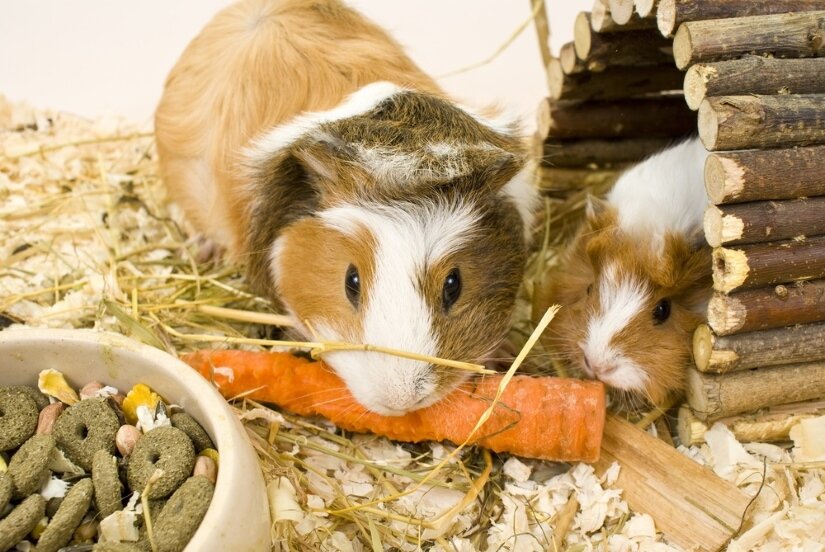 What Is The Main Diet Of A Guinea Pig?
Timothy hay is the primary food for guinea pigs as it is rich in fiber, suitable for their active lifestyle.
How Much Hay Do You Feed A Guinea Pig?
You should offer unlimited access to fresh timothy hay as guinea pigs require it to support their digestion process.
What is the favorite food of guinea pig?
Each guinea pig is different and thus their favorite food differs. Generally, its carrot, cucumber and dandelion leaves.
How often should I feed my guinea pig?
You should feed your little cavies twice a day; once in the morning and once in the evening to prevent obesity.
Do guinea pigs need pellets every day?
You should feed 1/8th cup of pellets every day.
Can guinea pigs eat fresh grass?
Although, fresh grass is a good source of nutrition but it may contain parasite eggs thus you piggies will require frequent deworming.
How to introduce new food to guinea pigs?
Serve the new food along with their favorite food items, such as hay, pellets or dry food. Start with a small quantity and gradually increase it to the required amount.
What to do if my guinea pig doesn't eat?
A guinea pig not eating food is a veterinary emergency as he can experience liver failure within a day. It may be due to dental malocclusion, making it too painful for them to chew food. You can either feed them through a syringe or take them to a vet.
Can you feed other small mammals' food to guinea pigs?
You should never feed your guinea pigs the diet suitable for other animals including rabbits, rodents, dogs and cats due to their unique nutritional needs and small appetite.