It's obvious that pet parents love dog crates for travel, at home, and even for use as a snug dog home for Fido. If you're bringing home a new puppy, finding the best dog crate is important. It's the ideal way of giving your dog a safe pet space in your home where he can feel comfortable and relax. Crates are also important for pet travel and house training.
Finding the best dog cage for Fido may seem daunting with the abundance of kennels on the market. But we're here to help you! After all, a den helps to solve numerous puppy training issues. Style and safety are important, but combine that with easy-to-use, durability, affordability, and you'll have the best dog house for your puppy or adult dog.
These kennels are mini dog "dens" within a home, perfect for pups and large doggos too! So whether you have a senior dog or have just brought home a new puppy, you'll feel good about making the right dog house choice!
Comparison Table Of The Best Dogs Crate 2023
| PRODUCT | | RATING | PRICE | TYPE | SIZE | EASY ASSEMBLY | FOLDABLE | PORTABLE | DOORS |
| --- | --- | --- | --- | --- | --- | --- | --- | --- | --- |
| MidWest Homes Crate | Our Choice | 9.8 | High price | Wire | 7 different sizes | ✔ | ✔ | × | 1-2 |
| Diggs Revol | Best Overall | 9.4 | High price | Wire | 28"L x 20"W x 21"L | ✔ | ✔ | ✔ | 3 |
| Petmate Ultra Vari Kennel | Best Travel Crate | 9.3 | Low price | Plastic | 4 different sizes | ✔ | × | ✔ | 1 |
| EliteField Folding Crate | Best Soft-sided | 9.1 | Low price | Soft | 5 different sizes | ✔ | ✔ | ✔ | 3 |
| Petsfit Portable Crate | | 9.0 | Low price | Soft | 2 different sizes | ✔ | ✔ | ✔ | 3 |
| ProValu | | 8.9 | Low price | Wire | 6 different sizes | ✔ | ✔ | × | 2 |
| New Age Pet ecoFLEX | Best Fashion Crate | 8.8 | High price | Furniture | 4 different sizes | ✔ | × | × | 1 |
| Carlson Pet Products Crate | | 8.3 | Low price | Wire | 5 different sizes | ✔ | ✔ | × | 1 |
| Noz2Noz | | 7.9 | High price | Soft | 5 different sizes | ✔ | ✔ | × | 1 |
| 2Pet Foldable | | 7.6 | Average price | Soft | 5 different sizes | ✔ | ✔ | ✔ | 1 |
Buyer's Guide
What to Look for in a Dog Crate?
Some dog parents will do well with a crate while training a new puppy or after adopting a senior dog. Dogs also do well with a crate that's left open 24/7, so that they have a dog zone all to themselves! Whatever your reason for purchasing a cage, you'll need to consider certain factors to make the right choice for your dog breed. When it comes down to choosing a high-quality structure, each dog breed will have different size requirements and different needs. It's important for dog parents to understand how to set up their space, and to also understand that puppies and adult dogs soon learn to love the comfort and security that the crate offers.
Rather than purchasing the first or the most affordable enclosed structures that you come across, you'll need to take the time to consider your dog's needs and size. You'll also need to make sure that the kennel you choose allows your dog enough room to move around and to stand up. Your furry best friend will need to be comfortable and safe for a period of time when you're out and about running errands.
How to Use a Dog Crate?
Crate training puppies prevents puppies from chewing up your furniture while in training, and also helps develop a consistent potty schedule for your puppy. Most puppies and adult dogs will not eliminate inside their crates if they are taken out frequently to go potty.
Dog cages can be used for the following:
House training
Puppy training
Travel
To keep your puppy safe when you're out running errands
To prevent your puppy from destructive chewing
As a safe haven with your pup's favorite toys for a short period of time or throughout the night when everyone's sleeping
To keep your dogs safe at dog shows
Crates can separate your puppy from your guests when you entertain, or from young children
Dog Size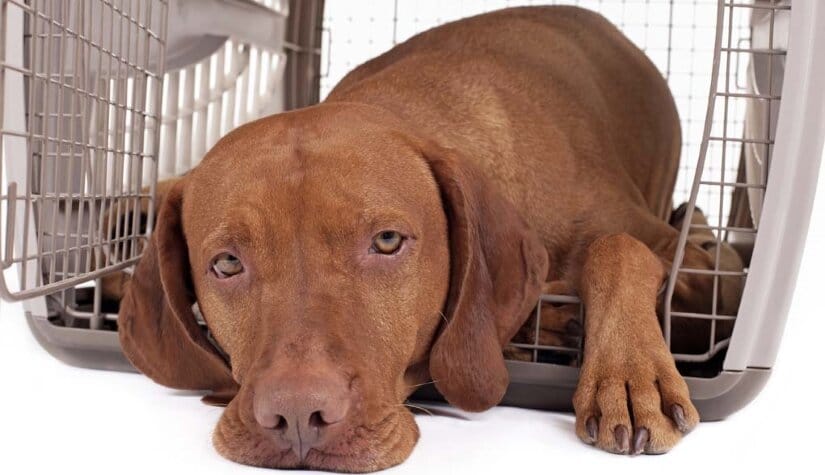 When choosing a kennel for your dog, you'll need to consider your dog's specific size. Some breeds do better with certain structures. Kennels come in small, medium and large sizes. That said, these sizes tend to fluctuate between brands. It's best to purchase a structure according to your dog's size, and not according to a breed size.
Consider the specific measurements, and whether your dog is still growing. When using a cage, your pet will stand up, lie down, and move around. He will need to have enough space to be comfortable and safe, most especially when traveling long distances or if you're going to be using it occasionally for extended periods.
What Size Crate Will I Need for My Dog?
All dog house dimensions will be measured as length x width x height. You will need to measure your dog while he's standing upright, so that you can get his correct height and width.
Even if you're just going to confine your dog for only a short time while you're running errands, you'll still need to provide the right amount of space to be comfortable. Your dog should be able to lie down easily, turn around, and stretch out with a few toys by his side and a water bowl. To determine the correct crate size for your pet, you'll need to do the following:
Measure your dog's height starting from the top of his head to the ground
If your dog's ears are erect, you'll need to measure from the tip of the erect ear
Measure your dog's length from your dog's nose to the end of his tail
Make sure that you'll have enough space to add in his favorite padded mat, blanket and chew toys
Think about the room he'll have when lying down with his toys. Comfort, space, and good ventilation is key!
Crate Sizing Guide
Crates should not be used for more than four hours unless it's for traveling purposes. All dogs need to exercise and stretch out their limbs. Keep your crate near family members in a room where other people are close by, so that puppies or adult dogs are never alone and anxious.
Choosing the best cases allows for positive puppy training during the puppy stage. Keep in mind that dogs with behavioral issues like separation anxiety will need to have a solid plastic crate. This is good for travel as well.
Wire crates work well for dogs that are used to them, or that don't use them often. These can easily be doubled up, making it easy to carry and travel with. Pet parents that are still working with their positive dog trainer and their doggos will fare best with a wooden crate that can be left open all the time. This doubles up into a dog space for your dog to relax and have his own space. These wooden crates look trendy and blend in well with furniture. That said, before your dog gets into his crate, it's best to remove his collar to prevent entanglement or other injuries.
Small crates for puppies may feel like a good option at the time, but if your puppy is a medium or large breed, he'll grow out of it fast. Purchasing a cage that allows for extensions with dividers is a good idea. With this type of crate, your puppy can "grow" into his crate without you having to purchase several throughout his lifetime.
How to Choose a Dog Crate for Your Dog?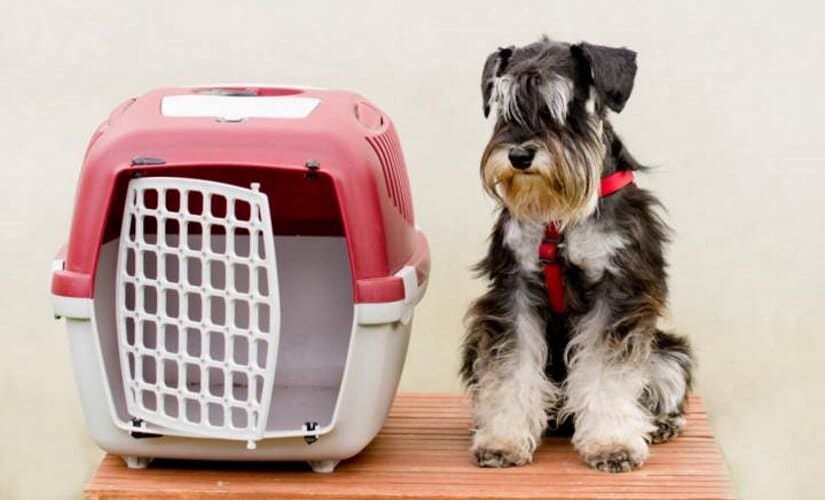 Crates come in many different sizes and are an invaluable part of puppyhood training. They help to prevent your puppy from chewing household items like favorite shoes and furniture, and also help to encourage your puppy to spend time relaxing in his "den." Puppies love to feel that they have a safe and secure spot that's just for them.
Crates are also used for car travel and plane travel. These provide safety, and also prevent him from jumping out of the car expectantly. They're a necessity for use during potty training, housebreaking and when visitors come to the house. Always introduce your puppy to the crate slowly.
Before purchasing a cage, you'll need to know where you're going to place it in your home, and what size and style you'll need. Consider your dog's size, breed, and behavior before going out and purchasing the case. You may also decide to purchase a few structures for different needs like long distance travel, veterinarian visits, and housetraining. That said, before you do anything, it's important to measure your doggo first, and to understand that some crates can "grow" with your puppy. These include crates that have divider panels. Metal cages will usually have these, and allow for you to adjust the interior crate size. When purchasing an adult sized cage for your puppy, you'll need to estimate your dog's full grown height and length based on their breed profile.
Crate Size Options
You can choose either plastic or wire crates. Plastic is most preferred and is made with interlocking pieces that have ventilated sides and a wire door. The wire crates have folding panels with a removable tray at the bottom. Plastic crates are more comfortable and cozy and can also be used for travel, while the metal crates need to be covered with a blanket.
Your puppy should be able to fit comfortably inside his crate. He should be able to move around, turn, stand and stretch out comfortably. Keep in mind that your puppy should never spend long periods of time in his crate. When buying a crate look for a comfortable match for your puppy, neither too large nor too small. Your puppy will soon learn to enjoy his crate, and it will be his "space" within the home where he can relax and feel safe.
Sizing
XS. Extra Small Dog Crates for Small Dogs Weighing Between 1 ib. to 10 Ibs.:
Measuring: 24L X 18W x 21H, 24L x 18W x19H
The XS dog crates work best for very small dog breed:

Boston Terrier
Chihuahua
Pug
Jack Russell Terrier
S. Small Crates for Dogs Weighing Between 11 Ibs. And 25 Ibs.:
Measuring: 24L x 18W x 18 x 21H, 24L x 18W x 19H
The small dog cages work best for small dog breeds:
M Medium Dog Crates for Dogs Weighing Between 26 lbs. and 40 lbs.:
Measuring: 30L x 21W x 24H, 30L x 19W x 21H
The medium cages work best for medium sized dog breeds:

Pit Bull
French Bulldog
Cocker Spaniel
Miniature Pinscher
Shetland Sheepdog
L Large Sized Dog Crates for Dogs Weighing Between 41 lbs. and 70 lbs.:
Measuring: 36L x 24W x 27H, 36L x 23W x 25H
The large-sized structures work best for a large sized dog breeds:
XL Extra Large Cages for Dogs Weighing Between 71 lbs. and 90 lbs.:
Measuring: 42L x 28W x 31H, 42L x 28W x 30H
The extra-large sized structures work best for X-Large sized dog breeds:
XXL Extra Extra Large Cages for dogs weighing Between 90 lbs. and up:
Measuring: 46L x 30W x 33H
The Extra/extra-large sized cages work best for XX-Large sized dog breeds like:

Giant Schnauzer
Mastiff
Rottweiler
Old English Sheepdog
Bloodhound
Bernese Mountain Dog
Greyhound
Benefits of a Dog Crate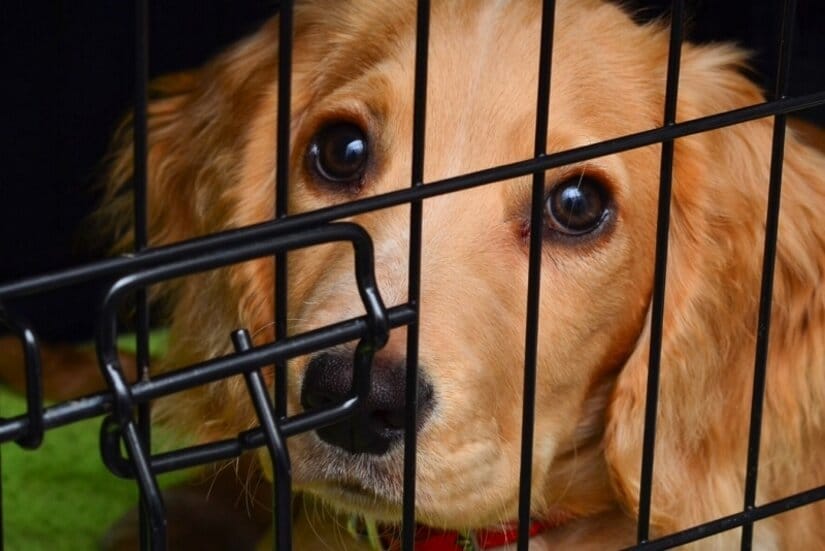 All dogs need time away from family and friends. They need to have a safe zone where they can hang out and relax in peace. If your dog has separation anxiety when you leave home, you'll find that having a crate with a comfortable mat and a few chew toys and treats is beneficial. You may also be the proud pet parent of a puppy that's just started with puppy training. The crate type that you choose will all depend on what you're going to be using it for. If your puppy is a destructive chewer, you'll need to have a durable and safe structure. Tough and indestructible kennels are good options for dogs with separation anxiety that try to escape by scratching and chewing.
Should You Choose Multiple Dog Crates for Different Purposes?
Purchasing dog products for your furry best friend is always fun. With several cages brands best for indoor use, it may be easier to also purchase a second one for travel trips to the veterinarian or dog park. Setting up a crate takes time, and having a few set up around the house and one in the car may work best in the long term.
When deciding how many cagess you need, think about how many dogs you have that may need crating. Do these dogs need crating nearby one another or in separate locations? If pups are crated together, is the overall crating space large enough for all the pups that are enclosed? Opt for larger enclosures that are safe, durable, and made with non-toxic materials or coating.
Indoor or Outdoor Dog Crates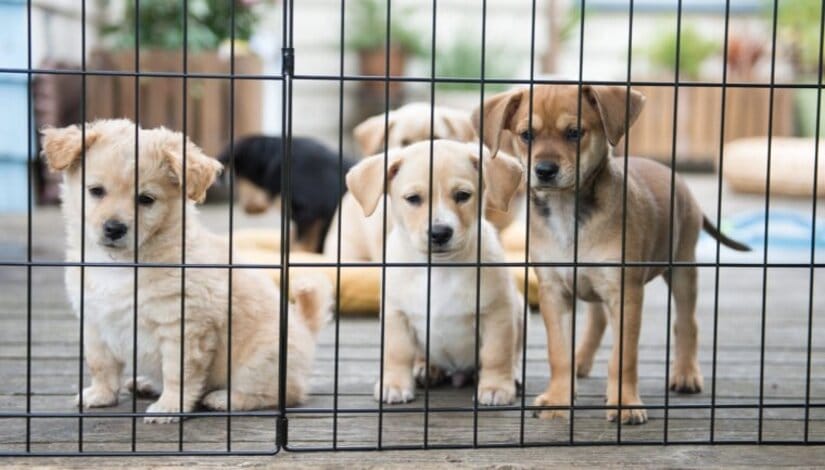 Today, cagess serve numerous functions. The main ones are to keep your dog safe and comfortable when you're away from home or traveling with your doggo. When choosing a kennel, you'll notice that many of them work best for indoor use. Perhaps you'll need one for outdoors too? Outdoor cases should be made from materials that are resistant to rust. They should also allow for plenty of air, and be durable.
If you're needing a cage for pet travel on an airplane, your structure should withstand any loading movement, be durable and safe, well-ventilated, and will also need to keep your furry best friend comfortable, most especially during travel delays or turbulence. That said, before any air travel, you'll need to check with your veterinarian and airline as to all crate specifications for traveling with your dog.
Dog Crates for Puppies in Training
Every new pet parent wants to know if they need a puppy crate. There are many people that refuse to use crates. Today, these have become popular and serve as a den for your puppy. While some puppies may not accept the crate easily, others enjoy it. If you're having problems with crating, here are some tips:
Start off by introducing your puppy to the crate for only short periods of time; perhaps 5 minute stretches with the crate door open. Leave some treats and new puppy toys inside the crate
Gradually increase the time that your puppy or dog spends in his crate. Keep in mind that a puppy should never be kept in his crate for a long period of time. Work together with a positive pet trainer
Add one or two Kong toys with a super soft baby's blanket. You can always add something belonging to you that carries your scent like a used t-shirt
If your fido starts howling, wait for him to stop, then let him out, and reward with a favorite puppy treat
Adding a frozen Kong toy stuffed with peanut butter or his favorite filling keeps puppies occupied and helps with teething
Use your crate in a kind manner, and only as a resting place for your puppy. Never crate your puppy because it's convenient for you or as a form of punishment
Types of Dog Crates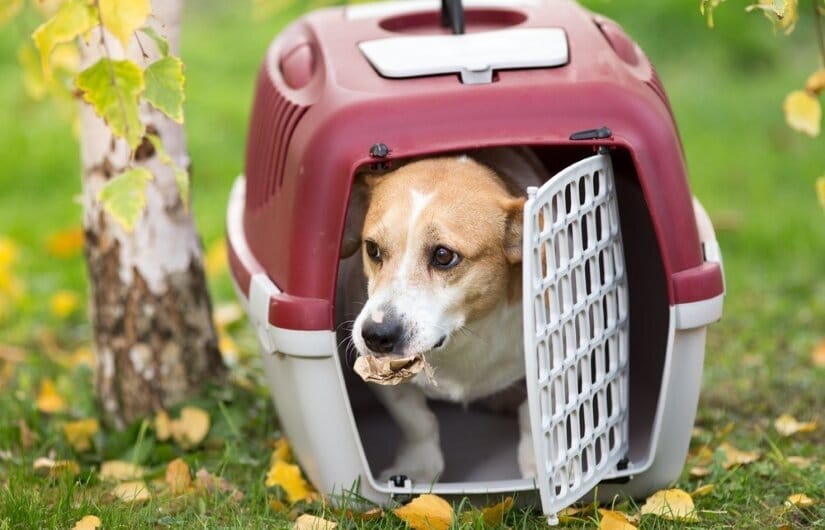 Some structures are lighter and made with thinner wire. Others may be foldable, and easy to collapse, making them great for travel. Some will have hard plastic shells for durability, and provide extra safety during air or car travel. Four point locks and sturdy doors also allow for extra safety if your doggo has a habit of escaping. There are also wooden cages that work for home, and water resistant models with large mesh doors and folding steel frames. The best structure is the one that will work best for your pet all the while offering him comfort and safety.
Dog crate pads help with comfort, to alleviate joint pain, and to ensure that your fido rests well throughout the day and night. Look for large sized mesh windows that will allow for the right amount of ventilation, and visibility. This also allows for your dogs to keep cool during the summer when transporting your pets.
With doghousess usually a one-time purchase for pet parents, durability and safety are important. Many crates models do not come with crate mats, pads or crate blankets. You'll need to purchase these for crate comfort, so that your fido can rest comfortably in his crate. Cagess can be purchased online, and at pet stores.
When deciding which cage to purchase, it's best to consider which features are the most important to consider. Each dog is different, and you'll also have to consider comfort and safety. Today, with all the product model options available, it's best to look at the first-rate doghouse products available today.
When choosing your next cage think about safety and space. The larger the better! Your dog needs to be able to stand up and turn around in his space. You should also be able to add a few interactive pet toys, and your dog should have enough space to relax and sleep!
What Kind of Crate Styles Work for You?
There are numerous crate options. These include:
Plastic
Metal
Soft-sided (fabric)
Heavy duty
Plastic Dog Crates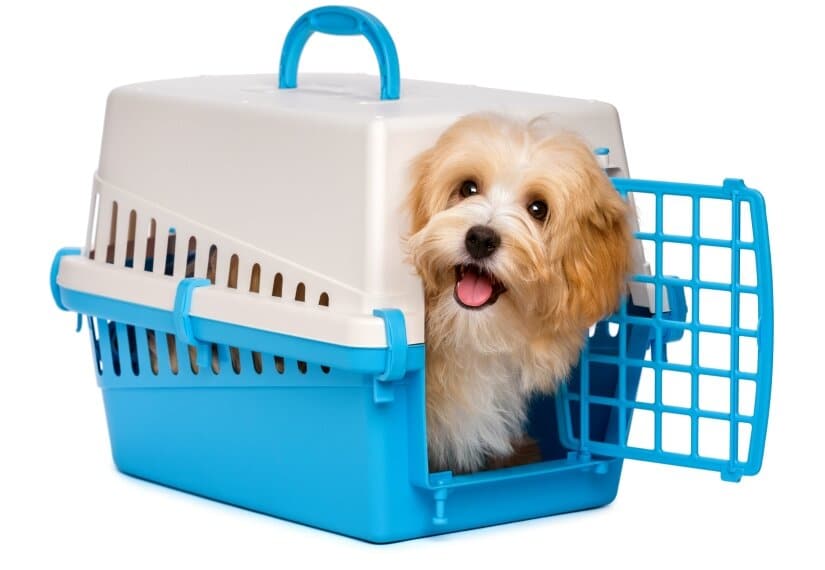 Pet parents enjoy these because they're easy to travel with, and are perfect for a quick trip to the veterinarian. Dogs or cats that need more privacy in their crates do well with this type of crate. These also work for car travel. Plastic structures are popular and are available in different sizes and colors. These are very affordable, and great for car and air travel. The benefits of plastic crates are as follows:
Easy to clean
Good for pups for chew and scratch
Good for dogs that are sound sensitive
Lightweight
Very affordable
Easy to clean
Fast to set up
Difficult to escape from
That said, there is not sufficient airflow in plastic crates to allow for dogs to stay in them for long periods of time. Dogs may also overheat in these types of crates because the ventilation is not as good as those in metal crates. They also don't fold flat, and may take up more room when stored away. Dogs also cannot see much when inside these crates because of the solid plastic walls.
Metal/Wire Frame Dog Crates
These are good for inside the home, and are also most times easy-to set up. Dogs enjoy having a special dog zone, and because of the high-visibility most dogs really enjoy using a metal casing with open doors as their private spot. These can be modified in many ways with the use of dividers to adjust sizing. Opt for wire frame models that have secure latches, rounded edges, and plenty of ventilation. The benefits of metal crates are as follows:
Easy to set up
Portable
Durable
Affordable
Great for both indoor and outdoor use
As with any heavy metal product, rust may be a problem. If your crate is kept indoors, you can cover it with a blanket so that your dog can have a den. Make sure that there is always enough air flow, and that crate doors stay open for adult dogs that just need a private spot away from other animals and children.
Soft-Sided Dog Crates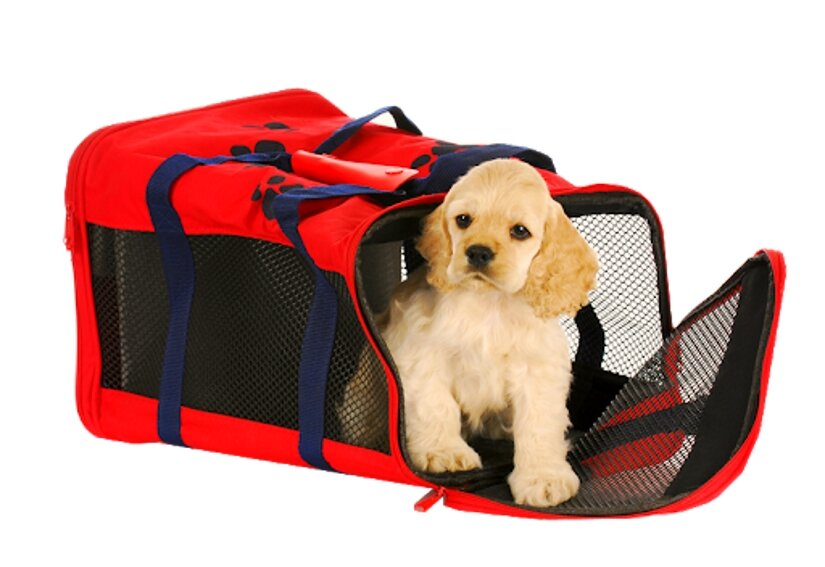 These always look good inside the home or when traveling with pets. The advantage of using a soft-sided crate is that it works for both dogs and cats. These also work under desks or in a private spot within your home. It's important to always consider your dog's comfort and to add additional bed mats or blankets to keep your dog comfortable. The benefits of soft-sided crates are as follows:
Good for dogs that are calm
Great for traveling
Most have washable covers, breathable fabric and foldable frames
Have a more "snug" feel for dogs that enjoy their privacy
Heavy Duty Dog Crates
These are made from heavy duty steel, and not from a wire mesh material. The heavy duty crate is not as popular, and the thick steel slats are uninviting. They may also trigger separation anxiety and fear. That said, they work on large breeds that are determined to escape from their crates. Once again, the key here is to opt for crates that are resistant to corrosion. These are not meant to be used for outdoor housing, and dogs should not be in these for any number of hours.
Furniture Crates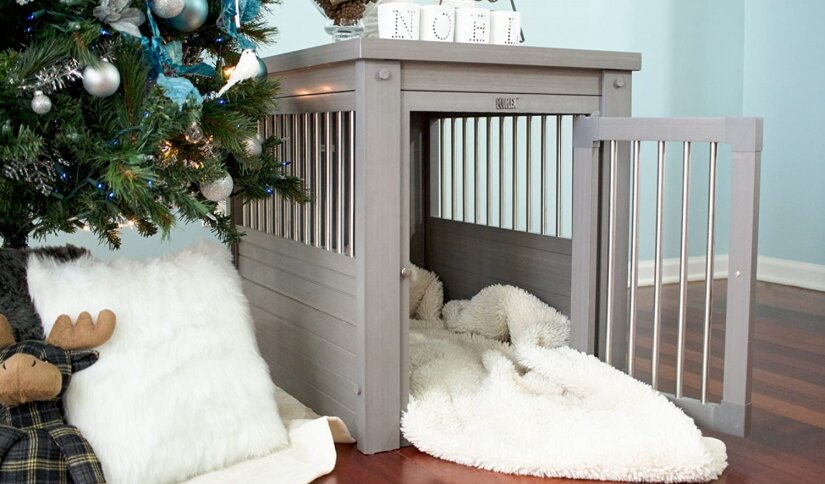 These are trendy, and are geared toward the fashion conscious homeowner. They're popular, and are available in numerous styles with the most popular being a cabinet or end table design. These look like furniture additions, and offer your furry best friend a safe space within the home. Look for some with mixed materials that offer comfort and safety. These should not be used for long periods of time since ventilation is not as good. The benefits of soft-sided cages are as follows:
Good for dogs that need a safe space and enjoy a more secure spot
Great for the fashion conscious pet parent that don't mind if their dogs scratch
Puppy Training and Housetraining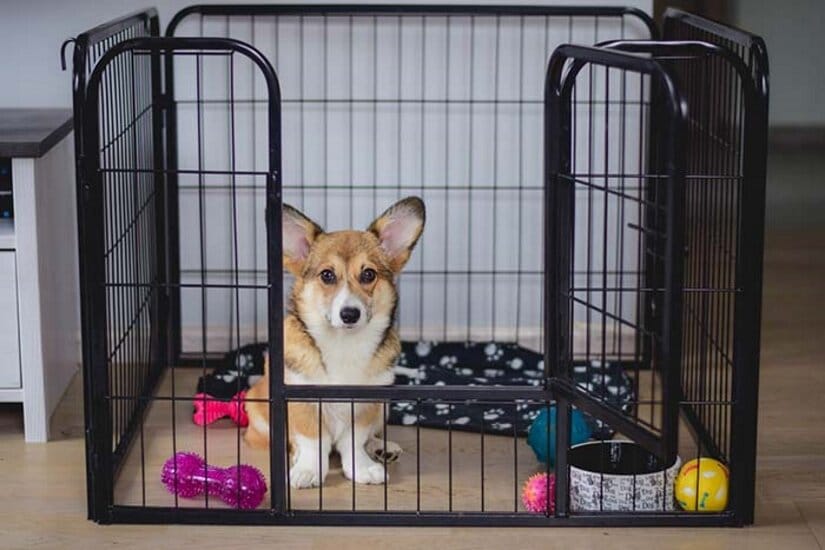 Use your crate to help with puppy training and housetraining. If you confine your puppy for short periods in his crate, he'll learn to eliminate right after he's released and go to his potty spot. Puppies don't like messing up their crates or sleeping areas.
Don't allow yourself to become lazy with housetraining. As your puppy grows older, it will become harder to break bad habits. Dogs that are not housebroken are often those that end up in shelters. Take the time to teach your puppy house rules from the beginning. It is one of the kindest things you can do! Positive training eliminates stressful situations in both your dog's life and yours.
Safety Tips for Dog Crate Use
Cages should only be used as a quiet spot for your dogs to relax in. These should never be used as a negative dog training correction or as a time out. Make sure to always exercise your dogs before crating. Your fido should also go potty beforehand, and should have a water bowl inside with a crate mat, blanket and a few toys. If you're going out to work, you'll need to hire a pet sitter to come walk your dog a few times a day.
Temperature Controlled Area
Cages should only be used in temperature controlled areas to prevent your furry best friend from getting too cold or overheating. When dogs are in a confined area like in a cage they cannot move to a more comfortable area. Make sure to place your structure in a draft free, and temperature controlled area in your home. Be sure to never leave your dog's space outdoors in warm or cold temperatures. There are numerous temperature fluctuations throughout the day, and you may not be at home to bring your dog indoors.
Collar/Harness Free Dogs
Several crate brands may snag collars or harnesses. Although they are designed not to do so, accidents do happen. To prevent this, always remove your dog collars and harnesses before crating your furry best friend.
Check Your Dog Crate Regularly for Damage
As with all products, time may result with a ragged edge or loose safety latch. To help protect your fido from injury, check your kennel while cleaning to make sure that there are no sharp edges or damaged pieces that may injure your furry best friend.
Dog Toys
Pet toys are also a perk, and a few can be placed inside with a water bowl. Once again, cage doors do not need to be closed if you have a trained adult dog that's well-behaved. Your fido will go to his crate and hang out inside the crate when he wants to. That said, if you're training a puppy that is a destructive chewer, opt for a durable metal structure. It's also advisable to remove collars and harnesses from dogs before allowing dogs to be left alone in their crate. These do pose a big strangulation risk.
Puppies do well during house training spending nights in their crates. They'll soon learn to enjoy them at night. If you're planning on traveling with your pet, crates are good to bring along. You can leave your dog for a short amount of time in his crate in the hotel room to keep him safe and secure. It will also help to eliminate the chance of him destroying the hotel room if he's going through puppyhood. That said, you can also ask the hotel staff if they have a dog sitting service.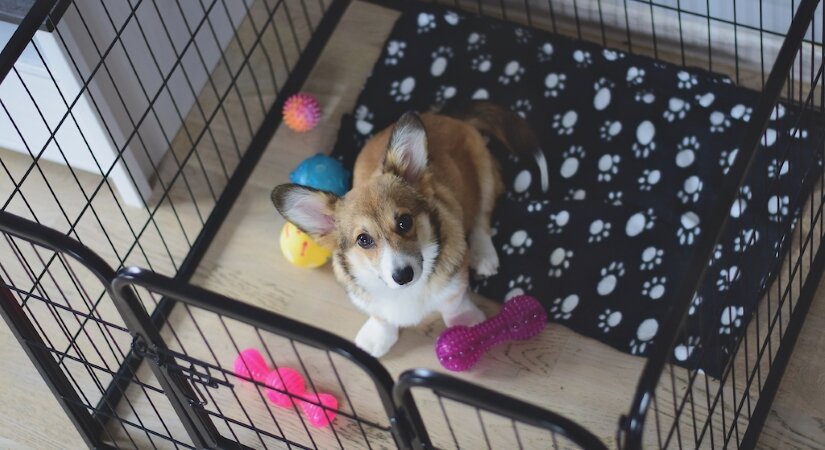 As with anything, be careful not to over use the crate. Although it's great for puppy training and is a good training tool, there are numerous rules to keep in mind when using a cage. These rules are:
Crates should never be used for punishment
Brief periods of time are fine, but this is not where any dog or cat should live
Never isolate your dog
Make sure that the crate is in a cool and well-ventilated part of your home
Do not leave your puppy or dog in a crate in a hot car or outdoors during the summer
The same applies to winter time or during the rainy season. Your pets deserve a loving home, with the same comforts that you have which include a cool, comfortable and safe place to live
All pets need to walk about and run about freely. They need to have regular exercise, and plenty of social interaction with other pets and people each and every day. This is important during both the puppy and adult stage.
Your fido must never feel threatened when going into his crate or you'll end up creating numerous other behavioral problems like separation anxiety and fearfulness. Before using a crate during puppyhood, you'll need to take your puppy to go potty first. If your puppy or adult dog has diarrhea, you'll need to take your dog outdoors first, and to keep an eye on him. This applies to vomiting too. If you've not taken your puppy or adult dog for a walk to go potty, it's necessary to do so first before using a crate. Never allow children to play with dogs in their crates. The crate is your dog's private getaway. Because accidents do happen in crates, never punish your puppy or dog if he's had a potty mishap. These things do happen, but you'll first need to develop a potty routine, so that your puppy goes potty before going to her crate.
Living with your dog is one of life's greatest pleasures! We love our dogs, and will do anything to make them safe, secure and happy. If you plan on using a casing in your home, take the time to learn about your crate, and how to positively train your puppy. Make sure that you focus on how your puppy responds to his or her new crate, and if you're having issues, consult with your veterinarian or positive dog trainer for the best advice.
F

requently

A

sked

Q

uestions
How do I keep my dog calm in the crate?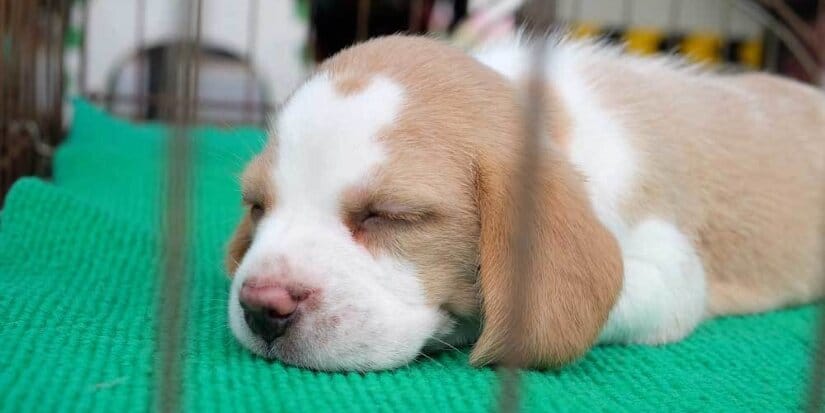 Never force your dog to get into the crate. There are special positive crate training methods that are used. Consult with your veterinarian and positive dog trainer for the best advice.
Best place for a dog crate
The best place to place your cage is somewhere in the house where your dog will be close to family, and not isolated. He should never feel that he's being punished or isolated when being crated. This "dog zone" where your dog or puppy crate will be, needs to be in a space that your dog will feel secure, and also a space that is his own where he feels comfortable and safe. There must be good ventilation in the room, and enough sunlight coming in through windows.
Think of the crate space as your furry best friend's private dog space where he can hang out. Place a comfortable dog couch nearby. The crate can be nearby, so that if he feels like going in, he can. The crate can be covered with a blanket to make it feel like a den. Remember to place a comfortable pad inside the crate, and to have a few chew toys available for him to play with as well.
How long is too long to leave a dog in a dog crate?
Dogs need to go potty every four hours, so it's best never to crate longer than that. If you need to be out for a longer period, ask a friend or pet sitter to walk your dog. It is wrong to leave your dog prisoned all day or for longer than 2 hours.
Crate training is necessary beginning with small increments of 5 to 10 minutes when starting off, and always rewarding with a treat. Dogs need to walk around and stretch their muscles. They need to be socialized and be around other people and pets. They also do well with plenty of outdoor exercise like long hikes, swimming, and dog sports. Keep in mind that a tired dog that is well-exercised will have less behavioral problems than a dog that is not exercised or that lacks socialization.
What is the best crate for a dog with separation anxiety?
Opt for cages that are plastic, and that are durable for dogs that suffer from separation anxiety. The plastic should be a premium material with side vents made from metal. Doors should be reinforced steel wire. Consult with your veterinarian for treatment. Separation anxiety is hard for a dog to keep experiencing. A positive dog trainer will also be able to help. Separation anxiety never just goes away, unless it's addressed immediately and worked through with a trainer.
Should you leave water in your dog's crate?
Yes, you should always leave water in your dog's crate. He or she may get thirsty while you're out. Dogs get dehydrated like people, and need to drink lots of water. You'll need to walk your dog as soon as you get back from running errands, and take him to go potty.
How do you keep a dog happy in a crate?
Make sure that you've placed a comfortable dog mat and blanket in your cage. You can also add a t-shirt or some socks with your scent to help him relax. Add some chew toys, and make sure that your crate is in a good area of the house that is stress-free, but not isolated. Never leave your cage near loud or unsupervised children. Do not put your crate in the garage or basement. These places get way too hot in the summer, and way too cold during the winter months. You can play some DOG TV for your dog or some classical music to help your dog relax. Music should never be too loud or your dog will feel stressed out.
Should I cover my puppy's crate at night?
Yes, you can cover the top half with a light blanket to make it feel more like a den. This will help your pup sleep through the night. He'll feel more comfortable and safe. Keeping a clock nearby will also help your puppy sleep. The ticking noise is like a heartbeat, and will help him to relax.
Make sure that the crate is not in an area that is too cold or too hot. The room temperature has to be comfortable, and your puppy needs to be able to see what's going on around him. He should always be near people, and should always feel safe and loved.
Should you put toys in a dog crate at night?
Yes, you can leave one or two soft chew toys in the crate if you like. The toys should never be hard. Instead opt for soft rope toys that are gentle to chew on.
Should you put a blanket over a puppy crate?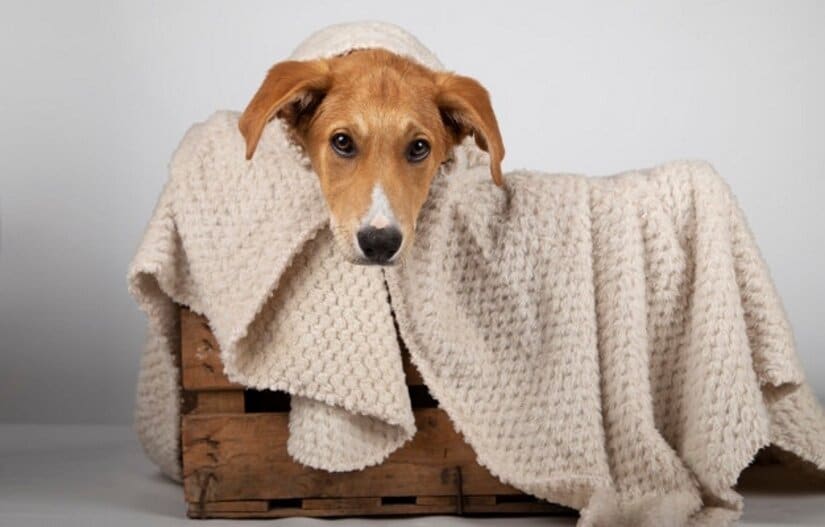 Most puppies and dogs prefer having a light blanket over the top part of the crate. This helps to create a safe space where your puppy can relax. That said, be sure to leave the front part of the crate free of any covering, so that there is enough ventilation. You don't want your puppy to feel trapped, or to become overheated.
Can you move a dog crate from room to room?
Yes, but be sure that the room is not isolated, and far from people. Your dog needs to feel loved, and needs to see and hear people, and other pets in the home.
Can my dog sleep out of her crate without ruining her crate training?
Yes, your dog can sleep out of her crate when she feels like it. Leave the door to the crate open at all times, so that she has the option of going in or leaving when she wants to.
Crate training a new puppy when the other dog is not crate trained
You can work together with a positive dog trainer when teaching a new puppy crate training. Consult with your veterinarian if you have issues, so that you can be sure that your puppy or adult dog has no medical conditions that may result in behavioral problems. If you have two dogs that need crate training, it may be easier to get two crates, and to work with your trainer.
My crate trained dog now avoids crate
Consult with your positive dog trainer about how to crate train effectively, and in a positive manner. It should always start off with small increments of time like 5 to 10 minutes and rewarded with a treat. If you've punished your dog and then put him in his crate, you'll find that he'll avoid the crate. Never use the crate as a form of punishment or time out. Having a too small crate or a crate time that's too long will affect how your dog behaves around his crate.
How to crate train an adult dog?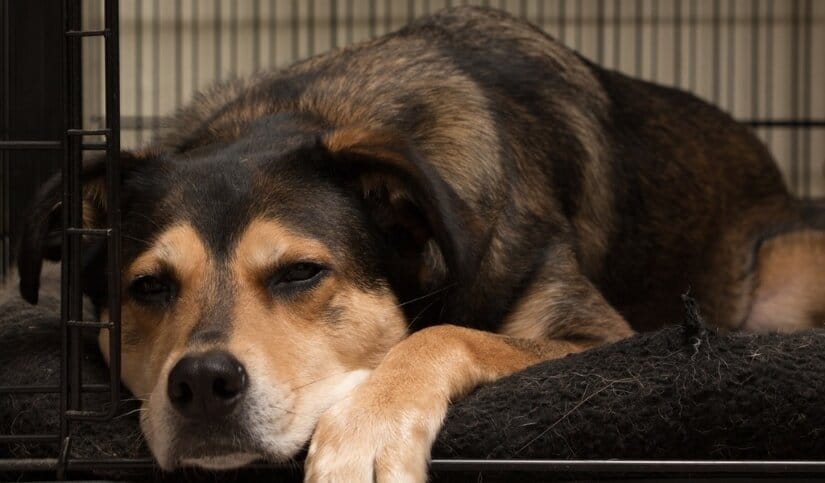 As usual, you'll need to get the best advice possible, and that will usually come from a positive dog trainer or your veterinarian. All dogs should never be crated for over 2 hours. After crating your dog should be taken for a long walk to exercise and move his muscles. He should also go potty outdoors.
What is the best bedding for a dog crate?
Look for a soft and comfortable mat or pad that fits your dog's structure. You can also use a dog bed that fits inside your structure. Opting for a larger case so that you can make it as comfortable as possible with a dog bed, dog toys, and water bowl is important. Some crates will have a metal or plastic bottom, and are uncomfortable if not fitted with either a crate pad or dog bed. Look for a soft and supportive platform for your furry best friend.
Is it cruel to crate a dog at night?
If your dog is used to being crated at night, or if he prefers it, then it's fine. Otherwise, it's more practical to leave the crate door open at all times so that your dog is never restricted. Dogs should have the freedom to move around, and choose where they want to sleep at night. On the other hand, if you have a puppy that is wide awake at night and chews everything up, it's best to consult with a positive dog trainer about how to crate train your puppy in a positive way.
Is it cruel to create a dog while at work?
Yes, it is unless you have a dog walker or good friend come by a few times a day to walk your dog and to take him potty. It's extremely important to start with positive puppy training with your puppy and to work with a positive dog trainer, so that your dog will know how to behave, and understands what you are asking him.
Without positive dog training, your dog may be difficult to control by being hyperactive or by jumping up on people. Dogs should never be left alone in their crate all day while you're at work. Try enrolling in a doggie daycare, so that your dog can play with other dogs and exercise while you're at work.
A dog that is alone all day may become withdrawn and depressed. A dog that is around other dogs, and is having fun will be tired and happy when he comes home. As usual, make sure that the doggie daycare has good reviews! Today, it's necessary to do as much research as possible to make sure that you're leaving your furry best friend in good hands. You'll want to know that he's in a safe and kind environment where he's treated well, and given plenty of indoor activity too when it's too hot to be outdoors. The same applies when the weather is too cold, and your dog should not be outdoors.