The Yorkshire Terrier was initially bred in the UK during the late 1800s to limit the rat population in cotton mills and mines throughout the Yorkshire and Lancashire areas in the UK. The Yorkie was popular amongst the working class, most especially the weavers themselves. The Yorkie belongs to the AKC Toy Group and is an assertive and courageous breed that enjoys the company of people and other pets.




Companion Dogs,
Toy Group
Brief History
The Yorkshire Terrier then became a trending lapdog for the English socialites during the latter part of the Victorian age. The feisty Yorkshire Terrier was created by Scottish weavers who migrated to the English north country and brought their Scottish Terriers.
The Yorkshire Terrier was initially called a broken-haired Scotch Terrier and then renamed the Yorkshire Terrier in 1870. This breed comprises the Waterside Terrier, rough-coated English Terrier, Old English Black and –Tan Terrier, Paisley Terrier, and the Clydesdale Terrier. Numerous Yorkies had jobs in the coal mines as exterminators. Yorkies first arrived in the US in the 1870s and were recorded in the AKC in 1885.
Physical Description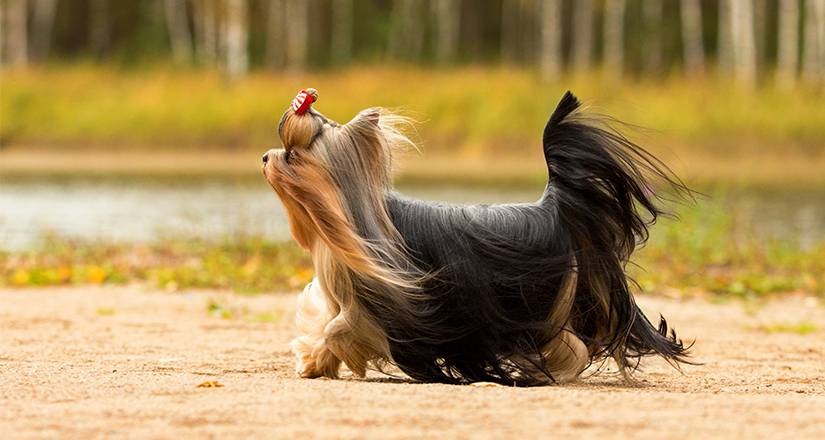 Although small, the Yorkshire Terrier is not a sickly dog breed. Small, determined, and loyal, the Yorkshire Terrier is a well-balanced dog with square proportions and a superb head carriage. The Yorkie carries his head high and has a small and flat skull with a tapered muzzle.
The Yorkie portrays confidence and superiority towards other breeds, but with his naturally erect V-shaped small ears, this breed is genuinely dignified in stance and movement. With a long silky coat that is parted down the center of the back, if not clipped, the Yorkie gives the impression of vigor and extreme self-importance, scaring even the largest of dog breeds. Today's Yorkies do well being clipped. Yorkshire pups are born black and tan, and by age two develop their adult coloring of steel and blue.
Temperament
The demanding Yorkie is a true terrier breed. Although small, this breed is tenacious, brave, loyal, and fun to be around. The Yorkshire Terrier has a positive attitude and is always keen to travel. The American Kennel Club (AKC) adds that "Yorkies love their owners, and are very intelligent and eager to please. Offering effusive praise and treats for good behavior will work far better with the Yorkie than harsh corrections. Starting from an early age, the Yorkie should be socialized to strange situations, people, and other dogs."
This breed truly enjoys traveling by car, visiting Starbucks, and getting plenty of attention. The Yorkshire Terrier are superb watchdogs, feisty diggers and need to be overseen when out in backyards. This breed loves to dig and escape. Yorkies are terrific best friends but can become needy. The Yorkshire Terrier needs plenty of socialization and positive dog training classes starting at puppyhood.
Special Needs
The Yorkshire Terrier needs supervision around children, as well as with larger dog breeds. The Yorkie needs moderate yet regular exercise every day. This breed is an adaptable dog breed that is good with city living.
Consider regular dental care a priority. The Yorkshire Terrier enjoys being around family and being pampered. Yorkies should not fly in the cargo hold when traveling due to cardiac concerns. Instead, opt for travel with your Yorkie in the passenger cabin! The Yorkshire does well in a calm environment and thrives on consistency in schedule regarding feed times, walks, and outings.
Possible Health Concerns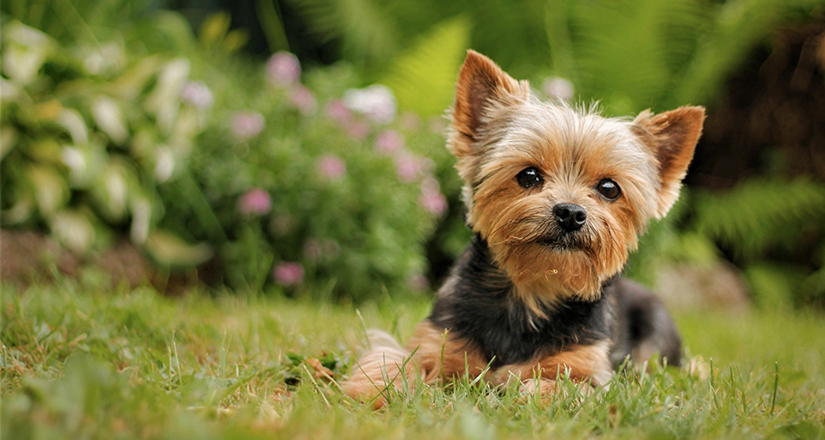 The Yorkshire Terrier is a generally healthy dog breed that may be susceptible to the following:
Dental Problems often occurs in senior Yorkies. So you'll need to consider proper dental care. This should include many preventative methods like brushing your Yorkies teeth every day, which helps prevent gum disease, periodontitis, and endodontic disease, common in this wonderful dog breed.
Hypoglycemia: This breed may be prone to suffering from low blood sugar. It is common in Yorkies under 20 weeks of age but can be corrected with a high-quality diet appropriate to the dog's life stage. Yorkies need to avoid stressful environments and excessive exercise to help prevent hypoglycemia.
Legg-Perthes Disease occurs with deterioration of the top of the femur that is often seen in smaller dog breeds like the Yorkshire Terrier.
Luxating Patellas: This is a hereditary condition caused by the abnormal development of the kneecap(patella). X-rays will help to check for the severity of the displacement. Treatment usually involves surgical options.
Exercise
The Yorkshire Terrier needs moderate exercise with super brief bouts of fast activity like running after a tennis ball. Yorkies should not take part in vigorous exercise. The Yorkie benefits from a few daily walks at a moderate pace.
This breed needs the socialization involved with going to the dog park or out and about the neighborhood. If not exercised sufficiently, the Yorkshire Terrier can become overly cranky and nervous. Yorkies are intelligent and thrive with daily mental stimulation.
Nutrition
As with all dog breeds, a high-quality dog food appropriate for the dog's life stage is always recommended. Yorkshire Terriers can be difficult when it comes down to food and tend to prefer certain foods.
The Yorkie enjoys healthy and well-balanced home-cooked meals. The Yorkshire Terrier tends to enjoy bits of salmon or chicken with steamed veggies and quinoa. It is essential that if fed a commercial high–quality dog food diet, it is appropriate for its age, health, and activity level.
Grooming
The Yorkshire Terrier has a beautiful coat that needs to be maintained daily. The Yorkie is a low-allergen dog breed. The coat needs to be groomed every day, sometimes even twice a day if not clipped. Yorkies suffer from sensitive eyes, and the hair close to the eyes needs to be tied up, away from the eyes or trimmed. This demanding breed should be regularly bathed and enjoys lots of TLC.
Adopting a Yorkshire Terrier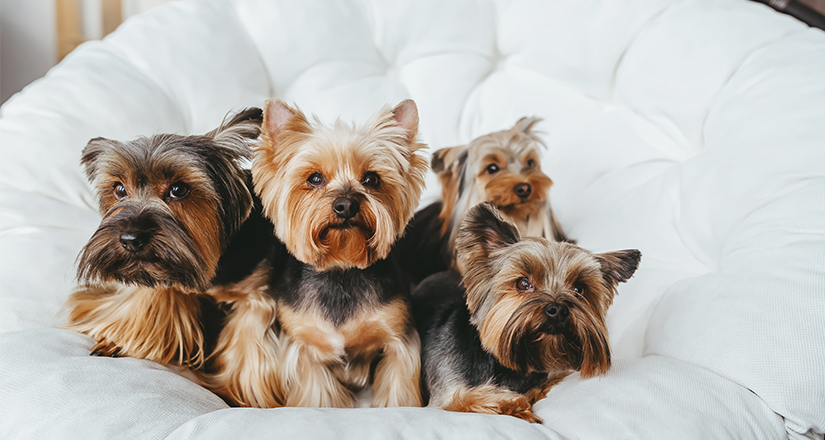 The Yorkshire Terrier is a trendy dog breed. That said, be sure to be prepared when bringing your adopted Yorkie home. For all their talents, the Yorkie does not excel at being left home alone. With their scrappy, affectionate personalities, they are more likely to try and escape out the front door or by the backyard if left alone for long periods, most especially during the first few months after being adopted.
This breed adapts quickly to new home environments but needs a calm atmosphere and plenty of attention. Finding a Yorkshire Terrier for you and your family requires patience and time. Keeping your Yorkie happy and healthy must be a priority. This mischievous breed that is curious by nature and incredibly fun to have around deserves the very best!
Yorkshire Terrier Breeders in the USA
Breeders in Canada