Many cat owners are either not familiar with what a cat brush is or do not know which one to buy. Are you one of those people too? If yes, read this piece as it talks about everything you need to know about the best cat brush you can get in 2023. It will give you a fair idea of the essential considerations you need to keep in mind to choose the right deshedding product for your furry friends among other important aspects.
Three of the Best Cat Brushes 2023
While there are plenty of brands that manufacture cat brushes, it would be best to only choose renowned ones. Here is a list of three highly recommended cat brushes for 2023.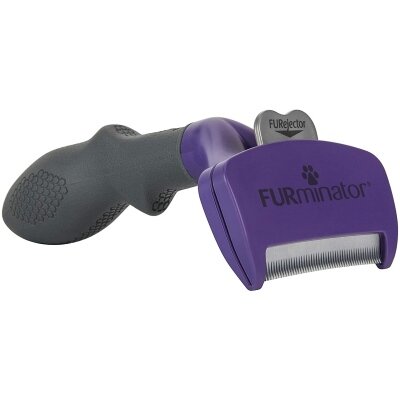 Our Choice
FURminator for Cats
Our top recommendation, FURminator for cats is one of the best deshedding tools you will find in online and offline stores. What's most impressive about this product is that this product's shedding blade brush is suitable for every fur length. This handheld brush is easy to you and does not cause any discomfort while shedding.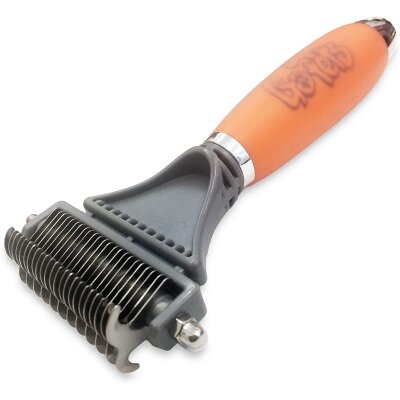 Best Overall
Go Pets Dematting
The Go Pets Dematting comb is arguably the best overall grooming rake for cats. This shedding blade brush is made of stainless steel, and is incredibly durable. One of the best things about this handheld brush is that you can use it as a deshedding comb as well as a brush, an option that very few products offer.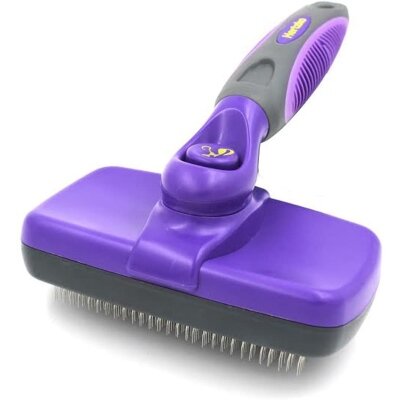 Best Value
Hertzko Brush
If you are on a budget and looking for a high quality brush for your cat, few products will be as good as the Herzko slicker brush. This self-cleaning brush is suitable for all fur lengths. Its anti-slip handle makes for a solid grip, making sure you can deshed your cat without worrying about dropping the brush.
Comparison Table
This table will list the best cat brush variety you can choose this year. Each product is different and has something completely unique to offer. The table will discuss four essential characteristics of a cat brush, which are brush style, material, brush type, and fur length. So without further ado, let us begin.
| PRODUCT | | RATING | PRICE | FUR LENGTH | TYPE | MATERIAL | STYLE |
| --- | --- | --- | --- | --- | --- | --- | --- |
| FURminator | Our Choice | 9.7 | High price | All | Shedding blade | Stainless steel | Handheld |
| GoPets Dematting Comb | Best Overall | 9.3 | Average price | All | Shedding blade | Stainless steel | Handheld |
| Hertzko Brush | Best Value | 9.2 | Average price | All | Slicker brush | Metal | Handheld |
| HDP Cat Zoom Groom | | 9.0 | Low price | All | Silicon brush | Silicon | Handheld |
| HandsOn Grooming Gloves | | 8.9 | High price | Short to medium | Silicon brush | Silicon, nylon | Glove |
| Safari Slicker Brush | | 8.5 | Low price | All | Slicker brush | Stainless steel | Handheld |
| Pet Neat Grooming Brush | | 8.4 | Low price | All | Shedding blade | Stainless steel | Handheld |
| Safari Comb for Cats | | 8.0 | Low price | All | Shedding blade | Stainless steel | Handheld |
Reviews
You must be wondering about what the products recommended in this list have to offer. If yes, continue reading, as here is a brief yet succinct lowdown of each of the top cat brush picks recommended in this piece.
---
---
Buying Guide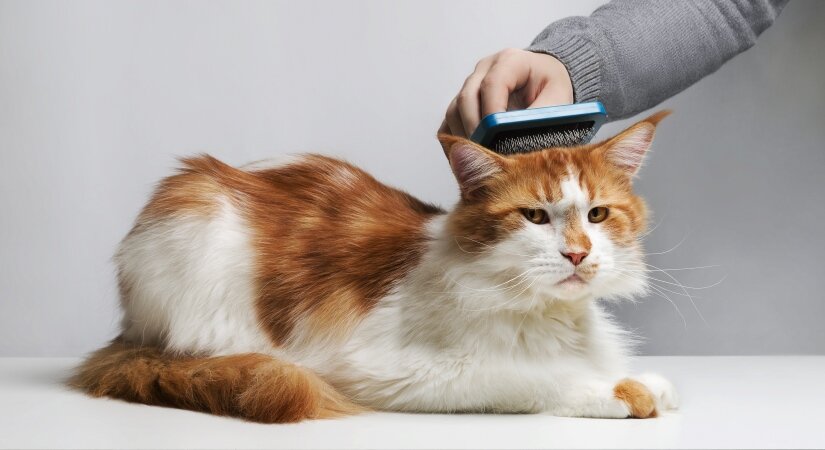 Are you buying a cat brush for the first time? Choosing this product can be quite difficult due to the large variety available in online and offline stores. However, choosing the right cat brush does not have to be an overwhelming experience. With the tips and considerations discussed in this buying guide, choosing the best cat brush will become a walk in the park.
Why Brush Your Cats When They Already Groom Themselves?
Many people wonder whether there is any point to brushing your cats when they already take care of their grooming needs. Well, that is precisely what we will discuss down below.
Reduced Hairballs

While there is no denying that cats and some other pets take care of their grooming, they can always use an extra hand, and that is precisely where a high quality cat brush could come into play. No matter how often your cat grooms itself, it can never reduce the excessive amount of hairballs from its fur. A stainless steel brush with flexible bristles can help reduce, and in some cases, even eliminate this issue.

However, you have to be consistent with your pet's grooming routine if you want it to be free from hairballs for good.

Less fur around the House

The last thing you want is having loads and loads of fur floating around in your house. Not only does it make things messy, it could also cause terrible breathing issues for those with allergies. Therefore, it would be wise to incorporate a cat brush in your pet's grooming routine. Companies especially manufacture these brushes to remove loose hair, making sure your pet's coat looks shiny and soft for weeks.

More importantly, brushing your cat regularly will significantly minimize fur around your house, ensuring you do not have to spend hour-long cleaning sessions.

Prevent Matting

Matting can be quite troublesome for pet owners. Sometimes, the best way of taking care of tangled and matted fur is to prevent them before it gets worse. Fortunately, there is a simple way to eliminate this issue, and that is by using a high quality cat brush. It would be best if you use a brush with a firm grip and soft bristles as it will prevent breakage a problem that many pet owners tend to face while grooming their cats.

No matter how much your cat grooms itself, it cannot prevent matting. Therefore, adding a daily combing routine could prove to be quite beneficial.

Keep your Cat Extra Fresh

Want to make your cat look fresh for weeks? Try using a high quality cat brush. Once again, this product proves to be instrumental because of its ability to eliminate loose and detangled hair. Once again, adding a combing session every day could do you and your cat a huge favor. What's most impressive about using a cat brush for your pet's grooming session is that using it is quite easy.

All you need to do is use it like a regular comb and gently stroke it across your pet's fur. This is significantly better than the self-grooming most cats tend to do. It saves time, and will soften your pet's coat like nothing else could.

Inspection Time

Let's be honest, cats cannot inspect themselves as thoroughly as we can. No matter how much your cat loves grooming itself, it can't get rid of every tick and flee on its fur. This is where a cat brush will prove to be handy. Using this tool, pet owners can inspect their cat thoroughly, making sure that it is free from dirt, ticks, flees, lice etc.

Consider using long strokes when brushing your cat, to clear its fur, leaving it looking shiny and spot free for days. You can also use a cat brush after each shower, as it is the best time to remove unwanted items from your pet's coat.

It's a Massage

Pets love massages, and what better way to give your cat a long, comfortable massage than by using a pet brush. Sure, you can also use your bare hands for a massage but there are specialized brushes that can give your pet a long rubdown for extra comfort. That said, you can also use traditional cat brushes for petting your furry friend. Just make sure the strokes are long and gentle instead of short and rough.

It is a great way to relax your cat and may even be effective for getting it to sleep. Needless to say, using a cat brush is a significantly better option than relying on your pet's self grooming skills.
Types of Cat Brushes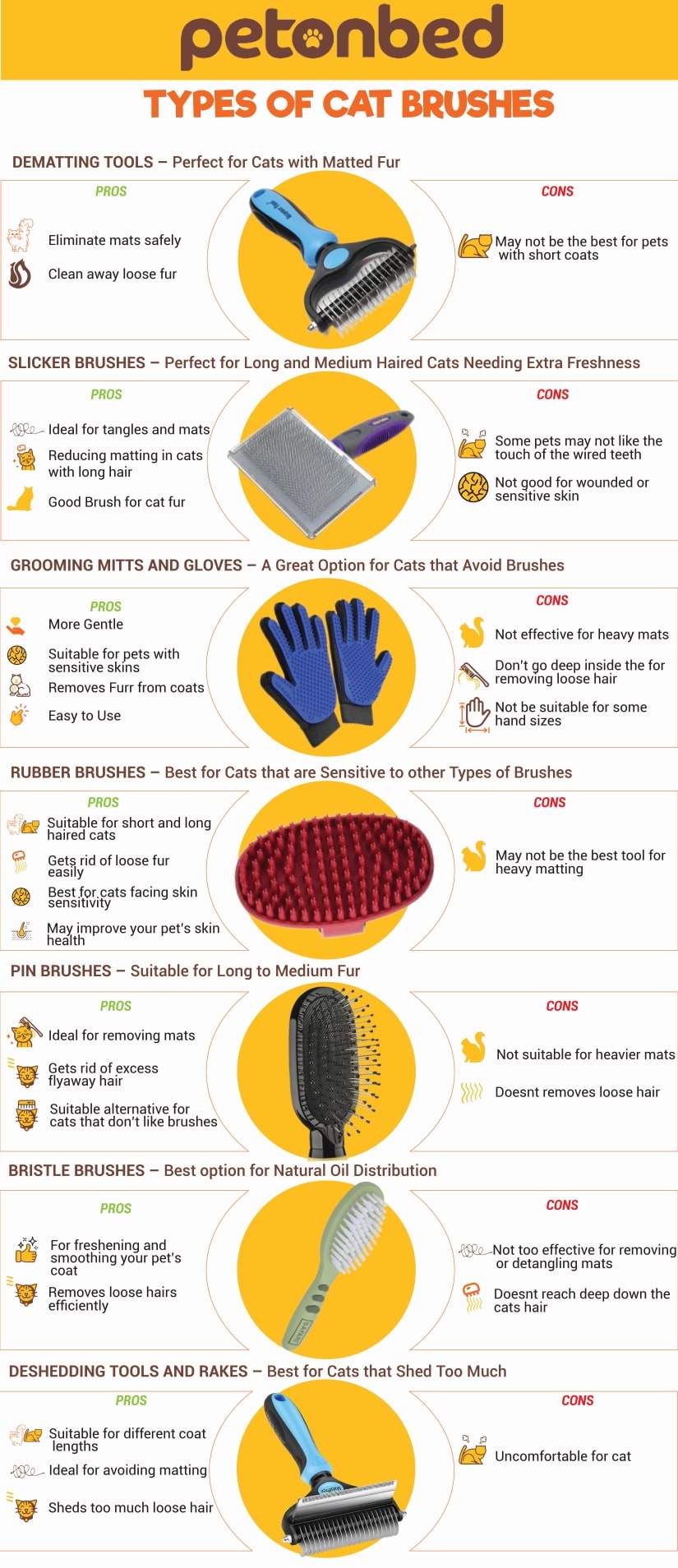 As mentioned abundantly in this piece, there are different types of cat brushes available in the market. Let us discuss some common brushes pet owners tend to rely on for grooming their pets
Dematting Tools – Perfect for Cats with Matted Fur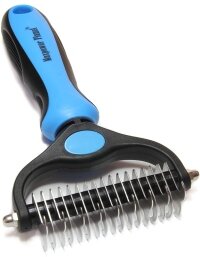 Do you have a cat with long hair? If yes, go for a dematting tool. These brushes and combs have sharp yet safe blades that are perfect for cutting through mats, letting pet owners remove each matted area on their cat without damaging or ripping its coat. What's more, you will come across a large variety of dematting tools as they are available in different sizes and designs.
However, their main purpose never changes. They help cut and detangle through your pet's mats, keeping its coat smooth and healthy. In most cases, dematting tools tend to have right-angled blades, allowing you to give your dog a professional level grooming session. It is also worth noting that no matter which dematting tool you choose, make sure its grip is comfortable and smooth.
Some handles cause a lot of sweating and tend to slip during the grooming session. This could be quite uncomfortable for your pet and may even damage its fur.
Pros
Dematting tools let users eliminate mats safely without using sharp razors
You may also use dematting tools to maintain and clean your pet's coat, only by cleaning away loose fur
Cons
This cat brush may not be suitable for cats with short fur
Slicker Brushes – Perfect for Long and Medium Haired Cats Needing Extra Freshness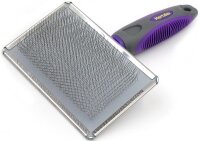 Slicker brushes are quite different from traditional cat brushes. They have thin-wired teeth located on various angles for grooming your cat thoroughly without damaging its skin. What's most impressive about these wires is that you can run them through your four legged friend's fur, removing dander, dirt, loose fur etc while freshening and smoothing their coat's overall appearance. Slicker brushes can also come in quite handy for detangling and clearing loose mats.
This type of cat brush can especially come in handy for pet owners with curly, medium and long haired cats. Slicker brushes are also available in different varieties. Therefore, it would be best to select one that is compatible with your dog's size. The handle, in particular, is an essential consideration that many pet owners tend to ignore. Make sure the handle is long enough so that holding it during the grooming session is not an issue.
Consider using light and gentle strokes when using the slicker brush on your cat. The tightly-spaced and fine wires could cause some discomfort for your dog if you apply too much pressure.
Pros
Slicker brushes can clear away loose mats and detangle fur with ease
This brush is an excellent option for steering reducing matting in cats with long hair
The thing teeth on slicker brushes are quite effective for combing through cat fur for detailed brushing
Cons
Some pets may not like the touch of the wired teeth
The slicker brush may not be the best option for pets with wounded or sensitive skin
Grooming Mitts and Gloves – A Great Option for Cats that Avoid Brushes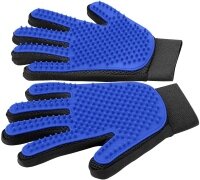 You'd be surprised to learn that plenty of cats hate when their owners groom them with a cat brush no matter how comfortable it is. If they do not like brushes, they will claw and scratch you in every opportunity they get. Luckily, there is a great way to groom your cat without ever using a brush, and that is, using grooming gloves and mitts.
As their name implies, grooming gloves and mitts can be worn simply by slipping them onto your hands like regular gloves. The palm area of this unique product consists of rubber nubs, which come in quite handy when massaging or grooming your cat. One of the best things about these products is that it can remove loose fur quite easily, freshening your cat's coat, while providing it a soothing massage.
It is a great way to minimize, and in some cases, even eliminate loose hair to make your pet's coat shine for days. That said, this product might not be a suitable option for pets with serious matting problems. However, it still offers pet owners with an efficient way to maintain their cat's coat regularly without scaring them away.
Pros
The rubber material is more gentle than traditional cat brushes
Suitable for pets with sensitive skins
You can also use this product besides grooming your pets. It can be useful for removing fur from your clothing
Using rubber gloves and mitts is quite easy
A suitable alternative for cats that don't like brushes
Cons
May not be effective for heavy mats
Mitts and rubber gloves don't go deep inside the for removing loose hair
Most rubber gloves only come in a single sizes, which means that they may not be suitable for some hand sizes
Rubber Brushes – Best for Cats that are Sensitive to other Types of Brushes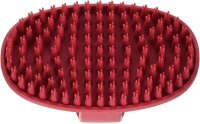 Rubber brushes are arguably the most common grooming tool used by pet lovers. This product is quite similar to brushes with wide teeth in the sense that it helps you remove fur and detangle your pet's coat. The teeth on this brush are also made out of rubber and make for an excellent massager. All you need to do is stroke a rubber cat brush across your furry friend, and it will significantly improve skin health and blood circulation.
What's more, rubber brushes are quite gentle and soft, which is a great option for pets with skin sensitivity issues. If your pet has a hard time tolerating traditional grooming brushes, opting for a rubber brush will prove to be a viable alternative. Additionally, rubber brushes are surprisingly durable and do not break that easily. As long as you use this product with a gentle hand, it could last long for years, ensuring you don't have to buy another grooming product.
Pros
Suitable for short and long haired cats
Rubber brushes can help you get rid of loose fur easily
Improves blood circulation
Gentle and soft rubber brushes are the best option for cats facing skin sensitivity
May improve your pet's skin health
Cons
Rubber brushes may not be the best tool for heavy matting
Pin Brushes – Suitable for Long to Medium Fur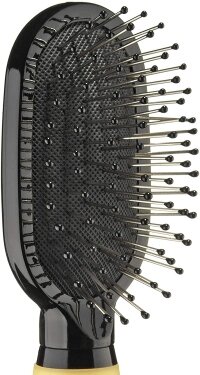 A pin brush bears a lot of resemblance to the traditional brushes we use every day. These oval-shaped brushes have a flexible set of loosely arranged wires with pointy pins. Many pet owners rely on pin brushes because of their ability to pick up and remove loose hair. This type of brush especially comes in handy for people who do not want the excess fur messing up their carpet.
It would be fair to say that a pin brush isn't necessarily the best cat grooming tool, but it still has its place. You can use it as a post-grooming product to remove extra hair, giving your cat a well-brushed appearance. Some pet owners use pin brushes to remove flees and lice. Since this tool has pointy pins, it can enter deep inside your pet's coat, giving it a thorough comb. It is a significantly better option than using your bare hands to remove dirt.
If your cat or dog suffers from a skin infection, there is a high chance that it has fleas. Fortunately, you can easily get rid of this problem by using a high quality pin brush in its daily grooming routine.
Pros
Ideal for removing mats
Best for getting rid of excess flyaway hair
Suitable for cats that don't like other types of brushes
Cons
Pin Brushes are not suitable for heavier mats
Removing loose hair with a pin brush can be difficult
Bristle Brushes – Best option for Natural Oil Distribution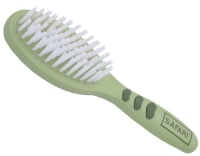 As the name implies, bristle brushes have synthetic or soft natural bristles, perfect for beautifying your cat by removing loose fur. What's most impressive about bristle brushes is that they are great for spreading your pet's natural oil across its fur, making it look incredibly smooth.
If you prefer grooming your pet every day, choosing a bristle brush would be a great idea, as it can prove to be useful after grooming sessions as well. In most cases, bristle brushes come paired with double sided or pin brushes, providing users with a complete kit for pet grooming. Smooth coated and shorthaired dogs will especially benefit from bristle brushes because of the close proximity of their natural bristles. You can utilize this for stimulating the skin and removing loose hair.
Besides being an excellent grooming tool for cats, this brush can also come in handy for various dog breeds like Boston Terriers, Jack Russell Terriers, Italian Greyhounds, Pugs etc.
Pros
Perfect for freshening and smoothing your pet's coat
This brush can removes loose hairs efficiently
Cons
Bristle brushes are not too effective for removing or detangling mats
Reaching deep into your cat's cat may prove to be difficult with a bristle brush
Deshedding Tools and Rakes – Best for Cats that Shed Too Much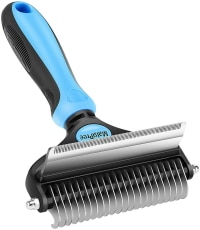 If you are a pet owner, you will be well aware that cats tend to shed every season no matter how strong or lustrous their fur is. This is especially true for pets that mostly live in temperature-controlled areas. Does your cat leave an excessive amount of fur on your carpet? If yes, choosing a deshedding tool would be a great idea.
Also referred to us undercoat rakes, deshedding tools contain thin metal-based teeth capable of reaching deep inside your pet's coat for removing loose hair trapped beneath its fur's topmost layer. It is an excellent way to steer clear from matting and controlling your pet's seasonal shedding. That said, using deshedding tools and rakes may not be ideal for some cats, especially those with infections and skin problems.
Pros
Suitable for different coat lengths
Ideal for avoiding matting
A great product for pets that shed too much
Cons
Some cats find deshedding tools to be too uncomfortable and may even scratch or claw you because of the irritation
Choosing the Best Brush for Your Cat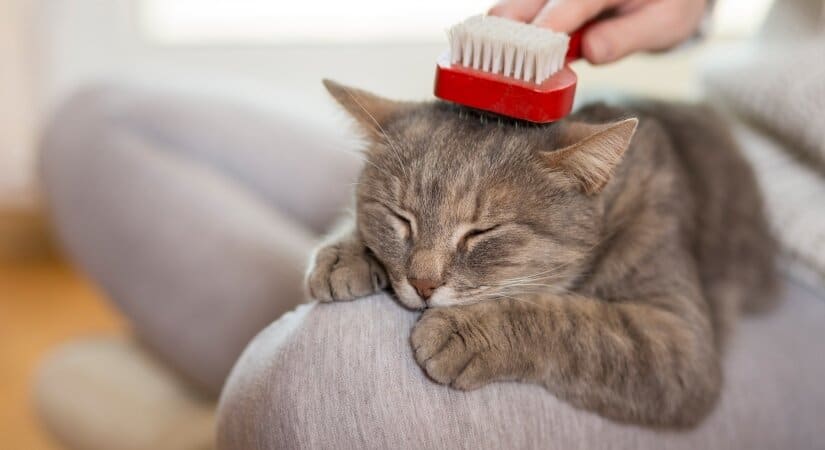 With such a high variety of cat brushes available these days, choosing them can get a bit difficult. However, with the considerations mentioned below, choosing the best cat brush will become quite easy.
Your Cat's Hair
As you would expect, every cat has a different hair type. Some have thick furs, while others have thinner coats. Their sizes may also vary, which is why choosing keeping your cat's hair in mind is arguably the most important consideration. If your cat has medium to long hair, then choosing a pin brush may be the best option.
As discussed earlier, pin brushes are quite versatile and can comb through different fur sizes without irritating your pet. You can also opt for bristle based brushes if you want equal natural oil distribution on your cat's fur. It would also help if you chose a brush that feels comfortable on your pet's skin and hair. Rubber brushes offer the most comfort and offer a relaxing massage while grooming your cat.
If your pet sheds too much hair at home, try going for a deshedding tool as using it will avoid creating a mess, leaving your cat looking fresh for days.
Your Cat's Temperament
The last thing you want to do is make your cat angry during its grooming session. It will claw and scratch you throughout the session, leaving several painful marks. Therefore, it would be best to choose a brush that doesn't cause your cat any discomfort. You should especially steer clear from pin brushes if your cat doesn't appreciate brushes with pointy bristles. It will irritate them and may make them hostile.
Using rubber brushes in such cases would be a better choice as they feel quite comfortable and don't cause irritation. However, if your pet is not a big fan of brushes in general, then the best thing to do would be to choose grooming gloves and mitts. This product stands out from other options because you can wear it and comb your cat's fur, emulating a massage.
Pets love these kinds of brushes as they don't have the sharp and pointy bristles present in traditional cat brushes.
Bristle Type
Cat brushes come with a vast range of bristles, and it is important to choose one that does not annoy your cat. If your pet doesn't mind rough and long strokes during combing, try using a pin brush. However, if it has sensitive skin opting for a brush with rubber or plastic bristles would be a better choice.
Some cat owners also prefer crushes with synthetic bristles because of how soft they are. In addition, they are great for detangling hair, something that very few brush types can do as effectively. That said, pets with coarse or thick hair will benefit more from brushes with nylon bristles. These are great when it comes to opening up knots and preventing hair breakage during the pet's grooming routine.
You will find plenty of other bristle types too, but at the end of the day, your cat's preferences and mood are major factors when choosing the right option.
Easy to Use
While cat brush may seem like a straightforward tool, using some variants can be incredibly difficult. Some cat tools have tech-based features that are difficult to understand while others have unusual designs and handles. Remember, you must feel completely at ease when grooming your pet, which is why you should prioritize easy usability when choosing a cat brush.
In most cases, brushes with long handles and thick girths prove to be the best option. It would also help if you opted for a material that you can grip easily. For instance, a brush with a plastic handle, no matter how good it is, can be slippery. On the other hand, rubber-based handles offer a better grip and will not slip while you are brushing your pet.
There's no harm in choosing a traditional cat brush if you don't prefer modern variants, as long as you can use these brushes without any discomfort.
Cat Grooming Tips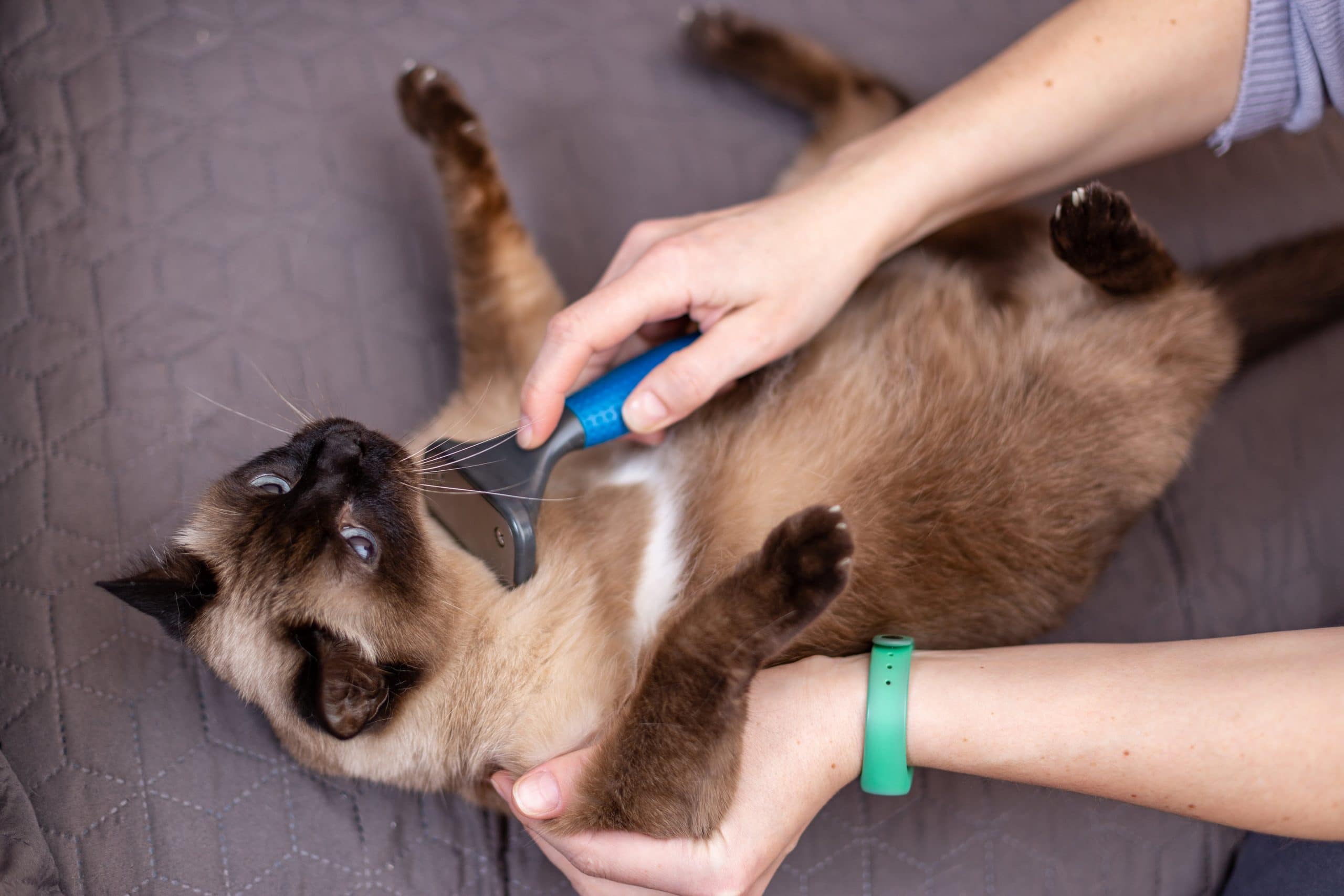 Grooming your cat or any other pet for that matter can be immensely difficult, especially if you are doing it for the first time. In this portion of the buying guide, we will discuss some important tips to brush and groom your cat the right way, making sure it looks clean and fresh for a long period.
Tips for a Successful Grooming Experience
The Best Time to Groom Your Cat is when it is in a Good Mood
It makes little sense to groom your cat when it is angry, sleepy, or in a bad mood. It doesn't matter if you are planning to conduct a long grooming session or a short one, if your pet has a terrible mood, you'll get more things wrong than right. Therefore, skipping a grooming session or two in such cases wouldn't be a bad idea.
In fact, grooming your cat when it is happy could save you loads of time and save you from scratches and claws. The happier your cat is, the more cooperative it will be, making sure you don't make errors. You can always improve your cat's mood by giving it a treat or playing with it before the grooming session. However, if this strategy does not work, make sure you don't rush things and plan the grooming for another day.
Run Your Hands across Your Pet's Fur to Inspect for Wounds or Lumps
Cats often tend to have infections and abnormalities on their skin that go unnoticed. Brushing over these could cause them a lot of pain and make them hostile towards you. You must avoid making this mistake at all costs, and you can do this by inspecting your pet's fur for lumps and wounds. If your pet indeed has scratches, marks, and other abnormalities, then consider skipping the grooming session until you address this problem.
Inspecting for abnormalities is quite easy. All you need to do is run your hands across its skin and you will notice the lumps and wounds within seconds. You can also use a flashlight for a thorough inspection, but make sure you don't scare your pet.
Use light and gentle hands when inspecting your cat for infections, as not doing so could cause them to retaliate with hostility.
Always Brush in the Fur's Direction for Effective and Pain free Grooming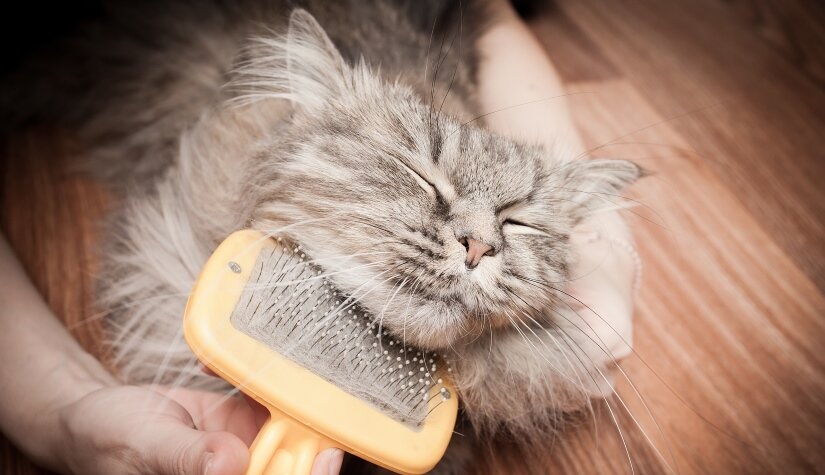 A common mistake that a lot of pet owners tend to make is that they brush their cat's fur in the opposite direction. This is not an effective grooming strategy. If anything, it can be quite painful and may even lead to hear breakage. So, instead of combing/brushing in the opposite direction, it would be best to do it in the fur's direction.
It will lead to a more effective grooming session and will remove dirt, lice, fleas, debris more effectively. What's more, it will leave your cat's fur looking fresh and shiny, especially if you do it after a bathing session. Once again, use gentle and light hands when brushing your furry friend as rough strokes could hurt it, leading to an angry reaction.
Tease the Tangles Out Gently and Utilize Dematting Tools for Serious Matting
Almost every pet owner encounters tangled here every once in a while. However, in some cases, tangling is more frequent and getting rid of it can be incredibly difficult. One of the main reasons why many people struggle to remove light and serious mats is that doing it incorrectly could hurt the pet and cause hair breakage.
The good news is that there is an easy, pain free way to remove matted and tangled hair. The technique is simple and requires patience, but proves to be quite effective. Instead of rushing the detangling process, consider teasing the tangles out slowly and gently. It would also help if you gave your pet a bath using a shampoo to soften up its hair.
Once your pet's fur is completely dry, you can start detangling it one hair at a time. If the tangles are light, using your bare hands wouldn't be a bad idea but if the matting is serious, try using a high quality dematting tool.
Give Your Cat a Treat Once the Grooming is over
As mentioned earlier, giving your cat a treat or playing with it could significantly improve its mood, making it more cooperative during the grooming session. You should also reward it with a treat once the session is over to show appreciation and make them anticipate their next grooming session. It is a simple tip but many cat owners forget to follow it.
You can also give your cat different treats after every session, making them curious and eager for their next scheduled grooming. However, make sure that you do not spoil your pet by giving it an excessive amount of treats as it may prove to be counterproductive.
Brushing Your Cat the Right Way – Best Tips to Follow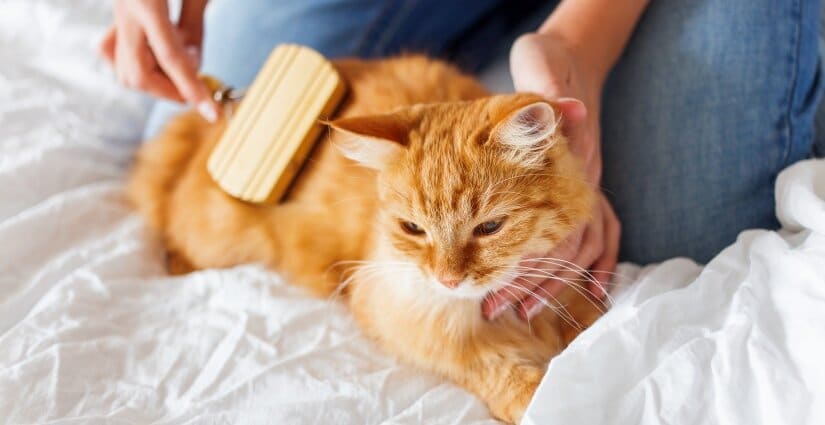 Yes, there is a right way and a wrong way of brushing your cat, and it is important to know how to do it right. First off, run your hands across the pet's fur to inspect for wounds, cuts, and other injuries. If your cat is healthy and doesn't have any bumps, you may proceed with the grooming session. Massage your pet's skin for four to five minutes in the opposite direction of its fur thoroughly. Doing so will also remove dead hairs before you start combing your cat.
For Cats with Long Hair
Start by combing your cat's leg or belly, gently brushing upwards in the head's direction
Comb or brush your pet's neck hair towards its mouth and chin
Create a parting on your cat's back, starting from the tail and leading to the head. Then, brush the coat downwards from both sides
Try using your hands when teasing the knots. Use a talcum or sprinkling powder if detangling is difficult. If that doesn't work, consider using a breaker brush
For Cats with Short Hair
Begin the grooming process by stroking your cat's fur downwards, leading to its tail
After this, comb your cat's fur in the upwards direction using a bristle brush (not every cat will tolerate this). Nevertheless, doing this is an effective way to remove dead hairs
Use a comb or brush with fine teeth for detangling
Finally, take advantage of a grooming pad or curry brush to massage your cat's skin while collecting lose hair
Grooming Cats that Hate Brushing/Combing
As mentioned abundantly in this piece, some cats simply are not receptive to the ideal of grooming. This is especially because of the hard and often pointy brushes that hurt their sensitive skins. If your cat also isn't fond of brushes, there is no need to worry, as we will discuss some tips that will lead to an effective grooming session.
Getting your cat to enjoy brushing is relatively straightforward as long as you are patient. All you need to do is make sure it is in a good mood. Once you find that out, you can start by gently massaging its head and back. This part could take twenty or thirty minutes (or even more) depending on your cat's temperament.
Once your pet feels relaxed, you can start grooming by using the best cat brush suited for your pet. Make sure you know your cat's preferences when it comes to brushes and choose one accordingly. If it doesn't like brushes altogether, then using grooming mitts and gloves would be a wise choice.
F

requently

A

sked

Q

uestions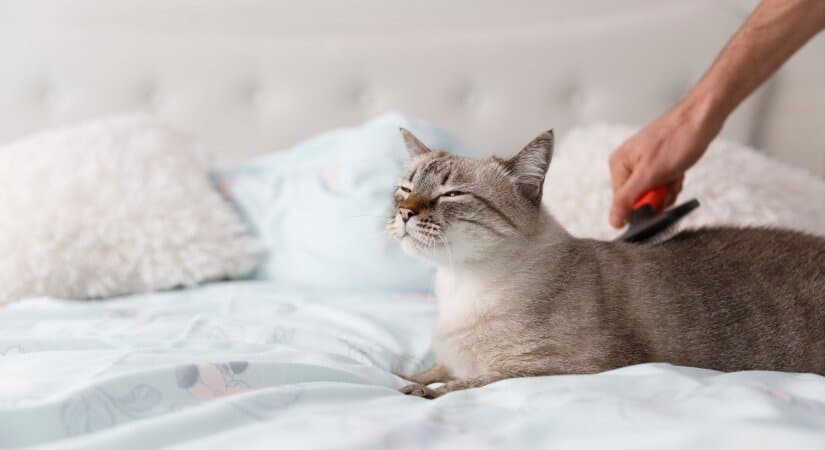 How often do I need to brush my cat?
Long Haired
Long haired cats require regular brushing compared to short haired ones. This is because longer hair tends to accumulate a lot of dirt and also tangles too much.
Medium Haired
Cats with medium length hair need a moderate amount of grooming. Unlike long haired cats, you don't need to brush your medium haired cat every other day. Instead, conducting a biweekly session would be a better choice.
Short Haired
The best thing about keeping your cat's hair short is that you don't have to groom it as frequently. That said, conducting a detailed bimonthly brushing session for pets with short hair is a must, as they too, can collect dust and dirt within days.
Is it okay to brush a cat every day?
While there is nothing wrong with brushing your cat on a daily basis, you must make sure that you don't overdo the grooming session, as it could annoy your cat after some time. If you want to brush your cat every day, try keeping the sessions short.
What is the best brush for a long haired cat?
Most pet owners use slicker brushes for cats with long hair. These brushes have thin teeth present on different angles, which are ideal for a comprehensive yet pain-free grooming session. You can also use this type of brush for detangling your cat's fur.
What is the best cat deshedding tool?
While you will come across plenty of deshedding tool recommendations, deshedding rakes are arguably the best. Their rake-like design makes them a tremendous option for cats that shed too much hair, ensuring you can remove them before the hair and fur spreads in your house.
Can I use a human brush on my cat?
There is nothing wrong with using a human brush on cats, but using it as a primary grooming tool every day would damage your cat's coat in the long run.
How do I get rid of cat hair in my house?
Using a vacuum cleaner is arguably the best way to get rid of pet hair from your house. That said, brushing your cat the right way reduces shedding and could significantly minimize the amount of pet hair floating around in your house.
How often should I use the FURminator on my cat?
Long Haired
If your cat has long hair, try using the FURminator once or twice per week to give it a thorough grooming session.
Medium Haired
As mentioned before, pet owners need to take a moderate grooming approach with medium haired cats, which is why you should only use your FURminator twice or thrice per month.
Short Haired
While the FURminator is an incredibly effective tool for short haired cats too, you shouldn't use it more than one time per month.
Final Thoughts
Now that you know the fundamentals of cat brushes, choosing the best cat brush will become a straightforward process. All you need to do is keep some essential considerations in mind, like your cat's preferences and your comfort, and you will be good to go.