Just as with pet parents, regular tooth brushing is one of the most important things you can do to keep your dog's mouth healthy and maintain overall wellness. In this review, we're going to give you our top 8 picks for the best dog dental toothpaste in 2023.
---
| PRODUCT | | RATING | PRICE | SIZE |
| --- | --- | --- | --- | --- |
| Virbac C.E.T. Enzymatic Toothpaste | Our Choice | 9.8 | Average price | 2.5 Ounce |
| Vet's Best Enzymatic Dog Toothpaste | | 9.2 | Low price | 3.5 Ounce |
| Pet King Brands Oratene | | 9.0 | High price | 2.5 Ounce |
| Petrodex Advanced Dental Care | | 9.0 | Low price | 6.2 Ounce |
| Arm & Hammer Fresh Spectrum | | 8.9 | Average price | 2 Ounce |
| Nylabone Advanced Oral Care | | 8.8 | Low price | 2.5 Ounce |
| Nutri-Vet Enzymatic Toothpaste | | 8.6 | Low price | 2.5 Ounce |
| Vetoquinol Enzadent Enzymatic | | 8.5 | Average price | 3.17 Ounce |
---
The Veterinary Oral Health Council (VOHC) explains that "Tartar starts to form within a few days on a tooth surface that is not kept clean, and provides a rough surface that enhances further plaque accumulation. Once it has begun to grow in thickness, tartar is difficult to remove without dental instruments."

VOHC goes on to add that "The key to management of gum disease (for humans or pets!) is prevention. As long as the surfaces of the teeth are cleaned frequently, the gums will stay healthy. Excellent oral health is maintained by daily oral hygiene. The gold standard is brushing."
Dental Disease in Dogs
Dog toothpaste is essential for ensuring that our furbabies have clean teeth and healthy gums.
Dental disease can easily be severe in dogs, resulting from a lack of regular tooth brushing and a poor diet. Dental problems in dogs can vary from mild plaque and gingivitis to painful swelling and inflammation of the gums — and, in severe cases, even tooth loss.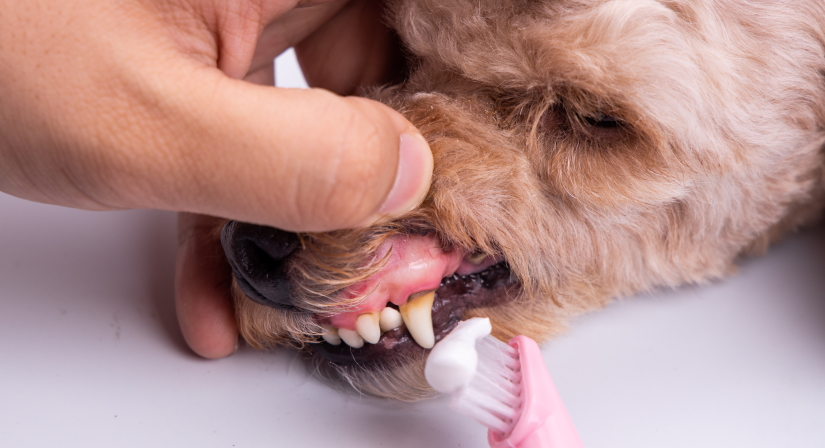 Impacted teeth – Infections can result from your puppy's impacted teeth and cause a foul odor.
Gum disease and swelling – Gingivitis may occur early in your puppy's mouth even though he's a puppy.
Worms – Parasites like roundworms, tapeworms, hookworms, and whipworms can be passed from your puppy's mother at birth or through her milk and affect breath. Worm infestation can cause death in your puppy and should be ruled out as a cause of your puppy's bad breath.
The buildup of odor-producing bacteria – Gastrointestinal tract infections may be the cause of halitosis in your puppy.
Kidney disease – Your puppy's breath will have an odor like urine.
Liver disease – breath will be bad, and your puppy may vomit, have a loss of appetite, and have yellow-tinged corneas. Always reach out to your veterinarian if you're concerned about puppy bad breath or dental issues in your pets.
Small Dog Breeds More Prone to Dental Disease
Smaller breeds are more prone to dental disease, and most especially when they get older. Breeds at risk for dental disease include the following:
Bulldogs
Cavalier King Charles Spaniel
Greyhounds
Pugs
Shih Tzu
5 Ways to Prevent Your Puppy from Having Bad Breath
Take your puppy to your veterinarian for regular checkups to ensure your puppy does not have underlying health or dental conditions that may cause bad breath.
Care for your puppy's teeth from day one by brushing his teeth with canine toothpaste.
Feed your puppy balanced and nutritious, high-quality pet food.
Provide safe chew toys that will keep his breath fresh and not damage your puppy's teeth.
Keep your dog hydrated with plenty of fresh, clean water to maintain a healthy breath.
Is Human Toothpaste Safe for Pets?
It is not safe to use human toothpaste on dogs. There is specially-formulated pet toothpaste in different flavors like chicken, beef, mint, and seafood. If pets ingest human toothpaste, they will get ill, because human toothpaste ingredients are harmful if swallowed.
Most human toothpaste features Xylitol, an artificial sweetener that is toxic to pets. Xylitol is a sugar alcohol found in many human products, including toothpaste, and can result in severe health complications if pets ingest this.
Poison Control adds that "When swallowed by canines, xylitol absorption is rapid. Vomiting can be seen in only 30 minutes, but full symptoms can be delayed for up to 12 hours. In dogs xylitol stimulates insulin secretion and can lead to profoundly low blood sugar; this causes weakness and loss of coordination. If left untreated, dogs may eventually develop seizures or collapse. With large ingestions xylitol has also been linked to liver failure in dogs."
Good Oral Care

By providing good oral care, we can help prevent dental disease in dogs. While there is no substitute for regular brushing your furbaby's teeth, dental chews like ProDen's Plaque Off System mini dental care chews help clean teeth, freshen breath, and reduce plaque and tartar through abrasive action.
Pet dental care preferences vary on a large scale with pet parents; it's essential to understand how dog toothpaste works and how that combined with a healthy diet and dental chews can support oral health.
Prevention is Key
The American Veterinary Medical Association (AVMA) explains that "Prevention of the most common oral disease in pets consists of frequent removal of the dental plaque and tartar that forms on teeth that are not kept clean." You get to do this by brushing your dog's teeth every day with a dog toothpaste and providing your dog with dental chews.
Regular Brushing
Regularly brushing your dog's teeth is one of the most effective things you can do to keep your dog's teeth healthy during dental cleanings. This may also reduce the frequency of periodic dental cleaning by your veterinarian.
How Dental Products Work?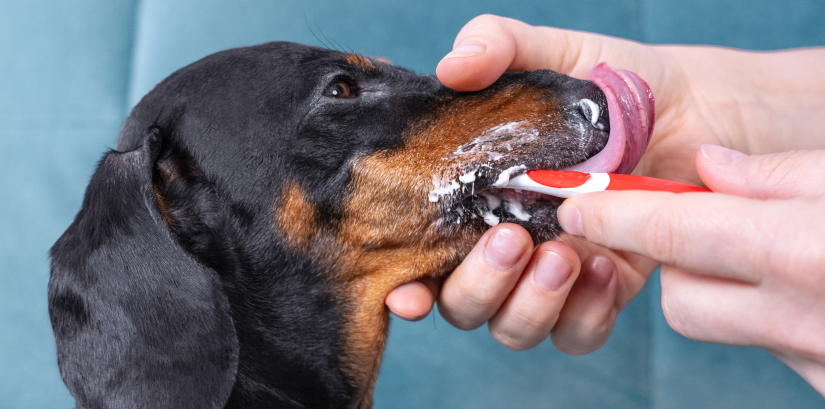 Dog oral care products are available in various flavors like vanilla ginger, beef, poultry, peanut butter, tasteless, and even spearmint. Canine toothbrushes are designed for your pet's mouth and crafted to reach all surfaces.
There are multiple dental products for cats and dogs like the Arm & Hammer Advanced Care and Clinical Care product lines that feature sprays, foams, toothpaste, rinses, gels, wipes, and balms.
Dental Gels & Balms
They are crafted in different sizes and models, giving pet parents several options to best meet their pet's preferences. You can also opt for gels and balms that can be applied to gums and teeth using a finger brush or just by using your finger.
Dental Sprays & Foams
If your furbaby dislikes toothbrushes, you have the option of dental sprays and foams that have easy applicators and form long-lasting protection against plaque and tartar buildup.
Pet Dental Products
Numerous pet dental products are marketed with claims to improve dental health, but not all are effective. As usual, it's best to talk with your veterinarian about any dental products, dental treats, or dental-specific diets you're considering for your furbaby.
How to Brush Your Dog's Teeth?
Dog Toothpaste
Numerous dog toothpaste features unique formulations that help quicken the removal of particles on teeth. Dog toothpaste provides friction when brushing. This improves the ability of your brushing action to grab smaller, deeper plaque.
Oral Bacteria
Colonies of bacteria grow inside your dog's mouth, creating pockets of space around his teeth. Plaque begins to form in the pockets, resulting in inflammation and possibly gingivitis.
Brushing your dog's teeth every day and feeding probiotics, which are beneficial bacteria, will help prevent harmful bacteria and also helps to support gastrointestinal health and optimal immune system function.
---
---
F

requently

A

sked

Q

uestions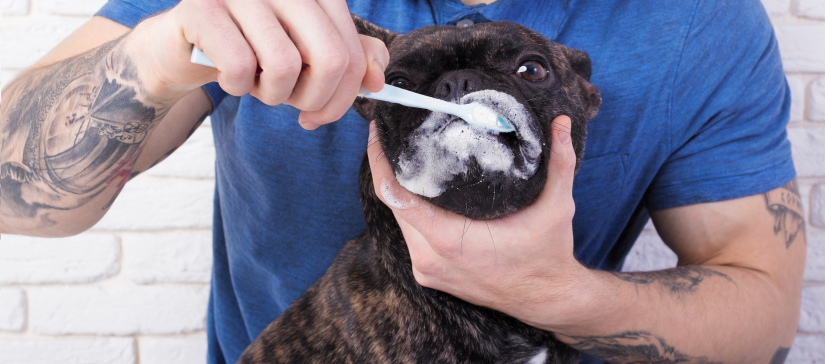 Q. How do I remove plaque from my dog's teeth?
A. The best way to remove plaque is to regularly brush your dog's teeth with a dog toothbrush and dog-safe toothpaste. Dental treats can also be an effective way to look after your pet's teeth if used together with dog toothpaste.
Q. Can I scrape tartar off my dog's teeth?
A. Most dogs three years and up usually will show signs of early dental disease or will already have a bit of plaque and tartar that cannot be removed by brushing or chewing. So it is necessary to visit your veterinarian twice yearly for a professional dental cleaning.
Q. What happens if you don't brush your dog's teeth?
A. If you don't brush your dog's teeth every day, plaque can build up, putting your pet at risk for bad breath, gum disease, and tooth decay. Neglect can also cause painful infections. Severe infection can spread, causing life-threatening conditions just as with humans. Just as important are twice yearly professional veterinary dental cleanings. Never forget these especially as your pet ages.
Q. Does coconut oil clean a dog's teeth?
A. Gingivitis, if detected by veterinarians early on, can be completely reversible. Coconut oil on your dog's teeth or in their diet may be beneficial to dental health. Research by the National Institute of Health demonstrates that coconut oil decreases plaque buildup on teeth and helps fight gum disease.
Q. At what age should I brush my dog's teeth?
A. You should begin to brush your pup's teeth between the ages of eight and sixteen weeks. This is important for dental health. Begin brushing your pup's teeth as soon as possible so that he gets used to this in the same way as being groomed or having his ears cleaned and nails trimmed.
Q. Is it okay for my pup to swallow pet toothpaste?
A. It's impossible to have your dog rinse toothpaste from his mouth the way we do when we brush our teeth. That said, that is why you should refrain from using any human toothpaste on your pets. Human toothpaste contains ingredients that are toxic to pets.
Also, pets cannot spit out toothpaste, so you should only use dog toothpaste. Pet toothpaste for cats and dogs contains ingredients that are safe for your furbaby to ingest. They also feature taste flavors that pets enjoy, like chicken, beef, and seafood.