To support a shiny and healthy coat in cats and reduce the challenges of hairballs, you'll need to keep your cat well-groomed and bathed. But if you're not sure which cat shampoo will work best on your cat's coat, we have many suggestions as to the six best cat shampoos for 2023.
We've reviewed dozens of cat shampoos to identify our top 6 cat shampoos by looking at their natural ingredients, how effectively they cleanse, and how many positive reviews they've received from satisfied cat parents.
---
| PRODUCT | | RATING | PRICE | SIZE |
| --- | --- | --- | --- | --- |
| Burt's Bees | Our Choice | 9.4 | Low price | 10 Fl Oz |
| Earthbath | | 9.3 | Average price | 16 Fl Oz |
| Pro Pet Works | | 9.2 | Average price | 17 Fl Oz |
| Pets Are Kids Too | | 9.0 | Average price | 17 Fl Oz |
| John Paul Pet | | 8.9 | Low price | 16 Fl Oz |
| Mooncat | Waterless | 8.8 | High price | 5 Fl Oz |
---
Cat shampoos are carefully formulated so they won't harm your cat or dry out his skin. You can also find numerous cat shampoos that are specially formulated to help with issues like fleas, dandruff, and even hairballs.
While cats typically take good care of their grooming, there are times when you'll need to bathe your furbaby. Maybe their fur has a funky scent, or they're prone to itching or dandruff.
You're probably asking yourself if bathing your cat is even necessary? While cats are great at keeping themselves clean, a bath can sometimes help remove excess oil, shedded hair, and dandruff and even helps to stimulate the skin.
If this is your first time bathing your cat, this is your chance to help make bathing a positive experience so that your cat will enjoy baths in the future.
Purchasing a good cat shampoo simply because it smells good or has a pretty color is not a good idea. Plus, there are different cat shampoos for different situations. If your cat is shedding, a shampoo that works for skin-related issues like eczema or lice might not be an excellent option for you.
Before You Begin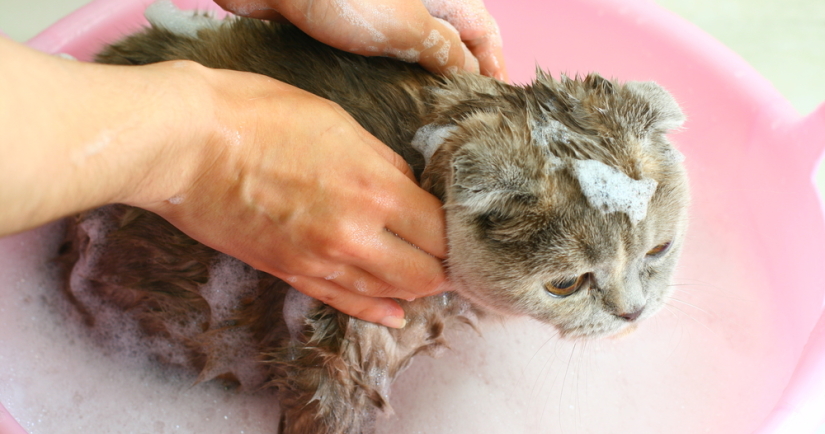 While you don't have to bathe your cats often if they are short-haired, long-haired cats or cats with oily skin may need more frequent bathing.
Just make sure that you're not giving too many baths since this can dry out their skin. Kittens should be older than 12 weeks old before you attempt to bathe them. If the weather is colder, make sure you've prepared for that beforehand.
Things You Need
If you're new to bathing your cat, being prepared with all the essential supplies will do you a world of good. You only need a few supplies:
A few towels
A high-quality cat shampoo
Washcloth
A rubber mat
A small bucket with warm water
Treats or small ping pong balls for distraction
How to Prepare a Cat Bath?
Preparing a bath for your feline friend is extremely simple. After you have your supplies, get changed into some old clothes that you don't mind getting wet. Make sure the bath area is warm. You don't want your cat to catch a cold.
A bathtub is a good option yet bathing your cat in a sink or bathtub is probably easier. Assemble everything that you need and run warm water before bringing in your cat. Place the rubber mat on the base of the sink so your cat doesn't slip. This will also help you have a firmer grip.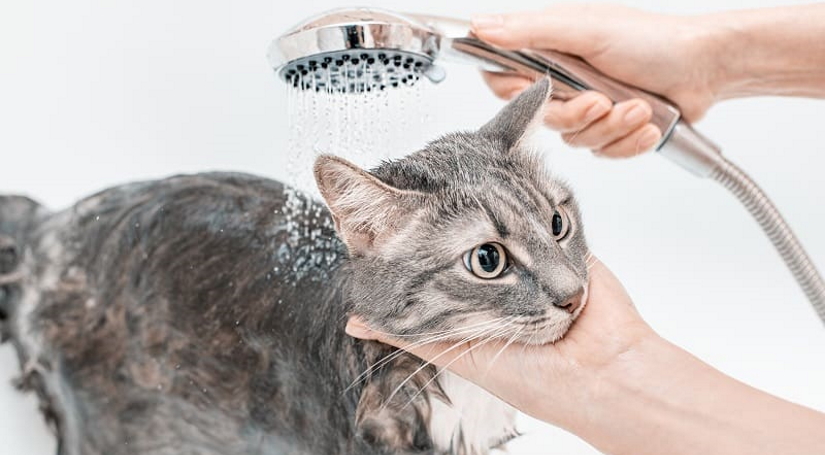 How to Bathe Your Cat?
Before diving into the list of potential shampoos you can choose for your cats, the most important question is how to get your cat to bathe? Cats are known to be scared of water. However, you can do a few things to make the experience easier for you and your furbaby.
If you can, have someone help you out with your first bath, as that will be the most challenging one. Your helper can hold the cat and distract them as you bathe. The process is going to be quicker and much easier.
Keep yourself prepared and have everything you need by your side before you bathing your cat. Apply a small amount of a natural cat shampoo and lather up, right down to the tail, not forgetting your cat's underside and neck.
Be careful not to get any shampoo in your cat's eyes. You should rinse your cat thoroughly with warm and clean water, avoiding the eyes and inner ears. Properly dry with the clean and dry towel.
You should give your furbaby plenty of praise, and to help ease anxiety, reward them with her favorite treats.
Keep in mind that you should never submerge your cat's face in the water. Avoid wetting your cat's head; instead, dampen a towel and wash gently, or soak your hand and run that over. Cats become extremely scared if water goes near their face. Properly dry with the clean and dry towel and reward.
The Best Cat Shampoos
Key Takeaway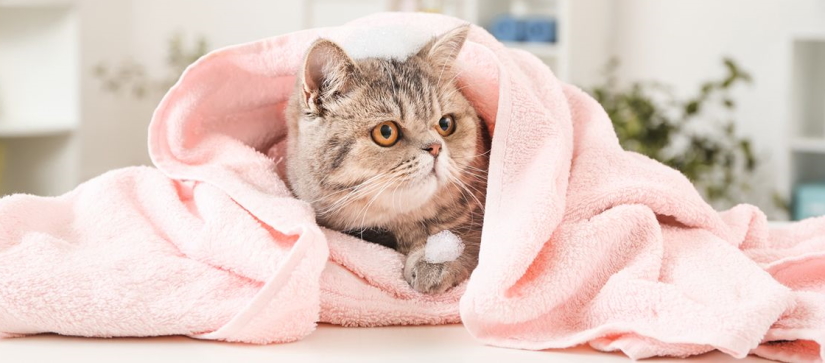 No matter what type of cat breed you have, regular grooming is essential to his well-being. A cat shampoo and regular grooming will keep your cat looking healthy and clean.
Many cat shampoos are designed to reduce the amount of dander (dead skin cells) on cats. This is because dander is what triggers allergy attacks in humans. Figure out what type of shampoo you need for your cat.
To keep your cat happy and healthy, you should select the healthiest cat shampoos that feature natural and chemical-free ingredients. You should try to keep your cat well-groomed throughout his lifetime. This reduces the amount of visits to the vet by reducing the chance of hairballs. Long-haired cat breeds need to be frequently brushed with gentle de-shedding tools that will help prevent matting and decrease the amount of fur that's shedded.