Today, in this article, I will be listing the best rat cages you can purchase in 2022. As there are several rat cages available in the market, keep reading as we guide you in finding the best rat cage for your specific requirements.
What are the best rat cages available in the market? What features to look for when buying one? What should you put in a rat cage? In this article, we have the answers to all of these crucial questions (and then some!). We will also be providing a detailed review of each of the top rat cages in the following list.
There is no denying that there is nothing more vital than selecting the ideal home for your furry companion! The right habitat will ensure your pet rat lives a content life. Whether you have a baby rat or a large one that requires a lot of space, we have compiled the best recommendations to assist you in choosing the most favorable environment for your pets.
Following the best five rat cages, we will also be sharing a comprehensive buyers' guide, as well as FAQ with answers to every query you may have about rat cages. By the time you are done going through this article, you will be in a better position to select the rat cage that is ideal for yourself and your adoring pets!
What are you waiting for? Read on!
---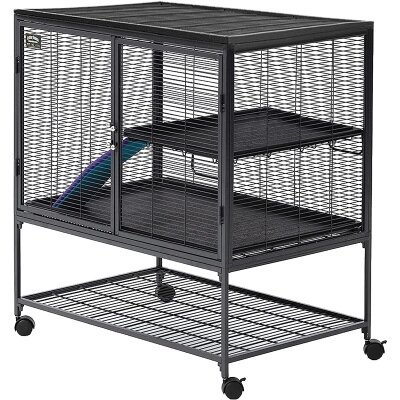 Our Choice
Midwest Deluxe Critter Nation
Of the several rat cages we researched, the Midwest Deluxe Critter Nation provides your pet rats with the best environment according to our standards. Between its large interior and easy-to-clean design, this cage is our absolute favorite, and we highly recommend it to anyone looking for a top-quality cage.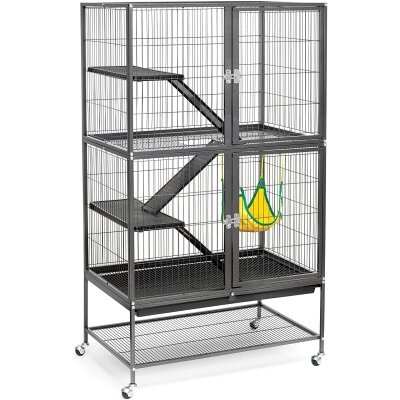 Best For Two Rats
Prevue Hendryx Ferret Cage
With a stellar grade of 9.5, the Prevue Hendryx Black Feisty Ferret Cage is the best cage for you if you have two rats. This Prevue offering has ample room for your rats and their playthings is convenient to move around with casters and is also easy to maintain.
---
Our 6 Best Rat Cages of 2023 Table
The following table briefly compares the best six rat cages to buy in 2023. This comparison is followed by detailed reviews of each cage. In this table, we have provided the physical components and dimensions so that you know precisely what you are buying. The table act as a guide for you to select the rat cage with the ideal overall features to meet your pet's personal needs.
| PRODUCT | | RATING | PRICE | SIZE | ACCESSIBILITY POINTS ON TOP | ACCESSIBILITY POINTS ON SIDE | REMOVAL BOTTOM | WHEELS | EXTENDABLE |
| --- | --- | --- | --- | --- | --- | --- | --- | --- | --- |
| Midwest Deluxe Critter Nation | Our Choice | 9.8 | Average price | 36L x 25W x 38.5H | 0 | 1 | ✔ | ✔ | ✔ |
| Prevue Hendryx Ferret Cage | Best For Two Rats | 9.5 | Average price | 31L x 20W x 54H | 0 | 2 | ✔ | ✔ | × |
| Kaytee 2X2 Multi-Level with Casters | | 9.3 | High price | 24L x 24W x 41.5H | 1 | 2 | ✔ | ✔ | × |
| Kaytee 30 X 18 Multilevel Exotics | | 8.8 | Average price | 30.5L x 18W x 30H | 0 | 1 | ✔ | × | × |
| Prevue Rat and Chinchilla Cage 495 | | 8.5 | Low price | 24L x 24W x 41.5H | 1 | 2 | ✔ | ✔ | × |
| Ferplast Two-Story Ferret Cage | | 8.1 | High price | 29.5L x 31.5W x 63.4H | 0 | 2 | ✔ | ✔ | × |
Important Considerations to Keep in Mind When You Purchase Rat Cages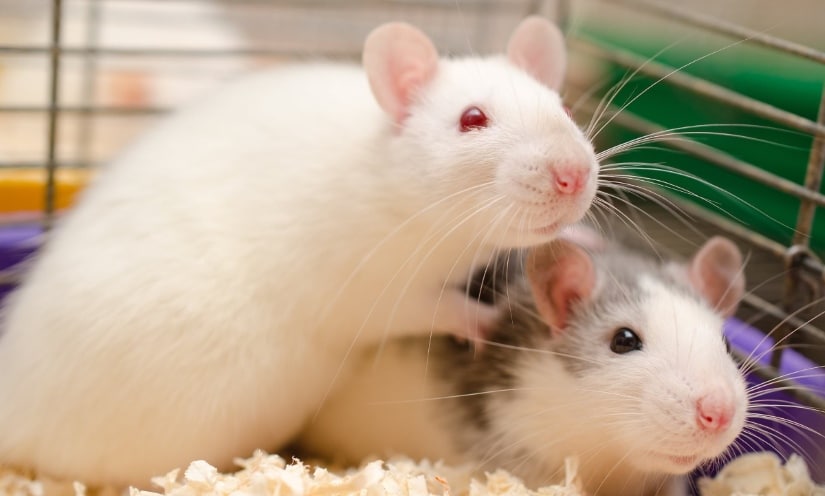 As a rat owner, apart from the size, you need to consider several factors when buying a cage. Here are a few important things you need to consider when buying one:
Bar spacing
As rats very much love to explore and have a curious nature, it may be a problem to have a rat cage with tiny space between the bars. You want to buy a rat cage with at least a half-inch space or less between its bars – particularly for baby pets. This space can increase to 1 inch once the rats become older. An additional reason this is crucial is that if you have guests over, especially kids, they may feel tempted to squeeze their fingers through the cage to touch your pet. That can prove to be quite dangerous. Hence you should certainly consider bar spacing so as to prevent individuals from doing this.
Spaciousness
Spaciousness inside a rat cage is a very important consideration, and there is no genuine reason why you ought to limit the space your pet rats have. They might not be as choosy as hamsters that need different chambers for various activities but still require a lot of space to move around easily. In addition, rats tend to grow very quickly. Hence, when you are buying a rat cage, consider what their size would be in just a couple of months. Usually, pet rats become unhappy if their cage is small and limits their movement.
Ventilation
It is extremely vital that you buy a rat cage that offers very good ventilation. That is necessary since rats (especially the baby ones) do not have strong lungs. Hence, many problems can arise if good air isn't available inside the cage.
Ease of cleaning
Similar to any other cage for a pet, you will have to regularly clean a rat cage as that is where your animal will be peeing and pooping. For that precise reason, be sure to get a rat cage that is easy and effortless to clean. The things that you should think over include whether or not you can remove the cage doors easily and if you can place your arm in the said cage without any problem.
Design
The design of a rat cage is not just a small factor as it defines the comfort level your pet rats may get from their home. It is important that your rat cage has firm flooring to hold fleece or paper bedding. This can be PVC covered metal or heavy-duty plastic.
Furthermore, take a close look at the cage's ramps and shelves. Both of these ought to be organized in a certain manner where you can adjust them easily. What is most important, however, is to ensure ramps in the cage feature a textured surface. Such a surface provides traction so that your pet rats will not slip as they are climbing up the ramp.
Material
Manufacturers make rat cages using several materials. As your pet rat will be urinating inside the cage and may even chew on the cage, it is important that you ensure that its material is not something that will damage or easily wear out. For instance, even if the rat cage is made from a sturdy galvanized wire material, people tend to complain that their pet's urine gets right into it. Consequently, this is very tedious and bothersome for cage owners to clean. If the cage's material is plastic, it can be easier to clean. However, you need to keep in mind that female rats can chew through plastic easily as well!
Security Level
Even if you select a rat cage that offers easy access to all of its inner parts, ensure that its door will remain tightly shut as well so that it is inaccessible when you have closed it. A rat cage is totally useless and serves no purpose at all if it cannot contain your pet rats.
Your Cage Ought to be Portable
You never really know when you might have to move your rat cage from one spot/location to another. Hence, make sure that you buy a cage with wheels so you can push it around easily in the vicinity of your home. Additionally, dismantling or assembling the cage should not be very time consuming and troublesome.
Using Plastic Bins or Hutches for Rats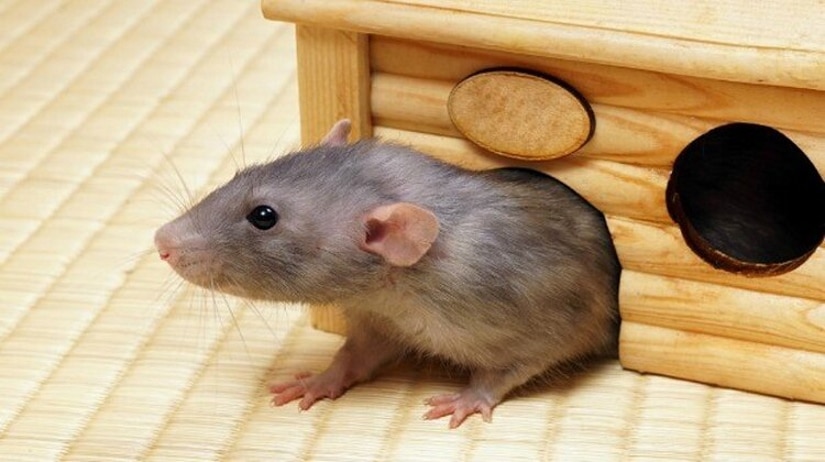 Plastic Tubs
People sometimes use plastic tubs to house rats, but experts consider tubs to be unfit for this purpose. It is almost impossible to modify them in a way, so they allow a rat to engage in a complete range of natural behaviors. Moreover, even if they are adapted, access becomes a primary concern.
Pros
Plastic tubs can be very easy to clean.
They are easy and economical to purchase.
Cons
You have to go through the trouble of modifying plastic tubs with roof and mesh walls to provide adequate ventilation.
Plastic is easy for a rat to chew through.
Plastic happens to be very easy for rats to chew through comfortably.
Plastic can get smelly and overheated in hot weather.
Plastic tubs' small size does not allow sufficient accessories for the rats to express their natural behaviors.
They are seldom large enough to enable the inclusion of even a fundamental selection of rat cage furniture.
Hutches
While conventional rabbit hutches are not a suitable home for rats, an indoor wooden hutch may be built for a specific purpose, and you can adapt it into a terrific pet rat abode. The same requirements of space are applicable.
Pros
Indoor wooden hutches offer good ventilation if you use a lot of mesh. It is highly recommended that you install the roof and front panels in the hutch.
These hutches feature deep kick guards. This keeps mess as low as possible even with the presence of deep litter.
They have drop-down kick guards and completely open front doors. This makes them easily accessible and easy to clean, as well.
The hutches also do not let excessive bright light enter the rat's living area, which is ideal for a species that has adapted to functioning at nightfall.
Hutches provide an enclosed living area that offers safety and comfort to your pet rats (who are naturally cautious of open areas)
Cons
Using wooden hutches to house rats has certain cons as well:
The purchase cost is often quite high
You have to modify these hutches with internal hooks (to be able to hang furniture items), rat-safe varnish (to allow cleaning) and metal edging, which helps to safeguard from chewing
You have to take a lot of care to allow behaviors like balancing and climbing
What Do You Put in a Rat Cage?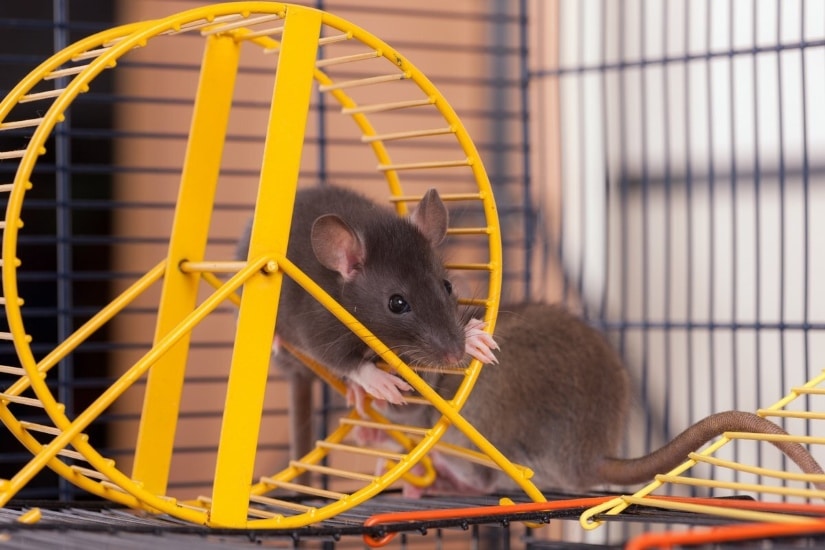 There are accessories galore you can put in a rat cage, along with some essential items as well. The following is a brief list of these things:
Necessary items to put in a rat cage include:
Water bottle: This one is obvious like your pet, like all animals, needs water to quench its thirst! Select a plastic water bottle (you can get this easily in almost every pet store), possibly a clear one so that you can see the water level inside.
Bedding: Your pet needs bedding to sleep in cozily. Shredded paper is a great material for bedding for your pet rat. However, you will need to change it often.
Food bowl: You have to feed your rats and will need a medium or small-sized ceramic food bowl made for small animals. Be sure to position the bowl away from the shelf edges, so it does not tumble down and crush any of your rats!
Furthermore, accessory things you may include in a rat cage are:
New Toys: Rats simply love to chew, and toys help them to do that! Chew sticks and wooden hamster blocks are ideal for this habit. Make sure you steer clear from toys with tiny parts such as beads to prevent your pet from choking on them.
Ramp with a ledge: This allows movement and exercise for your pet rat so that it will not have to sit idle in one spot.
Hammock: Your rat always ought to have a ferret bed (a hanging one) in their rat cage. This provides them with a comfortable and nice place to sleep and hide.
Rat wheel: Rat wheels are a splendid boredom buster for your beloved pets, and they offer good exercise as well, which is particularly useful if you want to avoid an obese rat!
How to Maintain a Rat Cage Properly?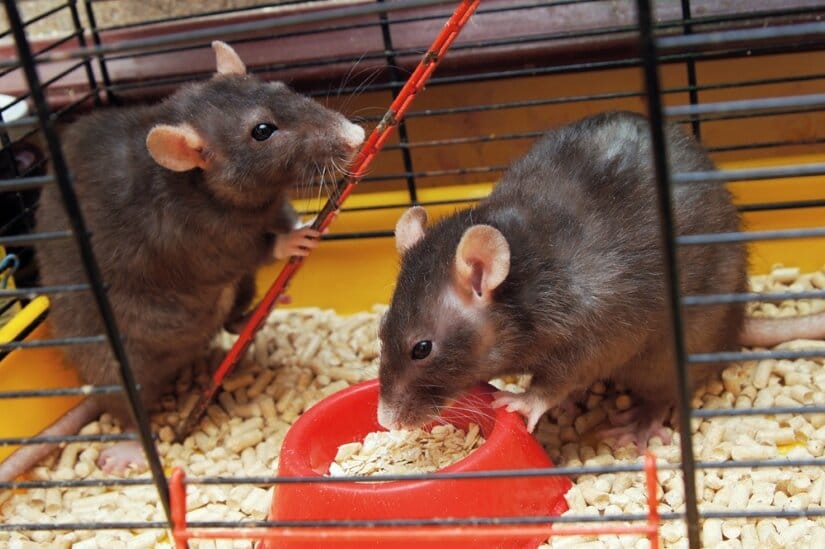 A common mistake that new rat owners tend to make is underestimating how much work they have to put in for the species. Although it is not the most challenging task in the world, there is more to maintaining a rat cage than simply cleaning out the bedding. Since a rat cage can get smelly and filthy very easily, it is important to learn what steps are necessary to maintain one in a proper manner.
Remove feeders and food bowls: After your pet rat is done eating, remove food bowls and clean them out on a regular basis. This will erase traces of food residue and will assist in maintaining their health.
Where to Position a Rat Cage: Place a rat cage in a spot with a steady temperature that is not too cold or too hot. Keep the cage away from the kitchen or any other animals (if you have any). See if you can find a safe and secure surface to put down the cage. Locate a sturdy spot that is able to hold a rat cage with your pet inside.
Regularly Change the bedding: Be sure to regularly remove bedding inside the cage. This will allow your rat to urinate and sleep in a clean place. Consider bedding to be a blanket; would it make you feel good if you were to lie in a filthy blanket? The same applies to your rats. They become sadder when they're made to stay in filthy bedding for long periods of time. Furthermore, when you change their bedding at least once or twice a week, it helps keep your house smelling good as well.
Wash Extensively: Unfortunately, just changing the bedding inside the cage is not adequate to keep the foul smell away. To ensure that your rat cage is completely clean, frequently wash the wired top and plastic base. You might not be able to see it, but your pet can urinate on the wires of the cage, and that may very well be the chief reason why a terrible smell is coming from the cage. You ought to wash this at least once every week.
How to go about Cleaning a Rat Cage?
To ensure optimal hygiene, it is very important to clean out your rat's cage regularly and thoroughly. You need to observe the following steps in the same order to clean a rat cage:
Empty your rat's cage after moving your pets to a temporary enclosed space
Discard the litter and beddings
You may either transfer your cage to an appropriate area or dismantle it for washing
Submerge all the accessories and rat toys in a tub of warm water for a couple of minutes prior to scrubbing.
Use a sponge (non-abrasive) soaked in dishwashing liquid in order to scrub the cage
Carry out the disinfection of the rat cage by making use of natural disinfectants or cleaning products (rat-friendly) found in your kitchen area.
Thoroughly rinse the cage with hot water.
Give your cage time to dry up. You can use a hairdryer to quickly dry up your rat's toys.
Put everything back together inside the rat cage after everything has dried. Make sure that you do not forget to add new covers and fresh bedding.
F

requently

A

sked

Q

uestions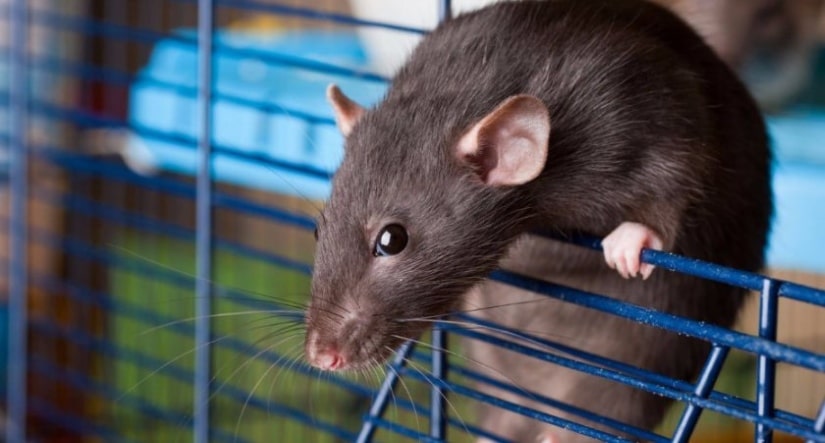 What type of a cage does a rat require?
A rat requires a well-ventilated and spacious enclosure with the capacity to store basic things, toys, and other items. The rat cage should be escape-proof and chew-proof.
What type of cage is ideal for a rat?
A metal cage is probably the best option when you are looking for an abode for your pet rats. When you put them in a metal cage, your whiskered companions will thoroughly enjoy peeping and climbing through the wires. Furthermore, metal cages are very easier to maintain while offering maximum ventilation.
However, since not all metal cages are the same, make sure that you select a metal cage that will not bend and boasts rust-resistant features.
How large a rat cage ought to be?
A general rule, when it comes to buying a rat cage, is to buy one that is as large as your allocated budget. Unless you have a limited budget or space, select a rat cage that provides two cu ft of space (at the very least) for each of your pet rats.
How often must you clean a rat cage?
The cleaning frequency is contingent on how many pet rats are residing inside every rat cage. However, regardless of that number, you have to carry out a few tasks daily. These tasks include replacing bedding, removing solid waste and soggy floor coverings, wiping cage bars with wet tissues and throwing away spilled food items.
Furthermore, you should extensively disinfect and clean your rat cage at least once a week, regardless of how may pet rats you have.
How to carry out disinfection of a rat cage?
You can use vinegar to disinfect any kind of rat cage very effectively. Wipe the rat cage on a daily basis using wet tissues soaked in vinegar. This is the most economical and safest means of ensuring that your rat's cage is clean. You also minimize the presence of lethal microorganisms that can make your animal sick. It is also preferable to use a veterinarian-approved and rat-friendly disinfectant.
How do you prevent a rat cage from smelling?
Adopt every-day cleaning practices. Apple cider vinegar can act as a natural deodorizer and neutralize the ammonia. Wipe the rat cage every day with wet tissues dipped in vinegar (as stated above).
Discard dampened bedding and visible waste as soon as you possibly can.
Furthermore, ensure that you feed your pet rats with a proper diet that comprises top-quality lab blocks and a blend of fresh vegetables and fruits—a poor diet results in foul-smelling stools and oily skin.
How can you make a rat cage smell good?
There happen to be several odor-control and high-absorbent rat beddings available in the market today. Recycled wood pulp is an ideal rat bedding that you can make use of so that your rat cage smells good.
What does a pet rat require in its cage?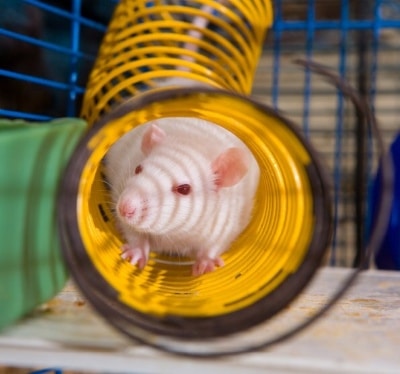 In addition to good quality food and cool water, rats require many toys to help with their incredibly high levels of energy!
What do you need to put inside a rat cage?
Prior to bringing a rat home, ensure that you have these things put in your pet's home:
A water bottle
Warm bedding
Ceramic food bowl (fill it with fresh produce and dry rat food alternately)
Several mentally and physically stimulating toys
A hammock
How to use fleece to line a rat cage?
In the beginning, fleece might cost a lot. However, in the long run, this item is economical, as you may just wash and reuse it.
Just remove the pans and carve out a rectangular or square cut out for every one of them. Each fleece needs to be larger (an inch) so that you may tuck the extra material under the shelf with the help of a binder.
How do you make sure your rat to remain in his/her cage?
Rats simply love to play, nibble and move around constantly. This means it is vital that you provide your pet rat with a spacious cage to accommodate several accessories and toys. If your pet is living luxuriously where it can relish partaking in many things and has a broad assortment of delectable treats inside its quarters, it would enjoy whiling away more time in its cage instead of trying to get out.
How do you make rat cage completely escape-proof?
Selecting a cage that the manufacturers have designed specifically for rats is the best possible way to make sure that it is escape-proof. If you happen to pick the wrong rat cage, purchase a hardware cloth from a home depot and use the said cloth to enclose the cage. In order to be regarded as escape-proof, a cage needs to have a 0.5 inch of bar spacing.
What is cage size appropriate for two rats?
A rat cage that measures 72 cm L x 36 cm W x 44 cm H will be more than adequate for two rats. However, you will require more space if you want to add extra items like toys in the cage to keep your loving pets blissfully busy.
How much volume of space does a pet rat require?
To live comfortably, a rat requires two cubic feet of space.
Can you keep a rat in an aquarium?
The short answer is no! A small sized aquarium is not at all a suitable home for a rat. An aquarium has several concerns that are unfavorable for a rat, such as lack of space, elevated ammonia fumes, condensation, overheating, and glass breakage issues. Furthermore, compared to cages, you need to clean an aquarium more often owing to health purposes.
Do rats like wheels?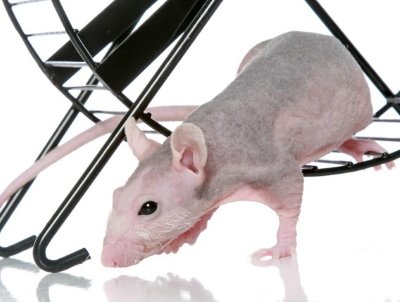 Generally, rats thoroughly enjoy it when they run on an exercise wheel. It keeps them fit and fulfills their need for physical activity.
Can rats live alone?
Rats happen to be social creatures. They gain much stimulation and enjoyment of another's company. In the wild, they reside in big groups, so when you keep one as a pet, it lives a more natural life if you keep them in pairs or more.
Should I cover my rats' cage at night?
You should do so if you are concerned about your pets catching a cold in a chilly home. That is more likely to happen if you have baby rats.
Are ferret cages good for rats?
A wire ferret cage (multi-tiered) makes for an ideal, enjoyable, well-ventilated and spacious home for all pet rats.
Do rats get bored?
Rats are very curious animals and tend to get bored very easily. Hence, it is your responsibility as a pet rat owner to ensure they have something entertaining and fun to do all day.