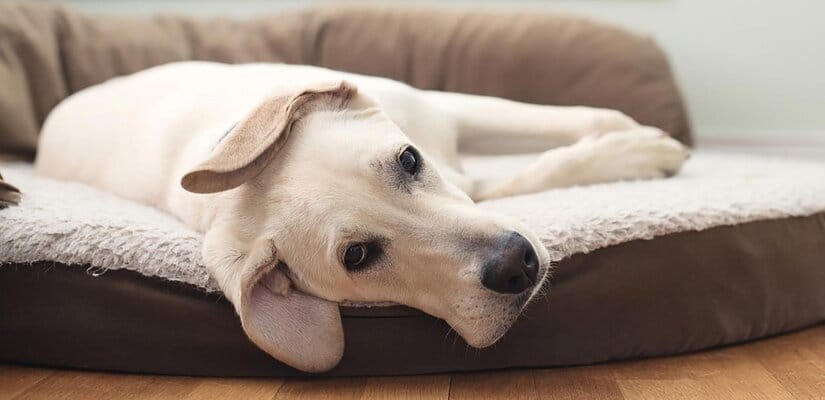 Dogs, similar to humans need to have a comfortable and safe bed. Today, pet parents are aware that dog beds are a necessity, and that dogs benefit from an orthopedic dog bed. Although your furry best friend may enjoy hanging out on the couch with you, there's nothing that compares to his own space, and his own bed.
We all enjoy cuddling with our dogs, and welcoming them into our beds, yet dogs do benefit by having their own beds with their blankets and dog toys. With so many dog bed options, it's an exciting time to go dog bed shopping for your pooch! Read the reviews, visit websites, and consult with your veterinarian for advice if your dog suffers from medical issues.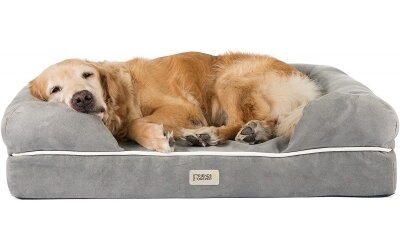 Our Choice
Friends Forever Orthopedic Bed
Comfort: 9
|
Usability: 10
|
Safety: 9
The Friends Forever Orthopedic Dog Bed Lounge Sofa provides the most support and comfort. With memory foam being a favorite among pet parents and veterinarians, this orthopedic dog sofa bed is designed especially for dogs with hip dysplasia, joint or arthritic pain or muscle disorders.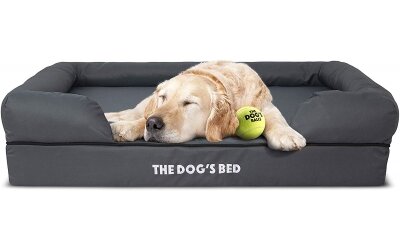 Best Overall
The Dog's Bed Orthopedic Bed
Comfort: 9
|
Usability: 8
|
Safety: 9
The Dog's Bed Orthopedic Dog Bed is another orthopedic dog bed that offers optimal musculoskeletal support and comfort. This dog bed provides contouring support to dogs of all ages.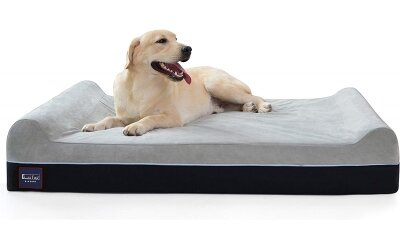 Best Value
Laifug Orthopedic Memory Foam
Comfort: 7
|
Usability: 8
|
Safety: 8
The Laifug Orthopedic Memory Foam Extra Large Dog Bed is another memory foam orthopedic dog bed that is affordable. Not only does it offer orthopedic support for dogs of all sizes, but the brand adds that this product is chemical-free.
Comparison Table Of The Best Dog Beds 2020
PRODUCT
RATING
PRICE
MACHINE WASHING
CHEW PROOF
WATERPROOF
SOFT TOUCH
BREEDS SIZE COMFORTABLE
PET SAFE MATERIALS
ORTHOPEDIC
REMOVAL COVER
DOG COMFORT
USABILITY
SAFETY
Friends Forever Sofa

Our Choice

9.7
High price

✔

✔

✔

✔

up to 100lbs

✔

✔

✔

9
10
9
The Dog's Bed

Best Overall

9.4
Average price

✔

✔

✔

✔

100+ lbs dog

✔

✔

✔

9
8
9
Laifug Orthopedic

Best Value

9.1
Average price

✔

×

✔

✔

up to 200lbs

✔

✔

✔

7
8
8
Barks Bar Dog Bed
8.6
Average price

✔

×

×

✔

up to 100 lbs

✔

✔

✔

7
7
8
Sterling Pet Bed
8.1
Low price

✔

×

×

✔

up to 100lbs

✔

✔

✔

7
8
7
Best Friends by Sheri
8.0
Low price

✔

×

×

✔

up to 150 lbs

✔

×

×

8
6
7
---
Friends Forever Lounge Sofa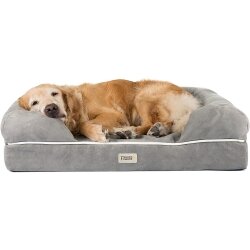 9.7 - rating
High
Our Choice
The Friends Forever Orthopedic Dog Bed Lounge Sofa a great option for active and sporty dogs that take part in agility or other dog sports. This awesome dog bed also accommodates giant breeds of 100 plus pounds, or you can snuggle in 2 or 3 small dog breeds in one of the jumbo sized dog beds.
With a poly-fill bolster for optimal comfort, this therapeutic dog bed offers a water-resistant liner with human-grade mattress foam. A big plus with this dog bed is that it does not slide when your dog jumps into it. The Friends Forever Orthopedic Dog Bed Lounge Sofa has elevated sides for optimal head support and comfort.
There is a low- entrance to this dog bed, so even the smallest dog breeds or dogs with limited mobility and joint flexion are able to get into this bed easily. Older, senior dogs will also have limited mobility and issues with joints, so it's always good to take into consideration dog bed heights. Understanding joint pain in dogs, and how dogs suffering from arthritis and joint conditions need to have comfortable dog beds with plenty of orthopedic support is important.
Compilation of customer opinions
The Friends Forever Orthopedic Dog Bed Lounge Sofa is also easy to clean. The cover is also fast to remove, and easily washable, so that saliva stains and dog hairs are not a hassle. Non-bleach wipes or baby wipes are perfect to use as an instant spot cleaner. Lint brushes for fast dog hair removal are great for daily use in-between machine washes.
The Friends Forever Orthopedic Dog Bed Lounge Sofa is available in four trendy colors which include cocoa, pewter, vanilla and khaki beige. It's also available for dogs of all breeds, and comes in the following sizes:
Small (25 x 20 x 5 inches)
Large (36 x 28 x 9 inches)
Extra-Large (44 x 34 x 10 inches)
Jumbo (40 x 50 x 13 inches)
Key feature
Memory orthopedic foam for ultimate support and a non-skid bottom
Veterinary-approved
Designed for extra-large dogs with joint pain or musculoskeletal issues
Easily machine-washable
High-quality item that warrants price
Pros
Durable
Bolstered sides for head support
Human-grade mattress foam
Fur and hair resistant
Chew proof with durable fabric
Orthopedic support
Retains shape and firmness
The Dog's Bed Orthopedic Dog Bed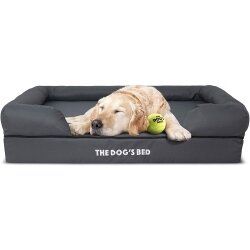 9.4 - rating
Average
Best Overall
This is a good choice for dogs suffering from hip dysplasia, joint aches and arthritis, as well as other medical issues affecting the body. Aging, senior dogs will benefit from this bed as the memory foam will contour their bodies, offering ultimate support and comfort. The Dog's Bed Orthopedic Dog Bed comes in four sizes, and is available in 6 colors. The sizes are small- to XX-large. Spot-cleanings with bleach –free wipes are effective for drool and stains in-between machine washes.
Compilation of customer opinions
The Dog's Bed Orthopedic Dog Bed is made from high-density, orthopedic memory foam that covers a 4" base of support foam with a 2" of premium grade, high-density orthopedic foam for your dog's comfort. This dog bed provides contouring support to dogs of all ages.
Key feature
Memory foam orthopedic dog bed for dog breeds that are over 100 plus lbs.
Lots of awesome ratings from happy pet parents
Good for dogs in recovery after surgery or with musculoskeletal issues
High-quality item that warrants its price
Waterproof
Machine Washable
Pros
Consists of high-grade memory orthopedic foam that does not shrink, and provides ongoing comfort and support over the years.
Mold and mildew resistant fabric
Machine washable with easy-to remove fabric
Helps to prevent pressure sores by providing ultimate relief
Quick –to-dry fabric
Cons
Large dog breeds may have an issue with size
Inner waterproof fabric may not be 100% effective over time
Laifug Orthopedic Memory Foam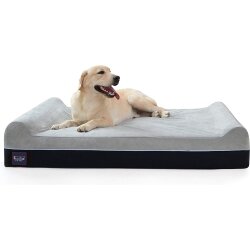 9.1 - rating
Average
Best Value
Laifug Orthopedic Memory Foam has 4" inches of memory foam which includes 2" of comfort memory foam, and 2" of high-density support foam to remove pressure on any parts of the body, and to retain your dog's body's contour.
Compilation of customer opinions
The Laifug Orthopedic Memory Foam Extra Large Dog Bed is available in 4 sizes, and also comes in trendy colors like slate grey and blue denim. It is machine-washable, and has a waterproof liner to help with incontinence, and small accidents that senior dogs or dogs in recovery may be prone to. It supports up to 75 lbs. in weight, with the large size being 46" x 28" x 4". It is available in medium, large and jumbo sizes. This ortho dog bed offers double pillow SMART DESIGN.
Key feature
Very affordable
Uses supreme orthopedic memory foam without chemicals
Offers waterproof liner
Easy-to wash
Helps to provide optimal support for dogs with hip and elbow dysplasia, joint issues, and musculoskeletal disorders
Pros
Offers orthopedic support for dogs with hip and elbow dysplasia, joint issues, and other musculoskeletal problems
Machine washable
Good neck and head support with Laifug exclusive head and neck pillows
Termite resistant
Certified to be free of chemicals (A huge plus)
Cons
Covers may not be durable, but replacements cheap to purchase. ($25)
X-large may not be a good fit for giant dog breeds
Medium size may work best for small dog breeds
Liner may make "crunching" noise sounds
Barks Bar Grey Orthopedic Dog Bed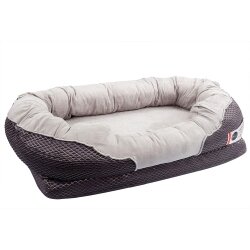 8.6 - rating
Average
This dog bed works best for dogs that curl up while sleeping. It's cushy, plush and comfortable. Additionally, the Barks Bar Grey Orthopedic Dog Bed is an orthopedic dog bed that's reasonably priced. Perfect for smaller dog breeds that sleep curled-up, this dog bed offers 4 of orthopedic foam base for support in dogs with musculoskeletal issues.
Pros
Padded rim for neck and head support
Contains human-grade orthopedic foam
Offers a plush polyester cover that's easy to clean
Machine washable with spot-clean options
Non-slip bottom for strong floor grip and no-skid support
Good for dog breeds up to 100 pounds with up to 36" in length
Cons
Only 2 sizes medium or large
Only grey color available
Sterling Premium Comfort Pet Beds for Dogs and Cats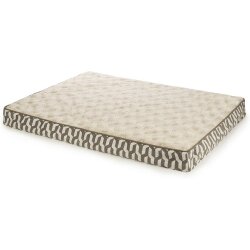 8.1 - rating
Low
The Sterling Premium Comfort Pet Beds for Dogs and Cats is made with thick and convoluted foam for support. This is an orthopedic dog bed with soft and plush fabric, that helps relive joint pain in dogs. The design is fashionable with a chevron brown fabric with added brown piping.
Pros
Made in the US and filed in the US
Orthopedic foam
Classic fabric that is durable and stylish
Machine washable
Easy-to-dry
Affordable
Cons
May have problems with zipper
Best Friends by Sheri Calming Shag Vegan Fur Donut Cuddler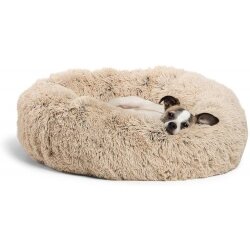 8 - rating
Low
This is the way to go! A vegan dog bed that's not only eco-friendly, but cost effective as well. This is a donut – shaped coddler bed that has raised rims for head and neck support. With faux-shag fur, the Best Friends by Sheri Calming Shag Vegan Fur Donut Cuddler offers deep crevices so that your pet can burrow deep inside, and feel snug and secure.
Pros
Machine washable
Vegan materials
Nylon
Round design
Water-resistant bottom
Pet-safe materials
Variety of color options
Cons
May not fluff up and be "shaggy looking'
Material may be flimsy
---
Why Dogs Need the Right Bed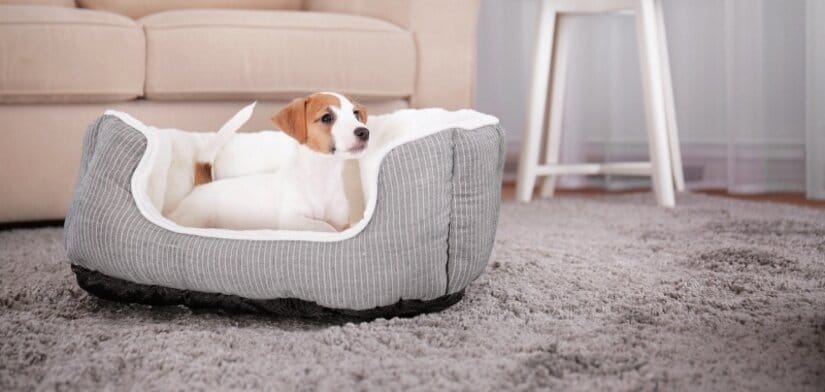 What if pet parents could know in a minute if their dog bed was the perfect choice? Pairing dogs with the best orthopedic sofa dog beds means specifically looking for dog beds that truly encompass canine orthopedic support.
With the abundance of dog beds on the market, it's all about choosing a high-quality dog bed that supports your pet, and gives him a good night's rest!
While pet parents are still looking for comfort and quality, they also want a product that is stylish with a human touch. That said, the best dog beds would still encapsulate a dog's needs, and also offer comfort, durability, and individuality through trending styles.
The best orthopedic dog bed sofa will also offer a bit of fun together with a blissful night's sleep that is restful. Pet dog bed brands today will provide an extensive range of pet dog bed styles, sizes, and designs with cooling gel and memory foam to provide adequate support for the following health conditions in dogs:
Achy joints
Elbow dysplasia
Hip dysplasia
Muscle disorders
Muscle or tendon trauma
Joint disorders
Bone disorders
Bone fractures
Before we start, it's important for pet parents to realize that not only is it important to purchase a high-quality orthopedic sofa dog bed to help with medical conditions and aging, but all dogs need support, when it comes down to diseases and issues with the musculoskeletal system.
The musculoskeletal system in dogs includes the following:
Ligaments
Tendons
Muscles
Bones
Other connective tissue
What Does the Musculoskeletal System Do in Dogs?
The musculoskeletal system supports the body, allows for movement, and protects a dog's vital organs. Disorders in the nervous system, and skin or blood vessels may also affect this system. Diseases of the musculoskeletal system in dogs may cause problems with a dog's ability to move.
Joint and skeletal issues are the most common problems in dogs, with muscle diseases, toxins, neurological problems, blood and vascular disorders, and hormonal imbalances also affecting the musculoskeletal system in dogs. A low-quality dog food formula and birth defects will also contribute to issues within the musculoskeletal system.
Pain Management in Dogs
Dogs, like their pet parents will feel pain when suffering from an injury or recuperating from surgery. The most common types of pain are acute, chronic, neuropathic, and cancer pain. When evaluating pain in your dog, your veterinarian will consider vital signs, pain scales, your dog's history, and most importantly behavioral changes such as aggression or lethargy.
After severe trauma or surgery, your dog will need to spend most of his day lying down and sleeping, while recovering. In addition, pet parents need to recognize that not any dog bed will provide the right amount of comfort and support, while dogs are undergoing treatment.
Managing dogs that are in recovery means that you'll need to provide the best in nursing care, comfort care, non-drug methods like applying heat or ice packs, and following your veterinarian's physical therapy and treatment program.
That said, whether your dog is 100% healthy and fine or recovering from an illness or surgery, you will still need to provide a comfortable orthopedic dog sofa bed in a specially designated area of your home. Your dog will need to be close by you. All dogs need companionship and plenty of socialization. The good news is that there are so many awesome dog beds to choose from!
Sleep Time, Aging Dogs & Memory Foam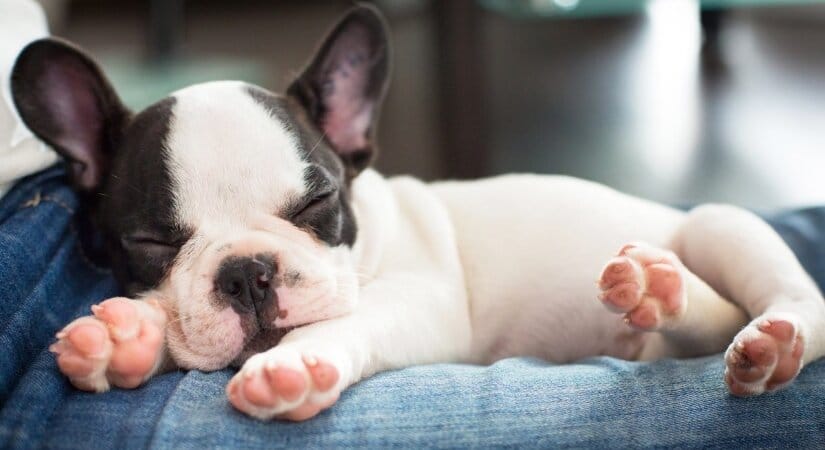 As dogs age, comfort and support in dog's beds is top priority. Aging dogs will have more problems getting up, just like humans. Memory foam, heated beds and blankets will help to provide optimal relief for aging dogs, and dogs that are recovering from trauma or surgery. Memory foam dog beds are also good for dogs that are 100% healthy and active.
Combining orthopedic dog beds with warming mats that have advanced technology helps with the aging process in senior dogs, or dogs that are recovering from injury or surgery. That said, it's best to consult with your veterinarian for advice, and to also provide an array of problem-specific products for your dog like heated mats, memory foam orthopedic dog beds, and more!
Let First Take a Look at The Benefits of a Good Dog Bed!
Memory Foam Dog Beds
A dog's body will change as he or she ages. Additionally, life expectancies for dogs have increased with the pet consumer market demanding pet products like dog beds designed to accommodate and support optimal pet health.
Therapeutic orthopedic dog beds contain foam cores that adjust to a dog's body. Memory therapeutic foam dog beds will also have a contoured top surface that ensures temperature control, and keeps the dog bed comfortable and safe. Let's start with our overall best dog bed which has memory foam.
Common Styles and Designs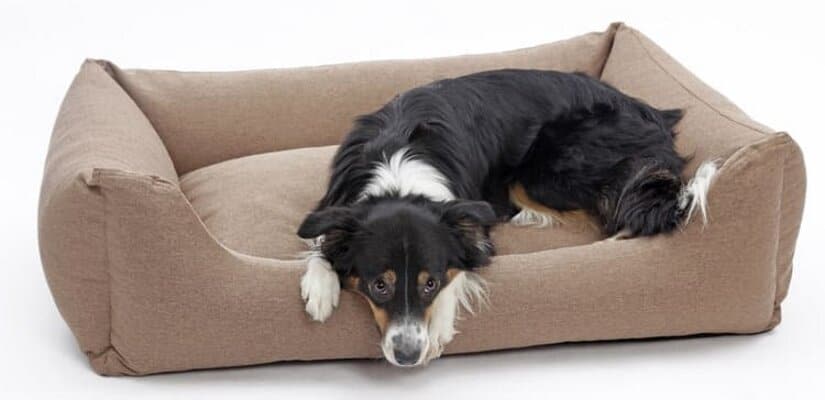 With comfort and orthopedic support being top priority when shopping for dog beds, it's best to understand which styles may be best for your furry best friend. Some dogs enjoy sprawling out when asleep, while others prefer to curl up and snuggle deep within the dog bed. Popular styles in dog beds today include the following:
Donut-shaped burrowing beds
Orthopedic sofa dog beds and cushions
Pillow bed
Sofa bed
Burrowing bed
Dog cot
Heated beds
Dog beds have two main components which includes the filling (very important), and the outer cover. Additionally, common filling materials may include the following:
Memory foam
Polyfiber
Support foam
Cedar
Dogs bed covers need to be removable, so that they can be washed frequently to remove doggie odor, saliva, hair and urine. That said, the most common materials that dog bed covers are made from consist of the following:
Polyester
Fleece
Faux suede
Cotton or organic cotton
Important Features to Consider
Dog bed fillers should never be washed unless your product mentions "machine washable". It's advisable not to wash polyfibers, foams, and other fillers to prevent damaging your dog bed. Dog bed linings are usually waterproof to avoid urine or water from damaging the bed. Waterproof materials include polyester denier and nylon denier.
If you find the term "denier" on the dog bed, check to see the thickness of the materials fibers. They will usually be in grams. Numerous cheaper dog bed brands will not offer waterproof bases or linings.
Single-layer dog beds are extremely durable dog beds that are made with a single –layer of foam. These are costlier than the multi-layer dog beds that are manufactured from slabs of foam and then stuck together. Filled –beds are the lowest quality, and cheapest dog beds around. You'll need to examine what the filler contents are, and to also make sure that they are non-toxic and safe for your dog.
What to Look for in a Dog Bed?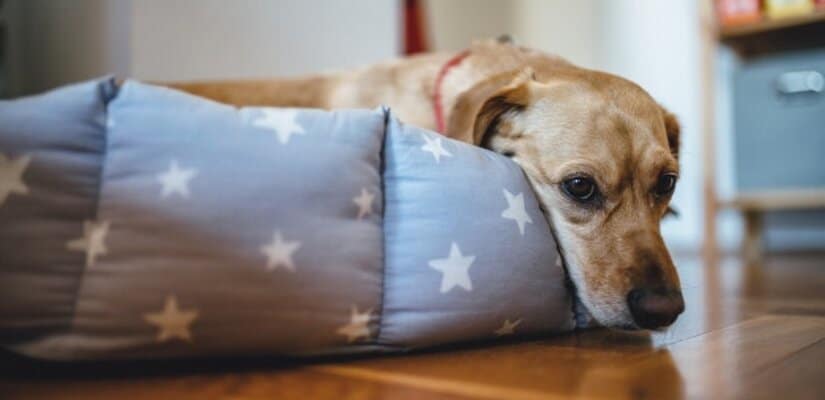 Size
It's important to look for the correct sizing in dog beds. Pet parents need to measure their dogs when they're sleeping and sprawled out so as to get the perfect size. Limbs, head, and other body parts need to remain inside the dog bed for the dog bed to be the right size. If the dog bed fit is not a good fit, your dog will be very uncomfortable. Well-crafted extra-large dog beds are most popular for senior dogs and sporting dogs like agility dogs. One needs to take into consideration optimal weight distribution, and comfort. The foam should always maintain at least 90% of its original shape after use.
Dog bed sizes start with x-small and will run up to XX-large (48" L) for giant sized dog breeds. You will also need to consider your budget, and the quality of the dog bed that you have in mind. Keep in mind that your dog's height is very important when calculating the right size of dog bed for your furry best friend.
Heavier dogs will also need more support with extra-cushioning. Dogs that are underweight or that are recuperating from surgery will also need extra cushioning in their beds. Older dogs will also need extra cushioning, and an orthopedic dog bed sofa for extra support since they will spend more time sleeping.
Colors
Dog beds should be available in numerous sizes, and have multiple color options. Look out for trending colors like chocolate, charcoal grey, khaki and burgundy that are easy to mix and match with other pieces of furniture within your home. Charcoal black and mocha blue are also other color options that work well in the home, and that hide dog saliva, muddy paw prints and dog hair.
What Material is Best for Dog Beds?
Dog beds should be durable, yet comfortable. The dog beds should also only contain certified foam with Certi-PUR-US(R). This will ensure that all the materials used in the dog bed is safe, and does not contain harmful chemicals with side effects. Toxic fire retardants, mercury and heavy metal are materials that pet parents should be on the lookout for.
Pricing, Specs & More!
We love our dogs, and want nothing but the best for them. That said, the right spec means everything. Pricing too! You don't have to spend a fortune to get a good dog bed. Look for 3 supportive layers of foam for uttermost comfort. Soft microfleece covers that are easy to wash make for a snug solution when choosing a comfortable bed for your furry best friend.
Canvas outer layers that are skid proof, and help improve safety with hyperactive dogs work well. Opt for extra-large mattresses for giant dog breeds, so that the fit is good. Proper ventilation and cooling are important aspects to consider when purchasing a dog bed. Also examine heat retention and support issues in your dog bed, as well as warranties.
Raised cots may work for some dogs, with other dogs preferring memory foam mattresses. Raised dog beds will offer a frame that is off the ground with a mattress. These help cool dogs, and keep them comfy, and keeps all pressure off the joints. If your furry best friend enjoys resting outdoors, opt for a raised bed to keep him cool.
What is The Best Dog Bed for Older Dogs?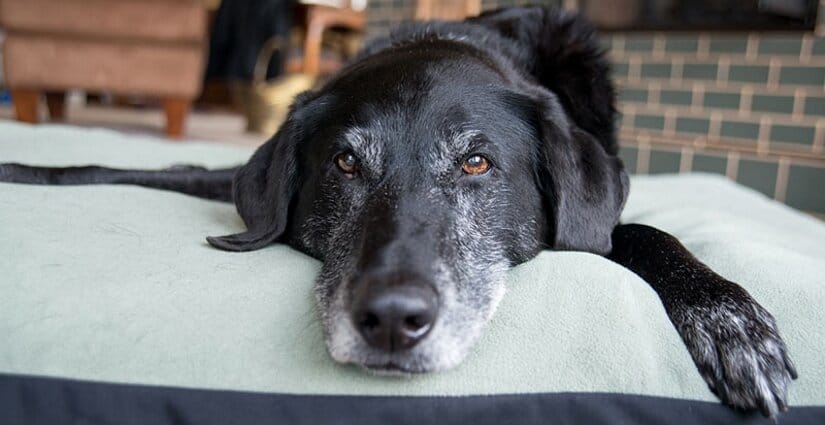 Older dogs need to have supportive beds to cushion achy bones and joints. As dogs age, they will have different veterinary and nutritional needs. Signs of aging in dogs may include a graying muzzle, dental problems, and stiff joints.
Dogs are considered senior citizens when they reach seven years of age, and will need more frequent veterinary consults to check blood work and for health issues. That said, opting for a high-quality orthopedic dog bed sofa will help to ensure your senior dog's comfort level. Understanding what your senior dog needs is key to a long and healthy life! If your furry best friend has arthritis, the best choice is always an orthopedic dog bed.
You'll need to take a look at if your dog's stiff when he gets up or lies down, and if you currently have the wrong dog bed. Additionally, going over budget with a reliable orthopedic dog bed is definitely worth it, since you'll be giving your dog more support and comfort!
If your pooch is elderly, has joint pain or injuries, foam orthopedic dog beds will provide all-round support so that your furry best friend will have a good night's sleep. When dogs lie down in their dog beds, they should not sink all the way down to the floor. The dog bed you choose for your furry best friend should be able to support your dog's weight comfortably.