The Irish Wolfhound is a sighthound that originated from Ireland, and is part of the UKC, Sighthound Dog Group, and the AKC, Hound Group. The original Irish Wolfhound is an ancient dog breed that is believed to have been bred as far back as 339 B.C.E. This was first documented in Rome. It was here that the Roman consul Quintus Aurelius was gifted with seven Irish Wolfhounds.




Hound Dogs
Sighthound
Brief History
The Irish Wolfhound was thought to have been bred with the indigenous large breeds of the U.K to the Middle Eastern Coursing Hounds that were traded around the world during the first days of international trading. The Wolfhound, also known as the majestic hunter, had a motto, "Gentle when stroked, fierce when provoked." This dog breed was used to hunt large elk that stood at 6 feet.
During the 15th century, when wolves were prevalent in the countryside, the Irish Hounds began specializing in wolves. By the end of the 17th century, wolves and large game were becoming extinct, and the Irish Wolfhound nearly became extinct. George Graham, a British army captain saved the Irish Wolfhound from extinction. Today, it is a loyal companion, and is both calm and gentle with family and children.
Temperament
The Irish Wolfhound is a calm, dignified, and intelligent dog breed. This breed gets on well with family, strangers, and children. It is not a guard dog, and enjoys hanging out at home with the children. That said, the Irish Wolfhound is an active dog breed that does well with daily exercise, and plenty of off-leash runs. During puppyhood, the Irish Wolfhound can be destructive, and will need plenty of chew toys, and mentally stimulating activities.
Socialization needs to commence during the first four weeks of puppyhood. Puppies need lots of free play. Positive puppy training classes are beneficial for this very intelligent and sweet dog breed. This dog breed learns very quickly. Because they are so sensitive, all positive training needs to be tailored towards the specific temperament of this dog breed. The Irish Wolfhound, like all dog breeds, does not do well with harsh reprimands, and benefits from a calm, yet an active environment that is dog friendly.
Special Needs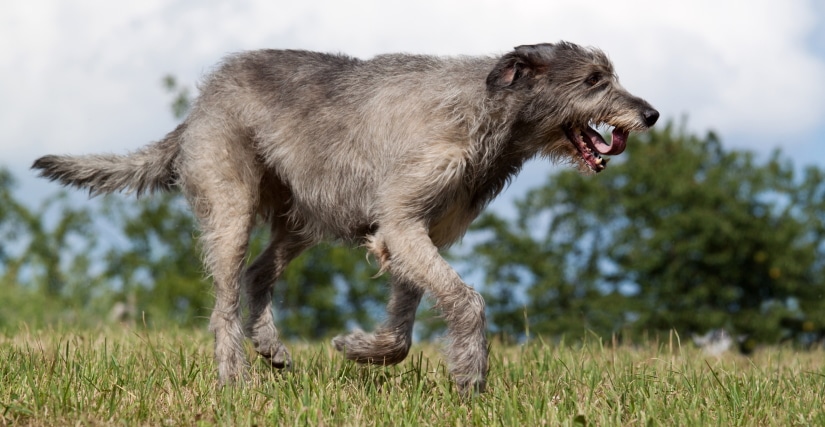 The Irish Wolfhound will need consistent exercise throughout life. This dog breed has a strong instinct to hunt and chase. They need to have lots of off-leash runs in a safe area where they cannot run away. It's important to supervise this dog breed while out and about to make sure that they don't stray!
Mature Irish Wolfhounds enjoy hanging out on the couch with children. They are wonderfully mellow as they age. Long walks and trips to the dog beach will help keep this breed active and healthy as they mature. Large home environments with plenty of space is needed for this breed to be happy. Keep gardens fenced to ensure the safety of the Irish Wolfhound!
Possible Health Concerns
The Irish Wolfhound is a moderately active dog breed that may be susceptible to the following health conditions:
Bloat: This breed is deep-chested, and thus more prone to bloat. Bloat is a life-threatening emergency. It is caused by the twisting of the stomach, together with the accumulation of gas, with or without fluid. It is best to never elevate your dog's water and food bowls. Stress is also a major factor in causing bloat. Avoid feeding your Irish Wolfhound a large meal, followed by exercise. At the first signs of dry vomiting, restlessness and discomfort, contact your emergency veterinarian. Never wait for a few hours. This is a true emergency that is life-threatening!
Osteosarcoma: This is cancer affecting the bones, and is the leading cause of death in the Irish Wolfhound. Symptoms include pain, heat, swelling, lameness, and unwillingness to put weight on the affected limb. The course of treatment is usually amputation of the affected limb together with chemotherapy.
Lymphoma: This is cancer of the lymph system, and is also common cancer found in the Irish Wolfhound. Symptoms are fatigue and inappetence. In most cases, cancer is not found until the enlargement of the lymph node. Treatment is chemotherapy. Consult with your veterinarian for advice.
Hip Dysplasia: This is a hereditary developmental disease. HD affects Irish Wolfhounds. HD occurs when the hip joint fails to develop properly. In the Wolfhound with HD, the head of the thigh bone does not fall into the hip socket. The imperfect fit results in the joint becoming loose and unstable and results in osteoarthritis.
Dilated cardiomyopathy (DCM): Genetic predisposition to DCM is seen in large breeds like the Irish Wolfhound. DCM is a disease affecting the heart muscle where the heart stops pumping properly.
Von Willebrand's Disease: This is an inherited bleeding disorder in Irish Wolfhounds. Excessive bleeding will occur after a cut or surgery. Dogs that are affected will bleed from the gums, and have numerous nose bleeds. This disease has no cure.
Exercise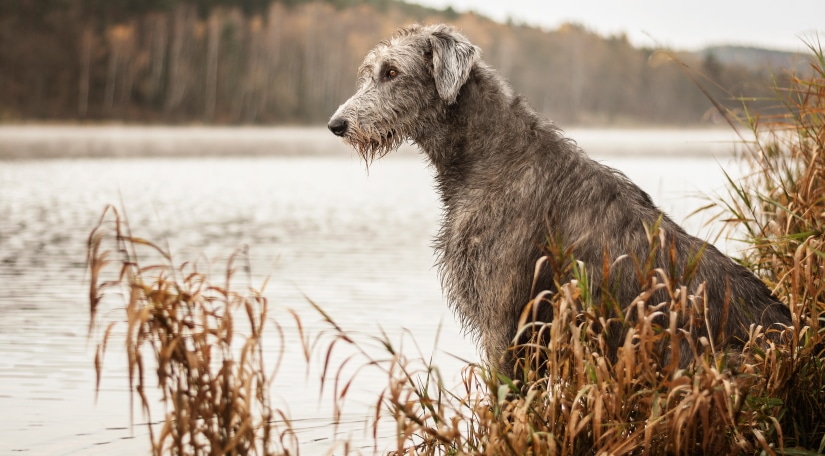 The Irish Wolfhound enjoys goofing around with family, most especially children. This breed needs regular exercise every day. They enjoy being indoors with their humans, but also need to participate in canine activities. This dog breed does well with long hikes in the woods, and frequent trips to the dog park or beach. Puppy Wolfhounds need to have shorter 10- minute walks a few times a day. Adults need to be able to run off-leash and expend their energy. The Irish Wolfhound does well with tracking, lure coursing, and agility.
Nutrition
High-quality dog food for the appropriate life stage is recommended for the Irish Wolfhound. Pet parents should never underestimate the importance of a well-balanced diet for this small and spirited breed. That said, dog food that works for one dog, may not work for another. Wolfhound dog parents should assess their dog's activity level, age, breed, and any medical conditions that he or she may be prone to. Some dog food formulas contain probiotics, salmon oil, and guaranteed calcium and phosphorus levels to help support the healthy development of your pup's teeth and bones.
For older Irish Wolfhound dogs, look for recipes that offer glucosamine and chondroitin for hip and joint wellness. The protein options can include turkey and chickpea stew, salmon and chickpea stew, and a chicken with chickpea with no artificial flavors, corn, or soy in the ingredients. Consult with your veterinarian for the very best nutritional advice for your dog!
Grooming
Irish Wolfhounds have a double coat that has a harsh, wiry outer layer, and a soft undercoat. That said, this breed sheds throughout the year. They do not however shed a lot. Daily brushing with a pin brush will remove dirt and excess hair. Irish Wolfhounds during shedding will not "blow out" their hair all over the house. Visiting a professional groomer will help keep your Irish Wolfhound looking his best. As usual, pawdicures are a must, as is daily brushing of teeth to prevent periodontal disease. Ears need to be inspected regularly for ear infections, and wiped weekly with doggie wipes.
Adopting an Irish Wolfhound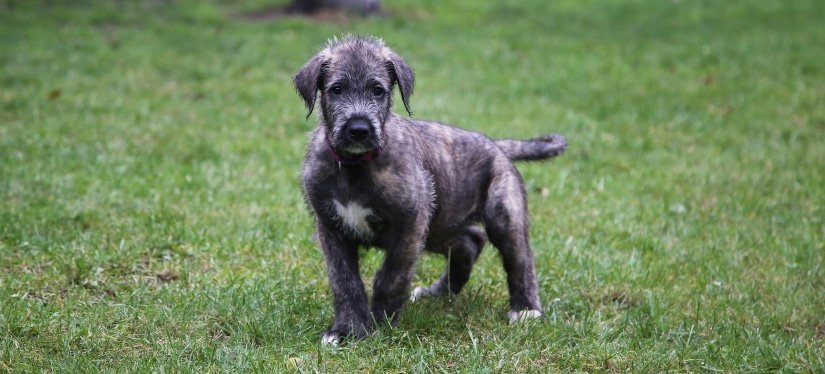 Wolfhound puppies take as long as 18 months to mature. This dog breed is gentle, kind, and loyal. Puppies need positive puppy training from early on, to ensure that they understand what is being asked of them.
Socialization needs to begin during the first four weeks of life for this breed. Because this breed is rather large, it is necessary to have a large garden for both pups and adults to play in. Exercise should not be forced on this dog breed, most especially pups. The Irish Wolfhound does not do well left alone for long periods of time, and can become destructive and anxious.
This dog breed enjoys doggie day camps where they can interact with other dogs and people if dog parents are at work all day. They make for a wonderful adoption, and despite their large size, manage to cuddle up with their humans for extra attention. This very loving and sweet dog breed needs attentive dog parents that will focus on the particular Irish Wolfhound's dog breed requirements pertaining to feed, exercise, and canine sports.
As with all shelter rescues, your Wolfhound may have some issues. These will most likely be small, and can most times be worked through with the help of a positive dog trainer and sound veterinary advice. Always take your new furry best friend to the veterinarian for a full health check, so as to rule out any medical conditions that may contribute to behavioral issues.
As usual, make sure that you have the time and resources to take good care of your Irish Wolfhound before adopting!
Irish Wolfhound Breeders in the USA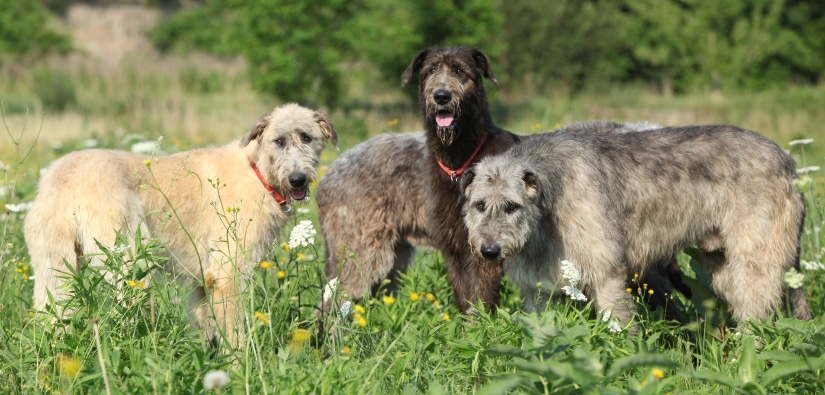 Breeders in the Canada