Herding Dogs
Will This Be The Right Breed For You?
Is the German Shepherd dog the right breed for you? This is an important question you should thoroughly research and consider before you decide you want a German shepherd. If you figure out that a couple of things will be difficult for you look for another breed.
Don't give in to your child's pleading. Be adamant about it, if the German Shepherd is not the right dog for you there's nothing you can do about that. I'm stressing this out because this is the most popular breed in rescue centers and it's because of impulse buying. There are more homeless and abandoned German Shepherd dogs than any other breed.
But they can't be unfair to the owners either. Most do their research beforehand but there are several types of German Shepherd temperaments and it's very easy to end up with something else than you originally wanted.
Because of this variation people have unrealistic expectations of what their German Shepherd should be. Then people get angry and think they were tricked and, of course, they take it out on the dog.
What is your future puppy going to be like
German Shepherds are brave and powerful dogs. They are always alert, always on the watch and don't back down from a challenge. They love their owners and they want to be obedient and pleasing, they are eager to learn from you and develop strong bonds when doing so.
The dog is clever and happy. He is seldom troubled and very faithful, he wants you to count on him. For this type of dog, early socialization is a good idea since while he bonds tightly with his family he can grow suspicious of strangers.
They are generally great with children as well as other pets and can adjust to any weird combination of pets you might think of. However, beware of dogs that lack obedience training. If they have passive owners who don't take care of them they will become shy and can develop guarding issues.
There have been accounts of attacks on people due to poor training and uncareful handling. In truth, such problems only arise when the dog doesn't have an authority figure and when he lacks exercise.
If we were to summarize what the German Shepard needs in a sentence, we couldn't. For starters, this dog shouldn't be left out in the yard and forgotten. He lives for human interaction. Leaving him alone will push him to any number of destructive behaviors.
Expect him to start digging and barking, jumping and scratching. He will become fearful and aggressive and will adopt an overly defensive posture even towards his owners.
But you can't just keep them inside either. Unlike many dogs that are not couch potatoes. German shepherds are very active and need a lot of exercise. They are also very intelligent and this means you have to keep them both physically and mentally stimulated.
The last big thing is socialization and training. They need at least early obedience training and a lot of socializing with other people, animals, strange noises and chaos.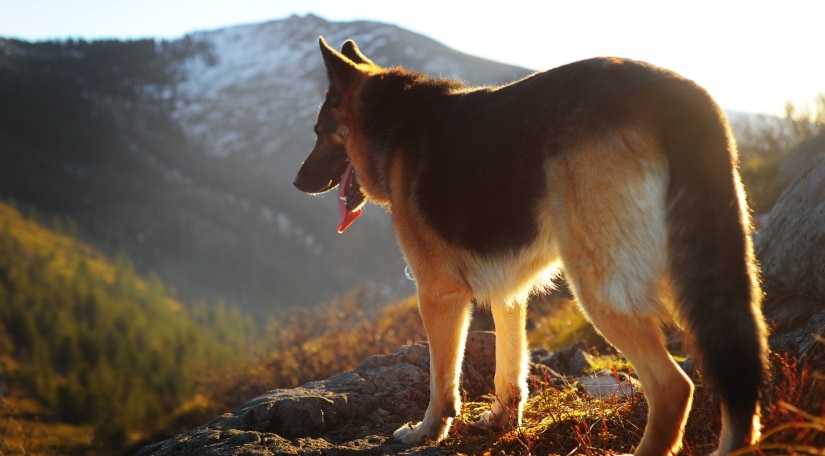 Other things to consider
The German shepherd sheds all the time, and two times a year they shoot their coats completely. If you have any problems with hair in your food and whatnot, or if you have people with dog allergies, you need to be careful.
German shepherds have strong personalities and are protective of their family and territory. They are loyal to their owners and need thorough training because they are quite powerful and you wouldn't want them to be aggressive.
On the same note, they are quite suspicious of strangers and are not submissive. They wait for the owner to give them the okay before they can relax. Furthermore, there are vast differences in genetic lines. There are West German Shepherd Sunset and East German show and working lines, American, Czech and Dutch bloodlines which have different original purposes.
Regardless, a normal person probably doesn't want a German shepherd bred for bomb detection or border patrol. But even a companion German Shepherd needs training and socialization.
As you can see there are many things you need to consider before you can decide to buy a German shepherd. But there is a way around many of these potential risks if you were to buy a puppy.
Community Standards On Responsible Dog Ownership
You are now the proud owner of a German Shepherd dog and, no matter where you live, it's your job to follow the community standards on responsible dog ownership with regards to you and your neighbors.
Although we call it serving your community, most of these tips are meant to ensure a healthy relationship between you and your German shepherd. Things like exercise and training you would want to do regardless of the situation, but they are there nonetheless.
So training doesn't come as a surprise. All puppies need training, and German shepherds are no exception. There's actually an AKC Canine Good Citizen test, and when your dog is ready to be tested, you can search for an evaluator in your area.
Make sure you always have a plastic bag when you walk your dog and make sure you dispose of any waste he leaves properly. Picking up after your German Shepherd is important and not doing it is disrespectful to your neighbors and against many city laws.
Preventing excessive barking is a biggie. There are many cases where neighbors file complaints because of a dog that doesn't stop barking all day long. Some buildings don't even allow dog ownership because of reasons like this. Once again, training and exercise can help prevent barking.
An ID tag is necessary with your name, address and phone number. In addition, you should get a microchip implanted when the veterinarian suggests. It's a small thing; roughly the size of a grain of rice and it's usually implanted between the dogs shoulders.
The German Shepherd is quite a loyal dog, unlike a Siberian Husky for example. While for a Husky it's imperative that he has a microchip, even for a German shepherd it's an important bonus that will make finding him a lot easier; should he decide to run away.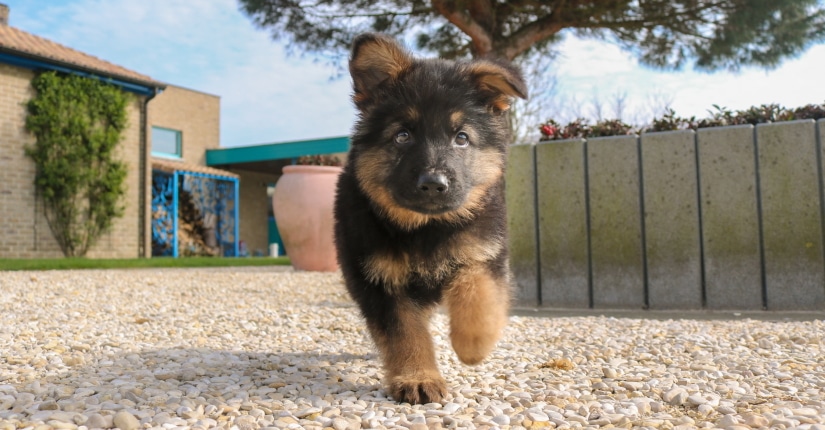 In almost any city you will need to have a license for your dog. Not only that, but it needs to be renewed annually. Having a licensed dog can help you in many situations that involve authorities and will save you a lot of headaches and pocket hassles.
Last but not least, always use a leash. Of course, some exceptions include designated areas in city parks. But, in general, your German Shepherd should be on a leash no longer than 6 feet whenever he's out in public.
Almost everything is common sense, and any sensible dog owner wouldn't even consider any other behavior anyway. Perhaps the most important is training your dog. Not only does the community benefit from it, but the biggest benefit comes to you.
First Encounter With His New Home
When you first bring your new German Shepherd dog home you need to be aware of a critical adjustment period he is going to go through; which usually lasts about two weeks. Whether you've chosen a new puppy, or have adopted an adult German Shepherd, he's going to go through this adjustment time.
Especially if you've adopted an adult dog, who has had a previous owner, this period will be very stressful for him. To ease this transition and make it a smooth ride for both you and your new dog. Here's what you can do to provide a little comfort and make his personality shine.
Be careful not to overwhelm your new German Shepherd
One of the biggest issues dogs have to deal with when moving into a new home is overwhelming information. There are new people, new things, a different place and new pets and they usually come all at once.
In this situation, he can become fearful even if your family is open and caring and loving and doesn't look like they want to harm him. Also, you can't know how your other pets will react to the new family member.
Instead, introduce them one at a time. Start with your home and then work your way to familiarizing him with his new life. If you have other pets keep both of them under control in case there are problems. Once you see they get along you can relax and let them enjoy time together.
Changing diets can cause digestive problems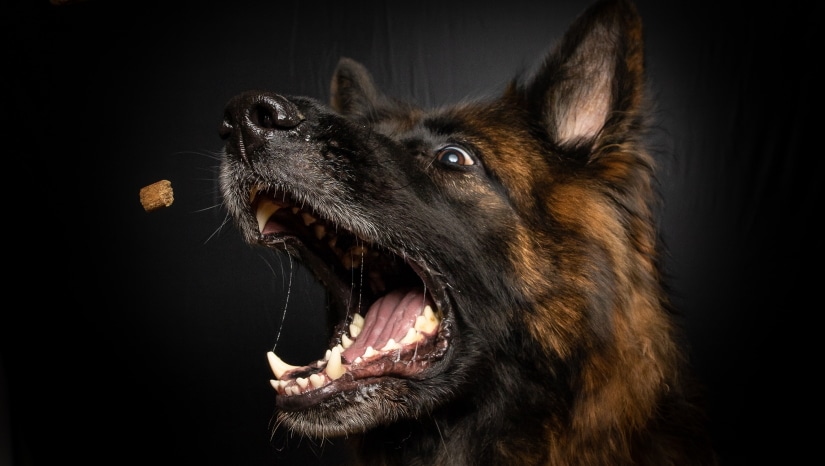 It's a good idea to keep giving him the same food his previous caretaker was giving him and gradually change it to his new food. However, it might be impossible to get the same food.
In that case, what you can do is mix some rice in his first few meals to facilitate digestion. Your German shepherds shouldn't have any problem with his new food anymore.
If he still has problems it's a good idea to visit a veterinarian. It might be something more serious and since it's the first time you knew him you can't know for sure.
Even if he was housebroken it's quite possible to have a few accidents on your hands. Your job is to reassure him that nothing is wrong and teach him the best way to go about it.
Don't punish him, and don't discipline what he did wrong. The key here is to be patient and understanding. Give him time to adjust; it's not an easy time for him.
Be aware that he might try running away
It's a great idea to get your dog a microchip. If he already has one make sure you update its registry. It takes time for your new German Shepherd to think of his new surroundings as his home.
If he ever gets loose it will be almost impossible to track him down because he won't try to come back to you. In any case, it's always better to take all the precautions you can instead of wishing you did.
Lastly, don't enroll into training classes until this adjustment period is over. When his real self starts to emerge you know he's ready to have some fun.
German Shepherd Apartment Dogs, Can It Work?
The German Shepherd has a good record of being able to do a variety of tasks, from watchdog to guide dog, police dog to tracking dog he has done them all. Furthermore, he excels in what he does because he has a strong desire to please.
They have a solid physical structure with strong scissors bite, a well-rounded chest and a muscular body. This allows them to tackle any job and, coupled with their natural intelligence, makes them be obvious choices for such tasks. Their body goes for about two feet and they stand as high as 25 inches at the shoulders. Overall a well-sized, strong breed.
How Your Puppy Will Do In An Apartment
Most of the time they can adapt to living in an apartment but it's much better for him to have at least a medium-sized yard. Here's the deal, the breed is so clever that he can herd sheep, be a guard dog, do police work, be a service dog or work in the military.
They can even sniff out underground mines and alert their handler in time. So you can imagine why they have a job-oriented drive. They need something to use their physical and mental energy on. This is why it's unlikely that he will thrive in an apartment, however, he can do okay if you take care of his training and exercise.
Grooming and shedding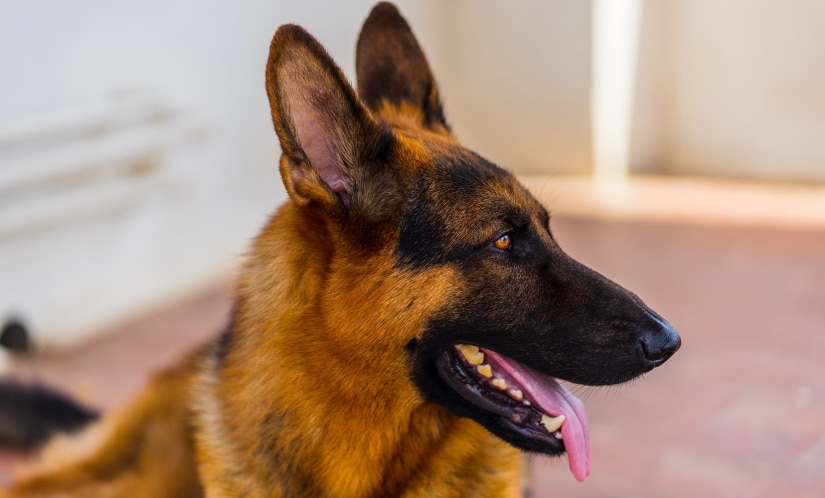 He sheds a little every day and is a heavy shedder seasonally. He doesn't need too much bathing because it can negatively affect his skin due to oil depletion. However, they need regular brushing to prevent that pesky hair from sticking to all the furniture.
One interesting note is that a good diet will make his coat shine and will also prevent skin problems. The best diet for a German Shepherd is to cook fresh, preservative-free food. It doesn't take much time to cook but it's much better than buying average foods.
Still, you should know that an adult dog will eat around 40 pounds of dry dog food per month. A good recipe is to cook a casserole containing of 500 grams of meat, a potato and some green beans. You can also include a carrot, some celery and some Gravox to ensure a balanced meal. This needs to be cooked for one hour to facilitate digestion.
Overall German Shepherds do okay in apartments if they are exercised properly. They like a medium yard better than sitting indoors and don't like to lay on the couch doing nothing. It's very easy to train them and they are extremely loyal to their owners. Should one properly take care of their dog one will find an excellent companion in him.
How to Keep Your German Shepherd's Diet Healthy And Prevent Food Related Health Problems
A German shepherd can develop many health issues if he's not being fed right. Overfeeding is a problem many dog owners face, and many natural instincts people have, with regards to what food they give their dog, are incorrect.
Overfeeding is a problem for people, so it's somewhat logical why many dogs also have problems in this regard. Whatever the reason, excess weight is very dangerous for a German shepherd because it puts his internal organs at risk; he has an increasingly higher chance to develop heart disease, and his lungs can be severely affected as well.
Most feeding problems appear because of a lack of knowledge of the proper rules by the general population. Regardless, most of these problems can be corrected by applying the following steps.
How to feed your dog the right way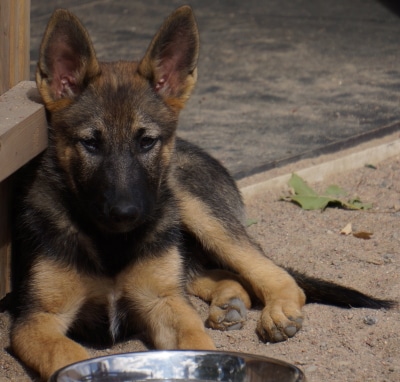 There are three stages of development in a dog's life that require different diet and exercise schedules. During puppyhood the dog will eat a lot more and will be highly active; an adult dog has normal food and exercise habits and an older dog can require special diets and doesn't need nearly as much exercise.
Make sure you pick up high-quality food. They cost more but you feed the dog less because there are more nutrients and the dog assimilates better. This is both good and profitable.
You probably don't have a steady diet, and you probably don't have regular eating times. It affects you even though you may not be aware of it, and if you do have steady eating times you know how important they are.
Your German Shepherd is the same, only he will have many more problems from an irregular eating schedule than you will. Don't worry about hunger pangs for your dog; he only needs a couple of meals daily as long as he has a balanced diet and a regular schedule.
Always put your dog's food and water bowls in the same place. If you have crate trained him, then that's the best place. Also, if you have more than one dog give them separate food and water bowls, you don't want them fighting over food.
You already know you shouldn't overfeed your German Shepherd. And you should also take care not to over-treat him. Too many treats will add unnecessary and unhealthy weight. The same goes for too many supplements and too many vitamins. Make sure you consult with your veterinarian on these topics before you decide to go crazy on supplements.
Also, never give your dog the food you eat. He might be hard to resist with all that crying, but he doesn't know how harmful your food can be to him. Anything from dairy products to chocolate can have harmful effects on his health.
Last but not least, establish a 15-minute deadline. Give your German Shepherd food and, if after 15 minutes he stopped or walked away, he has had enough. When he does, make sure you take the bowl away and throw the residue. You need to take the food bowl away so you don't promote food guarding.
Are You Loving Your Dog Too Much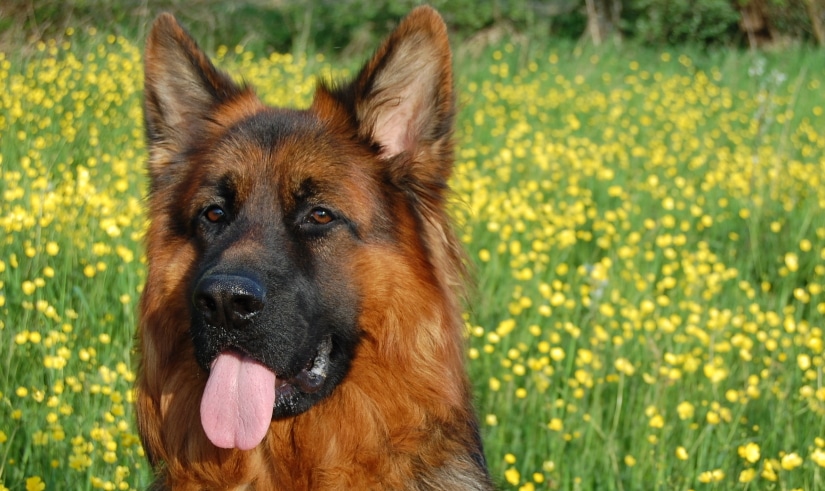 You hear it so often, people proclaiming their limitless love for their dogs. To be sure, the bond between a human and canine is special, and a wonderful thing, especially if the dog is particularly affectionate, like German Shepherds so often are.
One thing we humans have trouble with is expressing positive emotions; "I can't express my gratitude to you", "I cannot thank you enough", "words are beyond my …". We also have trouble expressing love towards our closest friends, be they people or German Shepherd dogs.
So we try to show them these feelings by buying the best and softest, shiniest and most comfortable beds and crates, the tastiest food and the most technologically advanced leash. We have a very queer belief that, if what we think is important, then everyone must think it's important as well.
Another way we choose to express our love is with food. We do this in a good and bad way. The good way is that we research the proper food and diet that contain the best ingredients and we find the tastiest treats to make sure our dog knows how much we love him.
The bad way is that we project our eating discipline on our German shepherds. Most people have little to no discipline when it comes to food and many of us use it as a form of comfort. But our dog isn't happier if he is eating more than he should be.
Specifically, German Shepherds are prone to a variety of health problems which have a much higher rate of occurrence if the dogs are overweight. If you still think showering him with more food than he can handle is the right thing to do, think of how many overweight animals are in nature.
Proclaiming love through lack of leadership
This is the worst of them all, letting your dog in charge. People consider that if they are happy without discipline, their dogs must be too. But dogs are pack animals and they need a leader.
In nature, there is always a pack leader. In your family (or pack) you need to be the pack leader. And, as the pack leader, it's your job to make clear which behavior is acceptable and which is not. Here are a few unacceptable behaviors people don't generally understand.
Many trainers advise you against letting your dog on the bed. Letting him stay in an equal position to you is not a good idea. The better way to go about this is to only let your dog on the bed with permission. This way he doesn't have full access, so he is not in an equal position.
Jumping on you and your friends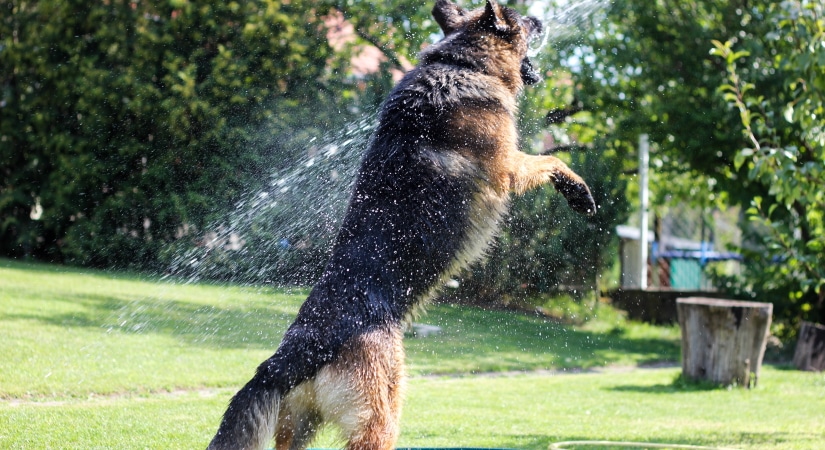 This may be cute when he's small, innocent and harmless but it's much harder to control once he weighs almost as much as you. This behavior is actually a form of asserting dominance – the dog is saying pay attention to me now and whoever is the recipient of the leap must comply.
Most dominance problems are easily corrected using a "nothing in life is free" philosophy with your German Shepherd. It's very simple; all you have to do is make him do something to get what he wants. Does he want to go out? Make him sit first. Does he want to treat? Make him obey something and then give him a treat.
There isn't a better and easier way of asserting dominance over your dog than this. This trick is a constant reminder of who is in charge and a great way to make sure your dog always listens to you. What more could you want than a trustworthy German Shepherd companion.
German Shepherd Rescue Groups
German Shepherd Rescue & Adoptions
Address

Durham, NC, USA

Website

www.gsdrescue.org

Email
Virginia German Shepherd Rescue
Address

Centreville, VA, USA

Website

www.shepherdrescue.org

Phone

(703) 4352840

Email
German Shepherd Rescue of Orange County
Address

Newport Beach, CA, USA

Website

www.gsroc.org

Phone

(714) 9747762

Email
Westside German Shepherd Rescue of Los Angeles
Address

Los Angeles, CA, USA

Website

www.sheprescue.org

Email
German Shepherd Rescue Network of Ontario
Address

Ontario, Canada

Website

www.gsdrescueontario.weebly.com

Email
German Shepherd Rescue
Address

Nipissing, Ontario, Canada

Website

www.shepherdscountryhavenandrescue.com

Phone

(705) 7295961

Email
German Shepherd Rescue
Address

United Kingdom

Website

www.germanshepherdrescue.co.uk

Phone

(01493) 369351

Email
German Shepherd Rescue Elite
Address

Guildford, Surrey, UK

Website

www.gsrelite.co.uk

Phone

(08456) 006628

Email
UK German Shepherd Rescue
Address

Preston, UK

Website

www.ukgermanshepherdrescue.co.uk

Phone

(07767) 768694
German Shepherd Rescue South
Address

Hampshire, UK

Website

www.german-shepherd-rescue-hampshire.org.uk

Phone

(02392) 221485

Email
Breeders in the USA
Breeders in the Great Britain
Breeders in Canada
Breeders in the Great Britain