The Saint Bernard is part of the AKC Working Dog Group and the UKC Guardian Dog Group. This breed came from Switzerland and was bred by Swiss monks during the seventeenth century. The AKC adds that "The huge head features a wrinkled brow, a short muzzle, and dark eyes, combining to give Saints the intelligent, friendly expression that was such a welcome sight to stranded Alpine travelers."

28-30″ (males)
26-28″ (female)



Working Dogs
Brief History
This breed was bred by monks living in the Swiss Alps of Saint Bernard to help locate and rescue travelers injured by avalanches. The powerful Saint Bernard dog breed helped travelers that had been unfortunate crossing the mountain passes between Switzerland and Italy.
The brave and sweet Saint Bernard dog breed was bred for search and rescue and used to draft, guard, and turn-spit. The Saint Bernard's is believed to have rescued over 2,000 lives through their search and rescue efforts at the hospice. This breed is thought to have originated from the Roman Mastiff and arrived in the U.S during the nineteenth century.
Physical Description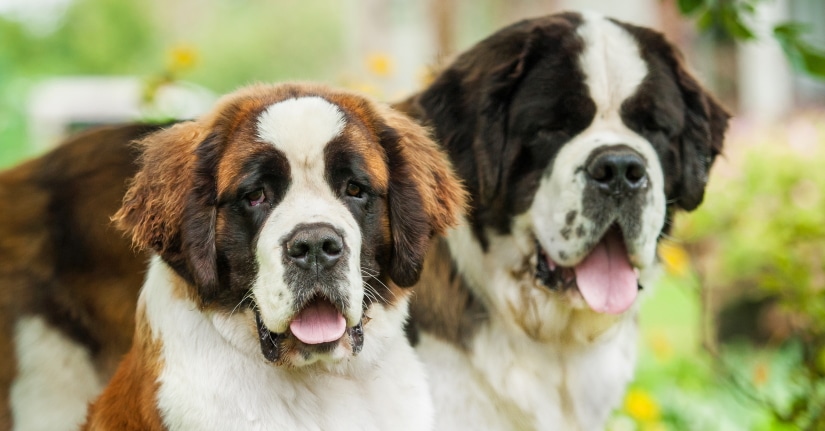 The Saint Bernard is a wonderfully large and powerful dog breed with a large head and square-shaped body. The Saint Bernard's head has a deep furrow over the skull. With a twice as long skull as the short, blunt muzzle, the nose is black and broad.
The eyes are intelligent and kind and are set more to the front than the side. The lower eyelids do not close completely. The ears are drop ears of medium size and are set high. These are shaped like rounded triangles. The feet are large, and the tail is long.
This breed has a double coat with a thick undercoat, with a straight outer skin that is short or long. The coat can be red, brown, or even brindle, with white markings at the chest, feet, tip of the tail, noseband, and neck. There can also be markings on the collar between the eyes, muzzle, belly, legs, and end of the tail. The Saint Bernard features a dark mask on the face and ears. This breed has wrinkles.
The longhaired Saint Bernard looks exactly like the shorthaired breed, apart from the coat, which is of medium length and is slightly wavy.
Temperament
The Saint Bernard is an affectionate and fun-loving dog breed that is just as friendly with strangers as with family. Saint Bernard does not make for a good guard dog because of his good nature.
This breed does well around children and other families. Saint Bernard's are large gentle giants that enjoy frolicking in the snow. As puppies, they are super clumsy due to their large size, but as they grow into adulthood, Saint Bernard's settle down and tends to nap a lot. This breed favors snowy, cold weather.
The Saint Bernard does well with socialization early on and should begin positive puppy training classes during puppyhood. This super large dog breed is best suited for farm life or suburban homes to have the space they need. The Saint Bernard does not do well with apartment living because of its size. As the Saint Bernard ages, he will start becoming slightly lazy. It is essential to maintain his exercise schedule to keep him healthy and fit.
Special Needs
The Saint Bernard does best with plenty of protection from the heat and needs to be kept indoors during summer. Exercise, including walks, needs to occur in the early mornings and late afternoons to protect this breed from heatstroke. Winter makes every Saint Bernard happy! The colder, the better!
Saint Bernard's that live in hot climates benefit from professional clipping. This breed needs to be monitored carefully over the summers to ensure that they do not get overheated. Puppy training needs to start early because Saint Bernard can be stubborn.
Possible Health Concerns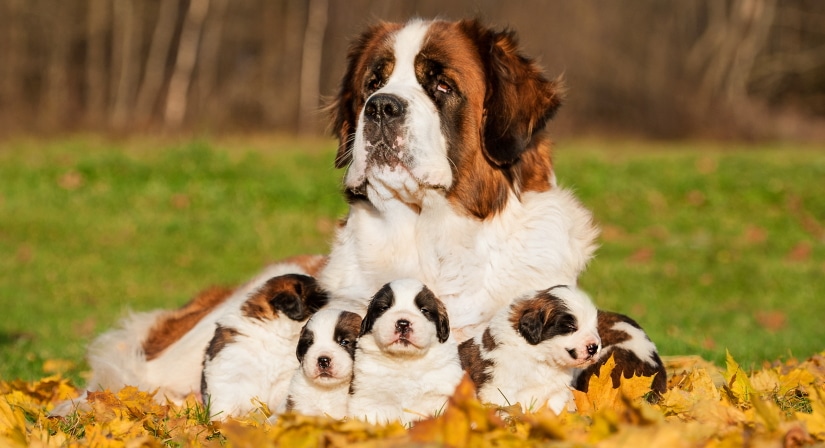 The Saint Bernard is a healthy dog breed that may be prone to the following health issues:
Dilated cardiomyopathy (DCM) Genetic predisposition to DCM is seen in large breeds like the Saint Bernard. DCM is a disease affecting the heart muscle where the heart stops pumping correctly.
Saint Bernard is deep-chested and thus more prone to bloat. Bloat is a life-threatening emergency. It is caused by the stomach's twisting, together with the accumulation of gas, with or without fluid. It is best never to elevate your dog's water and food bowls. Stress is also a significant factor in causing bloat. Never feed your Saint Bernard a large meal, followed by exercise. At the first signs of dry vomiting, restlessness, and discomfort, contact your emergency veterinarian. Never wait for a few hours. This is a real life-threatening emergency!
Hip Dysplasia. This is a hereditary, developmental disease. HD affects Saint Bernards. HD occurs when the hip joint fails to develop correctly. In the Saint Bernard with HD, the head of the thigh bone does not fall into the hip socket. The poor fit results in the joint becoming loose and unstable and results in osteoarthritis.
Laryngeal Paralysis. This is where the cartilage and the larynx's vocal folds do not open fully, making breathing difficult. This is an acquired medical condition and not an inherited one in Saint Bernard.
Skin Allergies like pyoderma are expected in Saint Bernards.This is a bacterial skin infection caused by an infection in the folds and wrinkles of the Saint Bernard due to grooming difficulties.
Epilepsy is an inherited disease that causes seizures. This breed will generally require treatment with anticonvulsants from their veterinarians.
Exercise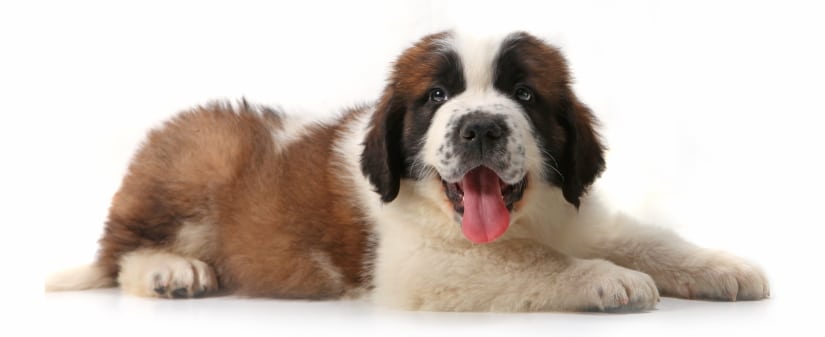 The Saint Bernard needs regular exercise every day to stay fit and to not pick up weight. This breed needs daily exercise to build and maintain strong muscles. Although the Saint Bernard is a strong and powerful dog breed, they do not require excessive exercise. That said, this breed does enjoy hiking, sledding, and long peaceful walks. Saints enjoy pulling children in carts and sleds. They love being out in the snow and cold weather and are at their best with family and children around them. This breed is patient and watchful with children.
Nutrition
Feeding your Saint Bernard well-balanced and high-quality dog food is necessary to promote good health and longevity. The diet you opt for needs to be appropriate to your dog's age, activity level, and medical conditions. That said, your Saint does not have to eat excessive amounts of food just because he is a super large dog breed. You will need to watch out for your Saint's health by watching his weight. This breed gains weight quickly. It's best to be careful and take preventative measures for bloat in this breed.
Choosing the right diet for your Saint Bernard does not have to be complicated. Look out for the following:
General ingredients that include whole meats, fruits, or vegetables in their top 5 ingredients are considered healthy foods. Those that also incorporate antioxidants like blueberries, cranberries, pomegranates, and pumpkin are also becoming popular. With that said, organic, natural, and preservative-free with no artificial ingredients are also vital to a well-balanced and high-quality dog food.
Grooming
Saint Bernards come with long or short hair. That said, meticulous regular grooming is needed to avoid the buildup of dirt and grime. Use a slicker brush or metal comb for tangles. Shedding occurs twice yearly. At this time, it will be necessary to groom vigilantly and remove loose hair to prevent shedding around the home.
Saints enjoy being bathed. Use natural and organic dog grooming products to keep your Saint's coat healthy. Ears will need to be wiped regularly and be inspected for infections. Teeth also need to be brushed every day and nails trimmed as needed. Your Saint Bernard will need to have his teeth cleaned twice yearly at the veterinarian to prevent dental disease.
Adopting a Saint Bernard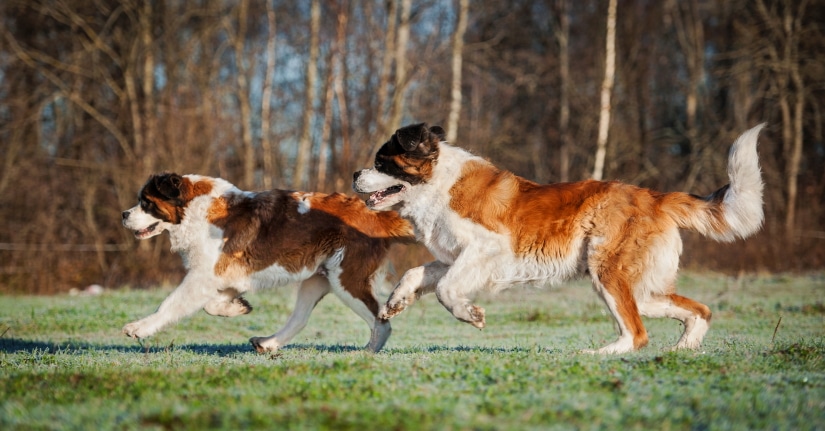 The Saint Bernard is an easy and wonderful dog breed to adopt. They are sensitive, affectionate, and loving. That said, the Saint Bernard will need to have a large garden or home to live in. This breed cannot live in an apartment because of its size.
As with any dog adoption, spend time with your Saint, and make sure that he is the right match for your family. This dog breed will need to be indoors during the hot summer months. Every effort must be made to keep this breed from over-heating, as the Saint should never be exposed to scorching weather conditions.
The Saint makes for a beautiful adoption in the right home environment. Puppy training should start early because the Saint is hard to handle as he matures due to his size. Puppy Saints are energetic and will need socialization. This breed is so gentle and kind but still needs regular exercise and mental stimulation. The Saint Bernard does not do well alone at home all day and needs companionship. Doggie daycares that focus on playtime and socialization are becoming popular today with working pet parents.
As with all shelter rescues, your Saint may have some issues. These will most likely be small and can often be worked through with a positive dog trainer and sound veterinary advice. Always take your new furry best friend to the veterinarian for a full health check to rule out any medical conditions that may contribute to behavioral issues.
As usual, make sure that you have the time and resources to take good care of your Saint Bernard before adopting!
Saint Bernard Rescue Groups
Saint Bernard Breeders in the USA
Red River Saints (Oklahoma)
Address

Altus, OK

Website

www.redriversaints.com

Phone

(580) 4714764

Email
West Wind Saint Bernards (Michigan)
Address

Valley Center, CA

Website

www.westwindsaints.com

Phone

(989) 8714241
Alpine Mountain Saints (Utah)
Address

Utah

Website

www.alpinemtnsaints.com

Phone

(801) 4718109

Email
Covered Bridge Saint Bernards (Illinois)
Address

Illinois

Website

www.coveredbridgesaints.com

Phone

(217) 8164359
Medicine Creek Kennels (Nebraska)
Address

Southwest Nebraska

Website

www.medicinecreekkennels.com

Phone

(308) 350-0227

Email
Middle Georgia Saints (Georgia)
Address

Macon, GA

Website

www.facebook.com/MidGASaints

Phone

(478) 8321446

Email
Under the Blackjacks (Missouri)
Address

Houston, MO

Website

www.underhillkennel.com

Phone

(417) 2540020
Cornerstone Saint Bernard Kennel (New York)
Address

Darien Center, NY

Website

www.cornerstonesaints.com

Email
Johnson Farms (New York)
Address

Lyndonville, NY

Website

www.johnsonfarms.org

Phone

(585) 7659855

Email
Majestic Giants (Kentucky)
Address

Burlington, KY

Website

www.majesticgiants.net

Phone

(859) 6534515

Email
Olga Tatarenko (Alaska)
Address

Delta Junction, AK

Website

www.saintbernardpups.com

Phone

(907) 8031005

Email
Saint Bernard Breeders in Canada