The Irish Setter was thought to have been created from breeding with the English Setter. This dog breed from the aristocrats originated from Ireland and is part of the UKC, Gun Dog Group, and the AKC, Sport Dog.
The Irish Setter may have originated from English Setters, Spaniels, Pointers, and Gordon Setters during the 18th century. They were used to locate game birds by using their sense of smell. Both red and white and solid red dogs were bred.
The Irish Red and White Setters are considered a separate breed today. The Irish Setter is a sweet and outgoing dog breed that is part of the AKC Sporting Group. As a swift-moving dog breed, the Irish Setter always shows balance, whether in movement or standing still.
The Irish Setter as a breed is an athletic bird dog with a deep rich red color. This breed is elegant in build and movement. This dog breed features a straight, glossy coat with very fine hair. It has long hair on the ears, chest, tail, and back of all the legs. When out running or in the field, the Irish Setter is a fast-moving dog, and while at home, a sweet-natured, easy-to-train best friend.




Sporting Dogs
Brief History
During the 1800s, Irish huntsmen bred the rangy "Red Setter" to cover the flat countryside of the Emerald Isle. The Irish Setter's relative from Scotland then bred the "Gordon Setter" to flush and retrieve game in rocky terrain. It enjoys regular dog sports or being out in the field. It is a stunning dog breed that is graceful, athletic, and calm.
Physical Description
The Irish Setter as a dog breed is a medium-to large-size dog breed that is lean and athletic in build. It is longer than it is tall. It has a long, slim head with almond-shaped brown eyes. The Irish Setter features long drop ears and a black nose. The muzzle is delicately chiseled, around and below the eyes, and along the cheeks.
The tail may be tapered to a fine point. It is rich red in color and aristocratic in build. All legs are sturdy with plenty of bone. Hindquarters are broad and robust. The coat is mahogany or rich chestnut red. The skin is flat and has silky featherings on the ears, the back of the forelegs and thighs, the tail, the belly, and the chest. The coat may have white markings on the chest, toes, and throat. This dog breed has an outgoing and stable personality suitable for all family members, adults, and children alike.
Special Needs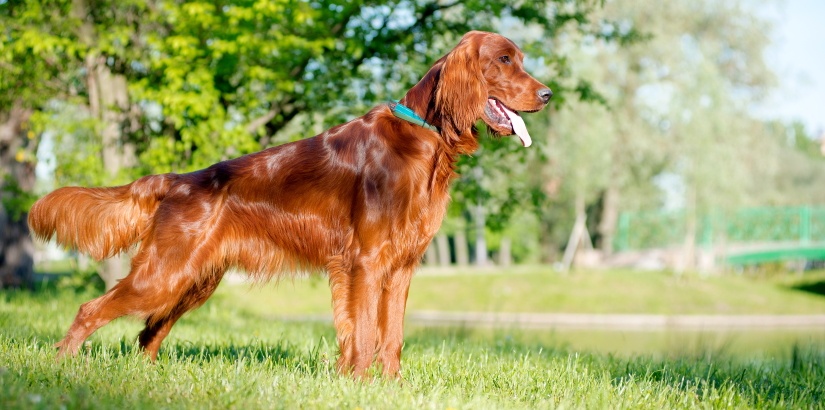 The Irish Setter does well with plenty of exercise. They are the quintessential family dog. The Irish Setter needs companionship and plenty of mental stimulation. Gun dogs were bred to help hunters and work together with people and other dogs. That said, they love the outdoors and doing fun activities with their dog parents.
Temperament
The AKC adds that the "The Irish Setter has a rollicking personality. Shyness, hostility or timidity are uncharacteristic of the breed. An outgoing, stable temperament is the essence of the Irish Setter."
Health Issues
The Irish Setter may be prone to a few health issues like the following:
Hip Dysplasia – a hereditary, developmental disease. HD affects some dog breeds like Irish Setters. HD happens when the hip joint fails to develop correctly. In the Irish Setter with HD, the head of the thigh bone does not fall into the hip socket. The poor fit results in the joint becoming loose and unstable and results in osteoarthritis.
Hypothyroidism – is a deficiency of the thyroid hormone and may result in weight gain in the Irish Setter.
Osteosarcoma – a type of bone cancer that is on the rise in Irish Setters. It is mainly found on the dog's limbs, although it can also be found on the shoulder at times. Secondary tumors may appear in the pelvis and other bone areas in the Irish Setter. It also affects the lungs. Most Irish Setters involved with osteosarcoma will get this between 7-10 years of age. Amputation of the limb with chemotherapy is usually the course of treatment. Reach out to you your veterinarian for the best advice and
Entropion – This is an inherited eye condition. This is an eye condition in the Irish Setter that occurs when the eyelid rolls inward, resulting in the eyelid rubbing against the cornea.
Bloat – The Irish Setter is deep-chested and thus more prone to bloat. Bloat is a life-threatening emergency. It is caused by the stomach's twisting, together with the accumulation of gas, with or without fluid. It is best never to elevate your dog's water and food bowls. Stress is also a significant factor in causing bloat.
Progressive Retinal Atrophy(PRA) – a group of diseases that cause the retina's degeneration. They include inherited abnormalities of light-sensitive cells.
Exercise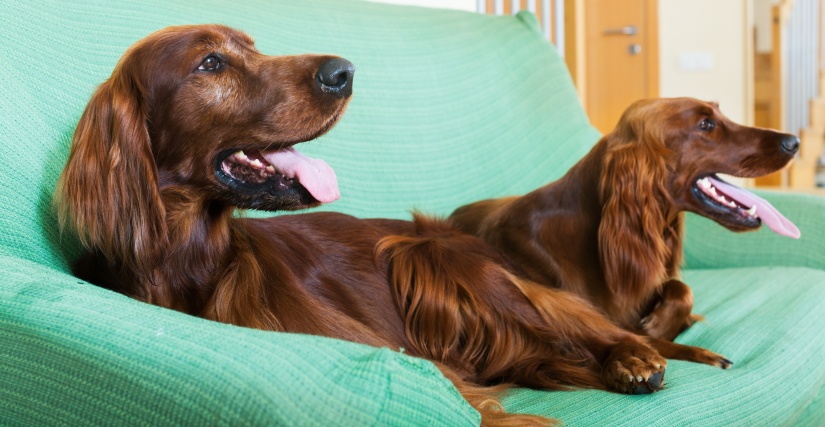 The Irish Setter does well with regular exercise. This breed enjoys positive dog training classes and dog sports and is not aggressive. The Irish Setter benefits from dog sports like agility, rally, obedience, dock diving, barn hunts, scent work, tracking, and lure coursing.
This dog breed needs plenty of mental stimulation. Pet parents to the Irish Setter will need to combine dog training classes into their weekly schedule. Every effort should be made to participate in agility, dock diving, and rally. The Irish Setter enjoys swimming. Trips to the dog beach and allowing your Irish Setter to swim at home make for a happy and well-balanced Irish Setter!
Nutrition
If your Irish Setter is a picky eater who doesn't readily accept kibbles, dehydrated dog foods are a good option. Considering that dry dog food uses free-range chicken, cage-free turkey, Mid-western beef, and 100 percent wild-caught fish in their recipes, dehydrated dog food allows dogs to eat the very best ingredients. There are no substandard ingredients listed, and all formulas are AAFCO approved.
Grooming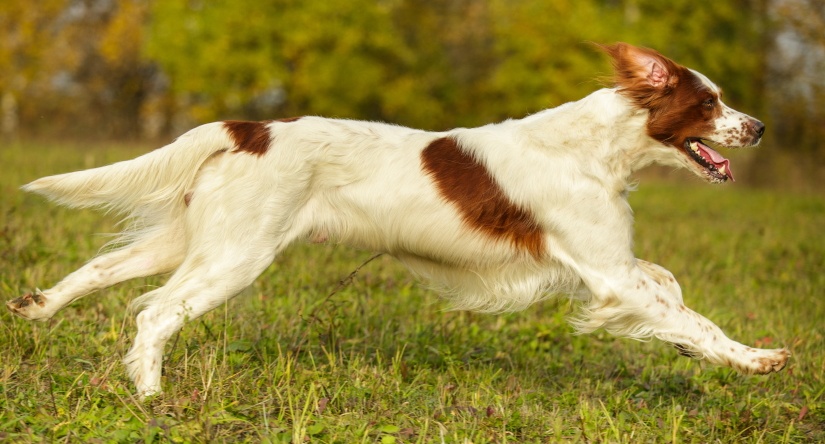 The Irish Setter boats a rich red coat that is silky and soft. Grooming needs to be done daily with a soft bristle brush and a metal dog comb to remove tangles and matting. There are many natural grooming products like deodorizing spritzes, waterless shampoos, grooming wipes, shampoos, and conditioners.
There are also numerous shed-control shampoos and conditioners that contain healthy ingredients like shea butter, omega-6 fatty acids, and colloidal oatmeal. These offer many benefits to keep your Irish Setter's coat healthy and clean.
Additionally, the latest in products for an easy pawdicure makes it easy to clip nails. That said, the Irish Setter does best with regular ear cleaning and teeth brushing daily. Ensure twice-yearly dental visits for cleanings.
Adopting an Irish Setter
The Irish Setter tends to be an affectionate and happy dog breed that makes for a perfect adoption. This dog breed is eager to please and will quickly adapt to your home. This dog breed does best with sensitive and caring dog parents that are active and respect the energetic Irish Setter's needs.
Because this breed excels at most dog sports like agility, dock diving, rally, tracking, hunting, flyball, and shows, it is recommended that the Irish Setter partakes in as many fun sporting activities that he most enjoys.
The Irish Setter dog breed should not be at home alone for many hours and needs to participate in as many family outdoor activities like outdoor trips, camping, swimming, and hiking. The Irish Setter is a gentle dog breed and thrives on family life.
As with all dog adoptions, make sure that you have the time and resources to take good care of your Irish Setter! Your new furry best friend needs to be your priority.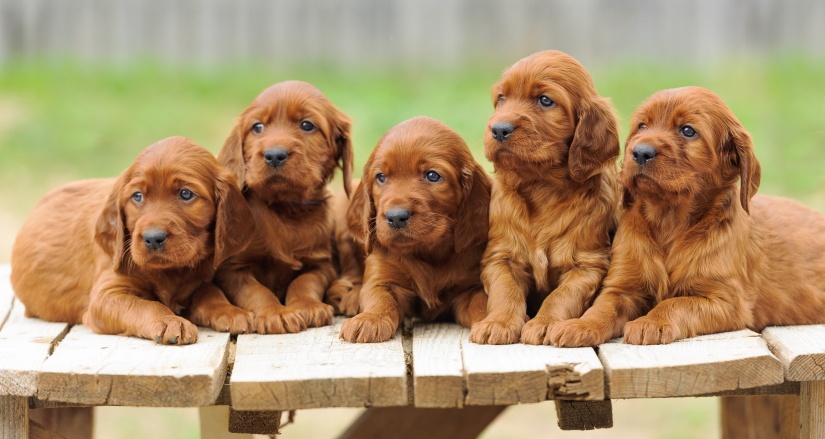 Irish Setter Rescue Groups
Irish Setter Breeders in the USA
Redfeathers Irish Setters (Illinois)
Address

Smithton, IL

Website

www.redfeathersirish.com/

Email
Anamacara Irish Setters (Wisconsin)
Address

Columbus, WI

Website

anamacarairishsetters.com

Phone

(920) 9923993

Email
Avon Farm (Oregon)
Address

Oregon City, OR

Website

www.avonfarmirishsetters.com/

Phone

(503) 6574897

Email
SugarStop Irish Setters (California)
Address

Spring Valley, CA

Website

www.sugarstopirishsetters.com

Phone

(505) 2702776

Email
Shakarri Irish Setters & Vom Leibwächter Dobermanns (Arkansas)
Address

Leslie, AR

Website

www.shakarrisetters.com

Phone

(801) 8979684
Rose Valley Kennel (Missouri)
Address

Excelsior Springs, MO

Website

www.rosevalleykennel.com

Phone

(816) 6483057

Email
Greenbank Hollow Farm (Vermont)
Address

Danville, VT

Website

www.greenbankhollowfarm.com

Phone

(802) 6841163

Email
Motley Acres Farm & Kennel (Pennsylvania)
Address

New Bethlehem, PA

Website

www.motleyacrespuppies.com

Phone

(814) 2751566

Email
My golden Red (Washington State)
Address

Stanwood, WA

Website

www.mygoldenred.com

Phone

(425) 9055937
Almaroad Kennel (Indiana)
Address

Madison, IN

Website

www.almaroadkennel.com

Phone

(812) 7011813

Email
Timber Ridge Kennels (Idaho)
Address

Kamiah, ID

Website

www.petizon.com

Phone

(208) 7910278

Email
Irish Setter Breeders in Canada
Captiva Kennels
Address

Cambridge, Ontario

Website

www.captivakennels.com

Phone

(519) 7402807

Email
Mythen Irish Setters
Address

Nictaux, Nova Scotia

Website

www.mythen.pbwebs.com

Phone

(902) 8256740

Email
Dúlamán Kennel
Address

Wakefield, Quebec

Website

www.dulamansetters.ca

Phone

(819) 4591755

Email
Irish Setter Breeders in the Great Britain
Ladysdale
Address

Londonderry, Northern Ireland

Website

www.ladysdale.com

Phone

(02870) 848995

Email
Krasny Setters
Address

Weston Super Mare, England

Website

www.sites.google.com/view/krasny-setters

Phone

(01934) 807075

Email