Keeping your cat on a healthy diet and free from obesity does not have to be difficult. Cat ownership carries responsibility, and with that comes feeding your cat a high-quality diet and providing him or her with regular exercise.
One of the biggest problems with cats is obesity which can lead to other serious health problems. That said, here are some healthy tips on how to put a fat cat on a safe diet. According to the Association for Pet Obesity Prevention, 59% of cats in the US are obese.
Choose the Right Cat Food
Proper nutrition is important for cats in all life stages. With the cat food industry being large with many cat food formula choices, it's important to note that all cat food is not equal. Dr. Susan Nelson from Kansas State University adds that there are numerous guidelines to follow when feeding a cat. She adds that ""In the past, we didn't know how many calories were in various treats," Nelson said. "Now that's becoming more available, and that's because more pets are becoming obese and their owners are asking for that information. Pets are overeating and under exercising, and they're eating too many high-fat foods and treats," via Science Daily. She says that it's important to count calories if your cat is overweight, and to also keep in mind that many premium cat foods have a higher fat content. "If it starts to get pudgy, you need to take a look at how much exercise it is getting, how much food you are feeding it, and how many treats you're giving it."
Dry Cat Food

Dry cat food is preferable to wet cat food when not on a diet, because it helps to promote healthy teeth and gums, while providing nutrition. Ensuring name-brand and reputable cat brand foods backed by scientific research and quality control helps to provide your furry best friend with complete and balanced nutrition for all life stages. Cats need to consume a high-quality fat and protein, as well as specific amino acids which includes taurine. These are more likely to be found in canned prescriptive cat food prescribed by your vet.
Wet Cat Food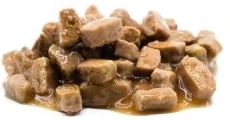 Numerous "diet" cat food formulas are high in carbs. At the other end, diet cat food formulas or prescribed cat food formulas contain prescription diets that have been scientifically approved.
Canned food cat foods contain more proteins than dry cat food. Wet cat food also contains less carbs. When looking out for a commercial low carb cat food formula for a finicky eater, it's best to purchase a reputable cat food brand that has good reviews. Work together with your veterinarian for the best cat food diet.
Slow Weight Loss Diet for Cats
Cats should lose weight slowly or they can get ill. Most adult cats can be fed 1 to 2 times a day, with kittens needing more frequent feeding. Only the proper amounts of a high-quality cat food, with little to no table scraps should be fed. Working together with your veterinarian ensures healthy and safe weight loss in cats.
Lifestage Cat Diets
These are diets that are specifically formulated for the different life stages of cats. These will include:
Specialty Diets for Cats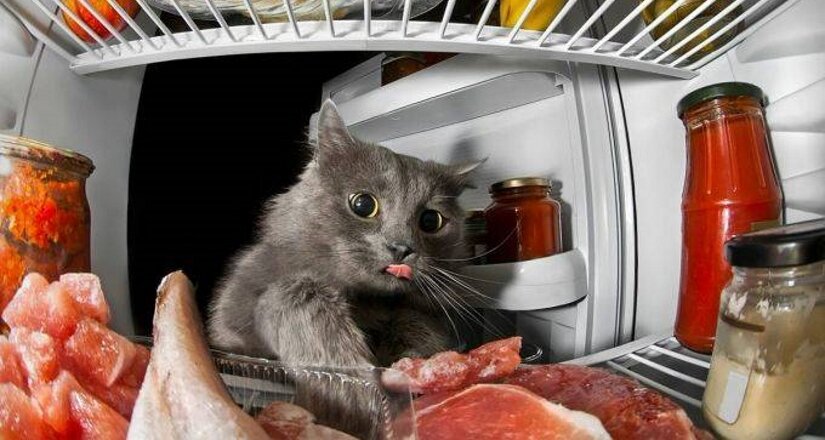 Keeping your cat at his ideal body weight means understanding that both adequate physical exercise combined with a healthy cat food formula are important components for longevity. Besides that, allowing for adequate hydration is just as important. Keeping numerous water bowls around your home for your cat or a pet drinking fountain will help to ensure hydration.
When considering specialty diets for cats for specific health problems like feline urinary tract disorders, obesity, or kidney disease, it's best to consult with your veterinarian as to the best specialty or prescribed diet, since most are only available through your veterinarian. All cat food weight-loss diets need to maintain lean muscle support, safe and effective weight loss, and long lasting weight support.
Feeding Your Cat The Correct Amount of Cat Food
Cats need to eat like carnivores, even if you're trying to maintain an ideal body weight or are helping your cat lose weight. If your cat is on a diet, free-feeding is not the way to go. You'll need to control the amount of cat food that he eats. This includes cat treats, and tidbits from the dinner table.
Measuring your cat's meals allows for a gradual and safe weight loss program that is also effective. You'll need to read the ingredients and calorie intake list on the back of the bag. It's also a good idea to have your veterinarian decide on which cat food formula diet brand is best, and to give you the exact measurements.
Cat Supplements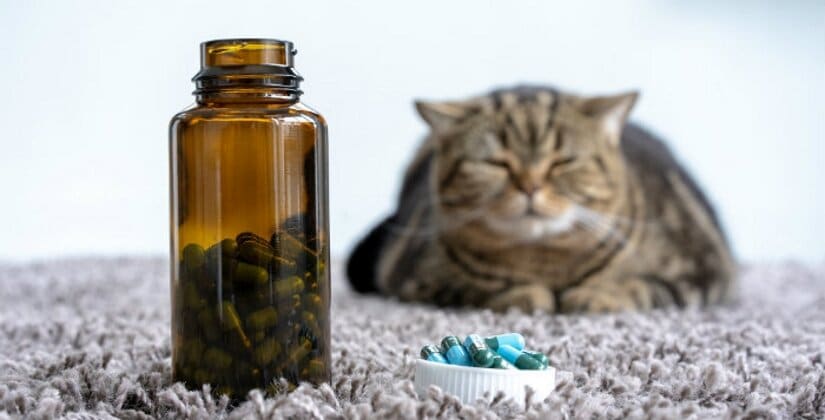 Providing your cat with appropriate supplementation is a safe and effective way to keep him healthy, to improve mobility, and help with liver detox, and longevity. Medium-chain triglycerides (MCT's) help cats to improve brain energy metabolism in senior cats.
Coconut oil is also a good supplement that offer a rich source of MCT's to help with hairball issues in cats of all ages. You can also detox your cat with milk thistle and dandelion. Spirulina and chlorella have proven to be effective supplements for optimal feline health. Here are some additional cat supplements for optimal feline health:
Omega-3 fats (krill oil)
Ubiquinol
S.O.D (superoxide dismutase)
Natural anti-inflammatory supplements like proteolytic enzymes and herbs like boswellia.
Cat Treat Options for Weight Loss
With most commercial cat treats being high in calories, and offering meagre nutritional benefits, it's a good idea to opt for high protein, high-quality treats with salmon, chicken, or beef. Here are some tips:
Opt for natural ingredients without grains or artificial colors or flavors
Opt for no preservatives
Biologically-based formulas
Easy-to-digest nutritional benefits
Home-made grilled chicken bits or salmon bits also are also healthy treat options for the picky eater. Nonetheless, if you notice that your cat is not eating or is refusing to eat for longer than a day, it's best to consult with your veterinarian to rule out any medical issues.
Metabolic Cat Diets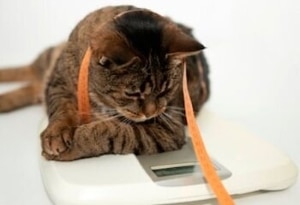 Metabolic feline diets, also known as prescriptive cat diets, offer clinical nutrition that is specially formulated to manage your cat's weight loss program. Metabolic diets are specially formulated by veterinarians and nutritionists that work together to formulate a synergistic blend of ingredients. Many of these formulas with offer unique fruits and veggies together with antioxidants to keep your cat healthy during a diet.
Catkins Diet
This involves a natural diet for your cat by feeding proper natural foods similar to those out in the wild. This diet is formulated to avoid the following health problems in cats:
Diabetes
Joint disorders
Prevent high blood pressure
Prevent bad sanitation
Skin issues
Allergies
Multi-Cat Households
You may think that it's more difficult to place certain cats on a diet when you have many cats at home. Switching from free-feeding to specified meal feeding with prescriptive or metabolic cat diets has been demonstrated as an effective and healthy way to prevent or combat obesity cats. Separate cats and use different rooms to feed them. The same can be done for underweight cats where food intake can be increased.
Feeding Aging Cats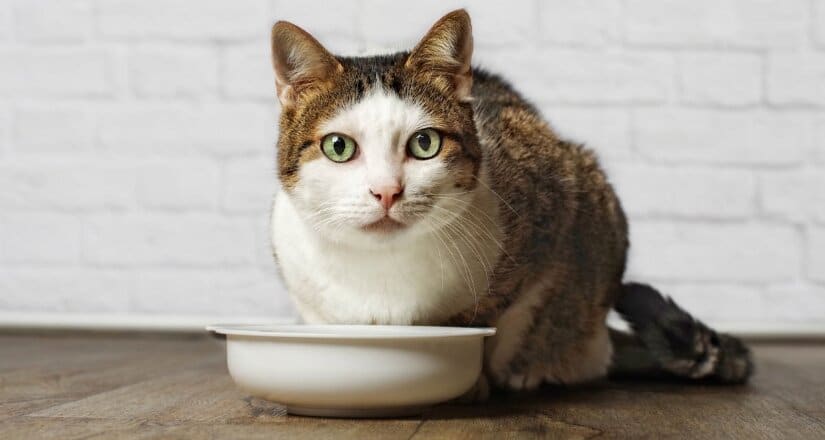 Aging cats need to fed more animal protein in their cat food diets than younger cats. Additionally, it's important that a high-quality protein is fed. The more digestible the protein, with a higher moisture content, the easier your senior cat will be able to digest his or her food.
Studies done at Tufts University suggest "that obesity can be a complicated topic for pet owners. Although dogs and cats are not prone to coronary artery disease – a leading killer of humans and a common side-effect of human obesity – being overweight can lead to complications such as diabetes, orthopedic problems and respiratory complications, as well as reduced quality of life and life expectancy," via Science Daily.
How Long Do Cat Diets take to Work?
Cat parents often wonder how long it will take for their cat to lose weight? A healthy and safe weight loss program for your cat may take some time. Feeding your cat measured veterinary approved cat food meals on a feeding schedule will allow for you to see how much your cat is eating, and to manage portion control.
Cats tend to eat a bit, wander around, and then return to their food to eat again. By removing your cat's food after eating (30 minutes after feeding), you'll train your cat to finish his meal, and to adjust to a new feed schedule. That said, you'll be able to control how much food your cat consumes throughout the day, instead of leaving food out all day. You'll also be able to monitor how much food he eats in one sitting, if he likes his new food, and if he guards his food from other cats?
Final Thoughts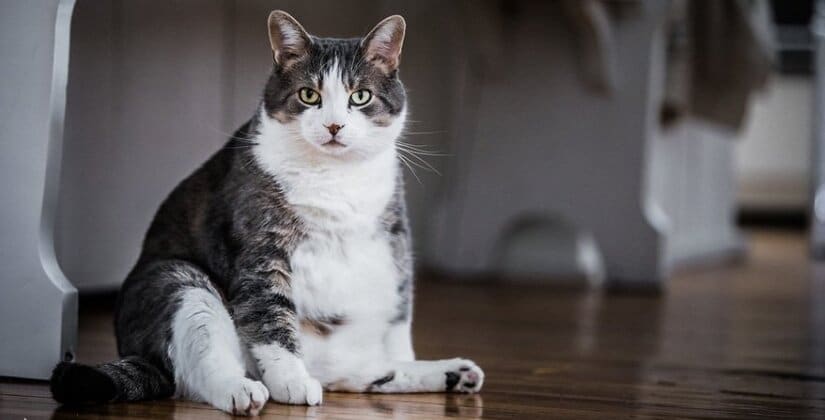 Most commercial cat food formulas don't work well for obese cats. With numerous medical issues linked to cat food diets like diabetes, obesity, cancer, and feline idiopathic cystitis (FIC), prescriptive diets work best. When cats hunt out in the wild for their food, they're consuming a high protein diet, and are therefore less prone to obesity.
Because commercial pet foods are high in carbs and plant proteins, they may yield unnecessary calories. Feeding your cat the right amount of cat food each day also helps to maintain a healthy body weight. Combining that with cat food puzzles, and regular cat exercise through mentally stimulating play, helps to maintain slow and steady weight loss in cats.
---
F

requently

A

sked

Q

uestions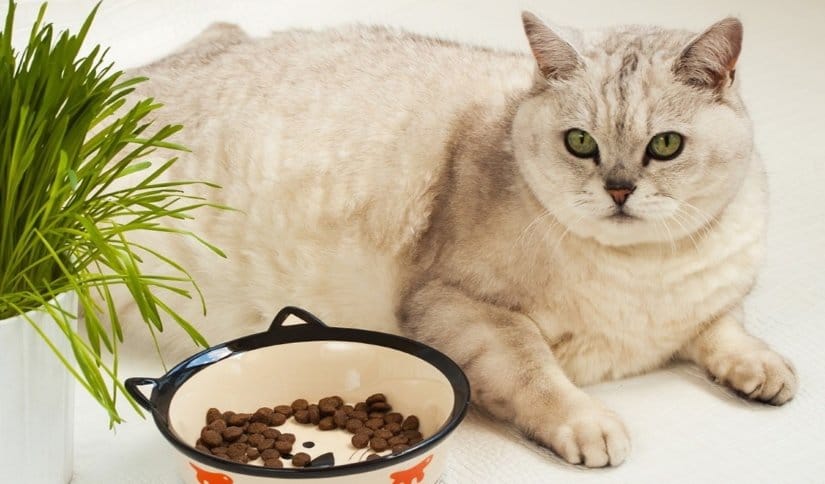 What do I do if my cat gets tired easily?
Cats of all ages do best with regular veterinary consults. If your cat gets tired easily, be sure to discuss this with your veterinarian to make sure that all his nutritional needs are being met, and secondly, to rule out any medical health conditions. You'll need to mention all behavior changes with your vet, and to chart them down as they occur, so that it will be easier for you to remember them.
Your vet will be able to address all issues, including thyroid levels with a blood test, urine test, and stool sample. Keep all your cat's veterinary wellness follow-ups regular, so that if your cat does get ill, you can address any serious health conditions right away.
How many treats should a cat get a day?
Try to eliminate treats if you have an obese cat. If this is a problem, opt for high-protein based treats that don't pack on the calories. Home-cooked chicken bits or salmon, sardine, tuna or whitefish bits also make for healthy treat options. As usual, cook thoroughly first before feeding. You can also cook up a batch, and then freeze when cooled for later use. This helps save time for busy pet parents!
How can I make the heavy one lose weight but not restrict the slim one?
Feeding your cats in separate rooms will help to limit the obese cat's access to extra food portions. Cats of all sizes do well with a high-quality prescriptive cat food formula. The amounts need to be correctly measured, so if one cat needs to lose weight, he will be on a different cat food formula than the cat that needs to gain weight. Also opt for cat food formulas for the correct life stage of the cat or for a cat food formula that addresses a specific health issue in your cat like diabetes. Consult with your veterinarian about which supplements to use, and also how best to use them.
How much should I feed my cat to lose weight?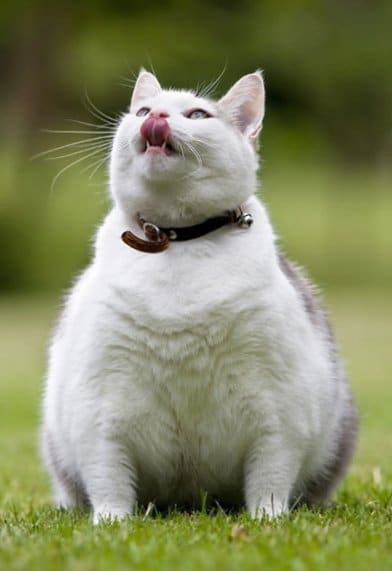 It's always best to consult with your vet for the best amounts to feed your cat when he's on a diet. Make a concerted effort to read the back of the cat food packet for instructions. When feeding for weight loss, you'll need to switch to a low carbohydrate canned cat food with no gravy or added sauce. An average sized cat will eat 4-6 oz. of food divided throughout the day, although most of us tend to overfeed. Discuss the best food options with your vet.
How many times a day should I feed my cat?
The average cat parent feeds 2-3 times daily.
What is the best food for overweight cats?
Opt for prescriptive or metabolic feline diets from your vet.
Why is my cat fat and always hungry?
It will take a while for your cat to adapt to a new weight loss diet similar to humans that go on a diet. Older cats may become cranky, or vastly irritated. That said, provide your cat with healthy food options and optimal care to ensure a safe and healthy feline weight loss program.
Is wet or dry food better for overweight cats?
Wet food is better but it should be prescriptive/metabolic to have the correct balance of ingredients that will ensure muscle health, effective and safe weight loss, and optimal protein sources.
How many calories should a cat eat to lose weight?
Cats will need different calories depending on their life stage. You need to avoid hepatic lipidosis which may occur if your furry best friend loses weight too quickly. This is very serious. Monitoring weight loss should be done together with your veterinarian, so that no more than 2% weight loss per week is gained.