Rich in antioxidants, cold-pressed extra virgin olive oil has vitamin E, as well as phytonutrients. It's one of the most preferred oils to use when cooking for your furry best friend because it does not breakdown at high heat. This blog will discuss the benefits of olive oil for dogs and how it may help relieve your dog's pain, boost his immunity, and even keep his brain alert.
You can store it away from heat and light and even refrigerate it. Olive oil has monosaturated fats that help to break down fats inside cells helping you to lose weight. There are also compounds in olive oil that may help prevent cancer in people and their pets. You can also add a dash of olive oil to your dog's kibble to enhance his well-being.
Cécilia Samieri, Ph.D., with the University of Bordeaux and the National Institute of Health and Medical Research (INSERM) in Bordeaux, France, explains that olive oil would be a simple way of preventing strokes.
Extra-virgin olive oil has only 1% acid, making it low in acidity. If you purchase extra-virgin oil for your home, it's an oil derived from the olives' first pressing and is thought to be the finest, with the freshest, fruitiest flavor.
Contrary to popular belief, olive oil is not bad for your furry best friend. You might think olive oil for dogs will clog your dog's arteries and cause your dog to gain weight if you add it to his meals every day.
However, the extraordinary science of olive oil makes it one of the healthiest foods you can give your dog… then why haven't you shared your extra virgin olive oil with your dog to help keep him healthy and reduce your vet visits for itchy skin and arthritis?
8 Benefits of Olive Oil for Dogs
According to a study published in Plos One, "The bone sparing effect observed in the animals that were given the combination of virgin olive oil and vitamin D was concomitant with decreased oxidative stress and inflammation gene expressions. Bone metabolism is impaired in the presence of an excess of reactive oxygen species, which leads to bone loss."
We also know that olive oil is good for dry skin, inflammation, a weak immune system, and indigestion. It's beneficial to apply to hot spots and onto your dog's coat to reduce inflammation and itchiness.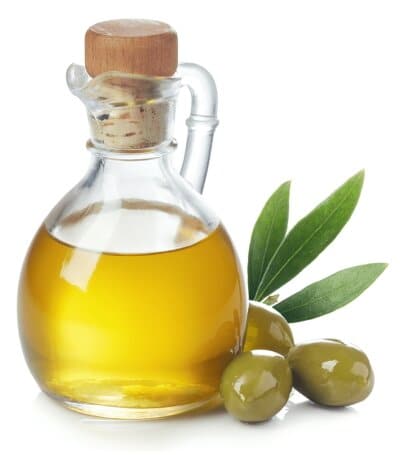 The study explains that in rats subjected to virgin olive oil, oxidative stress parameters are decreased in the brain, skeletal muscle, and cardiac muscle.
Regarding inflammation, virgin olive oil enriched with polyphenols has been shown to exhibit protective effects in two inflammation models.
Extra virgin olive oil is packed with antioxidants, phytonutrients, and vitamin E. You should either keep your olive oil refrigerated or away from heat and light. If you're refrigerating the olive oil, you'll need to allow the olive oil a few minutes to warm up and liquefy.
You can add 1 teaspoon of olive oil daily to your small or medium dog's morning or evening meal. You can increase the amount to 1 tablespoon if your dog weighs 90 pounds or more. Always check with your veterinarian before you add any new foods to your dog's diet. Keep in mind that excessive consumption of olive oil can lead to weight gain and obesity.
Here are 8 benefits of olive oil for dogs.
Anti-aging: Extra virgin olive oil prevents free radical cell oxidation, which has been known to lead to premature aging. This means your dog can look younger longer with a shiny coat and bright eyes.
Beautiful brain: Olive oil has anti-aging qualities, which helps prevent cognitive decline, so your dog's brain stays clear longer.
Beautiful coat: Olive oil can give your dog's coat moisture, which will make his coat shiny and healthy.
Energy booster: Olive oil increases your dog's blood flow, circulation, and breathing. This is a great benefit for brachycephalic breeds like the Bulldog or your dog with asthma.
Flavor: Olive oil for dogs can make your dog's food taste better. Add a dash of cinnamon and turmeric to a teaspoon of olive oil to improve the flavor of your dog's meals.
Health: Olive oil contains monounsaturated fats, which help prevent and reduce cardiovascular disease and diabetes. Another health benefit of olive oil is the anti-cancer qualities of oleic acid, squalene, and terpenoids. Records show that 50% of dogs over 10 years old die from cancer.
Immune system: Olive oil has high levels of antioxidants like chlorophyll, carotenoids, polyphenols, and vitamin E that can help boost your dog's immune system and fight disease.
Weight: Olive oil for dogs contains monounsaturated fats that break down the fat in your dog's fat cells, which can help your dog stay trim and reduce insulin sensitivity.
How to Make a Concentrate with Olive Oil to Relieve Your Dog's Pain and Arthritis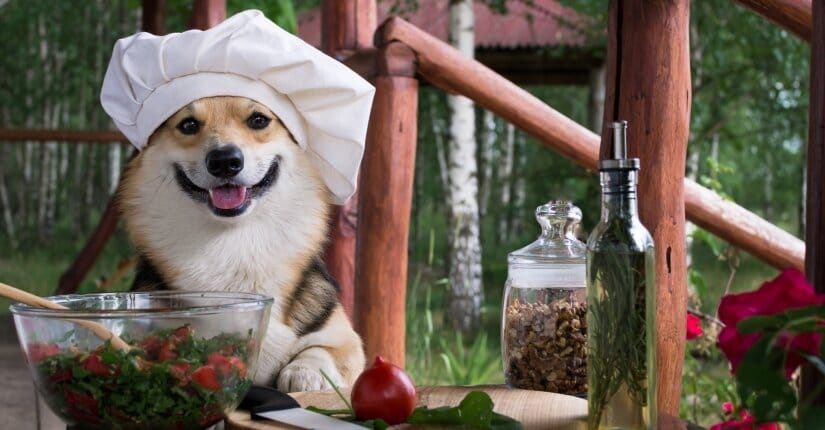 Concentrates may be used in your dog's food or applied directly on your dog's skin to relieve pain from arthritis, injuries, and inflammation. Herbal remedies last longer in concentrated form because you can store them in your freezer.
Make a concentrate to relieve:
Arthritis
Injuries
Swelling
Concentrate benefits:
Herbs stay fresh longer when suspended in oil
Glass containers of concentrates can be kept for a year in your freezer
How to Make a Concentrate?
Put 2 cups of dry herbs in your food processor and pulse until they are finely chopped.
Dribble 1/3 – 1/2 cup olive oil on your herbs and pulse until mixture is completely coated with oil.
Use a glass canning jar and store herb concentrate in your freezer.
Scrape off a teaspoon of concentrate and use it as a fresh herb remedy for your dog.
By optimizing your dog's diet and adding olive oil, you can help decrease inflammatory responses in the body and boost immune health. Keep in mind that specific nutrients that can be added to a dog's diet like olive oil can help balance and strengthen the immune system, helping to reduce arthritis, pain, and inflammation.