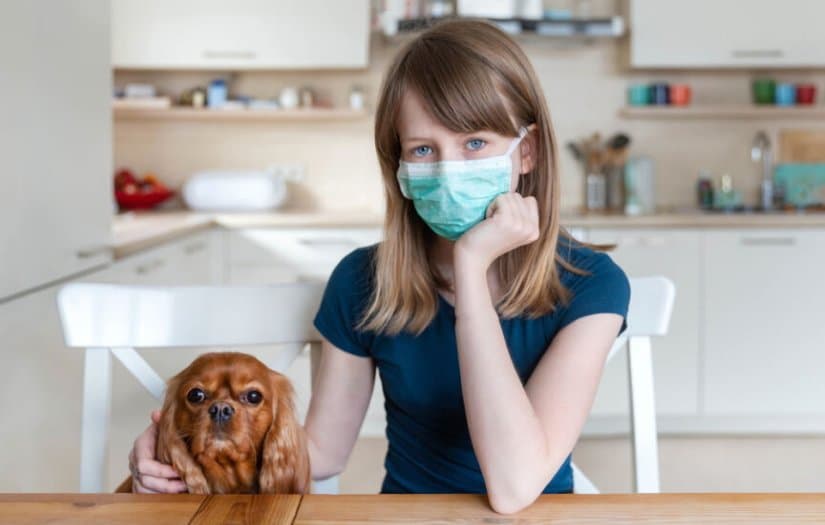 Coronavirus or COVID-19 has become a global pandemic affecting people, and recently pets around the world. As a pet parent, you've probably questioned as to whether your furry best friends may be prone to catching it, and if so, how it would affect their health?
According to a new study at Duke University, a family and their Pug, Winston, had tested positive for COVID-19. "The virus that causes COVID-19 was detected," via Wral.com. This may be the first known positive case in a dog in the United States via Wral.com.
Scientists also have growing evidence that the coronavirus can spread through air, and have identified genetic markers of the virus in airborne droplets, many with diameters smaller than one-ten-thousandth of an inch according to the New York Times. Today, there is mounting evidence that coronavirus is spread via tiny droplets known as aerosols.
SARS-CoV-2 in Pets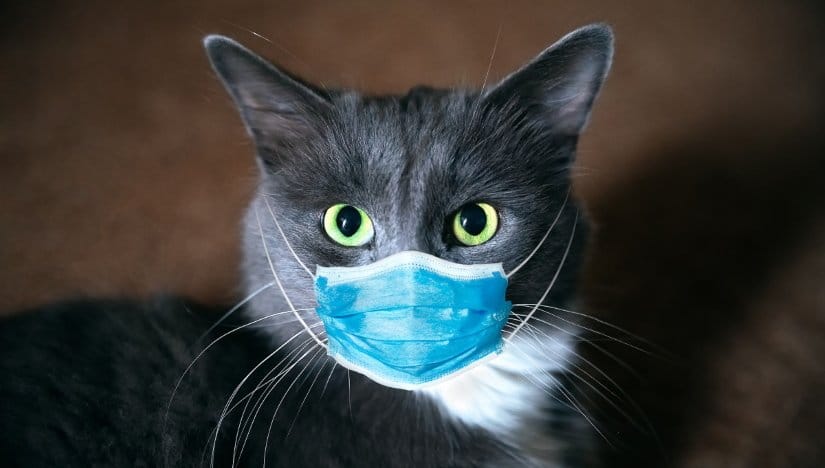 We've all seen images of pets wearing masks in Wuhan, China. Recently two cats in separate homes tested positive for the coronavirus in New York, and pet parents were advised to apply social distancing to pets as well. They presented with symptoms of COVID-19. That means keeping dogs 6-feet away from other dogs and people while out on a dog walk, and keeping our cats indoors may help prevent pets from getting infected with this virus.
Eye discharge, sneezing, lethargy and coughing are some of the symptoms that pets may have, with pets generally showing mild symptoms. Dr. Anthony Fauci adds that "there's no evidence whatsoever that we've seen from an epidemiological standpoint that pets can be transmitters within a household," via ABC.News.
What the AKC Says
Dr. Jerry Klein, Chief Veterinary Officer for the AKC, urges common sense best practices when it comes to our pets:
"If you have children, you wouldn't have them touch a puppy and put their fingers in their mouth, because they can have fecal contamination," he says. "The general practice of washing our hands after touching a puppy or a dog—that's normal hygiene. "Additionally, the CDC has provided guidelines on interactions with pets (your own and those belonging to other people) during the pandemic:

Do not let pets interact with people or other animals outside the household
Keep cats indoors when possible to prevent them from interacting with other animals or people.
CDC Tips for Pets
The CDC adds that daily exercise for dogs is important and that dogs should be walked every day. They go on to add that it's important to
"Practice social distancing measures by walking your dog in uncrowded areas, and maintaining a minimum of six feet between other people and other animals. Fortunately, the average leash is six feet long, so you've got a built in measure to help you stay a safe distance from others. Don't allow anyone to pet or touch your dog while you're out on your walk."
Do Pets Need Masks?
Although numerous pet parents used face masks on their pets in China, there is no recommendation by the CDC or the AVMA for pets to wear masks. That said, it's advised that you refrain from hugging or being in close contact with your pets if you're ill with the coronavirus, so as to prevent your pets from getting ill.
Testing Pets
According to Time magazine, there's no need to test pets at this stage due to the limited amount of pets being infected.
"That's why in the U.S. we're really not pushing hard to test pets at all,"
says William Sander, assistant professor of preventive medicine and public health at the University of Illinois' College of Veterinary Medicine."
Protecting Your Pets from COVID-19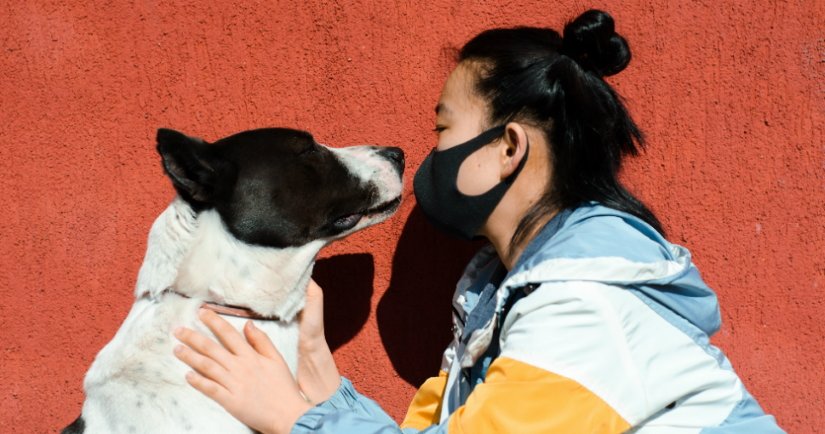 That said, there are some health experts that believe some animals are more susceptible to the virus than others. There may be more risk to pets if they are indoor/outdoor pets, and experts recommend keeping pets indoors. Today, experts don't know the extent to which the virus is spread between pets, and recommend plenty of hand hygiene.
Dr. Sandra Newbury, director of the Shelter Medicine Program at the University of Wisconsin has been conducting studies on how the virus affects animals, and was not surprised by the news of the two felines.
"Cats have a particular receptor and we suspected early on that they might be able to be infected," said Newbury. "We think it is more difficult to infect dogs and our experimental studies have proven just that," via ABC News.
Symptoms of COVID-19 in Pets
Pets that are affected with the SARS-CoV-2 infection may present with mild respiratory symptoms. It's important to note that experts emphasize that pets may get coronavirus from people, and that pets don't spread the disease. That said, some pets may have no symptoms at all.
The American Veterinary Medical Association (AVMA) adds that "We still have no information that suggests pets might be a source of infection for people with the coronavirus that causes COVID-19," the association said in a statement. "At this time, routine testing of animals for SARS-CoV-2 is not recommended. Veterinarians should consult with public health and state animal health officials when deciding if animals should be tested for SARS-CoV-2."
The Pet Industry Joint Advisory Council (PIJAC) explain that "It is important the public remain confident in the USDA and CDC guidance that there continues to be no evidence that pets play a role in spreading the virus in the U.S. and therefore there is no justification in taking measures against companion animals that may compromise their welfare," via Veterinary Practice news.
Although the clinical signs of the coronavirus is still to being explored, there are some symptoms that the CDC recommends pet parents watch out for. These include the following:
Fever
Coughing
Difficulty breathing or shortness of breath
Lethargy
Sneezing
Nasal discharge
Vomiting
Diarrhea
Dogs and COVID-19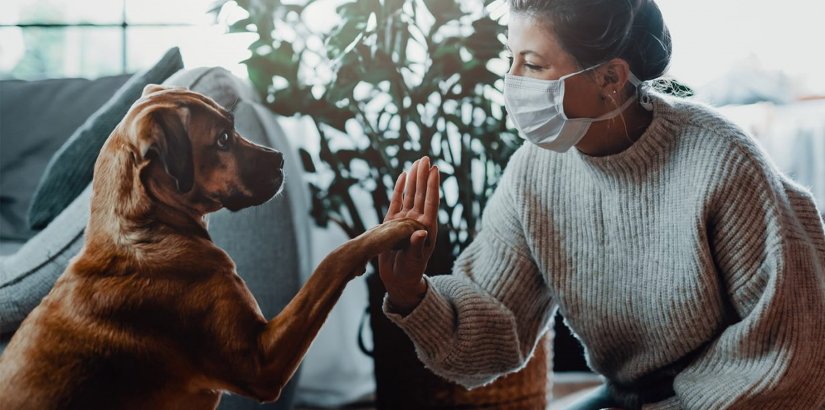 Dr. Marcy Souza explains that although dogs may have a positive COVID-19 test result, they don't show symptoms like diarrhea, upper respiratory infection, or lethargy. In cases studied abroad pets don't seem to be as affected as badly as humans.
It's important to note that pets cannot give it to us. The CDC emphasizes that if someone in your family gets ill, isolate the affected person from pets. Veterinarians are also recommending that if your pet shows these symptoms, to consult with your veterinarian.
CDC Evaluation for SARS-CoV-2 Testing for Pets
Key Points from the CDC
Routine testing of animals for SARS-CoV-2 is not recommended.
The decision to test an animal (including companion animals, livestock, and wild or zoo animals) should be agreed upon using a One Health approach between appropriate local, state, and/or federal public health and animal health officials.
This document provides recommendations to guide priorities for animal SARS-CoV-2 testing given limited resources.
Veterinarians are strongly encouraged to rule out other, more common causes of illness in animals before considering SARS-CoV-2 testing.
According to the CDC, "Human patients with COVID-19 have symptoms that appear 2-14 days after exposure and include fever, cough, and shortness of breath. The clinical spectrum of SARS-CoV-2 infection in animals is currently unknown, but animals may present with a combination of respiratory symptoms or gastrointestinal illness based on presentation in a small number of animals and what is known about other coronaviruses including SARS-CoV-13."
The CDC also recommends that
"Veterinarians should use their best judgment to determine if an animal has been exposed to people with suspected or confirmed COVID-19 and if the animal has clinical signs compatible with SARS-CoV-2 infection."
Fortunately, not many pets have become infected as of today. Though our furry best friends can become infected, they do not produce high levels of the virus after being infected. Not so great though, is the news that cats seem to be infected much more easily with SARS-CoV-2, and they may be more susceptible to catching the virus, though today we still are not sure as to the extent that cats are infected or their potential for zoonotic transmission. That said, it may be necessary to do more research with cats to see what we can do to prevent them from getting it.
COVID-19 Research
Another study published April 27, 2020 published in Nature Research "investigated the aerodynamic nature of SARS-CoV-2 by measuring viral RNA in aerosols in different areas of two Wuhan hospitals during the COVID-19 outbreak in February and March 2020."
New research found that "The concentration of SARS-CoV-2 RNA in aerosols detected in isolation wards and ventilated patient rooms was very low, but it was elevated in the patients' toilet areas. Levels of airborne SARS-CoV-2 RNA in the majority of public areas was undetectable except in two areas prone to crowding, possibly due to infected carriers in the crowd," via Nature.com. The results from this study indicate that room ventilation, open space, sanitization of protective apparel, and proper use and disinfection of toilet areas can effectively limit the concentration of SARS-CoV-2 RNA in aerosols.