The Royal, Elegant and Appealing Dog




Non-Sporting
The Shiba Inu must be one of the most beautiful and appealing dogs you have ever seen. Even if you just saw a picture in a book you have probably fallen in love with the looks. But there is more to this dog than just the looks. If you want to find out more, you've come to the right place.
The Shiba Inu is a well-proportionate dog, up to ~16 inches tall with a well-rounded body, elegant, and light in appearance. He doesn't lack in muscles and has a compact frame with strong bones to sustain high levels of agility. It has a hunting ancestry which already says a lot.
He should be deft, agile, and with the ability to perform rapid turns. This fast dog will impress you while you're out in the park whether or not you thought dogs can look good before. For the Shiba Inu, any coat color is acceptable, and their double coat is similar to that of a Husky.
Characteristics
The Shiba is usually described as bold, clever, calm, and gentle, but quick and agile as well. His refined demeanor draws attention to him and he has a personality that shines in the spotlight.
It should be said that he is a top spot, a hotshot. He wants attention and he wants you to be generous. He has a fiery temperament and can easily go out of control.
Most Shiba Inu owners like the dog so much that they learn to deal with any difficult aspects of his behavior. Some key points are early socialization, temperamental testing, and conditioning through training. All of which is mandatory if you want to have any control over this dog.
General health
They don't need any sort of special diet, they can run for miles and usually love to, they are resistant to injury, and don't suffer from many structural imbalances.
Of course, there are some hereditary problems you may encounter. Patellar luxation sometimes appears in Shiba Inus. If you're worried about it just take him to an experienced vet. They can detect it through simple palpation.
They might have hip dysplasia but it will probably not be severe. There is no particularly alarming problem for this breed, which makes them one step closer to the "perfect dog" title.
If you're trying to find a Shiba Inu for yourself you must buy from a respectable breeder. You can find some in the newspapers but if you want the best you should check with the national club in your area.
Getting a Shiba Inu is a lengthy process and you will need to do your research and be prepared to say no if you find something you don't like. Consider the fact that you will live with him for at least a decade. Don't pick your family based on feeling sorry for the dog.
Apartment Shiba Inu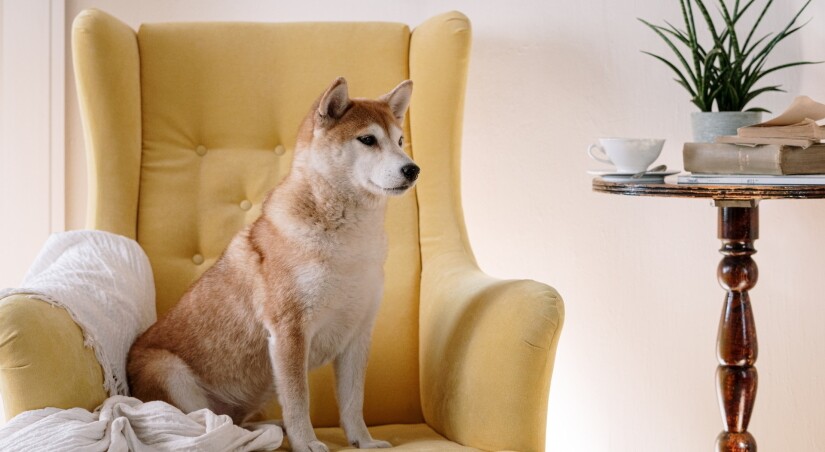 The Shiba Inu originates in Japan and is the smallest of the six unique, recognized breeds from Japan.
He's a small but quick dog who copes well with rough terrain. Since they were originally bred for hunting they kind of had to.
The breed is among the few ancient breeds still alive. As such they have traits normally associated with ancient dog breeds. The most common and visible examples are independence and cunning.
Temperament
Shibas are active and lively, they have a confident attitude and are bold and independent. They like to run, especially away, and do everything they can to escape from their enclosure. It's a good idea to secure your dog whenever you're opening the door because they can't wait for the opportunity to escape.
They can easily disappear for days. Some can even climb chain fences. They also have a very strong prey drive and will try to hunt small animals whenever they catch wind of it.
Shibas are sometimes aggressive towards other dogs but can coexist with cats. Though if they see the cat starting to run away, you know there's a good chance the dog will bolt after it.
They behave rather tight with small children and can easily become scared of quick movements and high-pitched squeals. However, older children are good Shiba Inu companions and you can expect them to get along well.
Unlike other types of dogs, they are not cuddly at all. In fact, they don't like to be touched and grooming can be a nuisance. They like to sit beside you, but quiet solitude is fine with them.
How about the scream
These guys are generally quiet but make good watchdogs since they can identify an emergency when it arises. Apart from this they also have their distinguishing Shiba scream.
This is a high-pitched wail that goes off whenever the dog is unhappy. And they can be unhappy for many reasons, the quirky little drama queens. Concordantly they can give out a similar scream when they're especially happy, for instance when their favorite guest has arrived.
General care
Shiba Inu PuppyShibas are meticulous with themselves. They want to be clean, enough to start licking their legs and paws, just like cats. They tend to go out of their way to make sure they're clean yet don't second guess the opportunity to roll in a puddle of mud. They're also very happy with swimming.
Puppies are very easy to housebreak and may even do so by themselves. This is a great advantage for an apartment dog. They only require occasional brushing but they shed a lot. And I mean a lot. Be prepared to swim in hair and don't be surprised if one day you find that even butter can't escape the Shiba Inu.
Playtime, Exercise and Training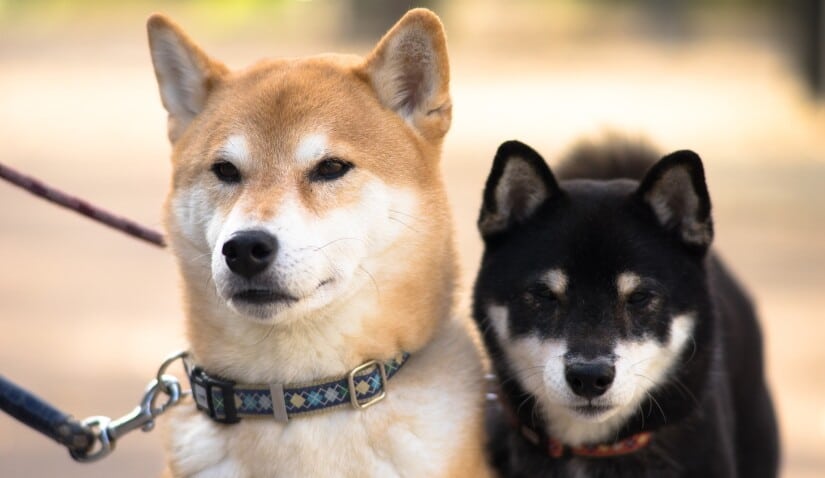 Shiba Inus are very active little dogs and you would expect they need lots of room to run amok. However, they are quite happy jumping off the couch and doing tricks in the house, though they need some additional exercise on top of that.
I think it's safe to say that all Shibas prefer walks to eating. You will find that your Shiba won't let you stay on the couch all day. They will nit-pick at your toes and whatnot, determined to get you off your laziness and into superman-mode.
Besides actual exercise which is good for you, honest, it's also a great way to meet people. Many people, as they drift into their adult life, find that they have fewer and fewer friends and meet fewer and fewer people. When you think about it, where do you meet new people? Your dog is a natural public attraction; you'd be stupid not to take advantage.
Playtime
During puppyhood, he will look for vulnerable human body parts as his toys of choice. Fingers and toes are common, as are any covered and hard-to-reach executables, such as toes in a sock.
If you're in the business of preserving your flesh a visit to the pet store is mandatory. Stuffed animals, socks, shoelaces, tennis balls are fine choices, along with whatever your dog shows interest in.
The breed is not inherently very destructive, but every puppy chews like there's no tomorrow. Once you're through the puppy stage chewing will drop to an occasional snag, which you should provide anyway with tennis balls and so on.
Training importance
The dog is clever so, theoretically, he should be easy to train. Well, they understand new stuff fast enough but they don't enjoy it one bit. Your best bet is to start obedience training early in their life.
But even then don't expect them to enjoy it. They don't really like to be told what to do and it's very hard to train them off-leash since they also have that strong instinct to run away.
Overall Shiba Inu's are good apartment dogs, they are quiet but not so that you never know they exist. They are not particularly cuddly and can be little drama queens. Give them attention, make sure you keep them on a leash, and earn their respect. Then the Shiba Inu will be your best friend.
You must establish your position of control or you'll have a hard time dealing with him. Housebreaking comes about easily as it's something they do naturally. Crate training, taking him out first thing after a nap and after meals and you're pretty much set. Keep in mind that even 5 week puppies can hold their bowels but not their bladder.
You might have some trouble attaching a leash to your dog. Restrain is probably the one thing they hate, however you will teach them that it's good to be with you, even on a leash.
Start by adding a snug collar first and let him wear it for a while. Then add the leash and let him run around the house without you. Next, go for a walk where you go where he wants. All the while you need to reassure him he's such a good dog.
Finally, you can start controlling him when he's on a leash, adding games, tricks and the all-important loose leash walk, crucial for you, that is. If you don't train your Shiba it will be very hard to live peacefully.
Agility games are the most compatible exercises and, once you teach them a few basic tricks you can have your very-own living-room agility course which he'll love. Nothing beats having your very own living-room agility competition with your friends.
Run Your Household Dogwalk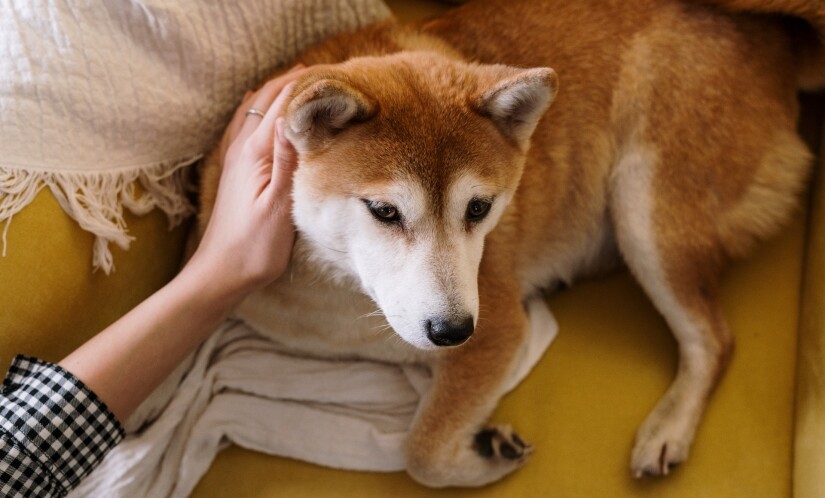 In real competitions, the Dogwalk is a platform that the dog must go over, which would be the canine equivalent of a gymnast beam. However, it's really big and really unwieldy. It will take up most of your living room and it's too much of a sacrifice when you can use what you already have instead.
For your Shiba Inu's Living Room Agility Course all he needs is the couch and a couple of tables or footstools. Of course, if you have a yard you might consider the real thing.
The real reason for adding the footstools is two-fold. First of all, you want to make it a little easier for your Shiba to jump on and off the couch. The second is for competitive reasons.
In real agility, the Dogwalk has a yellow zone that the dog must touch before going on the contraption. Your yellow zone is a footstool at one end of the couch. So what you're doing is adding help and realism to the whole thing.
The Couch Dogwalk
He'll be required to jump on one footstool, pause for a flash, jump on the couch and run to the other side, flash-pause, jump on the other footstool and then finally jump down to successfully complete the obstacle.
If you've had the Shiba Inu for a little while he's almost guaranteed to have started running across the couch-jumping on and off doing laps around the house. So this obstacle will be a breeze.
Start with the first part of the course, the first footstool. Use a command like "up stool" and hold a treat on the thing. When he goes up to get it to reward him. This will be so easy to teach you won't even know it.
Next, teach him "up couch" or something for jumping from the footstool onto the couch. As he jumps on it run with him to the other side of the couch. Since you're crazy about having your Shiba Inu on your furniture praise him during the whole time.
Once he's at the end of the couch use a treat to lure him on the other footstool and say "off couch" or something. Finally, say the "off stool" command and lure him with a treat off the stool. The important part is that he stops at each part. He needs to control the jumps, not rush through them.
Freestyle Dance Moves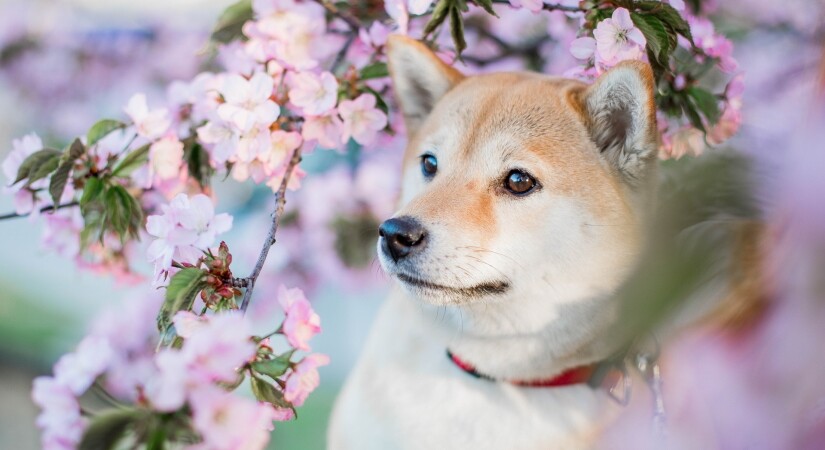 It's time for some tricks. Your Shiba Inu has gone through the basic obedience commands you will need. He knows how to focus on you, come to you, sit, stay, wait for you and lie in a comfortable down position. It's time to have some fun.
We're going to take a look at how to teach your dog to come directly in front of you and stand squarely in front of you, then use that to teach him to twist clockwise and counterclockwise.
To teach him twists and spins he must first know how to stand in front of you. It isn't actually an absolute requirement but it makes everything much easier. So let's delve right into it and see how you can position your dog exactly where you want him.
Position your dog directly in front of you
You're going to use the "Come to me" command to lure him into the correct position. Stand a fair way away from your Shiba and call him to you. As he's closing the distance bend over a little bit and hold a treat in front of your legs.
Place that treat directly in front of his nose and, as he comes right in front of you give him the treat and add a command word, commonly "Front". That's all there is to it. It's very easy to shape behavior once he knows how to obey you.
Now gradually straighten up and eventually use the treat only to reward his perfect positioning right in front of you. Furthermore, you will leave out the "Come to me" part because "Front" means he needs to stand in that position wherever he might be.
Twist and spin
Twists are counterclockwise, spins are clockwise. We'll use Spin as an example, but you can teach him both. However you'll find that most dogs spin much better in one direction or the other, so try to find which one is more natural for your canine.
First, get the dog in the Front position and hold a treat in your right hand. Now take a step backward with the right leg and lure the dog with the treat into your right side. Continue luring him in a clockwise turn until he's facing you again.
Don't add the command word until he's understood what he must do. Once your Shiba Inu is consistent with the motion; stop moving your leg back. Reward him whenever he comes back to facing you after a turn. Now you can start having him spin in whichever position you want, not just in front of you.
Twisting counterclockwise is exactly the same, only you hold the treat with the left hand and move your left leg back. Just go through the motions again and you'll have him spinning and twisting in no time. Just remember that dogs don't generalize concepts, so you'll have to teach him again from scratch.
Shiba Inu Rescue Groups
Breeders in the USA
Breeders in Canada
Breeders in the Great Britain
Marilouvales Japanese Shiba Inu's
Address

North Lincolnshire

Website

www.japaneseshibainu.co.uk

Phone

(07783) 666929

Email
Celtic Star Kennels
Address

Wales

Website

www.celticstarkennels.com

Phone

(07535) 717837

Email
Fantasa Team Vormund
Address

Nottinghamshire/dd>

Website

www.fantasa-team-vormund.com

Phone

(07307) 600088

Email
Hatsukoi
Address

Nottingham

Website

www.japaneseshibainuuk.com

Phone

(07966) 971171