Warning
We do not encourage the use of shock collars for dogs. Instead, we advise you to practice
positive reinforcement and clicker training
. However, we were able to
review collar
proposals put forth by the best manufactures, and as per their claim, all collars presented and discussed in this article are entirely safe for dogs.
There is a huge difference between walking a polite pup or an overly disobedient one. Dog training collars can help you teach good behavior to your furry companion, but only the top-rated ones can guarantee your pet's safety.
These devices, also known as electronic collars, are developed to help you control your dog from a distance. They consist of two parts, a receiver placed on a strap that goes around your pup's neck and a transmitter that acts as a remote control.
The simplest models have one operating mode; the receiver produces a burst of static shock when you press the button on the transmitter. This unpleasant shock helps you to correct negative behavior or teach your dog to obey.
For instance, if you use the device when your pup is doing something inappropriate, such as barking or digging flowers, he will associate the action with the unpleasant feeling, and will hopefully stop doing it.
The same goes if you use the device when calling your dog if you have a stubborn pooch that ignores you.
Because of the electric shock though, many animal-rights militants claim that using such a device is inhumane behavior from the dog owner's side.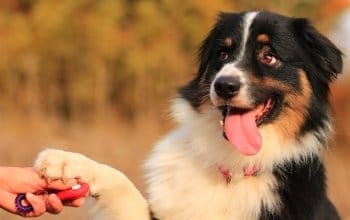 That's why modern e-collars incorporate new features, such as beep and vibration modes. These allow you to choose from various types of stimulation. Both the audible signals and the vibrations are unpleasant to the dog too, and according to many owners, they usually work so well that you won't have to shock the pooch at all.
Training modes apart though, there are many other features that can make or break the deal. One of the most important things to check is the design of the transmitter. Most devices come with separate mode buttons, but there are exceptions.
Using the same button to switch between modes could result in accidentally shocking your pup. We strongly suggest steering clear from these models.
Adjustable vibration and static levels are other important features. The latter is particularly important because a too high shock can harm the pet. Other essential features to consider are water resistance and range.
Dealing with so much information when choosing the right e-trainer for your pooch can be overwhelming. That's why we did the hard work for you. We selected the best models on the market, tested and rated them. Check out our shock collar reviews below to discover our top picks.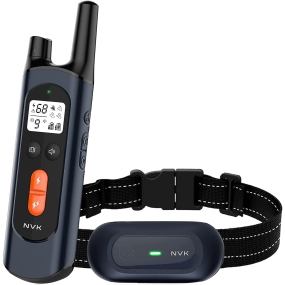 Best Value
NVK Shock Collar
This NVK Shock Collar offers incredible battery, optimal features, a range of shock modes, and waterproof property. It helps you control your misbehaving furry friend in an easy and simple way.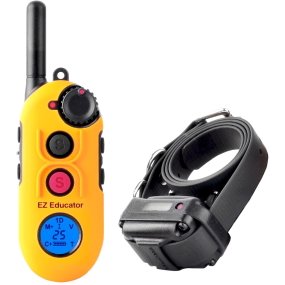 Best Overall
Easy Educator
The Easy Educator is perfect for extreme outdoor training at distances up to half a mile. 5 static modes help you train even the most stubborn pup.
Best Dog Training Collar Reviews & Comparison Table
Deciding which products were worthy of making it to this guide wasn't easy. The market offers a bountiful range of dog training collars.
To trim off products and select the best of the best, we evaluated their water resistance, training modes, number of channels, as well as usability, functionality, suitability for most dogs, and safety.
We also considered the presence of an LCD screen and overall comfort for both pet and owner. The table below highlights our evaluation results for each of the collars in this guide.
| PRODUCT | | RATING | PRICE | WATER RESISTANCE | LSD DISPLAY | RANGE | TRAINING MODES | SUITABLE FOR DOGS IN POUNDS | NUMBER OF DOGS | USABILITY | DOG COMFORT | FUNCTIONALITY | SAFETY |
| --- | --- | --- | --- | --- | --- | --- | --- | --- | --- | --- | --- | --- | --- |
| Easy Educator | Best Overall | 9.6 | High price | Waterproof | ✔ | 1/2 miles | 5 | 5+lbs | Up to 4 | 9 | 10 | 9 | 9 |
| Dogtra 1900S | Best Quality | 9.5 | High price | Waterproof | ✔ | 3/4 mile | 3 | 35lbs+ | 2 | 10 | 9 | 8 | 10 |
| SportDOG Trainers | For larger dogs | 9.4 | Average price | Waterproof | × | 1/2 miles | 21 | 8+lbs | 3 | 7 | 8 | 9 | 9 |
| Patpet | Our Choice | 9.3 | Low price | Waterproof | ✔ | 1000 | 3 | 8.8 to 88 Ibs | 2 | 7 | 10 | 7 | 8 |
| NVK Shock Collar | Best Value | 9.2 | Low price | Waterproof | ✔ | 1/3 miles | 3 | 110 lbs | 4 | 9 | 6 | 8 | 7 |
| Educator E-Collar | | 9.1 | High price | Waterproof | ✔ | 1/2 - 3/4 mile | 3 | 5lbs+ | 1-2 | 8 | 9 | 9 | 10 |
| Dogtra iQ Plus | | 9.0 | Average price | Waterproof | × | 400 yard | 3 | 10lbs+ | 2 | 9 | 8 | 9 | 10 |
| PetSpy | | 8.9 | Average price | Waterproof | ✔ | 650 yards | 3 | 10-120lbs | 2 | 6 | 10 | 10 | 10 |
| Dogtra Super X | | 8.8 | High price | Waterproof | ✔ | 1 mile | 3 | 20+lbs | 1 | 10 | 8 | 10 | 10 |
| DOG CARE | | 8.7 | Average price | Waterproof | ✔ | 330 | 3 | 10-120 lbs | 9 | 9 | 7 | 9 | 8 |
| Pet Resolve Training system | | 8.5 | Average price | Waterproof | ✔ | 3/4 mile | 3 | 15+lbs | 3 | 9 | 8 | 9 | 9 |
| Dr.Trainer T1sPro | | 8.0 | Average price | Waterproof | × | 2300ft | 3 | 750 yards | | 8 | 8 | 9 | 8 |
| Petrainer | | 7.5 | Average price | Rainproof | ✔ | 330 yards | 3 | 15+lbs | 2 | 10 | 4 | 6 | 10 |
---
---
Dog Shock Collar Buying Guide & FAQ

How We Chose Our Selection of Dog Shock Collars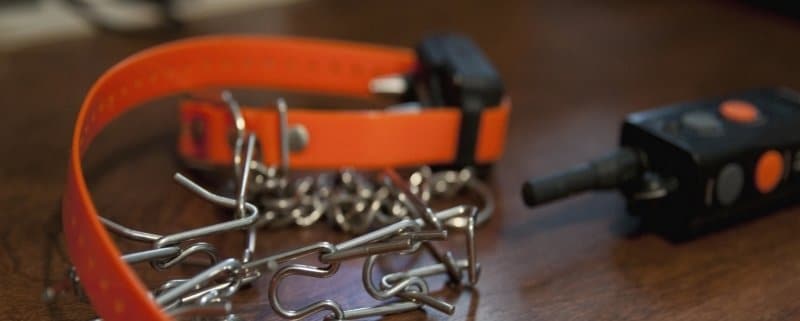 A shock collar is different than the simple line and leash you use for walkies. This one has a specific purpose, and the selection factors go beyond subjective considerations. All the devices that have made it to our list have been checked against the following criteria.
Comfort – Regardless of its purpose, a collar must be comfortable for your dog. Too tight could choke him while too loose could let him break free. That's why all shock collars on our list are adjustable and suitable for most breed sizes.
Trying to make your choice even easier, most models come with removable receivers so that you can use your preferred collar with the device.
Reviews – The market offers a bountiful range of products, and it's hard to decide which one really deserve your money. When deciding which products to focus on, we always check product reviews. Opinions from the people who bought and used the product before us are our most valuable resource. Based on these opinions, we trim off options and decide which products we want to test.
Price – Finally, we always throw in the budget factor. It is hard to tell which is a fair price for a training collar. You may pay a hefty price on the last generation model only to find it is unsafe due to engineering or manufacturing errors. Or you could pay peanuts on one that does exactly what it says it does.
When evaluating price, therefore, we always consider the true value of a product by assessing its safety, effectiveness, overall user experience, and the actual amount charged by the seller. All training collars on the list above deliver excellent value for money.
Types of Dog Shock Collars
Many untrained dog owners believe all dog shock collars are the same. The truth is that there are three types you can choose from, each developed to serve a specific purpose.
Training Collars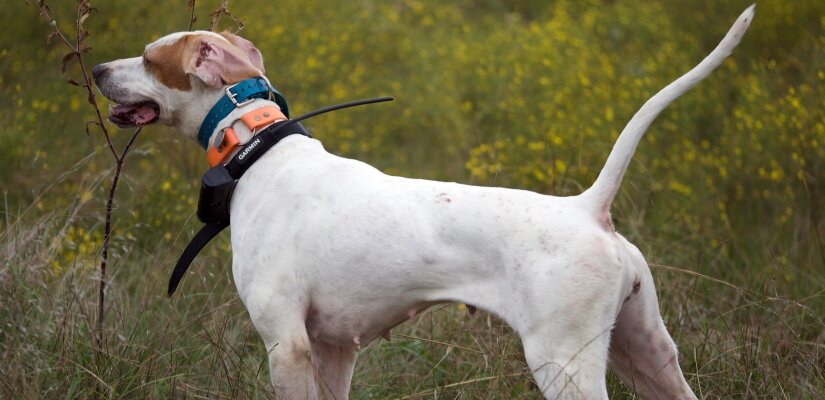 Also known as remote collars or e-collars, these are the classic model we all instantly think about. They are inspired by the traditional collar design and consist of a strap that closes in a loop around your pet's neck.
A receiver device mounted on the strap receives signals from a remote control operated by the trainer and transmits that signal to the dog in the form of an electric shock. That is if you have a primitive model with no other functions.
Modern models, in fact, can typically transmit three types of signals, an audible one, vibrations, or shock. These define the model's modes, which are usually called Beep, Vibration, and Static.
When buying an e-collar, we strongly suggest getting one that comes with all three modes. Most pooches react surprisingly well to less harsh stimuli, such as sound and vibration, and there are high chances you will never have to use the shock mode.
The other part of the system is a remote control that transmits your commands to the receiver. Although the concept seems simple, you must pay particular attention to this component too.
Some remotes have only one button that allows you to switch between functions. Although at first glance they are the simplest to use, this is far from the truth. A single button translates into a higher chance of accidentally shocking your dog. It is also a hassle to switch between modes quickly in case of an emergency.
The best remotes are those that come with a button for each mode. If they are blind-coded, that's even better, as you'll know what button you're pressing without taking the remote out of your pocket, not to mention this is a great solution for anyone who's visually impaired.
These collars can be used to teach your dog obedience in open spaces, correct aggressive behavior, or in Schutzhund training.
Anti-Bark Collars
The traditional devices described above are often advertised as an anti-barking solution, so why would you bother with specific anti-barking collars?
Well, this special category of shock collars is dedicated to those who have a very loud dog. If your pooch barks at everything and in the most inappropriate moments, these come as a solution to teach him proper behavior without hassle.
These devices consist of a receiver placed on a strap. This receiver is not controlled by a remote, but by a noise sensor placed within the receiver. Your dog's bark activates it, and the receiver transmits an impulse to the dog.
In this case, too, the best devices have different modes, and you can choose from beep, vibration, or shock.
However, we wouldn't recommend getting one of these unless they are truly your last resort, because the noise sensor inside them can be activated by any other loud noise. In other words, kids yelling, thunderstorms, cars passing by, and even other dogs barking can activate your pooch's shock collar.
As a result, the pup will associate these noises to a negative reaction which could lead to other psychological and behavioral issues which are harder to fix.
Invisible Fence Collars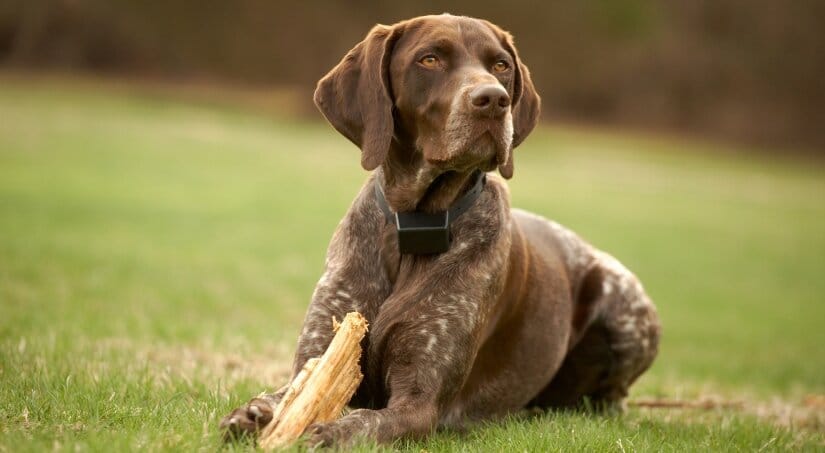 The last type is the invisible fence shock collars. Their design closely resembles the anti-barking one, and they come with similar modes and features. The difference is that the receiver is activated by signals transmitted by perimeter devices.
These are typically wires you place on the ground or wireless devices that confine a designated area. When your dog trespasses these devices, they transmit an impulse to the receiver, which then transmits it to the dog.
You can usually choose between the three popular modes beep, vibration, and shock, and they are great for keeping your dog safe either in your yard or in a camping area.
How Do Training Collars Work?
We briefly explained how training collars work, but there is more to know. To recap, these items are systems consisting of a transmitter and receiver, which then transmits an impulse to your dog.
The audible signals or vibrations work in any circumstances as long as your pooch is wearing the device. But for the shock to be effective, the receiver's prongs must be in full contact with the pup's skin.
There are two issues that can arise.
On the one hand, the metal prongs may contain nickel, a metal that causes skin reactions and allergies in many dogs.
On the other hand, the device could be ineffective if a too long fur prevents the prongs from touching the skin.
Luckily, there are some solutions to these problems.
If your dog is sensitive to nickel, you can either opt for a model with titanium prongs or buy conductive silicone covers for the steel prongs on your device.
If the problem is the fur, a visit to the pet groomer may help solve the issue. Before cutting your dog's hair though, check if the collar fits snugly and adjust it if it's too loose.
Purpose Shock collars: Does Pavlov's name ring a bell?
Call it E-Collars or Training Collars, their purpose is the same: Create a stimulation to help your beloved dog learn which behaviors are bad or good. Despite the impression you get from the name, shock collars were never intended for punishment. Back in the 1950s when they were first invented, we used them to help train and condition dogs for hunting.
Conditioning is the keyword here, part of Dr. Ivan Pavlov's theory when he rang a bell before feeding his dogs. After a while of doing this, whenever he rang the bell, the dogs would drool, associating the bell with food. With shock collars, and training in general, the principle is the same: have your dog associate the stimulation with bad behavior. Done consistently, they'll stop that behavior. That's not the whole story though, there's more to using shock collars than simply pressing a button when your dog misbehaves.
Are Shock Collars Safe for Dogs?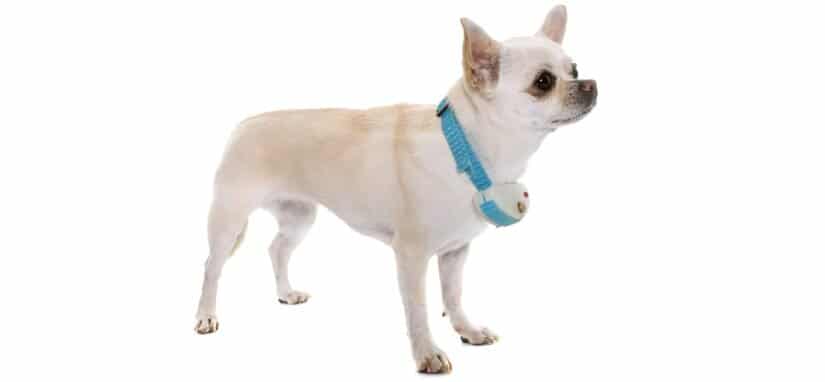 This is a complex question with an even more complex answer. Theoretically, they are. Regulations in most countries around the world wouldn't allow manufacturers to sell them if they weren't. But this doesn't mean they couldn't harm your dog.
Most shock collars are developed for dogs of various sizes. Some receivers are deemed as suitable for all dogs, from Chihuahua to Great Dane. Now, it's easy to understand that what works for one wouldn't work for the other, and issues arise mainly for small and mid-size dogs.
In fact, a too powerful shock can burn your dog's skin, cause severe internal damage, or even kill your pet.
Here are some tips for using a shock collar safely if you have a smaller dog:
Only invest in items that allow you to set and lock the shock intensity level.
Avoid models with one-button remotes, as you could shock the dog accidentally.
Try to limit the use of the shock mode.
Never use the shock mode when you are angry. These devices serve to educate your pup, not punish him.
A model with unlimited shock adjustment options is better than one with preset levels.
Match the collar with your pet's weight; if your pet weighs less than indicated by the manufacturer, avoid buying the product.
Does it hurt my dog? The truth might not shock you.
Modern shock collars are designed with a vibrate function along with an electric pulse. These collars are often designed to have mild to heavy stimulation. We say stimulation, not an electric shock, because the collar is designed not to be painful when properly used. Think of the electric abdominal stimulators or energizers out there in the market. They're designed to jolt your abs to tighten but not enough to cause any real pain unless you put it on high without getting used to the sensation first. With that frame of reference, a shock collar's jolt is significantly lower. If you're looking for numbers, the total energy output (voltage over time) or "Joules" of an Ab Energizer is at 0.09, whereas the highest levels of shock collars come at around 0.003. That's 300 times less energy!
If you still have any doubts about it, try it yourself. Not on your neck of course, but place the prongs on your palm and adjust the remote to the lowest setting. You should feel a slight tingle when you press the remote, and as you keep raising it, it should start feeling like a prickly bug crawling on the spot. Higher levels may cause some pain but that depends on your tolerance. Man and their best friend have different pain tolerance, but it's worth noting that modern collars have a wide range of intensities before it potentially becomes very uncomfortable for your companion.
Deterrent, not Punishment.
Going back to conditioning, shock collars should never be used for punishment. At its simplest, the collar is used to remotely catch the dog's attention. It's a tool that helps your companion sharpen their skillsets, respond to commands faster, and help them learn to be a better part of your household. For some dogs, a simple stern "No!" for bad behavior is enough, but all dogs are different, and sometimes, you need more than just a squirt of cold water to deter them from barking when they think the neighbors are up to no good.
Benefits of Using Training Collars for Dogs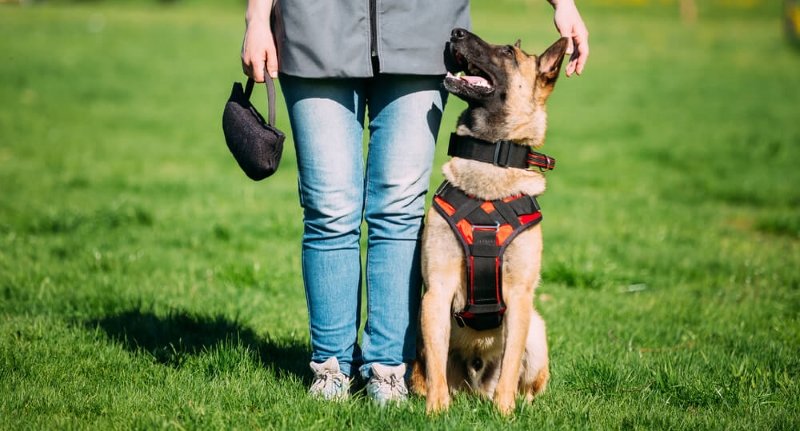 Dog training collars can serve multiple purposes, from teaching obedience to correcting behavioral issues. You can use them for both puppies and adult dogs, provided that their specifications match your dog's weight.
These devices are also particularly useful for adopted dogs who may have aggressiveness or temperamental issues.
Let's have a look at what a training collar can do for you.
Pros and Cons of Using a Shock Collar
If you're still undecided whether to use shock collars or not, here are some pros and cons that might help.
Pros
Remotely Activated

This is one of the main advantages of a shock collar. It can operate from a significant distance so while you're on the second floor, you can remind your dog to stop barking at your "no-good" neighbors. They have a range of 30 to 400 yards, with some models reaching 1000+ yards. Other models even communicate with your smartphone to activate the collar even when you're out of the house.

From Vibing to Pulsing

Like we said before, the collar has varying levels of stimulation, and some simply vibrate. It's never meant to shock but instead to deliver enough energy to stimulate them. Bigger dogs may require higher levels before they respond, and others only need the lowest to get the point.

Affordable

Compared to hiring a trainer or setting up fences, buying a shock collar is more affordable. However, you really can't put a price on the bonding you'll get with your furry best friend when you train with them.

Flexible

It's not just electricity anymore. Modern collars have some combination of features like Citronella Sprays, Vibration, Ultrasonic tones, and so on. These features are useful when you're going to transition away from electric stimulation and into a more positive approach.
Cons
Painful (for you!)

Let's face it, some of you can't even imagine causing the slightest pain to your furry friend. Even if you had full control of the stimulation levels, we can't ignore the fact that you're using it to deter bad behavior. There are other ways to train your buddy, such as positive reinforcement ie. using treats, and asking who's a good doggy when said doggy was good.

Making them fear you

This is the last thing we want our dogs to feel. Regardless of how tough training can be like with police dogs, it's always approached with love and camaraderie. Fear in dogs can be dangerous. If the collar is used improperly, the fear you cause to your pets can produce worse behavior.

Overusage

Everything has to be used in moderation, and the overuse of shock collars can confuse your dog. They may not be afraid sure, but they can get confused on which behavior is bad or good. Sometimes, owners can end up correcting their companions for behaviors or problems they wrongly assumed.

Lack of Positive Reinforcement

The shock collar is not the whole tool. It must be paired with positive reinforcement. Without the right amount of reward for good behavior, your companion may be house trained, but they might not listen to your commands.
Stops Your Dog From Jumping
We're sure you love it when your pup jumps from joy when you finally get home after a long day. But neighbors, guests, and even strangers in the park may not appreciate your pooch's enthusiasm the way you do.
Even the friendliest dog can scare a kid or someone with a phobia. Your dog jumping on people after he just enjoyed a roll in a swampy puddle can also be a problem.
A remote training device can help you get rid of this behavior. Start with the beep mode and see how Fido reacts. Switch to vibration if beep mode is ineffective, and use shock as a last resort if nothing else worked.
Reduces Your Dog's Barks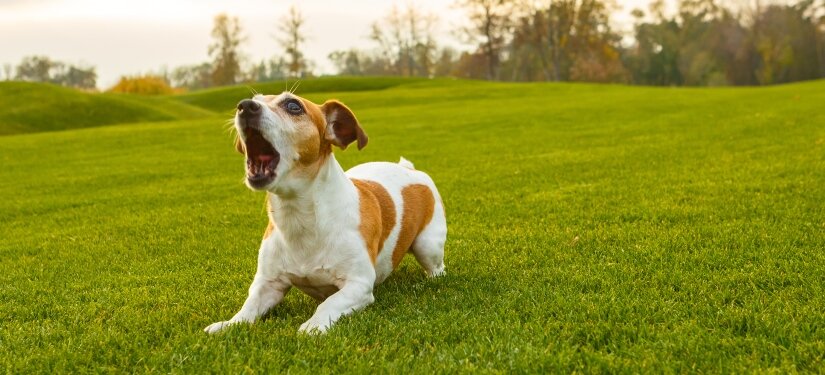 Barking is to a dog what speaking is to humans, but there are way too many pups that can become overly excited and bark at even the slightest moves. Such as a leaf falling off the tree, a squirrel passing by, the postman, and sometimes just because it's raining.
Excessive barking is a behavioral issue you can correct with a training device. However, pay attention to when you use it.
If you use it too often, you may trigger psychological issues in your dog. That's why it is important to learn why your dog is barking and how to recognize his different types of barks.
Most commonly, barking happens because of:
Territorial or alarm reasons
Attention seeking
Greeting
Frustration
Illness or injury
Separation anxiety
Compulsiveness
Other dogs' barks
Because anti-barking devices are seen by your dog as punishment, it is recommended to avoid using them unless it's compulsiveness or socially-facilitated barking. In all other cases, suppressing your dog's barking would leave him with no way to communicate fear or anxiety.
If excessive barking is caused by anything else except compulsiveness and other dogs barks, you should seek professional help from a trainer or dog psychologist.
If you decide to use a collar to reduce barking, know that the beep function may be useless, especially if barking is socially-facilitated. Vibrations and shock are much more effective, and there are also some anti-barking devices that spray citronella on your pup whenever he is too loud.
Prevent Destructive Behaviors
One of the biggest benefits of shock training devices is the possibility to prevent destructive behavior. This is especially true in young dogs as well as some adopted dogs who have not been properly trained.
Destructive behavior includes chewing carpets or furniture, digging holes, chewing or eating houseplants, and other voluntary actions that end with the destruction of an item.
Destructive behavior is not only annoying – and often even costly – for you. This behavior is potentially harmful to your dog. For instance, many houseplants are poisonous. Paint products used on furniture may also be highly toxic.
To correct this behavior, it is once again recommended to start from the beep mode and work your way up to shock, based on your pup's reaction to stimuli.
Manage Aggression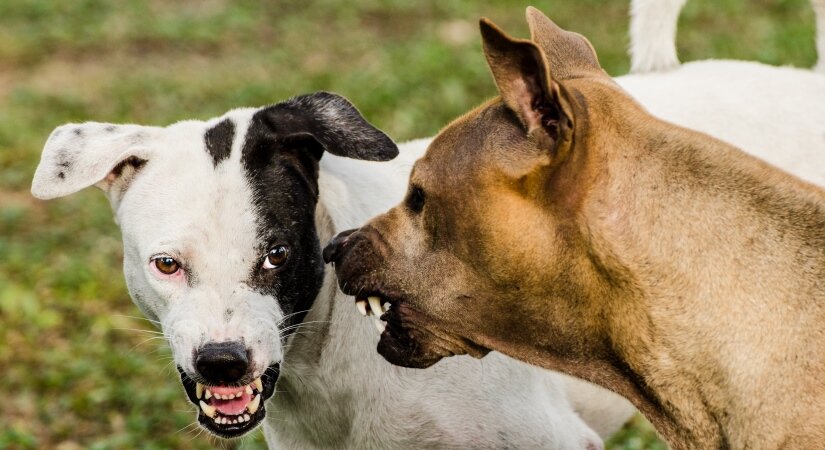 Perhaps the primary reason why dog owners consider getting a shock device is aggressive behavior. Dogs can become aggressive in many circumstances, such as:
Food aggression
Territorial aggression
Aggression versus another dog
Aggression versus other animals
Aggression versus humans
If the dog is young, it is usually easy to treat aggression with a shock collar, and in most cases, the beep and vibration functions are enough to teach your pup etiquette.
In aggressive adult dogs though, a shock may temporarily solve the issue but the pain arrived from nowhere can cause further anxiety and aggressiveness. If you adopted a dog who is aggressive, we recommend talking to a trainer before using a shock collar.
How to Properly Use Shock Collars
Fitting and Normalizing the Collar
Ideally, you want the collar to fit comfortably, but with the prongs still making contact with the dog's skin. Tighten it to the point where you can loosely put one or two fingers in.
The goal of the first part is to let your dog get used to the collar. Place them on your dog but don't trigger it yet. Let them do normal doggy stuff with it, play with them, take a walk with them. This way you also prevent making them "collar-wise", which means they will only behave while they wear the collar.
Normalizing goes both ways. You need to remind yourself that the collar is a tool to help your dog focus, deter bad behavior, and never for punishment. After a week or so, you can start the second part of the training.
Name-Command-Signal and The Three C's
Consistency plays a huge role here. Your communication must follow a certain order of actions to help your dog understand you better. It goes something like: Your dog's name, the command, then the hand signal. When they can't focus or do something else, you then use the collar to get their attention. Once you have their attention back, repeat these three things until your dog does it consistently. Another method is to hold down the stimulation until your dog properly completes the task, but that's only if the former doesn't work.
Like we said before, the collar is only part of the whole thing. We have the Collar, Communication, and finally, the Commendation. Commending, or praising and giving rewards, fortifies good behavior with just about anyone, man or animal. When your dog follows your command, you give them a treat, a pat on the head, and let them know how proud you are.
A basic example of these methods would be commanding your dog to come to you. You call their name, tell them to come to you, and use your hand signal of choice. When they go anywhere else, use the collar but only to a point where you get their attention, then repeat N-C-S. When they approach you, you commend them and repeat the process until they do it swiftly and consistently.
Detering Problematic Behavior and Other Uses
Dogs do doggy stuff like bark at nothing, chewing on furniture, and harassing the cat for kicks. Use the collar until they stop, along with the command to stop. When they do stop, make sure to praise them for stopping so they know what they did was good.
Shock collars are also a handy tool in sending signals swiftly and quietly. Collars with vibrate functions and other low-level stimulation can be used for agility training to signal dogs when to turn, jump, etc. It can also be used for hunting to signal dogs without yelling or making any hand signals.
The most important use for these collars is for specialty jobs like bomb-sniffing dogs, police, military, and rescue. These jobs are dangerous so they require high-level training. Shock collars take these kinds of training to the next level.
Transition to Positive Reinforcement
As your relationship with your dog strengthens, along with their loyalty and trust, commanding them and further training won't require that much deterrence. They already know which behaviors are bad and they understand the way you communicate. All you should need at this point is to give them praise, a treat, and of course, plenty of love.
Other Tips for Usage
Don't leave the shock collar for too long. If you don't need the collar, you can replace it with their usual collars.
Rotate the collar on your dog's neck every 2-3 hours to prevent pressure sores.
After every use, check your dog's skin for any damages and clean the contact points.
Again, do not use strong shocks for punishment, especially doing it at random.
To find out which setting is the best for your dog, start at the lowest setting and gradually go up until you see them mildly confused.
Always be there when using the shock collars so you can see the effect on your dog to minimize the required stimulation.
Dog Shock Collars Frequently Asked Questions
Q: Do Shock Collars Work on Aggressive Dogs?
A: Shock collars can usually stop aggressive behavior in dogs on the short-term, but they may or may not be effective in long-term training. Their effectiveness depends on many factors, including your dog's temperament and the way you use the collar.
Q: Where Do You Put a Shock Collar on a Dog?
A: You should place the receiver under the dog's chin, making sure it fits snugly around his neck. In this way, the collar will not slide due to gravity, and it has fewer chances of getting loose. The prongs are also less likely to cause injuries due to the softness of the tissue. Furthermore, this is where dogs usually have thinner hair, allowing for better contact between the prongs and the skin.
Q: Can Dogs Swim with a Shock Collar?
A: Yes, as long as the collar is waterproof. You must pay attention to devices rated as rainproof, showerproof, splash-proof, or water resistant. As their names suggest, these devices only resist splashes of water and rain, but they will not withstand immersion.
However, some manufacturers may use the term water resistant to indicate that the device is actually waterproof. The safest way to know if the dog can swim with the device is by checking the IP rating.
The IP code describes the resistance to solid particulate and liquid ingression, and only those collars with IP67 or over are waterproof. Below that rating, the device may be water resistant but not suitable to be submerged.
Q: How Much Range is Needed for a Remote Training Collar?
A: It depends on the collar. They usually range from 330 yards to a mile or more. If you have specific requirements, check the product's specs to make sure it meets your needs.
A thing to keep in mind though is that all ranges provided by manufacturers refer to ideal conditions, which means the range is measured in a straight line and with no obstacles between the remote and the receiver.
Obstacles such as trees, fences, windows, and walls may hinder communication between devices and significantly reduce range.
Q: Will the Electric Stimulation From a Shock Collar Hurt My Dog?
A: Yes. The electric stimulation provided by the shock produces pain, which means it will always hurt your dog, even if only slightly. Shock devices are often described by professional trainers as methods of punishment due to this reason.
However, if you use the device on the right setting and don't exceed the stimulation level indicated by the producer, the pain your dog will feel is comparable with a pinch on your arm.
Since many pup parents and trainers use some form of pain to correct behavioral issues, using a shock collar wouldn't be more inhumane than that.
What Dog Collars Are Best for Schutzhund Training?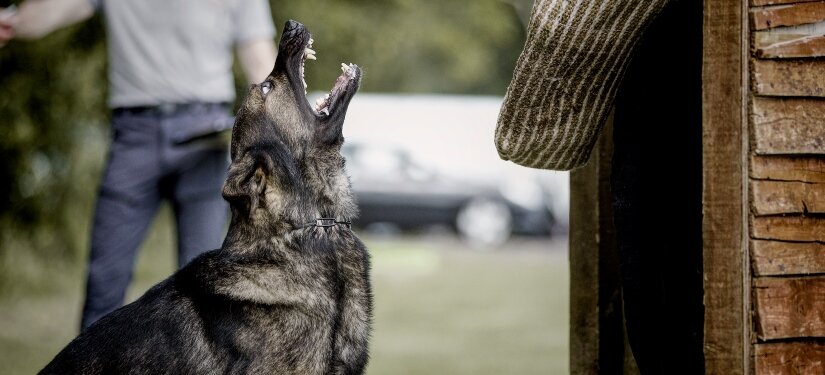 Schutzhund training, also known as IPO, is a challenging but beautiful three-part sport consisting of tracking, obedience, and protection training.
The sport has been originally designed for the German Shepherd breed to ensure it retained the genetic traits that make it so unique.
Over time, it has grown into a popular sport in which pups and their owners get a chance to learn how to work as a team.
Those who decide to practice it professionally can attend national and international competitions, including the WUSV world competition regulated by FCI.
You need the best tools and means to turn your pup into a Schutzhund champion though. Besides regular lines and leashes, one of the most controversial topics among trainers regards the choice of the collar. Your options include:
Prong collar
Electric shock collar
Trainers have a love-hate relationship with both, but which should you pick?
Prong collars: Consist of links with prongs (pinches) on them. They are an invaluable tool when walking a pup, as they stop pulling and lunging behavior. They work in a similar fashion for Schutzhund training too. You will have to keep the dog on a leash though.
Electric shock devices: Are the ones described in this guide, and their biggest advantage is that you can use them remotely.
The electric shock devices are undoubtedly the best collars for Schutzhund training. As mentioned above, its biggest advantage is that you can use it remotely. It can help with distance commands including recalls and positions and removes the hand correction elements which can create confusion in the dog when used in this type of training.
Compared to the prong type, shock devices also gives you options as in what stimulation means. Many dogs respond very well to acoustic and vibration stimuli, and none of these produces pain. As such, using an electric device could be a more humane way of conducting Schutzhund preparation.
You can also use such a device to train your pup to respond differently to different stimuli. For instance, you can use sound to generate excitement and vibration to suppress it or vice versa.
Regardless of which collar you decide to use, it is important to speak to a trainer before using it and only introduce it to the pup when he's the right age.
A trainer can also give you advice about negative reinforcement, which is a positive trait in Schutzhund training but that could jeopardize your educative efforts if you plan to use the collar to correct behavior in a home pet.
In broad lines, it is generally recommended to introduce your dog to the shock device after the age of 6 months. By this time, your dog should be sufficiently independent. Introducing it earlier could also come with more negative than positive effects.
In fact, the collar may trigger anxiety or induce aggression caused by the fact that the dog doesn't know where the pain comes from.
Using a shock device too early may also cause the dog to develop fears of objects, places, people, or other animals if he associates pain with any of these.
As long as you keep all this in mind and follow professional advice in using shock devices, a dog training collar is undoubtedly your best ally towards successful Schutzhund training.
If you're not into Schutzhund training but just want to educate or correct bad behavior in your dog, this instrument can also serve you good as long as you don't exaggerate with using the shocks and don't fall into the trap of using the collar as punishment.