The Old English Sheepdog was initially bred in the west of England, and it's thought that this breed originated from the bearded Collie or Russian Owtcharka. The Old English Sheepdog was produced to look after flocks and herds and protect them from wolves. By the middle of the 19th century, this breed was used to drive cattle and sheep to the market. The tails had to be docked to exempt this breed from dog taxes. Today this breed is nicknamed called the Bobtail. This breed is part of the AKC/UKC Herding Group.




Herding Dogs
Brief History
The Old English Sheepdog was recognized by the American Kennel Club(AKC) in 1905 and was first exhibited in the late 1800s. By the early 1900s, this affectionate dog breed was a popular show dog.
Today the modern Bobtail is similar to the earlier breed, but it has a thicker coat and a more compact body. By the 1970s, this breed became a popular media and companion dog. Today, the Old English Sheepdog is seen mostly as a companion or show dog and not as a working dog.
Physical Description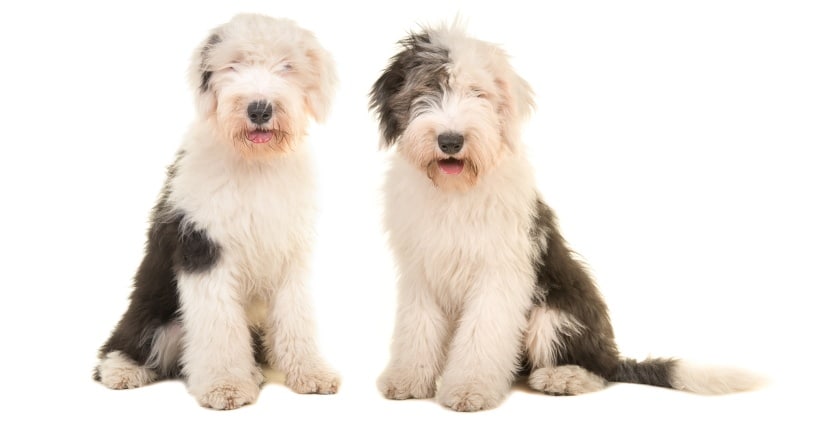 With a healthy, compact body, the Old English Sheepdog is squarely proportioned and is a thickset dog. This breed combines strength with agility, and the compact body is larger at the rump than the shoulders. The eyes are blue or brown or one of each with medium-sized ears and carried flat to the head.
The Old English Sheepdog has a large head, and the topline is lower at the withers than the loin. The coat is profuse but not excessive with a waterproof undercoat and hard shaggy outer skin that is neither straight nor curly. The coat can be any shade of grey, grizzle, blue or blue merle with or without white markings or reverse. The neck is long and arched gracefully, and the gait is free, powerful, and effortless.
Temperament
The friendly Old English Sheepdog is fun and gentle. In the home, this wonderful dog breed is well-mannered and kind. Not only is this dog breed comical, but the Old English Sheepdog enjoys being at home with family and other pets.
This breed very much needs human companionship and is very devoted to family. It also tends to be protective over family and herds children like flock members. This breed may be headstrong while training and needs to be socialized and positively trained during puppyhood.
Special Needs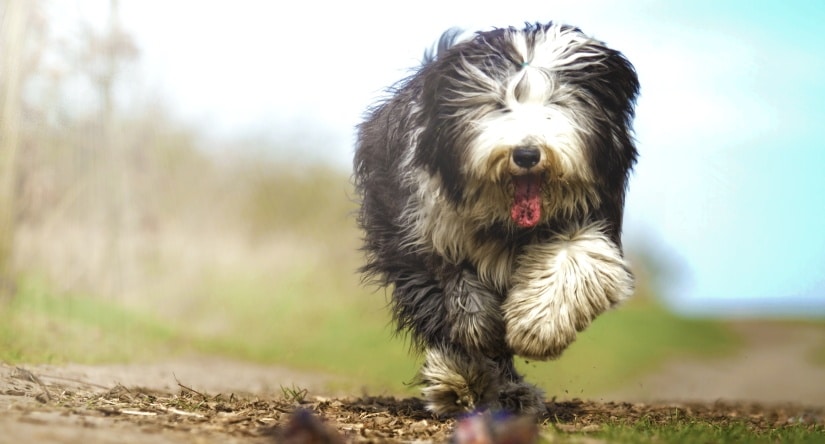 The Old English Sheepdog has to have an active pet parent that enjoys the outdoors. Early socialization with other dogs, people, and animals is always recommended, especially with this dog breed.
Puppy training classes for this breed are a definite must since they can only benefit from dog training classes. This breed is headstrong and does well in a stimulating and enriching environment. That said, the Old English Sheepdog is sensitive yet active and playful. This breed is so incredible to have around the home.
Possible Health Concerns
The Old English Sheepdog is a moderately active and healthy dog breed that may be susceptible to the following:
Congestive Heart Disease (CHD) may be genetically predisposed to heart disease. Congestive heart failure may require hospitalization with oxygen treatment. Consult with your veterinarian if you suspect that your dog may have a heart condition. Some symptoms include coughing, difficulty breathing, weakness, and fainting.
Hypothyroidism is a deficiency of the thyroid hormone and can cause weight gain, constipation, and cold sensitivity. Symptoms include hair loss, a dull coat, flaky skin with weight gain, and muscle loss. Consult with your veterinarian for advice if your dog shows any of these symptoms.
Deafness: This can be inherited or acquired. Intrauterine infections can also cause deafness in newborn pups.
Bloat or gastric dilation often occurs in larger breeds like the Old English Sheepdog. Exercise needs to be avoided right after eating or drinking large amounts of water. Left untreated, this will usually result in death. Symptoms include dry retching, vomiting, pacing, heavy panting, and an enlarged abdomen. Contact your emergency veterinarian right away, even if it's the middle of the night. This condition cannot wait to be treated and is considered an emergency.
Progressive Retinal Atrophy (PRA) is the name for a group of diseases that cause the retina's degeneration. This will include inherited abnormalities of light-sensitive cells.
Exercise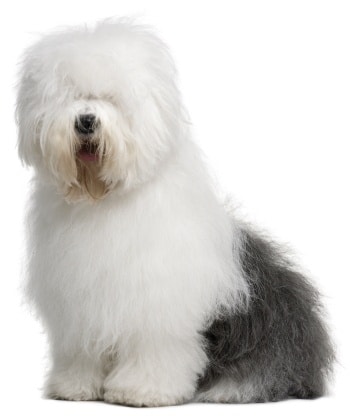 The Old English Sheepdog thrives on regular daily walks and runs. This has to include long, moderate to vigorous walks and water playtime.
This breed enjoys the farm environment and is best suited for cattle and sheep herding and helping out on equestrian farms.
This dog breed needs plenty of mental stimulation. The Old English Sheepdog has to participate in regular exercise but does not do well with repetitive training exercises.
Nutrition
Feed your Old English Sheepdog the highest-quality dog food you can afford. Consult with your veterinarian as to the best dog food for your dog. Every dog is different, and some brands will be better suited for individual dogs.
When it comes to dog foods, understanding your dog's current health and nutritional needs is paramount. And always remember to ask your veterinarian for advice before changing your dog's diet. There is no best diet since all dogs have different dietary needs, so it's always smart to find the best dog food to match each dog.
The first ingredient is the one ingredient that is present in the highest amount. Natural, organic, and holistic dry dog food brands offer many varieties – grain-free, gluten-free, vegetarian, and traditional.
Dry dog food is available through most pet food brands. Each brand of dog food should be chosen with your dog's unique and specific health needs in mind. Consult with your veterinarian as to the best dietary option for your Old English Sheepdog.
Grooming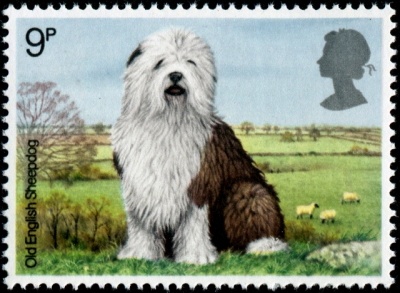 The AKC adds that "The coat is what attracts most people to the Old English Sheepdog. The breed is double-coated and requires a thorough grooming down to the skin, over the entire dog, at least weekly to maintain their full coats. "Puppy trims" are good options for pet dogs, but they also require regular brushing between baths and haircuts. Keeping the feet clipped ("Poodle feet") will minimize problems and cleanup. Potential owners need to be prepared to spend the time required to do this, or pay a professional groomer, for several sessions each month for the life of the dog."
The Old English Sheepdog needs daily brushing to remove mats and tangles. Grooming needs to be done daily with a soft bristle brush and a metal dog comb to remove tangles and matting. There are many natural grooming products like deodorizing spritzes, waterless shampoos, grooming wipes, shampoos, and conditioners.
There are also numerous shed-control shampoos and conditioners that contain healthy ingredients like shea butter, omega-6 fatty acids, and colloidal oatmeal. These offer many benefits to keep your dog's coat healthy and clean. Additionally, the latest in products for an easy pawdicure makes it easy to clip nails. That said, this dog breed does best with regular ear cleaning and teeth brushed daily. Twice yearly dental visits are recommended for cleanings to prevent gum disease in your dog.
Adopting an Old English Sheepdog
This breed makes for the very best adoption out. The Old English Sheepdog is a friendly family dog sensitive to every family member; this is one of the most devoted dog breeds. Moderately-active family life is a must, with frequent long hikes, trips in the car, and long off-leash runs. This dog breed thrives on being part of the family and loves playing outdoors with family members in cold weather.
Beach trips, Starbucks, dog parks, and long hikes make for wonderful weekends with the Old English Sheepdog. Remember that this breed will need to be professionally clipped during the summer to keep calm for sporting activities. As usual, all dogs need to be indoors during the hot summer months and exercise during the early morning and late afternoons.
Your Old English Sheepdog will become your best friend! When adopting the jolly and gentle Old English Sheepdog, it's essential to spend time with this breed to find out more about your dog's temperament.
Some dogs may be more energetic than others. This breed does best with expert pet parents that have an active lifestyle or a large farm. As with any dog adoption, make sure that you have the time and resources to take good care of your dog. This dog breed needs lots of attention and mental stimulation! Make sure that you have the time for extra grooming that this breed needs.
Old English Sheepdog Breeders in the USA
Phoenix Old English Sheepdogs (New Jersey)
Address

Woodstown, NJ

Website

www.phoenixoes.com

Phone

(856) 6244214

Email
Aurora Blue Old English Sheepdogs (Virginia)
Address

Mechanicsville, VA

Website

www.aurorablueoldenglishsheepdogs.com

Phone

(804) 6836535

Email
Bugaboo Old English Sheepdog (Colorado)
Address

Colorado Springs, CO

Website

www.bugaboooes.com

Phone

(719) 6502227
Sheep Dogs of Summer Ridge (Michigan)
Address

Saginaw, MI

Website

www.sheepdogsofsummerridge.com

Phone

(989) 2136962

Email
My Loving Pups (Missouri)
Address

Marionville, MO

Website

www.mylovingpups.com

Phone

(417) 6555505

Email
Hadley Hills Old English Sheepdogs (Massachusetts)
Address

Hadley, MA

Website

www.facebook.com/HadleyHillsOldEnglishSheepdogs

Phone

(413) 5841629

Email
Lazy Creek Puppies (New York State)
Address

Lyndonville, NY

Website

www.lazycreekpuppies.com

Phone

(585) 7358563
Tender Paw Puppies (Indiana)
Address

Shipshewana, IN

Website

www.tenderpawpuppies.com

Phone

(574) 3508688
Schlichter Danes (Indiana)
Address

Bryant, IN

Website

www.schlichterdanes.com

Phone

(260) 5251219

Email
Sapphire Eyes Sheep Dogs (Oregon)
Address

Sutherlin, OR

Website

www.sapphiresheepdogs.com

Phone

(541) 5803881

Email
Holly Hill Goldens (North Carolina)
Address

Climax, NC

Website

www.hollyhillgoldens.com

Phone

(336) 4553993

Email
Sensational sheepies (Florida)
Address

Tallahassee, FL

Website

www.sensationalsheepies.com

Phone

(850) 9339255

Email
Red Hills Ranch (Utah)
Address

Honeyville, UT

Website

www.redhillsranch.org

Phone

(801) 5644464

Email
Breeders in Canada
Old English Sheepdog Rescue Groups