Pet tags come in all shapes, sizes, and materials, which can up the fashion game of your furry friends. However, pet tags serve a more crucial purpose than ensuring your pets appear stylish. They also secure the health and safety of your pets, especially when you're not around.
Why do you think your pets need identification tags? What information should you include?
The next part will tell you the essential reasons.
Why Invest in a Pet Tag?
Investing in a pet tag is a necessary safety measure. It can give your pet easy identification that can help you find them if they ever get lost. With a pet tag engraved with your pet's name and contact information, lost animals can be reunited with their owners quickly and easily. Without a tag, animals can be taken to shelters or other places where they may not be able to find the owner, leading to a lengthy and possibly sad outcome.
Investing in a pet tag can help bring peace of mind and ensure your pet's safety.
Identifies Your Pet
A pet tag identifies your pet. Collars and ID tags signify that your pet is not a stray or abandoned animal and has a family and a home to return to.
Lists Emergency Contact
When your pet couldn't find its way back or gets into an incident while you're not around, the people involved may reach you through the contact number listed in the ID tag. A small but highly effective identification tag with the correct information lets you reunite with your pet.
Complies with Area Requirements
Depending on your state, there may be laws and regulations that require pet owners to let their pets wear identification tags, microchip details if they have undergone microchipping, and proof of rabies vaccination. Wearing a tag on your pet allows you to bring all this information together.
Informs People of Medical Conditions
If your pet gets into a medical emergency, information on the pet tag can alert rescuers of medical conditions and allergens they need to watch out for.
Helps Bring Your Pet Back Home
Sometimes, dogs or cats get astray when let loose from the leash. An identification tag helps lead your pet back home through the help of concerned people. If the label indicates that the pet lives in the neighborhood, it may be strolling around. If your pet is in an area far from home, it may be lost and require assistance.
Choosing the Right Pet Tag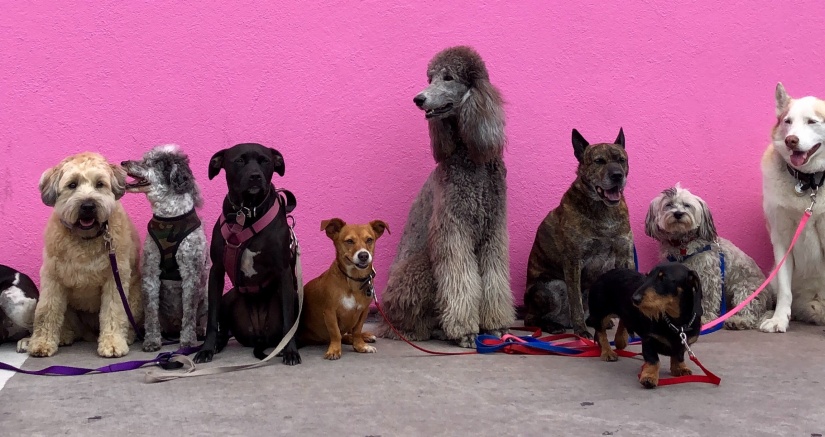 Look for a tag that is large enough to be easily identified while being small enough to be comfortable for the pet, durable enough to withstand wear and tear, and secure with safety features to prevent it from easily being removed.
Size and Breed
Selecting an appropriately sized tag ensures your pet feels comfortable wearing it. You can measure your pet's neck and compare it to the tags available in-store to determine the right size. Some pet shops and brands also provide a tag size guide to help you select the right size, using information on your pet's breed and weight.
Environment and Lifestyle
Consider the environment your pet lives in and the lifestyle it leads before buying a pet tag. A standard tag may suffice if your pet spends mostly indoors. If he loves playing outdoors, you may need to select a more durable tag that can withstand scratches and dirt. Also, consider water-resistant tags if your pet loves playing in the waters.
Safety Features
You can also incorporate additional safety features into your pet's tag. GPS trackers in the pet tag help you find him quickly if it gets lost. If you love walking your pet at night, pet tags with reflective services or LED lights that activate in low-light conditions increase your pet's visibility.
What Information Should Be in a Pet Tag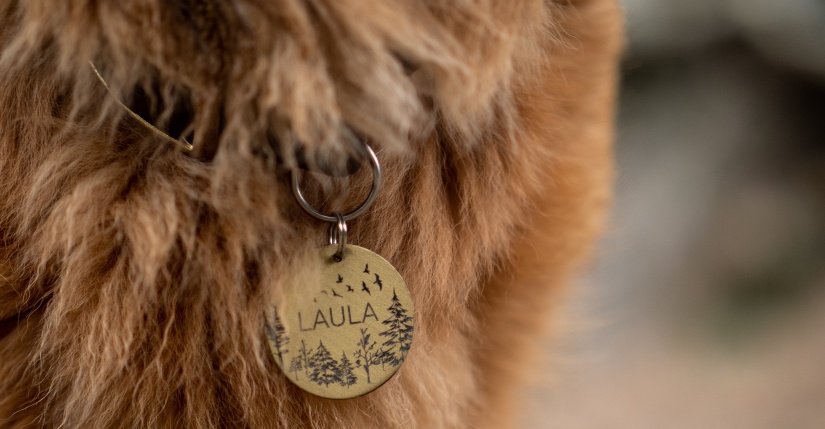 A pet tag must include basic information that helps identify your pet and helps you reunite with your pet if it gets lost. Here are some essential details you can fit in the pet tag.
Your Pet's Name
The first thing you should engrave on the tag is your pet's name. If people find your pet, calling them by their name can give it a sense of familiarity and comfort, reducing any stress it may feel.
Your Contact Details
Next, include your name and current contact details, typically your home address and mobile phone number. Adding your contact details promotes direct communication between you and whoever happens to find your lost pet.
Why Your Address Matters
Including your address in the tag is optional. However, it lets people determine whether your dog is lost, especially if it is roaming around your neighborhood. If privacy concerns you, you may include a general area instead of an exact address.
Medical Conditions and Medications
The medical information on the pet tag may include food allergies, other allergens, long-term medications, and essential vaccinations. Certain states, such as Massachusetts, require the inclusion of proof of rabies vaccination in tags.
Remember to prioritize the information you include in the pet tag. If you try to cram all medical history into the tag, it may appear illegible or compromise the size of the tag, making it uncomfortable for the pet.
Bottomline
Whether you need a dog or a cat tag, pet tags offer several benefits, from ensuring compliance with state standards, providing essential information during emergencies, and helping pets reunite with their fur parents. Understanding the importance of pet tags will help you safeguard and protect your furry companions.